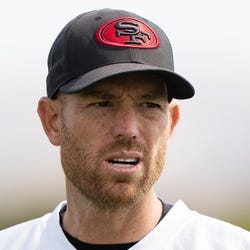 2022 Fantasy Outlook
Gould missed four games last season and had nearly twice as many extra-point tries as field- goal attempts, but his continued accuracy gives him a chance to regain fantasy value this season, especially if the Niners aren't top 5 in red-zone TD rate again. The 39-year-old has made 86.6 percent of field-goal attempts in his career, and he's been even better than that (88.2 percent) in his five years with the 49ers.
Read Past Outlooks
$Signed a two-year, $7.25 million contract with the 49ers in December of 2020.

Remains reliable at advanced age
Gould converted 84 percent of his field-goal attempts (27-for-32) across 17 regular-season games in 2022.
ANALYSIS
Gould also converted a career-high 50 point-after tries on 51 attempts, rounding out another accurate fantasy season. The 40-year-old is scheduled to become a free agent this upcoming offseason and should have plenty of suitors if he chooses to hit the open market. If Gould opts to play for a team other than the 49ers in 2023, his fantasy value would remain high given his proven accuracy over the years.
Read More News
NFL Stats
Fantasy Stats
Loading Fantasy/Red Zone Stats...
2022
2021
2020
2019
2018
2017
2016
2022 NFL Game Log

Calculate Stats Over Time
Just click on any two dates.
Scoring
Standard
PPR
Half PPR
FanDuel
DraftKings
Yahoo DFS
2021 NFL Game Log

Calculate Stats Over Time
Just click on any two dates.
Scoring
Standard
PPR
Half PPR
FanDuel
DraftKings
Yahoo DFS
2020 NFL Game Log

Calculate Stats Over Time
Just click on any two dates.
Scoring
Standard
PPR
Half PPR
FanDuel
DraftKings
Yahoo DFS
2019 NFL Game Log

Calculate Stats Over Time
Just click on any two dates.
Scoring
Standard
PPR
Half PPR
FanDuel
DraftKings
Yahoo DFS
2018 NFL Game Log

Calculate Stats Over Time
Just click on any two dates.
Scoring
Standard
PPR
Half PPR
FanDuel
DraftKings
Yahoo DFS
2017 NFL Game Log

Calculate Stats Over Time
Just click on any two dates.
Scoring
Standard
PPR
Half PPR
FanDuel
DraftKings
Yahoo DFS
2016 NFL Game Log

Calculate Stats Over Time
Just click on any two dates.
Scoring
Standard
PPR
Half PPR
FanDuel
DraftKings
Yahoo DFS
Recent RotoWire Articles Featuring Robbie Gould
See More
Past Fantasy Outlooks
2021
2020
2019
2018
2017
2016
2015
2014
2013
2012
2011
2010
2009
2008
2007
2006
Not much went right for the 49ers last year, but Gould at least held up his end of the bargain, missing only four kicks (including PATs) inside of 50 yards. Despite making only 31 kicks from 50-plus over a 16-year career, Gould has enjoyed some big fantasy seasons, including 2017 and 2018 for the 49ers. Another big year is possible, but only if the Niners have better injury luck and solid QB play.
Gould checks in at No. 8 in career FG percentage (86.8), down a notch after his uneven 2019. A look under the hood shows he's still plenty capable, as half his misses came from 50-plus yards, and a few others were caused by snapper/holder issues. Gould missed just one FG after long snapper Kyle Nelson returned from suspension Week 7, though the 37-year-old kicker did miss three games with a quad injury.
Gould was remarkably accurate for San Francisco the last two seasons and could see even more volume in 2019 if Jimmy Garoppolo comes back healthy and productive. The 36-year-old kicker initially demanded a trade after he received the franchise tag this offseason, but he changed his mind and signed with the 49ers when they offered a four-year, $19 million contract that includes $10.5 million guaranteed. Gould is coming off back-to-back seasons finishing as a top-10 kicker in fantasy points, converting 96 percent of his field-goal attempts in that stretch.
Seemingly in decline prior to last season, the 35-year-old unexpectedly had the best campaign of his lengthy career, benefiting from a 49ers offense that ranked 12th in yards and 27th in red-zone TD percentage. Gould went 17 of 18 from 40-49 yards and made each of his four tries from 50-plus. The 49ers might struggle in the red zone again, as they don't have a proven power back or tight end, and their wideouts lack size.
Gould's perfect accuracy from last season looks nice on paper, but it's worth noting that six of his 10 attempts came in the final two games of the season. Nevertheless, it landed him a job in San Francisco, though the 49ers don't figure to give him a plethora of attempts after Phil Dawson had just 21 in 16 games last year. Even if the offense improves dramatically under new head coach Kyle Shanahan, Gould will have a huge hill to climb to be a solid fantasy option in most formats.
Gould bounced back from an injury-plagued 2013 by hitting a career-high 33 field goals on 39 attempts, allowing him to be one of the more consistent scoring options for a Bears team that was riddled with injuries. In fact, only four teams got a greater percentage of their total points from their kicker than the Bears (37.9 percent), a significant increase from 2014 when only 21.6 percent of their points came from the kicking game, the lowest mark in the NFL. The Bears' offense should be better in 2016 if they can stay healthy, which could reduce Gould's field-goal attempts, but it's likely not going to be good enough to push him to the upper-tier of fantasy kickers with PATs.
Gould entered last season fresh off tying his career high in field-goal percentage (89.7), but he wasn't nearly as effective in 2014 before suffering a season-ending groin injury Week 13. Making matters worse, his attempts were few and far between, as he never had more than two field-goal opportunities in a game thanks to the Bears' lack of red-zone drives (20th) and third-ranked red-zone touchdown efficiency. Jay Feely took over for Gould but was let go in the offseason as the latter is expected to be healthy for training camp. New offensive coordinator Adam Gase should be good for Gould. Gase should engineer more red-zone drives after his success in Denver, and even if the Bears regress in touchdown efficiency, that will also mean more field goals for Gould.
Gould christened his 2013 season with a franchise-record 58-yarder in Week 1 and didn't seem to look back, tying his career-best accuracy rate with an 89.7 percent mark from the field. Meanwhile, the Bears turned into one of the league's most productive offensive attacks under first-year coach Marc Trestman, a development that allowed Gould to pick up 45 PATs after hovering between 33 and 37 the previous four seasons. That increased offensive formidability should have third-most accurate kicker in NFL history on track for another season of solid point production, though his long-range opportunities may dry up by December, with three outdoor games in Chicago and one in Minnesota.
Gould was on his way to another solid campaign last season before a left calf strain cost him the final three games and required offseason surgery. He's expected to be fully healthy for training camp and retain his trademark accuracy (career 85.6 percent), but the same old shortcoming remains for Gould – an offense that has hovered around the league average in production since Jay Cutler's arrival. Adding the 25 points of Gould's replacement, Olindo Mare, last year would have ranked Gould 12th in kicker scoring with 121 points, his same total from 2011. Expect more of the same.
Gould has been one of the more consistent kickers the last five seasons, attempting 28 to 36 field goals and converting 83 to 89 percent each year. Gould's unspectacular PAT numbers prevent him from reaching the elite category, however. His 37 last year were actually a three-year high. A healthy Jay Cutler would help this season, as the Bears scored fewer than 21 points in each of the five games Cutler missed. And the arrival of Brandon Marshall should boost the offense as a whole. Gould was 6-for-6 on 50-plus yarders last season, making him 11-for-13 the last three years after going 0-for-2 in his first four years in the league.
Consistently a fringe fantasy kicker, Gould has finished between 12th and 15th in kicker scoring in each of the last three seasons. Everything about Gould's numbers scream average. His 25 field-goal conversions and 36.3 extra points per season are almost right at the NFL average. Last season, Gould was 25-of-30 on field goals, good for 13th at 83.3 percent. The Bears did not have the expected increase in offensive production in Year 2 under offensive coordinator Mike Martz with just two more touchdowns than the previous season. While Chicago's red-zone inefficiency (45.1 percent, 26th) created field-goal opportunities for Gould, the Bears, for the second year in a row, only mounted 51 red-zone drives (14th). Gould doesn't get any help from the December schedule as the only game with suitable weather is likely to be Week 17, indoors at Minnesota. After attempting only two 50-yard field goals in his first four years in the league, Gould has converted five 50-yarders the last two years.
Gould was hurt by an offense that scored just 33 touchdowns last season as Jay Cutler's first year in Chicago was a disappointment. Cutler threw a league-high 27 interceptions, and the Bears were 29th in rushing, which left Gould with a four-year low of 105 points, good for just 14th in the league. Gould attempted eight fewer PATs despite the supposed upgrade at quarterback, and his 24 field goals on 28 attempts were his lowest totals since 2005.
On a positive note, Gould made a 50-yarder for the first time in his career, hitting 2-of-3. Expect Cutler and the Bears offense to improve in Year 2 under the guidance of offensive guru Mike Martz, giving Gould more scoring opportunities. He has three possible bad-weather games in December, which could be problematic for the Bears offense.
After an NFL-high 72 field-goal attempts in two years, Gould had just 29 attempts last year. The addition of quarterback Jay Cutler upgrades the offense and should give Gould more scoring opportunities this season. An accurate field-goal kicker (88.1 percent the last three years), Gould has yet to convert a 50-yarder in his career, attempting only two in four years. He also has four possible bad-weather games in December.
Gould might like be one of those dot com stocks that having peaked is ready to come crashing down. The Bears went from 47 touchdowns in 2006 to just 33 in 2007 with Gould dropping from 143 points to 124. With Chicago's skill positions more in question than ever, plus a suspect defense, this might be the year that Gould's fantasy bubble bursts. Gould's had an NFL-high 72 field-goal attempts the last two years (36 each season), but with this Bears offense, don't count on a repeat.
Gould went from 92 points in 2005 to a league-high 143 points in 2006. Gould's biggest improvement came from 40-49 yards where he was 12-of-14 last season, compared to just 3-of-8 in 2005. The loss of Thomas Jones coupled with the inconsistent play of Rex Grossman could drop Gould a few notches from the top spot, but he is still worth starting on any fantasy roster. Gould also gets bumped because he has three potential bad-weather games in December.
The Bears offense doesn't give a kicker a lot of help, but Gould needs to do better than 3-of-8 from 40-49 yards. The club brought in undrafted free agent Josh Huston (Ohio State), so there will be some competition in training camp.
More Fantasy News