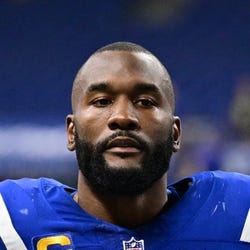 Questionable
Injury Back
Est. Return 6/15/2023
2022 Fantasy Outlook
Keep an eye on Leonard's recovery from a June back procedure. The Colts said they expect him to be ready for Week 1, but back injuries are always concerning and nothing should be taken as a given. When at 100 percent, though, Leonard is often peerless. His tackle rates range from a floor of about 120 per season to a ceiling around 170, but it's the big plays that can set him apart from other LBs.
Read Past Outlooks
RANKS
#

IDP
$Signed a five-year, $98.5 million contract with the Colts in August of 2021.

ANALYSIS
Leonard is "progressing well," according to head coach Shane Steichen, but he's still hesitant to put a timetable on the linebacker's return. The 27-year-old missed all but three games last season and was officially shut down in November when he underwent a second back procedure. At the end of last season, in reference to the games he did suit up for he said, "I shouldn't have been out there, shouldn't have been playing, should have just rested." However, with multiple months until training camp, Leonard is expected to be ready for it and barring any setbacks should be ready for Week 1.
Read More News
NFL Stats
2022 NFL Game Log

Calculate Stats Over Time
Just click on any two dates.
2021 NFL Game Log

Calculate Stats Over Time
Just click on any two dates.
2020 NFL Game Log

Calculate Stats Over Time
Just click on any two dates.
2019 NFL Game Log

Calculate Stats Over Time
Just click on any two dates.
2018 NFL Game Log

Calculate Stats Over Time
Just click on any two dates.
Snap Distribution / Depth Chart
2022 Shaquille Leonard Split Stats
Loading NFL Split Stats...
Measurables Review
How do Shaquille Leonard's measurables compare to other linebackers?
This section compares his draft workout metrics with players at the same position. The bar represents the player's percentile rank. For example, if the bar is halfway across, then the player falls into the 50th percentile for that metric and it would be considered average.
Past Fantasy Outlooks
You probably can't call a second-ranked player a "buy low" opportunity, but it was only a year ago that Leonard appeared unquestioned as the top overall IDP. He's still the same player who posted 163 tackles and seven sacks in 2018, so he clearly is capable of reclaiming the crown. Durability has been the main issue — Leonard was limited to 13 games in 2019 and a groin injury held him to 14 games last year — so better luck is all it would take for him to rank first. Even with his stock lower than a year ago, Leonard is a game-changer in IDP leagues.
Leonard's second season didn't feature the same tackle volume as his memorable 2018, but he was still outrageously productive overall and by now has to be considered the top linebacker IDP, as well as the top IDP regardless of position. Even as a concussion cost him three games, Leonard raced to 121 tackles while making an unmatched impact as a blitzer (five sacks) and in coverage (five interceptions). It might seem greedy to expect more of Leonard, but he's yet to play 16 games, and if he does then his numbers could somehow go off to an even higher level. If you project his per-snap production to this point over a 1,000-snap projection you get roughly 159 tackles, seven sacks and four interceptions. Leonard is the most productive linebacker of distant memory. He seems to inhabit a tier above even the likes of Luke Kuechly at his peak.
Leonard appeared undersized (6-2, 237) and under-athletic (4.7 40) when the Colts "reached" for him at the 36th pick in 2018, but he couldn't have proved his critics more wrong. He was outrageously productive as a rookie in all facets of play. He graded tops or close to it in all stat categories and did so on a fully sustainable 955 snaps, missing one game due to an ankle injury. Leonard will be hard-pressed to avoid statistical regression entirely, but the kind of production he posted last year simply leaves no room for doubt about his talent.
While most considered him a reach on draft day, Leonard comes to the Colts via the second round of the 2018 NFL Draft and this pedigree suggests he'll instantly join the starting lineup in Indianapolis. In fact, the South Carolina State product could become IDP relevant as soon as Week 1 given his nature as an off-ball linebacker -- an alignment that's historically led to higher tackle totals than OLBs on the strong side -- but fantasy owners might be best served taking a wait-and-see approach while the Indianapolis defense settles into its 4-3 scheme after playing in a 3-4 under Chuck Pagano the fast few seasons.
More Fantasy News