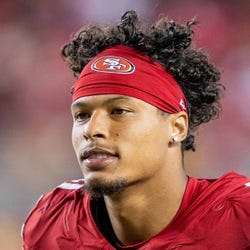 Questionable
Injury Hand
Est. Return 10/1/2023
Rest-of-Season Projections
2023 Fantasy Outlook
There was no outlook written for Tayler Hawkins in 2023. Check out the latest news below for more on his current fantasy value.
$Released by the 49ers in September of 2023.

ANALYSIS
Hawkins will now be free to search for an opportunity elsewhere in the league when healthy. He suffered a hand fracture during San Francisco's preseason finale.
Read More News
NFL Stats
2023 Tayler Hawkins Split Stats
Loading NFL Split Stats...
More Fantasy News



Hawkins
will not return
to Friday's preseason game after suffering a hand injury.