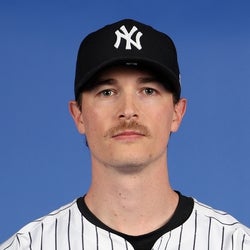 2023 Fantasy Outlook
If you bought into Fried after the 2021 season, you were handsomely rewardef for your beliefs in 2022 as he matched his efforts with some slight improvements in outocomes to match his 14-7 record while shaving half a run from his ERA. Fried continues to shine as an exemplar for pitchers without elite fastball characteristics can excel in this league. Fried does an outstanding job with his fastball location to then keep hitters off balance with breaking balls and offspeed pitches generating both high volumes of soft contact as well as enough swings and misses for a better than average strikeout rate for a starting pitcher. We are often coached about the perils of building around starting pitching on fantasy rosters, but few pitchers have as high a floor as Fried does even if his ceiling is about as high as it can go in most scoring categories. Wins are truly the only variable here.
Read Past Outlooks
$Signed a one-year, $6.85 million contract with the Braves in June of 2022.
Prospect Rankings History