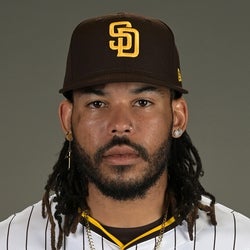 2023 Fantasy Outlook
Campusano doesn't have much more to prove with his bat in the minors, as he impressed again for Triple-A El Paso last season, posting a .298/.363/.483 slash line with 14 homers and 60 RBI over 358 plate appearances. His 17.3% strikeout rate and 9.4% walk rate further shone light on his readiness to hit in the majors, though he was just okay with a .250/.260/.333 slash line and a 1:11 BB:K over 50 big-league plate appearances with San Diego. That small sample isn't likely to divert the Padres' view of Campusano as their catcher of the future, and it's telling that in November they chose to non-tender veteran backstop Jorge Alfaro, who worked in a timeshare with Austin Nola last season. Nola will still be around in 2023, but Campusano is going to get an expanded opportunity and could emerge as the team's primary catcher if his bat plays up as expected and his glove is at least passable. The position is no longer the wasteland we've grown accustomed to in fantasy, but it's nonetheless a good idea to keep an eye on Campusano in redraft to see how his playing time shakes out.
Read Past Outlooks
$Signed a $1.3 million contract with the Padres in June of 2017.
Prospect Rankings History