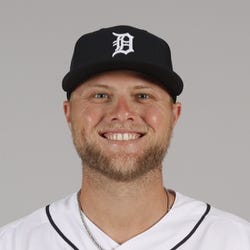 60-Day IL
Injury Personal
Est. Return 6/9/2023
Rest-of-Season Projections
2023 Fantasy Outlook
Meadows was traded to Detroit from Tampa Bay right before the start of the 2022 season, and the outfielder got off to a strong start with a .306 batting average through 10 games. Unfortunately, the former first round pick only played in 26 more contests, as he dealt with vertigo, COVID-19 and Achilles issues the rest of the year. Meadows himself announced in early September that he was done for the season due to mental health struggles, so it appeared that the disappointing campaign took quite the toll. Now entering his age-28 season, Meadows will hope for better health as he looks to bounce back in a big way. His best year came in 2019, when he hit 33 home runs and posted a .922 OPS for the Rays, but he also recorded 27 home runs and 106 RBI as recently as 2021, so there is reason for some optimism, especially because playing time should be available on a rebuilding Detroit squad. Meadows carries plenty of injury risk, but his price should be suppressed in drafts and he could be a huge steal if he regains his previous form.
Read Past Outlooks
$Signed a one-year, $4.3 million contract with the Tigers in November of 2022.

ANALYSIS
Meadows has been on the IL since April 7 while dealing with anxiety, and there's no timetable for when the outfielder will return to the club. At the very least, Meadows' move to the IL ensures that he won't be back in action with the Tigers until the second week of June. The transaction clears a spot on the 40-man roster for reliever
Braden Bristo
, whom Detroit claimed off waivers from Tampa Bay.
Read More News
Batting Stats
2023
2022
2021
2020
2019
2018
2023 MLB Game Log

Calculate Stats Over Time
Just click on any two dates.
Scoring
FanDuel
DraftKings
Yahoo DFS
Loading Batting Game Log...
2022 MLB Game Log

Calculate Stats Over Time
Just click on any two dates.
Scoring
FanDuel
DraftKings
Yahoo DFS
Loading Batting Game Log...
2021 MLB Game Log

Calculate Stats Over Time
Just click on any two dates.
Scoring
FanDuel
DraftKings
Yahoo DFS
Loading Batting Game Log...
2020 MLB Game Log

Calculate Stats Over Time
Just click on any two dates.
Scoring
FanDuel
DraftKings
Yahoo DFS
Loading Batting Game Log...
2019 MLB Game Log

Calculate Stats Over Time
Just click on any two dates.
Scoring
FanDuel
DraftKings
Yahoo DFS
Loading Batting Game Log...
2018 MLB Game Log

Calculate Stats Over Time
Just click on any two dates.
Scoring
FanDuel
DraftKings
Yahoo DFS
Loading Batting Game Log...
Minor League Game Log

Calculate Stats Over Time
Just click on any two dates.
Loading Minor League Batting Game Log...
Batting Order Slot Breakdown
#1
#2
#3
#4
#5
#6
#7
#8
#9
#1
#2
#3
#4
#5
#6
#7
#8
#9
Left/Right Batting Splits
OPS
PA
HR
RBI
AVG
Since 2021

vs Left

.571
234
3
31
.207
Since 2021

vs Right

.825
525
24
88
.251
2023

vs Left

.833
6
0
0
.333
2023

vs Right

.400
15
0
2
.200
2022

vs Left

.565
39
0
6
.229
2022

vs Right

.716
108
0
5
.258
2021

vs Left

.563
189
3
25
.198
2021

vs Right

.871
402
24
81
.251
More Splits

→

View More Split Stats
Home/Away Batting Splits
OPS
PA
HR
RBI
AVG
Since 2021

Home

.756
391
10
60
.248
Since 2021

Away

.735
368
17
59
.226
2023

Home

.000
2
0
0
.000
2023

Away

.579
19
0
2
.263
2022

Home

.687
100
0
8
.244
2022

Away

.650
47
0
3
.262
2021

Home

.785
289
10
52
.251
2021

Away

.760
302
17
54
.217
More Splits

→

View More Split Stats
Stat Review
How does Austin Meadows compare to other hitters?
This section compares his stats with all batting seasons from the previous three seasons (minimum 400 plate appearances)*. The bar represents the player's percentile rank. For example, if the bar is halfway across, then the player falls into the 50th percentile for that stat and it would be considered average.
* Exit Velocity and Barrels/PA % are benchmarked against 2019 data (min 400 PA) and Hard Hit Rate is benchmarked against last season's data (min 400 PA).
See here for more exit velocity/barrels stats
plus an explanation of current limitations with that data set.
BB/K

Walk to strikeout ratio

BB Rate

The percentage of plate appearances resulting in a walk.

K Rate

The percentage of plate appearances resulting in a strikeout.

BABIP

Batting average on balls in play. Measures how many of a batter's balls in play go for hits.

ISO

Isolated Power. Slugging percentage minus batting average. A computation used to measure a batter's raw power.

AVG

Batting average. Hits divided by at bats.

OBP

On Base Percentage. A measure of how often a batters reaches base. Roughly equal to number of times on base divided by plate appearances.

SLG

Slugging Percentage. A measure of the batting productivity of a hitter. It is calculated as total bases divided by at bats.

OPS

On base plus slugging. THe sum of a batter's on-base percentage and slugging percentage.

wOBA

Weighted on-base average. Measures a player's overall offensive contributions per plate appearance. wOBA combines all the different aspects of hitting into one metric, weighting each of them in proportion to their actual run value.

Exit Velocity

The speed of the baseball as it comes off the bat, immediately after a batter makes contact.

Hard Hit Rate

A measure of contact quality from Sports Info Solutions. This stat explains what percentage of batted balls were hit hard vs. medium or soft.

Barrels/PA

The percentage of plate appearances where a batter had a batted ball classified as a Barrel. A Barrel is a batted ball with similar exit velocity and launch angle to past ones that led to a minimum .500 batting average and 1.500 slugging percentage.

Expected BA

Expected Batting Average.

Expected SLG

Expected Slugging Percentage.

Sprint Speed

The speed of a runner from home to first, in feet per second.

Ground Ball %

The percentage of balls put in play that are on the ground.

Line Drive %

The percentage of balls put in play that are line drives.

Fly Ball %

The percentage of balls put in play that are fly balls.
Prospect Rankings History
Advanced Batting Stats
Loading Advanced Batting Stats...
Games By Position
Defensive Stats
Loading Games Played by Position...
Loading MLB Defensive Stats...
Batted Ball Stats
Loading Batted Ball Stats...
Stats Vs Upcoming Pitchers
Our full team depth charts are reserved for RotoWire subscribers.
Subscribe Now
Recent RotoWire Articles Featuring Austin Meadows
See More
Past Fantasy Outlooks
2022
2021
2020
2019
2018
2017
2016
2015
2014
Meadows had a rather unusual season coming on the heels of his disappointing 2020 season, when he was recovering from a harsh case of COVID-19. Meadows had another terrible year with batting average despite resuming his career strikeout rate, yet still managed to drive in 106 runs even though he had one of the lowest averages ever in a 100-plus RBI season. His production with runners in scoring position was nearly identical to what he did in 2019, which speaks to the ability of his teammates to create traffic on the basepaths for him more than anything. His efforts to hit lefties over the past two seasons have been rather futile (.188/.261/.272), which is why a bat of his caliber still finds himself on the bench or pinch hit for against lefties in higher-leverage situations. Given he has no long-term deal, Meadows is now officially on trade watch and could even be moved before the season given his un-Rays-like skills profile.
Meadows was placed on the injured list July 16 following a positive COVID test and did not debut until Aug. 4. In 36 games before his regular season was cut short by a left oblique strain, Meadows had a 32.9 K% and the quality connections were few and far between (7.1 Barrel%). His postseason was even worse; add the numbers together and you're left with a .185 BA and six homers over 183 total at-bats. He attempted steals in a total of two games and his sprint speed ranked in the bottom half of the league, dropping from 28.1 ft/sec in 2019 to 26.5 ft/sec. That decline and common sense tell us he was simply not right physically, and we're willing to give him a pass for his 2020 performance. That being said, it's clear in hindsight that he was overdrafted last spring given the Rays' indiscriminate platooning. Meadows is not a strict platoon player, but he will continue to sit against tough lefties to be sure.
It's a bird, it's a plane, it's Meadows flying around on the hype train. Meadows is this season's chosen one, and for good reason. He checks all the boxes and will be just 24 years old in May. Last season, he increased his average exit velocity and hard-hit rate along with his barrel rate. He did fan more, but also exhibited more patience, upping his walk rate to a respectable 9.1%. Offensively, Meadows' only flaw is a poor stolen-base success rate, despite possessing 78th percentile sprint speed. A more concerning shortcoming is defense, as he rates well below average by most advanced metrics. This drawback could cost him late-game playing time if he's removed for a better defender. The talent is there for Meadows to be a top-30 fantasy player, but it's a risk with the playing time considerations. There's nothing wrong with targeting Meadows as a five-category contributor, just be wary of the helium.
Meadows had his playing time limited in two different ways in 2018. He was first part of a crowded Pittsburgh outfield situation that kept him from everyday work, and spent time on the car service between Pittsburgh and Altoona. He was included in the Chris Archer trade, but went straight to Triple-A to "get used to playing everyday again" (or, if we're being honest, service-time manipulation). He had 18 homers and 17 steals between Triple-A and the majors last year with a high average, including a .344/.396/.771 slash line at Durham before a late promotion in mid-September. Meadows appears in line to play regularly after the team traded Mallex Smith, but there are no guarantees of an everyday job, as the Rays have versatile players like Joey Wendle and Brandon Lowe who showed they can handle the outfield in 2018. Keep that in mind before you bank on 550 plate appearances.
While Meadows' on-field performance was troubling, the most concerning aspect of his 2017 campaign was the time missed with a hamstring issue. Recall that he missed time with the same type of injury back in 2014 and 2016, and now he is developing a track record for soft tissue injuries. His decline in power can be easily traced to ditching a pull-heavy approach. In 2016, he pulled 56.7 percent of his hits at Double-A and 42.1 percent of his hits at Triple-A. But last year he only pulled 34.6 percent of his hits, leading to an abysmal .109 ISO. Now we have an outfielder with 109 games under his belt at Triple-A and there are questions about his power, due to his approach; his speed, due to his recurring hamstring injuries; and it's not like he has been hitting around .300 this whole time. He won't turn 23 until May, so there is still time for everything to work out, but for a prospect so close to the majors, there is an awful lot of risk and a debatable amount of upside.
The Pirates rewarded Meadows with a midseason promotion to Triple-A Indianapolis following his hot start at Double-A Altoona. A broken orbital bone initially pushed his season debut back a few weeks, but Meadows found his game in late May and went on a 26-game hitting streak (.408/.441/.864). The left-handed hitter's splits against lefties (.260/.333/.494) and righties (.268/.333/.550) are encouraging. He totaled only 212 plate appearances in Altoona prior to his promotion, ascending quickly through a typically conservative Pittsburgh organization. After compiling a .976 OPS with the Curve, the 21-year-old found the going a bit rougher in Indianapolis. Meadows hit only .214/.290/.460 in 126 at-bats, though he gained valuable experience against older competition. A late-season oblique strain dashed any hopes of a September promotion or trip to the Arizona Fall League. While the outfield in Pittsburgh is set, injuries (or an Andrew McCutchen trade?) have a way of changing circumstances. Meadows will likely start 2017 in Triple-A, but he could make his debut mid-summer as the Pirates attempt to keep him from reaching Super Two status.
Meadows was nearly five years younger than the average Double-A player when he hit a walk-off homer for Altoona in the playoffs. A 2013 first-round pick, the outfielder stayed healthy for the first time in three pro seasons and the results were highly encouraging. Meadows slashed .310/.360/.420 with seven homers and 21 steals as a 20-year-old playing primarily at High-A. He's yet to flash the home run power predicted by many, but he'll lace them up again for Altoona in 2016. Pittsburgh already starts three studs in the outfield but another year or two like 2015 will give Meadows an edge to make some noise at PNC Park as soon as 2017.
The ninth overall pick in the 2013 draft, Meadows got off to a late start in 2014. After suffering a hamstring injury early in spring training, the outfielder didn't make his season debut until June 30th. He did little to jeopardize his elite prospect status, though, hitting .322/.388/.486 in 165 plate appearances with Low-A West Virginia. Meadows put up a 1.065 OPS against right-handers but struggled against lefties (.466). While he has plenty of work to do with same-sided pitching, he's still just 20 years of age and posted a .784 OPS vs. southpaws in rookie ball in 2013. Meadows will continue to learn the pro game for the next couple years. At that point, he could push the trio of Andrew McCutchen, Starling Marte and Gregory Polanco.
The Pirates were surprised to find Meadows still available after the top eight picks in the 2013 draft and gladly selected him ninth overall. Pittsburgh only had the opportunity to select the left-handed high schooler because of its failure to ink pitcher Mark Appel a year before. Meadows hit a combined .316/.424/.554 in the Gulf Coast League, displaying decent plate discipline (29:46 BB:K ratio). Just 18 years of age, he'll likely start 2014 with Low-A West Virginia. Meadows immediately becomes one of Pittsburgh's top hitting prospects. Armed with a good eye, he's a candidate to hit for a high average with some power for years to come.
More Fantasy News