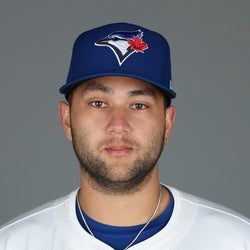 2023 Fantasy Outlook
At the All-Star break, Bichette sat with a .257 average, a .720 OPS and seven steals in 13 attempts. Water eventually finds its level. Bichette cut his strikeouts back down -- 24.3 K percentage in the first half, 19.2 percent in the second half -- and took off to the tune of a .337/.378/.543 line after the intermission. He also improved his efficiency on the basepaths in the second half, going 6-for-8 in steal attempts. In retrospect, those who jumped Bichette into the first half of the first round last spring were a little overzealous, but don't let that disappointment keep you from investing in 2023. There are no questions about Bichette's ability with the bat. If anything, the fact that his sprint speed ranked only mid-pack might be of slight concern.
Read Past Outlooks
$Signed a three-year, $33.6 million contract extension with the Blue Jays in February of 2023.

Bichette went 2-for-4 with two home runs and four RBI in Monday's Grapefruit League game against the Red Sox.
ANALYSIS
The blasts didn't come against the stiffest competition, as Bichette took minor-leaguer
Chris Murphy
deep in the first inning before tagging Boston prospect
Brandon Walter
in the fourth, but it was still a strong performance from the shortstop. The homers were the first two of the spring for Bichette, but he's gone 11-for-28 (.393) overall with a 3:5 BB:K and appears more than ready for the games to begin to count.
Read More News
Batting Stats
2022 MLB Game Log

Calculate Stats Over Time
Just click on any two dates.
Scoring
FanDuel
DraftKings
Yahoo DFS
FantasyDraft
Head2Head
Loading Batting Game Log...
2021 MLB Game Log

Calculate Stats Over Time
Just click on any two dates.
Scoring
FanDuel
DraftKings
Yahoo DFS
FantasyDraft
Head2Head
Loading Batting Game Log...
2020 MLB Game Log

Calculate Stats Over Time
Just click on any two dates.
Scoring
FanDuel
DraftKings
Yahoo DFS
FantasyDraft
Head2Head
Loading Batting Game Log...
2019 MLB Game Log

Calculate Stats Over Time
Just click on any two dates.
Scoring
FanDuel
DraftKings
Yahoo DFS
FantasyDraft
Head2Head
Loading Batting Game Log...
Minor League Game Log

Calculate Stats Over Time
Just click on any two dates.
Loading Minor League Batting Game Log...
Batting Order Slot Breakdown
#1
#2
#3
#4
#5
#6
#7
#8
#9
#1
#2
#3
#4
#5
#6
#7
#8
#9
Left/Right Batting Splits
OPS
PA
HR
RBI
AVG
Since 2020

vs Left

.877
307
14
43
.310
Since 2020

vs Right

.804
1186
44
171
.292
2022

vs Left

.789
118
5
16
.262
2022

vs Right

.805
579
19
77
.295
2021

vs Left

.950
164
8
22
.340
2021

vs Right

.790
526
21
80
.286
2020

vs Left

.818
25
1
5
.333
2020

vs Right

.891
81
4
14
.304
More Splits

→

View More Split Stats
Home/Away Batting Splits
OPS
PA
HR
RBI
AVG
Since 2020

Home

.833
728
26
106
.302
Since 2020

Away

.803
787
32
112
.288
2022

Home

.755
335
8
36
.282
2022

Away

.844
362
16
57
.297
2021

Home

.887
340
15
57
.315
2021

Away

.770
350
14
45
.282
2020

Home

.968
53
3
13
.347
2020

Away

.753
75
2
10
.270
More Splits

→

View More Split Stats
Stat Review
How does Bo Bichette compare to other hitters?
This section compares his stats with all batting seasons from the previous three seasons (minimum 400 plate appearances)*. The bar represents the player's percentile rank. For example, if the bar is halfway across, then the player falls into the 50th percentile for that stat and it would be considered average.
* Exit Velocity and Barrels/PA % are benchmarked against 2019 data (min 400 PA) and Hard Hit Rate is benchmarked against last season's data (min 400 PA).
See here for more exit velocity/barrels stats
plus an explanation of current limitations with that data set.
BB/K

Walk to strikeout ratio

BB Rate

The percentage of plate appearances resulting in a walk.

K Rate

The percentage of plate appearances resulting in a strikeout.

BABIP

Batting average on balls in play. Measures how many of a batter's balls in play go for hits.

ISO

Isolated Power. Slugging percentage minus batting average. A computation used to measure a batter's raw power.

AVG

Batting average. Hits divided by at bats.

OBP

On Base Percentage. A measure of how often a batters reaches base. Roughly equal to number of times on base divided by plate appearances.

SLG

Slugging Percentage. A measure of the batting productivity of a hitter. It is calculated as total bases divided by at bats.

OPS

On base plus slugging. THe sum of a batter's on-base percentage and slugging percentage.

wOBA

Weighted on-base average. Measures a player's overall offensive contributions per plate appearance. wOBA combines all the different aspects of hitting into one metric, weighting each of them in proportion to their actual run value.

Exit Velocity

The speed of the baseball as it comes off the bat, immediately after a batter makes contact.

Hard Hit Rate

A measure of contact quality from Sports Info Solutions. This stat explains what percentage of batted balls were hit hard vs. medium or soft.

Barrels/PA

The percentage of plate appearances where a batter had a batted ball classified as a Barrel. A Barrel is a batted ball with similar exit velocity and launch angle to past ones that led to a minimum .500 batting average and 1.500 slugging percentage.

Expected BA

Expected Batting Average.

Expected SLG

Expected Slugging Percentage.

Sprint Speed

The speed of a runner from home to first, in feet per second.

Ground Ball %

The percentage of balls put in play that are on the ground.

Line Drive %

The percentage of balls put in play that are line drives.

Fly Ball %

The percentage of balls put in play that are fly balls.
Prospect Rankings History
Advanced Batting Stats
Loading Advanced Batting Stats...
Games By Position
Defensive Stats
Loading Games Played by Position...
Loading MLB Defensive Stats...
Batted Ball Stats
Loading Batted Ball Stats...
Stats Vs Upcoming Pitchers
Our full team depth charts are reserved for RotoWire subscribers.
Subscribe Now
Recent RotoWire Articles Featuring Bo Bichette
See More
Past Fantasy Outlooks
2022
2021
2020
2019
2018
2017
Bichette not only met his elevated expectations, he set the bar even higher. Missing only three games helped, as did batting in the heart of one of the game's most prolific lineups. Sure, Bichette's chase rate is high, and he doesn't walk much, but he hits the ball hard (85th percentile avgEV) to all fields (29.4 Pull%, 33.5 Oppo%). A 30-33% flyball rate caps power a bit, but it also fuels a high BABIP. Bichette has only been caught twice in 31 stolen base attempts since 2020, even more impressive considering 74th percentile sprint speed. Bichette is an adequate fielder but could be moved off shortstop for a better fielder. This is an elite five-tool player, embarking on his age-24 season. While 2021 may not go down as his career year, expecting a follow-up matching last season is aggressive. Still, even with a small drop, Bichette is a sure-fire first rounder with $35-plus earning potential.
Bichette owns a .307/.347/.549 career slash line over 340 PA at the big-league level, which is quite impressive given that he has not yet celebrated his 23rd birthday. That said, for all the accolades, does it not feel like we are left wanting more from him? The steals he flashed in the minors have not yet surfaced at the major-league level. He is aggressive on the basepaths, but has not been a particularly good thief of bases in the majors with just eight successful swipes in 13 attempts. He remains supremely confident in his hitting abilities, which makes him rather unaccepting of his walks and very reliant upon his batted-ball fortunes. Breaking balls have been his kryptonite in the majors, which is why he aggressively hunts fastballs early. There is still more room for growth here; if you want to go along for the ride in 2021, you will need to operate as if he's done it many times before.
After Vladimir Guerrero Jr. arrived three months earlier, Bichette's late-July callup officially secured the left side of the Toronto infield for years to come. Bichette made the bigger splash of the two uber-prospects, wasting no time etching his name into history. On Aug. 8, Bichette set MLB records by doubling in his ninth straight game and notching 13 extra-base hits in the first 11 games of a career. Bichette cooled off thereafter, but he still slashed .279/.327/.483 (112 wRC+) the rest of the way while racking up runs atop the order. If there's a nit to pick, Bichette's poor success rate on the bases was disappointing given his minor-league numbers, but an 83rd-percentile Statcast sprint speed suggests there's upside to be had in that area. Bichette's spectacular 46-game sample and scope to improve as a 22-year-old makes him a worthy top-15 fantasy shortstop in a group that's as deep as ever in 2020.
Bichette still has one of the best hit tools in the minors, striking out just 17% of the time at Double-A while spraying lasers to all fields (37.1 Pull%, 40.5 Oppo%). He is one of those hitters who will never sell out for power, but will still hit 20-plus home runs in his peak seasons. Despite finishing second in the Eastern League with 32 steals (on 43 attempts), Bichette doesn't have the raw speed typically associated with prodigious base stealers. He grades out as an average runner now, and while he is not unathletic, at 6-foot, 200 pounds, he figures to slow down in the coming years. He isn't a phenom on the level of org. mate Vlad Jr., but notching a 120 wRC+ as a 20-year-old at Double-A is still pretty advanced stuff. He was initially assigned to the Arizona Fall League, but those plans were nixed due to minor elbow and knee soreness. Bichette will be ready for the start of spring training and could earn a promotion to the majors as early as this summer.
For Bichette, it all starts with strike zone awareness, elite bat speed and a remarkable all-fields approach. He looks to do damage early in the count and then plays for contact if he gets behind. That bat speed, which might be the best in the minors, leads to plus power that he doesn't have to sell out for. His 22 steals last year were largely the result of an athletic 19-year-old getting on base at a .423 clip. He will be an average runner, chipping in 8-to-12 steals annually early in his big-league career. Bichette hit more balls the other way than to the pull side last year, which is incredibly rare for a teenager with innate bat speed, and suggests he could compete for batting titles in his prime years. He falls in the bucket of young shortstops whose defensive ability gets questioned, but there were promising reports this year about his ability to stick there, at least early in his career. Bichette is on pace to reach the majors in 2019.
Bichette's swing gets compared to Josh Donaldson's, so naturally the Blue Jays were interested and signed him to an over-slot deal when he fell to them at pick 66 in the 2016 draft. The younger son of Dante Bichette, Bo is a sturdy 5-foot-11, 201 pounds, and his aggressive, power-oriented approach led to a 238 wRC+ and 1.182 OPS in 22 games in the Gulf Coast League. He would have led the league in every hitting category as an 18-year-old if he had enough plate appearances to qualify, but an appendix issue sidelined him for over a month. Obviously his .484 BABIP was a major contributor to his absurd numbers, but evaluators believe in the bat, projecting him as an average or better hitter with plus pop. He will be kept at shortstop for now, but it seems inevitable that he moves to second or third down the road. Bichette will start 2017 at Low-A, and he will shoot up prospect lists if he legitimizes his 2016 numbers without whiffing too much.
More Fantasy News