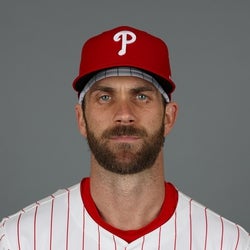 Rest-of-Season Projections
2023 Fantasy Outlook
Harper did not have the elite level of production he had over previous seasons, but 2022 was excellent even in an unfortunate smaller sample. An elbow injury in April would have ended his season if not for the Universal DH rule, but a Blake Snell fastball off the hand put him back on the IL until August at which time he finished the season as the DH and took the Phillies to the World Series. It was announced in November that he would have Tommy John surgery surgery and miss the start of the 2023 season. The plan is for Harper to return to designated hitter duties around the All-Star break and possibly return to playing right field toward the end of the season. Once he's back, he will be UT-only in most formats, and it shouldn't be assumed he will regain outfield eligibility in 2023. The per-game production should remain strong, but his return timeline puts a significant damper on his outlook.
Read Past Outlooks
$Signed a 13-year, $330 million contract with the Phillies in February of 2019.

Phillies president of baseball operations Dave Dombrowski said Wednesday that Harper will strictly play first base moving forward,
Rob Bradford of WEEI.com
reports.
ANALYSIS
Harper is almost a full calendar year removed from his November 2022 Tommy John surgery and there has been some thought that he could return to the outfield in 2024, but the 31-year-old slugger apparently took a liking to first base this past season and will now make it his permanent position in Philadelphia. Dombrowski noted that he spoke to Harper at length behind the scenes before making this information public. Dombrowski also said he relayed the news to
Rhys Hoskins
, who could depart in free agency this winter.
Read More News
Batting Stats
2023
2022
2021
2020
2019
2018
2017
2023 MLB Game Log

Calculate Stats Over Time
Just click on any two dates.
Scoring
FanDuel
DraftKings
Yahoo DFS
Loading Batting Game Log...
2022 MLB Game Log

Calculate Stats Over Time
Just click on any two dates.
Scoring
FanDuel
DraftKings
Yahoo DFS
Loading Batting Game Log...
2021 MLB Game Log

Calculate Stats Over Time
Just click on any two dates.
Scoring
FanDuel
DraftKings
Yahoo DFS
Loading Batting Game Log...
2020 MLB Game Log

Calculate Stats Over Time
Just click on any two dates.
Scoring
FanDuel
DraftKings
Yahoo DFS
Loading Batting Game Log...
2019 MLB Game Log

Calculate Stats Over Time
Just click on any two dates.
Scoring
FanDuel
DraftKings
Yahoo DFS
Loading Batting Game Log...
2018 MLB Game Log

Calculate Stats Over Time
Just click on any two dates.
Scoring
FanDuel
DraftKings
Yahoo DFS
Loading Batting Game Log...
2017 MLB Game Log

Calculate Stats Over Time
Just click on any two dates.
Scoring
FanDuel
DraftKings
Yahoo DFS
Loading Batting Game Log...
Minor League Game Log

Calculate Stats Over Time
Just click on any two dates.
Loading Minor League Batting Game Log...
Batting Order Slot Breakdown
#1
#2
#3
#4
#5
#6
#7
#8
#9
#1
#2
#3
#4
#5
#6
#7
#8
#9
Left/Right Batting Splits
OPS
PA
HR
RBI
AVG
Since 2021

vs Left

.823
496
15
58
.268
Since 2021

vs Right

1.005
1075
59
163
.311
2023

vs Left

.884
171
8
29
.289
2023

vs Right

.907
375
13
43
.295
2022

vs Left

.775
135
3
17
.256
2022

vs Right

.924
291
15
48
.300
2021

vs Left

.798
190
4
12
.257
2021

vs Right

1.155
409
31
72
.333
More Splits

→

View More Split Stats
Home/Away Batting Splits
OPS
PA
HR
RBI
AVG
Since 2021

Home

1.033
776
43
120
.315
Since 2021

Away

.867
795
31
101
.281
2023

Home

1.081
281
15
45
.352
2023

Away

.714
265
6
27
.233
2022

Home

.820
192
9
29
.244
2022

Away

.923
234
9
36
.320
2021

Home

1.130
303
19
46
.329
2021

Away

.959
296
16
38
.291
More Splits

→

View More Split Stats
Stat Review
How does Bryce Harper compare to other hitters?
This section compares his stats with all batting seasons from the previous three seasons (minimum 400 plate appearances)*. The bar represents the player's percentile rank. For example, if the bar is halfway across, then the player falls into the 50th percentile for that stat and it would be considered average.
* Exit Velocity and Barrels/PA % are benchmarked against 2019 data (min 400 PA) and Hard Hit Rate is benchmarked against last season's data (min 400 PA).
See here for more exit velocity/barrels stats
plus an explanation of current limitations with that data set.
BB/K

Walk to strikeout ratio

BB Rate

The percentage of plate appearances resulting in a walk.

K Rate

The percentage of plate appearances resulting in a strikeout.

BABIP

Batting average on balls in play. Measures how many of a batter's balls in play go for hits.

ISO

Isolated Power. Slugging percentage minus batting average. A computation used to measure a batter's raw power.

AVG

Batting average. Hits divided by at bats.

OBP

On Base Percentage. A measure of how often a batters reaches base. Roughly equal to number of times on base divided by plate appearances.

SLG

Slugging Percentage. A measure of the batting productivity of a hitter. It is calculated as total bases divided by at bats.

OPS

On base plus slugging. THe sum of a batter's on-base percentage and slugging percentage.

wOBA

Weighted on-base average. Measures a player's overall offensive contributions per plate appearance. wOBA combines all the different aspects of hitting into one metric, weighting each of them in proportion to their actual run value.

Exit Velocity

The speed of the baseball as it comes off the bat, immediately after a batter makes contact.

Hard Hit Rate

A measure of contact quality from Sports Info Solutions. This stat explains what percentage of batted balls were hit hard vs. medium or soft.

Barrels/PA

The percentage of plate appearances where a batter had a batted ball classified as a Barrel. A Barrel is a batted ball with similar exit velocity and launch angle to past ones that led to a minimum .500 batting average and 1.500 slugging percentage.

Expected BA

Expected Batting Average.

Expected SLG

Expected Slugging Percentage.

Sprint Speed

The speed of a runner from home to first, in feet per second.

Ground Ball %

The percentage of balls put in play that are on the ground.

Line Drive %

The percentage of balls put in play that are line drives.

Fly Ball %

The percentage of balls put in play that are fly balls.
Advanced Batting Stats
Loading Advanced Batting Stats...
Games By Position
Defensive Stats
Loading Games Played by Position...
Loading MLB Defensive Stats...
Batted Ball Stats
Loading Batted Ball Stats...
Stats Vs Upcoming Pitchers
Our full team depth charts are reserved for RotoWire subscribers.
Subscribe Now
Recent RotoWire Articles Featuring Bryce Harper
See More
Past Fantasy Outlooks
2022
2021
2020
2019
2018
2017
2016
2015
2014
2013
2012
2011
2010
Harper's best seasons are elite, while his worst are merely quite good. Throughout the early part of the year, he was on pace for the latter, as he was hitting a strong but not dominant .274/.387/.470 through June 15. From that point on, he was as good as we've ever seen, hitting .328/.450/.691 over his final 94 games, with his 1.140 OPS over that stretch beating even his 1.109 mark from his fantastic 2015 campaign. He now owns a 164 wRC+ over the last two seasons after posting a 130 wRC+ over the previous four, seemingly shaking the "overrated" label. Harper may not have the elite speed possessed by the players who typically go at the top of the first round, but he's not a zero there either. He was the only hitter with double-digit steals, at least 30 homers and a .300 average. That's the upside for Harper, who's still on the right side of 30, and the downside is still a strong cross-category contributor.
The 2020 season in Philadelphia will be remembered for two things: the worst bullpen modern baseball has ever seen and how the Phillies wasted a monster year from Harper. Harper finished the season with a 151 wRC+ while walking more than he struck out and scoring more runs than he drove in since the opposition walked him in over 30% of his PA with runners in scoring position. His discernible eye was his best friend in 2020 as the league threw him pitches in the zone just 33.3% of the time, the lowest rate of his career. Harper had the pieces in place with Andrew McCutchen and Rhys Hoskins in front of him and J.T. Realmuto behind him, but the league simply decided to avoid Harper in tight situations. An underrated aspect of Harper's game is that he is a safe bet for double-digit steals -- he was on a 20-plus steal pace last year (over a full season).
Harper added 11 points back to his batting average and drove in a career-high 114 runs in his first season with Philadelphia, finishing as a top-20 fantasy hitter. His K% ticked up to 26.1, but Harper improved his barrel rate and posted the highest hard-hit rate of his career. According to Statcast, given the quality of his contact and plate discipline, Harper was "deserving" of 16 additional points in BA and 21 additional points in SLG. Per FanGraphs, Harper had the third lowest soft-contact rate among qualified hitters. The big separator between Harper and other sluggers in his price range: stolen bases. He's averaged 13.25 stolen bases per season over the last four years and has only been getting better in terms of efficiency on the basepaths. There are no questions about his playing time; Harper is a relatively safe investment with upside.
Harper overcame a down first half and the specter of his looming free agency to rank as a top-20 hitter last season, at least in terms of wRC+ (135). Fantasy managers were probably hoping for better ROI from Harper, despite the outfielder finishing with his most home runs, RBI and runs since his 2015 MVP campaign. Rather than his counting-stats production, it was Harper's .249 AVG that was the most significant drag on his value. Perhaps more than his landing spot and the perception of him being an injury-prone player, Harper's volatility in batting average is what makes forecasting him most challenging. Harper raised his hard-hit percentage last season and saw only a marginal dip in barrel rate, yet still noticed a 67-point crash in BABIP from 2017. Now that Harper has hit under .250 and above .315 two times apiece in the last four years, those nabbing him early in drafts should plan to support him with players with steadier batting profiles.
Harper seemed well on his way toward winning another MVP before he stepped on a slippery base in August and suffered a bone bruise to his knee. He finished 16th in average exit velocity (min. 200 at-bats) and 28th in barrel rate (7.7 Brls/PA, min. 190 BBE) according to Statcast, resulting in a .540 xSLG. His strikeout and walk rates both went in the wrong direction -- his BB/K fell from 0.92 to 0.69 -- but Harper hit lefties better, improving his average and OBP against southpaws by 85 points and 31 points, respectively. Harper didn't run last season and that part of his game may not come back under new manager Dave Martinez, and the injury history is starting to mount, but Harper is just a few years removed from one of the all-time great seasons in MLB history. Oh, and he's still just 25. Do not let Harper fall outside of the top 10.
Harper hit .286/.406/.714 with nine home runs through March and April with more walks (17) than strikeouts (13), and opposing pitchers seemed afraid to challenge him, a trend that peaked in early May when the Cubs walked him six times over seven plate appearances in one game. Nagging injuries began to pile up though, particularly to his neck and shoulder, and by the second half he seemed to be a shell of his usual self as he hit just .226/.336/.373 with five home runs after the All-Star break. Harper recorded the first 20-20 season of his career and walked more than 100 times for the second straight year, but the end result wasn't close to what anyone expected. With a full offseason to rest and recover, Harper should be able to come out taking and raking in 2017, and given Trea Turner's emergence and the addition of Adam Eaton ahead of him in the order, health could be the only thing standing between Harper and another MVP-caliber campaign.
After a couple of injury-plagued seasons, Harper's status as the Next Big Thing was in serious jeopardy, but he stayed healthy in 2015 and proceeded to post numbers far beyond anyone's expectations. When names like Babe Ruth and Ted Williams come up as comps for what Harper accomplished as a 22-year-old MVP last year, it's fair to say he had a pretty good campaign. His biggest improvement came not when he swung the bat, but when he didn't. Harper racked up 124 walks in 153 games after recording 155 free passes in 357 games during his first three seasons, with opposing pitchers often deciding their best course of action was simply to avoid giving him anything to hit at all. As he continues his development, Harper could start putting up walk totals that haven't been seen since Barry Bonds. Harper gave him a three-season head start, but he's now right back in the conversation with Mike Trout as the best young outfielder in the major leagues.
Another season, another injury-plagued disappointment for Harper and his fantasy owners. Torn ligaments in his thumb kept him below 400 plate appearances, and even when he got back on the field, he didn't look much like a mythical wunderkind with a bat made of lightning. As the injuries pile up it's understandable to worry that he'll never become the player his draft table sticker price suggests, but don't jump off the bandwagon just yet. Over the last two months of the season, he hit 10 of his 13 home runs and looked much like the batter he was in 2013, and with an offseason to heal his thumb he should be able to come out launching bombs this April. Harper's still just 22 (nine months younger than Kris Bryant, to put that in perspective) with three major league seasons under his belt, and players with that resume are still far more likely to be stars than busts. Once he figures out the whole staying healthy business, the 40-plus home run seasons will come in bunches.
You can't exactly say that Harper had a sophomore slump given that his OPS, walk and strikeout rates all improved, and his counting stats were nearly identical to those of his rookie season, despite the fact that he saw 100 fewer at-bats. However, owners who expected him to have a Mike Trout-like explosion in his second tour of duty were sorely disappointed. The all-world talent and relentless drive to improve are still there, but the big question with Harper is whether last season's injuries were a direct result of his full throttle playing style or simply bad luck. Given the potential rewards, it's hard not to gamble on the latter.
The most amazing thing about Harper's basically unprecedented rookie season may not have been the raw numbers he put up, ridiculous as they were for a teenager in the majors, but the maturity he displayed. The kid who drew criticism in the minors for blowing kisses at opposing pitchers impressed everybody (including stodgy old-timers like Chipper Jones) with his respect for the game and his place in it, and no one has ever questioned Harper's drive to succeed. If his mental tools turn out to be as impressive as his physical ones, there may be no real ceiling on what he can accomplish. Of course intangibles do not win you fantasy championships, but building around 19-year-olds whose only meaningful comps are Hall of Famers like Ty Cobb, Al Kaline and Mel Ott just might.
Harper spent most of 2011 in Low-A Hagerstown putting up an impressive .318/.423/.554 line with a .436 wOBA and 14 home runs. He finished the season playing 37 games for Double-A, but was not as successful posting a wOBA of .332. His strikeout rate of 19.2 percent needs to improve as his batting average might fluctuate due to BABIP. His season was cut short in Double-A because of a hamstring injury, but Harper returned from that ailment and hit .333/.400/.634 with six homers and 26 RBI over 25 games in the Arizona Fall League. Nationals manager Davey Johnson made a point in December to say that Harper has an opportunity to break camp as a big leaguer, but additional time at Double-A or Triple-A could be on tap before a midseason call to Washington.
The first overall pick in 2010 did what he could to live up to the hype in a brief Arizona Fall League stint, hitting .343/.410/.629 in 35 at-bats, an impressive performance for an 18-year-old facing advanced competition. His 4:11 BB:K ratio gives a good indication of what Harper needs to work on when he begins his pro career in earnest at A-ball, but his mammoth power and uncanny hitting instincts could land him in Double-A before the season is over. The Nationals have no reason to rush him, of course, but the cocky youngster doesn't seem inclined to give them that option. A normal 18-year-old would be looking at something like a late 2013 big league debut, but with a once-in-a-generation talent like Harper we strongly suggest you bet the under on that.
Signed a five-year deal worth a guaranteed $9.9 million with the Nationals in August 2010.
More Fantasy News