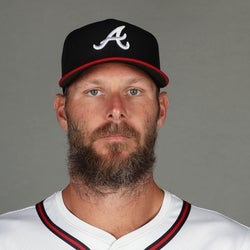 15-Day IL
Injury Shoulder
Est. Return 6/17/2023
Rest-of-Season Projections
2023 Fantasy Outlook
Sale was diagnosed with a stress fracture in his ribcage in mid-March, so he began 2022 on the 60-day IL. After several short rehab starts, Sale made his debut on July 8, limiting the Rays to three hits over five scoreless frames, fanning five with one walk. His promising return was squashed two outs into the next game when he suffered a broken pinky on a comebacker. It was unclear if Sale would pitch again in 2022, but surgery for a broken wrist incurred from a bicycle accident in early August assured he was done. Sale executed his option, so he'll be back with Boston for two seasons. He didn't miss time with an arm injury, but he's only accrued 48.1 total innings since 2021. Sale is a wild card. When healthy, he was one of the top hurlers in the league. Last season's truncated return is encouraging, but even if healthy, he'll be 33 years old with an innings limit. Let someone else pay for the brand name.
Read Past Outlooks
$Signed a three-year, $90 million contract extension with the Red Sox in March of 2019. Exercised two-year, $55 million player option in November of 2022.

Heads to IL with sore shoulder
Sale was placed on the 15-day injured list Friday with left shoulder inflammation,
Tom Caron of NESN
reports.
ANALYSIS
Red Sox manager Alex Cora confirmed the news of the IL stint on NESN's pregame coverage while expressing hope that it's only a "minor" issue. Sale was pulled from his start Thursday night against the Reds after feeling discomfort in his left shoulder in the top of the fourth inning. He underwent both an MRI and CT scan Friday, the results of which are still being evaluated. It could be a situation where Sale winds up seeking multiple opinions before an official diagnosis is presented.
Corey Kluber
is back from paternity leave and will presumably take over the vacant spot in Boston's rotation.
Read More News
Pitching Stats
Loading Pitching Stats...
2023
2022
2021
2020
2019
2018
2017
2023 MLB Game Log

Calculate Stats Over Time
Just click on any two dates.
Scoring
FanDuel
DraftKings
Yahoo DFS
Loading Pitching Game Log...
2022 MLB Game Log

Calculate Stats Over Time
Just click on any two dates.
Scoring
FanDuel
DraftKings
Yahoo DFS
Loading Pitching Game Log...
2021 MLB Game Log

Calculate Stats Over Time
Just click on any two dates.
Scoring
FanDuel
DraftKings
Yahoo DFS
Loading Pitching Game Log...
2020 MLB Game Log

Calculate Stats Over Time
Just click on any two dates.
Scoring
FanDuel
DraftKings
Yahoo DFS
Loading Pitching Game Log...
2019 MLB Game Log

Calculate Stats Over Time
Just click on any two dates.
Scoring
FanDuel
DraftKings
Yahoo DFS
Loading Pitching Game Log...
2018 MLB Game Log

Calculate Stats Over Time
Just click on any two dates.
Scoring
FanDuel
DraftKings
Yahoo DFS
Loading Pitching Game Log...
2017 MLB Game Log

Calculate Stats Over Time
Just click on any two dates.
Scoring
FanDuel
DraftKings
Yahoo DFS
Loading Pitching Game Log...
Minor League Game Log

Calculate Stats Over Time
Just click on any two dates.
Loading Minor League Pitching Game Log...
Pitching Appearances Breakdown
How many pitches does Chris Sale generally throw?
What part of the game does Chris Sale generally pitch?
% Games Reaching Innings Threshold
% Games By Number of Innings Pitched
Left/Right Pitching Splits
BAA
K
BB
H
HR
Since 2021

vs Left

.197
24
1
13
2
Since 2021

vs Right

.263
104
26
92
12
2023

vs Left

.265
13
1
9
2
2023

vs Right

.240
58
13
46
6
2022

vs Left

.000
3
0
0
0
2022

vs Right

.294
2
1
5
0
2021

vs Left

.154
8
0
4
0
2021

vs Right

.291
44
12
41
6
More Splits

→

View More Split Stats
Home/Away Pitching Splits
ERA
WHIP
IP
K/9
BB/9
Since 2021

Home

3.05
1.14
56.0
11.7
1.9
Since 2021

Away

4.91
1.34
51.1
9.6
2.8
2023

Home

3.67
1.00
27.0
12.3
2.0
2023

Away

5.34
1.34
32.0
9.6
2.5
2022

Home

0
0
0
0
0
2022

Away

3.18
1.06
5.2
7.9
1.6
2021

Home

2.48
1.28
29.0
11.2
1.9
2021

Away

4.61
1.46
13.2
10.5
4.0
More Splits

→

View More Split Stats
Stat Review
How does Chris Sale compare to other starting pitchers?
This section compares his stats with all starting pitcher seasons from the previous three seasons (minimum 120 innings)*. The bar represents the player's percentile rank. For example, if the bar is halfway across, then the player falls into the 50th percentile for that stat and it would be considered average.
* Exit Velocity, Barrels/BBE %, Balls Hit 95+ MPH %, and Spin Rate are benchmarked against 2019 data (min 120 IP).
See here for more exit velocity/barrels stats
plus an explanation of current limitations with that data set.
K/BB

Strikeout to walk ratio.

K/9

Average strikeouts per nine innings.

BB/9

Average walks per nine innings.

HR/9

Average home runs allowed per nine innings.

Fastball

Average fastball velocity.

ERA

Earned run average. The average earned runs allowed per nine innings.

WHIP

Walks plus hits per inning pitched.

BABIP

Batting average on balls in play. Measures how many balls in play against a pitcher go for hits.

GB/FB

Groundball to flyball ratio. The higher the number, the more likely a pitcher is to induce groundballs.

Left On Base

The percentage of base runners that a pitcher strands on base over the course of a season.

Exit Velocity

The speed of the baseball as it comes off the bat, immediately after a batter makes contact.

Barrels/BBE

The percentage of batted ball events resulting in a Barrel. A Barrel is a batted ball with similar exit velocity and launch angle to past ones that led to a minimum .500 batting average and 1.500 slugging percentage.

Spin Rate

Spin Rate is the rate of spin on a baseball after it is released. It is measured in revolutions per minute (rpm).

Balls Hit 95+ MPH

The percentage of batted balls hit that met or exceeded the 95 MPH threshold.

Swinging Strike

The percentage of pitches that result in a swing and a miss.
Advanced Pitching Stats
Loading Advanced Pitching Stats...
Loading MLB Defensive Stats...
Our full team depth charts are reserved for RotoWire subscribers.
Subscribe Now
Recent RotoWire Articles Featuring Chris Sale
See More
Past Fantasy Outlooks
2022
2021
2020
2019
2018
2017
2016
2015
2014
2013
2012
2011
Sale underwent Tommy John in late March of 2020, and it seemed like things had been trending in that direction for a while. Shoulder issues cost Sale time during the 2018 season and the trouble continued down the kinetic chain, with elbow inflammation limiting Sale to 147.2 innings in 2019. The Red Sox understandably took it slow with their ace and Sale finally returned Aug. 14 of last season. He made nine starts down the stretch, going 5-1 with a 3.16 ERA and 1.34 WHIP over 42.2 innings before tacking on nine more frames in the postseason. Sale's velocity and strikeouts were down from his peak, but he still had a 21.9 K-BB%, which would have been a top-10 mark in baseball if he had enough innings to qualify. Of course we should not project Sale to finish with enough innings to qualify in 2022, either, but the southpaw showed that he can still perform at a very high level. Remember Sale was an All-Star every year from 2012-18.
The 2019 season did not end well for Sale as he showed a drop in velocity and for the second consecutive season, failed to avoid the injured list. He reported to camp in February and by mid-March, he was on the table having Tommy John surgery. Mind you, this all happened in the first year of his new five-year, $145 million contract extension. Management has already said they do not expect Sale back on the active roster until "mid-summer." Ignore what Sale says, because management has 145 million reasons to handle his comeback with care. Unless you are drafting in a keeper league, his value on draft day should be considered negligible given the statistical track record of pitchers pitching the season following TJS. Even mid-summer is still just 15 months out for him, and command is always the last thing that comes back for a pitcher.
Heading into 2019, Sale's shoulder was the concern after he missed time down the stretch in 2018 (32.1 innings total in August, September and October of that year). Tests showed no structural damage and Boston signed Sale to a five-year extension prior to Opening Day, which helped alleviate fear amongst fantasy owners. However, after the Red Sox slow-played him in spring training, Sale's velocity was still down when the regular season began and he started the year by going 0-5 with a 6.30 ERA in his first six starts. Things improved greatly, with Sale posting a 0.98 WHIP and 150:22 K:BB over his subsequent 15 outings, but elbow trouble popped up and Sale was officially shut down Aug. 19. Tommy John surgery was deemed unnecessary and the team said he would be fully healthy for the start of spring training. That was not the case and it was announced in early March that Sale was headed for another MRI on his elbow.
Sale somehow raised the bar in 2018, with career-best marks in ERA (2.11) and WHIP (0.86) buoyed by outstanding indicators, namely a 32.9 K-BB% and 0.63 HR/9 that ranked first and fourth, respectively, among all hurlers who tossed 150-plus frames. His bid for his first Cy Young lost momentum, however, when shoulder inflammation set in, requiring two separate DL stints and limiting Sale to 29 second-half innings. He returned in time for Boston's World Series run, but clearly wasn't in top form. His average fastball velocity sat at 93.2 mph from September onward, per Brooks Baseball, nearly five ticks below its mid-summer peak. The lefty fortunately avoided offseason shoulder surgery, leaving the team optimistic he'll be back to full strength after extended rest and rehab. Sale's health still warrants a check-in during spring training, but if reports surrounding the southpaw are positive, he can be drafted with confidence as a fantasy staff ace.
A late fade took some of the shine off Sale's first season in Boston, but he was excellent for most of the year, finishing as a top-three pitcher in terms of earned 5x5 fantasy value. The lefty didn't just add back to his strikeout rate; he posted the highest K/9 of his career (12.9), boosted by 18 double-digit strikeout performances. He also had the sixth-lowest walk rate among qualified starters and kept the home runs in check at home, resulting in the best FIP among all pitchers with at least 70 innings. Sale's consistency over the years and (surprising) durability should keep him near the top of starting pitcher rankings in 2018. The only real question is: where does he fit in among the entire player universe? A case can be made for anywhere in the 10-25 range, even though he pitches in a tough division, as he has the tools to be the most valuable pitcher in fantasy baseball in 2018.
There was a great disturbance in the fantasy baseball force at the start of 2016 when Sale declared he was looking to be more efficient in 2016 with his pitches. By season's end, Sale struck out at least 10 batters just four times, matching his career low from 2012 when he threw 34 fewer innings and made three fewer starts than in 2016. This came on the heels of 2015, when he struck out 10 or more 13 times. He still carried a 9.3 K/9 and was as stingy as ever with walks. How does moving from The Cell to Fenway Park affect him? Fenway is also hitter-friendly, but he's pitched in dangerous conditions for home games throughout his career. Of course, his numbers won't rival those of the top NL aces, considering he's had an ERA over 3.30 in back-to-back seasons. He is the best real-life rotation arm in the American League, which makes him good enough to scrape the top five or, more comfortably, top 10 fantasy starters.
Sale was one of the best starting pitchers in the American League in 2015, finishing in the top five in the Cy Young vote for a third straight season. His 2.73 FIP led the league, and his 11.8 K/9 was best among all qualifying pitchers. He had a record eight consecutive games with double-digit strikeout totals, and walked more than two batters in just four starts. His slider is nearly unhittable, and his high-90s fastball is also a very good pitch. Sale's unconventional delivery will continue to trigger injury concerns, but he has averaged over 197 innings since becoming a full-time starter in 2012. The anchor of the White Sox's staff, he will likely be among the league's elite once more.
Sale led the AL with a 10.8 K/9 and 178 ERA+, but a month-long stay on the disabled list with a flexor strain curtailed his innings in such a way that he only finished third in the Cy Young race. Still, opposing left-handed batters managed just a meager .393 OPS against him, while hitters of all stripes only hit .137 against his slider. He allowed one run or fewer in 14 of his 26 starts, and struck out eight or more in 14 of his 26 starts. Sale looks to be the ace of the White Sox staff for the 2015 season, and should continue to be one of the top AL starters on the board.
Sale's win total dropped from 17 in 2012 to 11 in 2013, but the rest of his repertoire was impressive enough to lead him a fifth-place finish in the AL Cy Young race. His 9.5 K/9 was tops among the league's left-handed starters, and his walk rate fell to a career-best 1.9 BB/9. Opposing batters hit a measly .138 off his slider, and the pitch was virtually unhittable for left-handed batters. Sale was pegged as a reliever in his early days in the league because of durability concerns, but he threw 214 innings in 2013 and led the league with four complete games. There should not be much cause for concern about regression in 2014. Sale will potentially be an injury risk to some due to his "inverted W" delivery, but he has yet to hit the disabled list through his first 512 professional innings. Look for him to lead the White Sox's rotation again in 2014.
The White Sox drafted Sale in 2010 as a starter, but it looked like he was shaping up to be the team's closer of the future through his first two professional seasons. He threw nearly 200 innings after throwing fewer than 100 in 2010 and 2011 combined. The extra workload may have worn on him as the season progressed, as he had a sub-1.00 WHIP and 3.92 K/BB leading up to the All-Star break, and he allowed 14 home runs in the second half. Opposing left-handed hitters had a mere .601 OPS against him, and he only issued 46 unintentional walks over his 192 innings. Sale will open 2013 as the White Sox's 24-year-old ace, and he should continue his ascent into the league's top tier of starters.
Sale squandered his chance to be the White Sox's full-time closer in 2011, but he made for one heck of a setup man/sometime closer. He struck out 79 batters in 71 innings in his first full professional season, and he increasingly utilized his plus-slider and change-up. It looks like Sale will finally make the move to the rotation in 2012, and there may be some growing pains as his innings total reaches triple digits. If he were staying in the bullpen, Sale may have been the first in line to close with the team's decision to trade Sergio Santos to Toronto in December.
Just one year ago, Sale was pitching at Florida Gulf Coast University and rated as one of the top amateur pitchers. His funky delivery caused him to fall to the White Sox at No. 13 overall in the June 2010 draft, and he was in the majors by August. He started in college but was used in a relief role in the pros. That funky delivery helped him strike out 32 major league batters in 23.1 innings, and he struck out 51 over 33.1 across three levels. The White Sox insist they will give him a shot to start in 2011, but his name will also be in the closer mix.
More Fantasy News