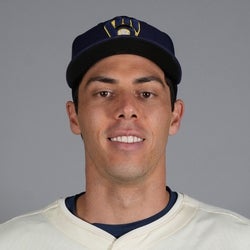 Rest-of-Season Projections
2023 Fantasy Outlook
Yelich repeated his 2021 campaign, but with more steals. Unfortunately, this includes a second season reverting to the days we all wondered what Yelich could do if he put more batted balls in the air. Had we not seen what he could do in 2019, the current version may be more accepted as a decent player with a wRC+ north of 100 every season of his career. Yelich's HardHit% was 90th percentile, fueled by an 89th percentile average exit velocity. However, a 58.6% groundball rate again capped power. As mentioned, Yelich ran more, swiping 19 bags in 22 tries. Yelich has already demonstrated he can hit more balls in the air, but that was on the other side of 30 years old and before he battled back injuries. Sure, it can happen again, but the likelier outcome is a few more seasons at the current level, with the flicker of hope more fly balls manifest. A healthy 2022 campaign does keep the candle burning.
Read Past Outlooks
$Signed a seven-year, $188.5 million contract extension with the Brewers in March of 2020. Contract includes $20 million mutual option for 2029.

ANALYSIS
Yelich will play left field and bat third versus the Rays and left-hander
Shane McClanahan
after sitting out two games due to back tightness. He returns to a .765 OPS with seven home runs, 23 RBI, nine stolen bases and 32 runs scored through 40 games on the year.
Read More News
Batting Stats
2023
2022
2021
2020
2019
2018
2017
2023 MLB Game Log

Calculate Stats Over Time
Just click on any two dates.
Scoring
FanDuel
DraftKings
Yahoo DFS
Loading Batting Game Log...
2022 MLB Game Log

Calculate Stats Over Time
Just click on any two dates.
Scoring
FanDuel
DraftKings
Yahoo DFS
Loading Batting Game Log...
2021 MLB Game Log

Calculate Stats Over Time
Just click on any two dates.
Scoring
FanDuel
DraftKings
Yahoo DFS
Loading Batting Game Log...
2020 MLB Game Log

Calculate Stats Over Time
Just click on any two dates.
Scoring
FanDuel
DraftKings
Yahoo DFS
Loading Batting Game Log...
2019 MLB Game Log

Calculate Stats Over Time
Just click on any two dates.
Scoring
FanDuel
DraftKings
Yahoo DFS
Loading Batting Game Log...
2018 MLB Game Log

Calculate Stats Over Time
Just click on any two dates.
Scoring
FanDuel
DraftKings
Yahoo DFS
Loading Batting Game Log...
2017 MLB Game Log

Calculate Stats Over Time
Just click on any two dates.
Scoring
FanDuel
DraftKings
Yahoo DFS
Loading Batting Game Log...
Minor League Game Log

Calculate Stats Over Time
Just click on any two dates.
Loading Minor League Batting Game Log...
Batting Order Slot Breakdown
#1
#2
#3
#4
#5
#6
#7
#8
#9
#1
#2
#3
#4
#5
#6
#7
#8
#9
Left/Right Batting Splits
OPS
PA
HR
RBI
AVG
Since 2021

vs Left

.637
383
8
29
.224
Since 2021

vs Right

.779
976
22
103
.262
2023

vs Left

.481
54
1
4
.180
2023

vs Right

.837
159
6
20
.277
2022

vs Left

.694
203
5
13
.258
2022

vs Right

.757
468
9
44
.249
2021

vs Left

.611
126
2
12
.187
2021

vs Right

.781
349
7
39
.271
More Splits

→

View More Split Stats
Home/Away Batting Splits
OPS
PA
HR
RBI
AVG
Since 2021

Home

.765
676
19
84
.249
Since 2021

Away

.711
683
11
48
.252
2023

Home

.788
107
4
15
.261
2023

Away

.700
106
3
9
.242
2022

Home

.781
346
9
36
.253
2022

Away

.693
325
5
21
.251
2021

Home

.730
223
6
33
.237
2021

Away

.740
252
3
18
.258
More Splits

→

View More Split Stats
Stat Review
How does Christian Yelich compare to other hitters?
This section compares his stats with all batting seasons from the previous three seasons (minimum 400 plate appearances)*. The bar represents the player's percentile rank. For example, if the bar is halfway across, then the player falls into the 50th percentile for that stat and it would be considered average.
* Exit Velocity and Barrels/PA % are benchmarked against 2019 data (min 400 PA) and Hard Hit Rate is benchmarked against last season's data (min 400 PA).
See here for more exit velocity/barrels stats
plus an explanation of current limitations with that data set.
BB/K

Walk to strikeout ratio

BB Rate

The percentage of plate appearances resulting in a walk.

K Rate

The percentage of plate appearances resulting in a strikeout.

BABIP

Batting average on balls in play. Measures how many of a batter's balls in play go for hits.

ISO

Isolated Power. Slugging percentage minus batting average. A computation used to measure a batter's raw power.

AVG

Batting average. Hits divided by at bats.

OBP

On Base Percentage. A measure of how often a batters reaches base. Roughly equal to number of times on base divided by plate appearances.

SLG

Slugging Percentage. A measure of the batting productivity of a hitter. It is calculated as total bases divided by at bats.

OPS

On base plus slugging. THe sum of a batter's on-base percentage and slugging percentage.

wOBA

Weighted on-base average. Measures a player's overall offensive contributions per plate appearance. wOBA combines all the different aspects of hitting into one metric, weighting each of them in proportion to their actual run value.

Exit Velocity

The speed of the baseball as it comes off the bat, immediately after a batter makes contact.

Hard Hit Rate

A measure of contact quality from Sports Info Solutions. This stat explains what percentage of batted balls were hit hard vs. medium or soft.

Barrels/PA

The percentage of plate appearances where a batter had a batted ball classified as a Barrel. A Barrel is a batted ball with similar exit velocity and launch angle to past ones that led to a minimum .500 batting average and 1.500 slugging percentage.

Expected BA

Expected Batting Average.

Expected SLG

Expected Slugging Percentage.

Sprint Speed

The speed of a runner from home to first, in feet per second.

Ground Ball %

The percentage of balls put in play that are on the ground.

Line Drive %

The percentage of balls put in play that are line drives.

Fly Ball %

The percentage of balls put in play that are fly balls.
Advanced Batting Stats
Loading Advanced Batting Stats...
Games By Position
Defensive Stats
Loading Games Played by Position...
Loading MLB Defensive Stats...
Batted Ball Stats
Loading Batted Ball Stats...
Stats Vs Upcoming Pitchers
Our full team depth charts are reserved for RotoWire subscribers.
Subscribe Now
Recent RotoWire Articles Featuring Christian Yelich
See More
Past Fantasy Outlooks
2022
2021
2020
2019
2018
2017
2016
2015
2014
2013
2012
Yelich remains an enigma. His batting average rebounded a bit, but his power fell even further. Yelich cut down strikeouts but reverted to generating an extreme number of groundballs. Yelich's average exit velocity was significantly lower that 2018-19, especially on flyballs which lost six mph. Generating more grounders and a drop in flyball exit velocity are indicative of a flatter swing. The question is whether this was due to lingering back issues, and if so, are they chronic? Yelich missed over a month early with a sore back, and when he returned his production didn't improve. His sprint speed didn't drop much, hinting that a change in swing mechanics may account for the decline. Gauging Yelich's draft equity isn't about numbers, it's a matter of confidence in health and whether you believe he can return to driving the ball in the air again.
Yelich won the NL MVP in 2018 and was at least in contention to win it again in 2019, but he fractured his kneecap in September of that year and saw his season come to an abrupt end. The injury did not seem of much concern to the Brewers, who rewarded Yelich with a $200 million contract last offseason. Yelich recovered from his injury in time for the originally-scheduled Opening Day, and he was able to play in all but two games last season. However, something clearly was not right, as he stole only four bases and saw all three components of his slash line drop off significantly. Yelich really struggled to put the ball in play, striking out a whopping 30 percent of the time, and when he did, he ran into terrible luck, finishing with a BABIP roughly 100 points lower than his career average. Still very much in his prime at age 29, there's plenty of reason to expect a bounceback from Yelich.
Some wondered about Yelich's ability to repeat his stellar MVP season, with much of the discussion centering on his HR/FB rate. Well, Yelich did not reach 35.0% in 2019, but he did still post a 32.8 mark in that category -- the best in the league. Yelich's 2019 campaign was unfortunately cut off at 130 games by a fractured kneecap, but he left no doubt what type of offensive force he has become, finishing second in MLB in BA and OBP and first in SLG while setting career highs in HR and SB, numbers that easily could have earned him another MVP had he stayed healthy. Yelich is expected to recover from his injury early in the offseason, so health should not be a concern when Opening Day rolls around. He has established himself as one of the best players in the entire league, and given his power/speed/OBP prowess, he will be worthy of a top-3 selection in just about every format.
Few anticipated that the Brewers were trading for the NL MVP when they acquired Yelich from the Marlins last January, but that's exactly what occurred. Yelich got off to a bit of a slow start, but he kept getting better and better at the plate, and had one of the best second halves of all time, posting a 1.219 OPS after the All-Star break. His second-half surge helped him set career highs in nearly every category, and his doubles decreased only because he doubled his home-run total from the year before. Yelich is able to play all three outfield positions and had a better average against lefties (.337) than righties (.321) last season, so there is never much reason to take him out of the lineup. His conditions will be almost the same in his age-27 season. Last year, Yelich proved he has a very high ceiling, but it is his incredibly high floor that makes him such an appealing first-round pick. He is a true five-category building block.
While he's still just 26 years old, Yelich has already built a remarkable track record of consistency at the big-league level. His strikeout rate has ranged from 19.2 percent to 20.9 percent over the past four seasons (all with 525-plus plate appearances), while his batting average has ranged from .282 to .300 in that time. He's steadily walked in over 10 percent of his plate appearances while making hard contact with at least one-third of his batted balls. His flyball rate is still too low, but Yelich improved in that regard last season, upping his flyball rate more than five percentage points to 25.2 percent. The park change following the trade to Milwaukee should help boost his power. Yelich was given the thumbs up to run again last season and he capitalized, going 16-for-18 on the basepaths. Assuming he keeps the green light with the Brewers, which seems likely given manager Craig Counsell's tendencies, Yelich should easily return top-30 value in the outfield.
Coming into the 2016 campaign, Yelich totaled 20 homers in 1,458 career plate appearances with the Marlins. He matched that, then added another for good luck, sending 21 long balls out of the yard last season. A power spike has long been expected for Yelich as he hits the ball hard, it's just that most of his batted balls are line drives and grounders. He lofted a few more balls, touching 20 percent flyballs for the first time in his career (most power hitters nestle around 40 percent). The added pop emanated from a surge to a 24 percent HR/FB mark, the 14th highest mark among qualified hitters. The safe play is to expect some give-back, dropping Yelich's homers into the low to mid-teens. Also of concern are dwindling steals as Yelich snagged just nine in 13 attempts. He's still a very solid hitter with a projectable floor. Just don't chase last season's tenuous power breakout.
Yelich's gap-to-gap power continues to play well in cavernous Marlins Park, as the youngster recorded his first .300 season and smacked 30 doubles for a second consecutive season in 2015. Yelich has been remarkably consistent in his three-year career, recording a 117 wRC+ in each one. Unfortunately, what Marlins Park gives in doubles, it takes away in home runs, as Yelich has mustered just three of his 20 career home runs at his home park. He hit seven last year and has a career high of nine, and as long as he is playing in Miami, he'll struggle to reach double digits. He makes up for it with loads of groundball base hits — he hits four groundballs for every fly ball. He stole 16 bases in 2015 and has 37 in the past two years, and should be expected to keep running with the Marlins going forward.
Yelich backed up his strong finish to the 2013 season with a sophomore breakout at age 22. He truly arrived down the stretch, catching fire during a .339/.425/.459 August as he put up his first 20-steal steal season, scoring 94 runs and collecting 54 RBI along the way. Yelich finished with a steady .284/.362/.402 slash line, showing significant improvement versus left-handed pitching during his second season -- .476 OPS vs. lefties in 2013 and a .819 OPS vs. lefties in 2014. The former first-round draft pick established himself as the Marlins' leadoff hitter in the second half of 2014, though his smooth line-drive swing and advanced approach at the plate would play at almost any lineup position. Yelich will continue provide a solid average, nice speed, and plenty of runs scored if he sticks atop the Miami lineup as he continues to mature in the majors with the potential to turn into a real run producer if given a chance to bat lower in the order next season.
A strong spring training to open the 2013 season put Yelich on the fast-track toward the majors, and after pounding out a .275/.359/.504 line across three stops in the minors, the sweet-swinging lefty made his MLB debut in late July. He knocked a pair of hits out of the two-hole in his debut, driving home his first major league RBI, and never looked back. At 21 years old, with just under 1,200 minor league at-bats to his name, Yelich posted a stellar .288/.370/.396 slash line in his first 62 major league games, adding four home runs and 10 steals. Not without his warts, Yelich struggled mightily versus left-handed pitching, collecting just 15 hits in 91 at-bats (.165 average) against southpaws while watching his strikeout rate and walk rate both move in the wrong direction when a lefty was on the mound. Still, the future remains bright for an emerging talent capable of a .290 average, double-digit home runs and 20-plus steals right now, with potential to add some balance to his platoon split and strength to his power stroke down the line.
Consider to be the most exciting offensive prospect in the Marlins' minor league system, Yelich made strides in 2012 while playing the majority of his season at High-A Jupiter. He posted a strong .330/.404/.519 line over 397 at-bats while blasting 12 home runs with 29 doubles and five triples while driving in 48 runs on the year. Yelich enjoyed yet another efficient campaign on the basepaths, swiping 20 bags in 26 attempts after going 32-for-37 in that area in 2011. While a shot at the big leagues seems a bit of a stretch in 2013, Yelich should continue to progress towards that goal and could be fast-tracked to Miami as part of the franchise's most recent rebuilding effort.
Ah, the sweet lefty swing. Every once in a while a player comes along who has it, and scouts swoon over that pure unfettered stroke, projecting great things from it. Yelich is the latest example, and while some folks see him turn on a pitch and start throwing around comparisons to Mark Grace or John Olerud, it's important to remember that he could just as easily end up as the next Hal Morris or Dave Magadan. For now he's a kid who's trying to cut it in left field despite an awkward throwing motion, in case he doesn't develop enough power to fit at first base. His first season of full-season ball was mostly a success, with the 32 steals in 37 attempts being a very pleasant surprise, but he didn't put up outrageous triple slash numbers. Until we see a concrete spike in that batting average or slugging percentage, don't fall too much in love with that swing.
More Fantasy News