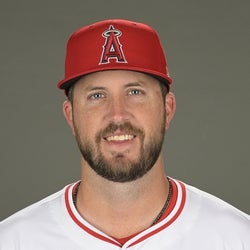 Out
Injury Elbow
Est. Return 2/1/2023
2023 Fantasy Outlook
Pomeranz had flexor tendon surgery in August 2021 and missed all of last season after experiencing a setback during his rehab process, which yielded just 4.2 innings in the minors before he was shut down. The southpaw has now missed time during each of the past five seasons, including lengthy absences in three of those five. Now 34, Pomeranz enters his 13th season in the majors as a huge risk for fantasy purposes, but has pitched well when healthy. We're assuming he'll be available for the start of spring training.
Read Past Outlooks
RANKS
#

Overall
$Signed a four-year, $34 million contract with the Padres in November of 2019.

Unlikely to pitch this season
ANALYSIS
Pomeranz recently received positive news regarding his left elbow, but he isn't expected to have enough time to ramp back up prior to the end of the season. The southpaw had his rehab assignment shut down Aug. 19, and although he'll likely be sidelined for the remainder of 2022, it wouldn't be surprising to see him available for the start of spring training in 2023.
Read More News
Pitching Stats
Loading Pitching Stats...
2022
2021
2020
2019
2018
2017
2022 MLB Game Log

Calculate Stats Over Time
Just click on any two dates.
Scoring
FanDuel
DraftKings
Yahoo DFS
FantasyDraft
Head2Head
Loading Pitching Game Log...
2021 MLB Game Log

Calculate Stats Over Time
Just click on any two dates.
Scoring
FanDuel
DraftKings
Yahoo DFS
FantasyDraft
Head2Head
Loading Pitching Game Log...
2020 MLB Game Log

Calculate Stats Over Time
Just click on any two dates.
Scoring
FanDuel
DraftKings
Yahoo DFS
FantasyDraft
Head2Head
Loading Pitching Game Log...
2019 MLB Game Log

Calculate Stats Over Time
Just click on any two dates.
Scoring
FanDuel
DraftKings
Yahoo DFS
FantasyDraft
Head2Head
Loading Pitching Game Log...
2018 MLB Game Log

Calculate Stats Over Time
Just click on any two dates.
Scoring
FanDuel
DraftKings
Yahoo DFS
FantasyDraft
Head2Head
Loading Pitching Game Log...
2017 MLB Game Log

Calculate Stats Over Time
Just click on any two dates.
Scoring
FanDuel
DraftKings
Yahoo DFS
FantasyDraft
Head2Head
Loading Pitching Game Log...
Minor League Game Log

Calculate Stats Over Time
Just click on any two dates.
Loading Minor League Pitching Game Log...
Left/Right Pitching Splits
BAA
K
BB
H
HR
Since 2020

vs Left

.152
20
5
7
0
Since 2020

vs Right

.198
39
15
21
3
2022

vs Left

0
0
0
0
0
2022

vs Right

0
0
0
0
0
2021

vs Left

.156
14
3
5
0
2021

vs Right

.241
16
7
14
2
2020

vs Left

.143
6
2
2
0
2020

vs Right

.146
23
8
7
1
More Splits

→

View More Split Stats
Home/Away Pitching Splits
ERA
WHIP
IP
K/9
BB/9
Since 2020

Home

1.11
1.15
24.1
12.6
4.4
Since 2020

Away

2.25
1.00
20.0
11.3
3.6
2022

Home

0
0
0
0
0
2022

Away

0
0
0
0
0
2021

Home

1.88
1.26
14.1
11.3
3.8
2021

Away

1.59
0.97
11.1
9.5
3.2
2020

Home

0.00
1.00
10.0
14.4
5.4
2020

Away

3.12
1.04
8.2
13.5
4.2
More Splits

→

View More Split Stats
Advanced Pitching Stats
Loading Advanced Pitching Stats...
Loading MLB Defensive Stats...
Our full team depth charts are reserved for RotoWire subscribers.
Subscribe Now
Recent RotoWire Articles Featuring Drew Pomeranz
See More
Past Fantasy Outlooks
2022
2021
2020
2019
2018
2017
2016
2015
2014
2013
2012
2011
Pomeranz is working his way back from flexor tendon surgery in August. While it's a positive that he's been able to play catch in early spring, he's yet to throw off a mound. The lefty has closer upside once he's eventually healthy, as he owns a 1.62 ERA and a 33.7 percent strikeout rate over the last two innings, but injuries have unfortunately been the story throughout much of the veteran's career.
When San Diego signed Pomeranz following a career-reviving 2019 season, the expectation was that the southpaw would serve as a high-leverage bridge to All-Star closer Kirby Yates. Instead, Yates struggled before going down for the year after only six appearances due to an elbow injury. That thrust Pomeranz into the closer position, where he excelled before hitting the IL with an injury of his own. The Padres ultimately traded for a closer in Trevor Rosenthal, allowing Pomeranz to reprise his setup role upon his return. The veteran proved to be a steady force amidst a tumultuous bullpen, yielding only three earned runs -- all in his final appearance of the season -- over 18.2 innings and holding hitters to a minuscule .118 xBA while registering a sterling 39.7 K%. He figures to be an elite setup option again this season and could challenge for the closer role if neither Yates nor Rosenthal are brought back.
A midseason move to the bullpen changed the course of Pomeranz's career, as he parlayed a late-season run of relief dominance with the Brewers into a lucrative multi-year contract with the Padres. Pomeranz received a one-year deal to start for the Giants last year and struggled in that role. He was moved to the bullpen in late July and found immediate success; and although he had just four relief outings under his belt, the Brewers bet that would continue and acquired him at the trade deadline. The hunch proved right, as Pomeranz did his best Josh Hader impression (15.5 K/9, 0.91 WHIP) and became one of Milwaukee's most important relievers down the stretch. Pomeranz's stuff played up as a reliever, and he used a lethal mid-90s-fastball/curveball combination to frequently fool hitters. Given that, expect him to remain in relief with his new team and slot into a setup role in front of closer Kirby Yates.
We knew Pomeranz's 2017 season was too good to be true, and he proved it in 2018. He began the season in the rotation, but was a horrendous 1-3 with a 6.81 ERA over eight starts before hitting the disabled list with a biceps strain. Pomeranz held his strikeout rate as a starter, but his command regressed which led to a deadly combination of walks and home runs (seven homers, 21 walks in 37 innings). He came back at the end of July, but moved to low-leverage swingman duty the rest of the way and continued to struggle with his command. His 2016 and 2017 seasons are recent memories that are tough to overlook, while last year can be mostly excused due to biceps and neck issues. He could be a good endgame flier if the command troubles were temporary. The strikeouts are there, and a return to some level of prominence is possible.
Pomeranz's first full season in Boston was very similar to the 2016 season he split between the Padres and Red Sox, as he struck out a batter per inning and carried a sub-3.50 ERA over 170 innings for the second straight season. Surprisingly, with home runs up across the league, Pomeranz did a slightly better job keeping the ball in the yard, as he trimmed his home-run rate from 1.16 HR/9 in 2016 to 0.98 last season. His batted ball profile didn't change much, but Pomeranz's BABIP jumped from .268 to .310, as his fastball was more hittable. As a starting pitcher relying very heavily on two offerings, fastball command is particularly important for Pomeranz to be successful with his excellent curveball. Keep an eye on his velocity late in spring training, as he lost more than two miles per hour from his fastball in September. If he's back to his usual 91-93 mph range, there's reason to believe that he can finish as a top-30 starting pitcher again in 2018.
Pomeranz had already thrown a major-league-high 102 innings with the Padres before the Red Sox acquired the left-hander at the trade deadline. He made 13 starts after the trade, posting a 4.68 ERA while giving up 14 homers and averaging just 5.2 innings per start. Pomeranz had a nice seven-start stretch mixed in with his short outings and a bout of forearm soreness that bumped him from the rotation in late September. There was likely an element of dead arm late in the season, as he was reaching uncharted territory in innings pitched. He was evaluated after the season and everything came back clean. Pomeranz will be ready for spring training, and considering what the Red Sox gave up to get him, he should be given every opportunity to prove he belongs in the rotation. There is plenty of upside on a per-inning basis, but he may not go deep into games, and last season was the only time he has topped 150 innings in a season as a pro.
Pomeranz started the season in the rotation after winning a spot during the spring, but he headed to the disabled list after only eight starts. He only spent two weeks on the DL, but when he returned he was moved to the bullpen (he only started one more game the rest of the season) and even found his way in the closer mix earning two saves in August after the A's traded Tyler Clippard. For the second straight year, Pomeranz was better out of the bullpen and may have found himself a nice role going forward. The lefty had a 4.63 ERA in his 44.2 innings as a starter with a 7.3 K/9, but sparkled in his 41.1 relief innings with a 2.61 ERA and a 10.0 K/9. He was particularly nasty against lefties in 2015, allowing a paltry .438 OPS to lefties over 99 at-bats. The A's traded him to the Padres in the offseason and it's not clear if he'll stay in the bullpen or move to the rotation with the Padres, but he could provide fantasy value if he continues the success he's had as a reliever.
The A's acquired the former first-round pick from the Rockies for Brett Anderson in the offseason and he responded with a very solid season. Pomeranz started the year working out of the A's bullpen, but he was pressed into starting duty in May. He spent approximately six weeks in the rotation, allowing two runs or fewer in six of his eight starts, before breaking his right hand punching a chair after a poor outing against the Rangers. After the injury had healed, the A's had traded for a few starters and he spent the rest of the year starting in Sacramento, except for a couple of spot starts with the A's during the second half. Overall, Pomeranz put up a 2.58 ERA as a starter with a strong 8.6 K/9 rate. Pomeranz has a shot to win a job in the A's rotation to start the year, especially with Jarrod Parker and A.J. Griffin returning from Tommy John surgery and likely to be unavailable to begin the 2015 season.
The Rockies have given Pomeranz every opportunity to clamp down a permanent rotation spot in each of the past two seasons, but despite his top-notch pedigree, he's failed to develop into a remotely capable big league starter. In fact, the 2013 season arguably represented a step back for Pomeranz, who was sub-replacement level in his eight appearances (four starts) with the Rockies, posting a 6.23 ERA and unsightly 7.9 BB/9 rate. Control issues have dogged the lefty as he's advanced through the system, though he did negotiate the strike zone better in his four September appearances out of the bullpen. Seeking a more established veteran for the rotation, the Rockies traded Pomeranz to the A's in December for Brett Anderson, where it's expected that Pomeranz will attempt to secure the final spot in the Oakland rotation during spring training.
Pomeranz's rookie campaign was mostly forgettable, as the young lefty's inability to command his secondary pitches resulted in a 4.3 BB/9. When he did find the strike zone, Pomeranz was either not whiffing batters as often as anticipated (7.7 K/9) or getting taken yard (13.6% HR/FB rate). With the Rockies returning to a traditional five-man rotation with pitchers expected to be held between 90 and 100 pitches each outing, Pomeranz should at least get more innings and wins under his belt since high pitch counts usually chased him from games prematurely last season once the rotation moved to a roughly 75-pitch limit per start. Pomeranz's three-pitch repertoire arguably gives him the best pure stuff among the team's pitching staff, but he will need to demonstrate greater control to make good on his considerable potential, especially at a place like Coors Field.
Pomeranz was the centerpiece of the blockbuster deal that sent Ubaldo Jimenez to the Indians last season, and he managed to make four big league starts in September after opening the year at High-A Kinston. Considering that he finished his college career at Ole Miss as a polished left-hander with a low-to-mid-90s fastball, plus-curveball and change-up, the fast track shouldn't come as much of a surprise. Pomeranz projects as an eventual strikeout-per-inning starter, and at age 23 he could break spring training with a rotation spot for the Rockies. Even if the Rockies send him to Triple-A for additional seasoning, he'll likely be in the big leagues for good before the All-Star break.
The Indians selected Pomeranz fifth overall in the 2010 amateur draft, but he didn't sign until the August deadline and was unable to make a professional debut last season. He already has two very good offerings in a low-90s fastball and a knuckle-curve. His control is still a work in progress, but he has the ability to miss a lot of bats and develop into a potential No. 1 or No. 2 starter if he's able to polish up a third offering -- likely a changeup -- in his arsenal. Pomeranz may pitch as high as Double-A this season, and with reasonable progression could reach the Indians' rotation at some point in 2012.
More Fantasy News