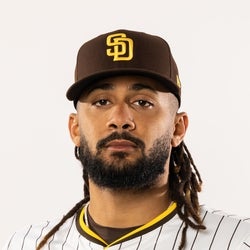 Rest-of-Season Projections
2023 Fantasy Outlook
Tatis may possibly be the biggest fantasy wildcard of 2023. He will be coming off an 80-game suspension for PEDs that will end earlier than initially projected since the Padres went deep into the NL playoffs. Tatis is now projected to be back on the active roster in late April, but he has also undergone two different surgeries this winter. He finally had that troublesome shoulder operated on as well as his left wrist. You add in the complexity of missing the entire 2022 season with his off-the-field antics leading to injury, the suspension and two surgeries, and we are left with the question of how early someone will take the risk on a top-five talent in a draft. The upside remains huge, but nobody can be blamed for passing on this maelstrom of risks, as we have rarely seen so many red flags at one time with a player, let alone one of his caliber. The projections will likely look conservative for his talents, but with good reason. Simply put, he is going to make or break many fantasy teams in 2023.
Read Past Outlooks
$Signed a 14-year, $340 million contract extension with the Padres in February of 2021.

Three doubles, four RBI in win
Tatis went 3-for-4 with three doubles, four RBI, two runs scored and a steal in Thursday's victory over Miami.
ANALYSIS
Tatis got the Padres on the board with his first double in the fourth inning, tying the game 2-2. He'd drive in three more runs with his second double in San Diego's seven-run sixth, extending the lead to 10-1. Thursday's performance was Tatis' first multi-hit game since May 19 -- he'd gone 5-for-40 in his last 10 contests. The 24-year-old outfielder is now slashing .253/.305/.481 with nine homers, 23 RBI, 23 runs scored and six steals through 167 plate appearances this year.
Read More News
Batting Stats
2023 MLB Game Log

Calculate Stats Over Time
Just click on any two dates.
Scoring
FanDuel
DraftKings
Yahoo DFS
Loading Batting Game Log...
2022 MLB Game Log

Calculate Stats Over Time
Just click on any two dates.
Scoring
FanDuel
DraftKings
Yahoo DFS
Loading Batting Game Log...
2021 MLB Game Log

Calculate Stats Over Time
Just click on any two dates.
Scoring
FanDuel
DraftKings
Yahoo DFS
Loading Batting Game Log...
2020 MLB Game Log

Calculate Stats Over Time
Just click on any two dates.
Scoring
FanDuel
DraftKings
Yahoo DFS
Loading Batting Game Log...
2019 MLB Game Log

Calculate Stats Over Time
Just click on any two dates.
Scoring
FanDuel
DraftKings
Yahoo DFS
Loading Batting Game Log...
Minor League Game Log

Calculate Stats Over Time
Just click on any two dates.
Loading Minor League Batting Game Log...
Batting Order Slot Breakdown
#1
#2
#3
#4
#5
#6
#7
#8
#9
#1
#2
#3
#4
#5
#6
#7
#8
#9
Left/Right Batting Splits
OPS
PA
HR
RBI
AVG
Since 2021

vs Left

.986
175
13
29
.288
Since 2021

vs Right

.912
538
38
91
.271
2023

vs Left

1.042
41
4
8
.297
2023

vs Right

.705
126
5
15
.239
2022

vs Left

0
0
0
0
0
2022

vs Right

0
0
0
0
0
2021

vs Left

.968
134
9
21
.284
2021

vs Right

.978
412
33
76
.282
More Splits

→

View More Split Stats
Home/Away Batting Splits
OPS
PA
HR
RBI
AVG
Since 2021

Home

.886
332
23
50
.253
Since 2021

Away

.967
381
28
70
.295
2023

Home

.926
65
5
9
.302
2023

Away

.690
102
4
14
.220
2022

Home

0
0
0
0
0
2022

Away

0
0
0
0
0
2021

Home

.875
267
18
41
.239
2021

Away

1.069
279
24
56
.323
More Splits

→

View More Split Stats
Stat Review
How does Fernando Tatis compare to other hitters?
This section compares his stats with all batting seasons from the previous three seasons (minimum 400 plate appearances)*. The bar represents the player's percentile rank. For example, if the bar is halfway across, then the player falls into the 50th percentile for that stat and it would be considered average.
* Exit Velocity and Barrels/PA % are benchmarked against 2019 data (min 400 PA) and Hard Hit Rate is benchmarked against last season's data (min 400 PA).
See here for more exit velocity/barrels stats
plus an explanation of current limitations with that data set.
BB/K

Walk to strikeout ratio

BB Rate

The percentage of plate appearances resulting in a walk.

K Rate

The percentage of plate appearances resulting in a strikeout.

BABIP

Batting average on balls in play. Measures how many of a batter's balls in play go for hits.

ISO

Isolated Power. Slugging percentage minus batting average. A computation used to measure a batter's raw power.

AVG

Batting average. Hits divided by at bats.

OBP

On Base Percentage. A measure of how often a batters reaches base. Roughly equal to number of times on base divided by plate appearances.

SLG

Slugging Percentage. A measure of the batting productivity of a hitter. It is calculated as total bases divided by at bats.

OPS

On base plus slugging. THe sum of a batter's on-base percentage and slugging percentage.

wOBA

Weighted on-base average. Measures a player's overall offensive contributions per plate appearance. wOBA combines all the different aspects of hitting into one metric, weighting each of them in proportion to their actual run value.

Exit Velocity

The speed of the baseball as it comes off the bat, immediately after a batter makes contact.

Hard Hit Rate

A measure of contact quality from Sports Info Solutions. This stat explains what percentage of batted balls were hit hard vs. medium or soft.

Barrels/PA

The percentage of plate appearances where a batter had a batted ball classified as a Barrel. A Barrel is a batted ball with similar exit velocity and launch angle to past ones that led to a minimum .500 batting average and 1.500 slugging percentage.

Expected BA

Expected Batting Average.

Expected SLG

Expected Slugging Percentage.

Sprint Speed

The speed of a runner from home to first, in feet per second.

Ground Ball %

The percentage of balls put in play that are on the ground.

Line Drive %

The percentage of balls put in play that are line drives.

Fly Ball %

The percentage of balls put in play that are fly balls.
Prospect Rankings History
Advanced Batting Stats
Loading Advanced Batting Stats...
Games By Position
Defensive Stats
Loading Games Played by Position...
Loading MLB Defensive Stats...
Batted Ball Stats
Loading Batted Ball Stats...
Stats Vs Upcoming Pitchers
Our full team depth charts are reserved for RotoWire subscribers.
Subscribe Now
Recent RotoWire Articles Featuring Fernando Tatis
See More
Past Fantasy Outlooks
2022
2021
2020
2019
2018
2017
Tatis is now firmly entrenched in the conversation for the top player in fantasy baseball, but he is not without risk. Tatis scared us early in 2021 with a shoulder dislocation on a swing and the attached rumors he may need major surgery to correct it. It was the fifth time over the last calendar year Tatis had partially dislocated his shoulder. All he did around that was go out and post a monster fantasy season in 130 games and leave us wondering how awesome his numbers would have been if he played an entire season. Besides the ever-present fear of his shoulder popping out, his strikeouts are not getting much better, which puts a cap on how high his batting average can go in theory. Tim Anderson scoffs at that theory. Simply put, Tatis is an elite-level offensive talent who has the skills to put together the first 40-40 season since Alfonso Soriano in 2006, as long as his shoulder doesn't get worse.
Tatis was arguably the best player in baseball for much of the 2020 campaign, but a late-season swoon (.164/.242/.291 slash line over his final 62 PA) cost the youngster a legitimate shot at the NL MVP award. Still, Tatis solidified his reputation as one of the game's most exciting stars, finishing among a group of six players to register double-digit homers (17) and steals (11) in the shortened campaign. There's little Tatis doesn't do well; he consistently smashes the ball, ranking first among qualified hitters with a 62.2 Hard% and 95.9 mph average exit velocity and placing second with a 19.5% barrel rate last season. He also ranked in the 98th percentile in sprint speed, portending many years of juicy power-speed numbers to come. That's the kind of combination fantasy managers salivate over, so don't be surprised if Tatis goes first overall in a fair number of leagues ahead of the 2021 season.
In his rookie campaign, Tatis blew away the lofty expectations that accompanied his rise up the prospect rankings. Among players with 300 or more plate appearances, Tatis placed 11th in wRC+ (150) while ranking in the top 15 in traditional metrics such as batting average (.317), slugging percentage (.590) and OPS (.969). The phenom was limited to 84 games due to a pair of stints on the injured list, but when healthy he flashed an impressive combination of speed and power, swatting 22 home runs and utilizing baseball's 18th-best sprint speed (29.3 ft/s) to swipe 16 bases. Tatis' high strikeout rate (29.6%) and unsustainable BABIP (.410) portend some batting-average regression, but he'll be only 21 years old on Opening Day and should improve his plate discipline as he matures. Even with some imperfections, Tatis possesses the necessary tools to be a legitimate 30-30 threat for many seasons to come.
Tatis has had a lot of success (133 wRC+ at Double-A as a 19-year-old) relative to age and level, but there are red flags in his profile that are not shared by the game's other elite prospects. He has a 27.9% strikeout rate at Double-A and only 26.7% of his hits went to the opposite field last year. His physical gifts can't be taught (easy plus power, above-average speed and athleticism) and he didn't turn 20 until Jan. 2, but his approach undeniably needs some work. Tatis could eventually provide Trevor Story-esque production at shortstop, but there will likely be some bumps along the road against big-league pitching. He missed the final six weeks of 2018 with a broken thumb, but was ready for winter ball and will open 2019 at Triple-A. The Padres say they will keep him on a fast track, but unless there is significant skills growth with his approach, he should not be expected to hit for a high average against big-league pitching if he debuts this summer.
Tatis became the first 18-year-old in the modern era to post a 20-20 season in the Midwest League. The 6-foot-3, 185-pound quick-twitch athlete may have slightly misled dynasty-league owners with his 21-homer, 29-steal campaign. He projects to be a 30-homer threat in the majors, but his steal totals should decline annually as he continues to mature physically. It is extremely rare for players his age to hit for that kind of power at Low-A while also showcasing a quality approach (124:75 K:BB). He could struggle to hit much higher than .275, but given his age, athleticism and aptitude for making adjustments, anything is possible on that front. The same could be said for his ability to stick at shortstop, as many expect him to eventually end up at third base, but such a move is unlikely to be made for at least a couple years. He is on track to enter 2019 alongside another junior (Vladimir Guerrero) as a top-three prospect in baseball.
At the time of the trade, it seemed that the Padres were simply getting salary relief and a low-level minor league throw-in from the White Sox for James Shields. Now, general manager A.J. Preller can point to his acquisition of Tatis as one of his best moves in what has been a calendar year full of excellent maneuvers. He was an above-average hitter as a 17-year-old in both the Arizona and Northwest leagues last year, and is still just scratching the surface of his potential. Tatis is already 6-foot-3, 185 pounds, so he will likely grow out of shortstop, but his bat should be good enough for him to profile as at least an average regular at third base. So far he has shown more speed than power, but that will not be the case for much longer. Tatis could offer 25-30 homer pop as he continues to mature physically. His future value will hinge on the continued development of his bat, but he is well ahead of schedule.
More Fantasy News