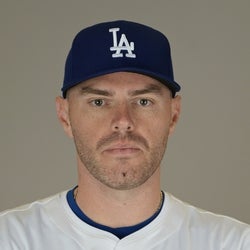 Rest-of-Season Projections
2023 Fantasy Outlook
With a 157 wRC+, Freeman was at least 50 percent better than average for the fifth time in his career. His homers fell, but a personal best 47 doubles helped mitigate the drop. One home run estimator indicated three of his 22 dingers were undeserved while another pegged him for four more. The underlying metrics show no difference from previous seasons, so perhaps the drop was moving to the NL West, though on paper it shouldn't have made a difference. Freeman swiped 13 bases, his most ever. Freeman only missed three games, bringing the count to just 10 absences since playing only 117 games in 2017. Excluding 2020, Freeman has collected at least 192 runs plus RBI over this span, exceeding 200 for the last three full campaigns. Freeman may not match the homers and steals of other elite hitters, but he makes up for it in the other three roto categories, and with a 12 percent walk rate, he's an OBP and points league monster.
Read Past Outlooks
$Signed a six-year, $162 million contract with the Dodgers in March of 2022.

Homers in four-hit effort
Freeman went 4-for-5 with a solo home run and an additional run scored in Tuesday's 9-3 win over the Nationals.
ANALYSIS
Freeman's homer was his first in the last seven games. He's hit safely in 19 straight contests, going 35-for-77 (.455) with 18 extra-base hits in that span. The first baseman is playing even better than his usual high standard, and his weeks-long hot stretch has him up to a .344/.416/.589 slash line with 10 homers, 35 RBI, 47 runs scored and six stolen bases through 56 games overall.
Read More News
Batting Stats
2023
2022
2021
2020
2019
2018
2017
2023 MLB Game Log

Calculate Stats Over Time
Just click on any two dates.
Scoring
FanDuel
DraftKings
Yahoo DFS
Loading Batting Game Log...
2022 MLB Game Log

Calculate Stats Over Time
Just click on any two dates.
Scoring
FanDuel
DraftKings
Yahoo DFS
Loading Batting Game Log...
2021 MLB Game Log

Calculate Stats Over Time
Just click on any two dates.
Scoring
FanDuel
DraftKings
Yahoo DFS
Loading Batting Game Log...
2020 MLB Game Log

Calculate Stats Over Time
Just click on any two dates.
Scoring
FanDuel
DraftKings
Yahoo DFS
Loading Batting Game Log...
2019 MLB Game Log

Calculate Stats Over Time
Just click on any two dates.
Scoring
FanDuel
DraftKings
Yahoo DFS
Loading Batting Game Log...
2018 MLB Game Log

Calculate Stats Over Time
Just click on any two dates.
Scoring
FanDuel
DraftKings
Yahoo DFS
Loading Batting Game Log...
2017 MLB Game Log

Calculate Stats Over Time
Just click on any two dates.
Scoring
FanDuel
DraftKings
Yahoo DFS
Loading Batting Game Log...
Minor League Game Log

Calculate Stats Over Time
Just click on any two dates.
Loading Minor League Batting Game Log...
Batting Order Slot Breakdown
#1
#2
#3
#4
#5
#6
#7
#8
#9
#1
#2
#3
#4
#5
#6
#7
#8
#9
Left/Right Batting Splits
OPS
PA
HR
RBI
AVG
Since 2021

vs Left

.828
470
18
60
.280
Since 2021

vs Right

.961
1190
44
158
.333
2023

vs Left

1.006
77
6
16
.300
2023

vs Right

1.004
180
4
19
.364
2022

vs Left

.824
201
5
24
.294
2022

vs Right

.956
507
16
76
.338
2021

vs Left

.760
192
7
20
.257
2021

vs Right

.949
503
24
63
.317
More Splits

→

View More Split Stats
Home/Away Batting Splits
OPS
PA
HR
RBI
AVG
Since 2021

Home

.905
797
29
108
.318
Since 2021

Away

.939
863
33
110
.317
2023

Home

1.088
118
5
18
.390
2023

Away

.938
139
5
17
.306
2022

Home

.863
340
9
45
.308
2022

Away

.968
368
12
55
.341
2021

Home

.884
339
15
45
.304
2021

Away

.908
356
16
38
.296
More Splits

→

View More Split Stats
Stat Review
How does Freddie Freeman compare to other hitters?
This section compares his stats with all batting seasons from the previous three seasons (minimum 400 plate appearances)*. The bar represents the player's percentile rank. For example, if the bar is halfway across, then the player falls into the 50th percentile for that stat and it would be considered average.
* Exit Velocity and Barrels/PA % are benchmarked against 2019 data (min 400 PA) and Hard Hit Rate is benchmarked against last season's data (min 400 PA).
See here for more exit velocity/barrels stats
plus an explanation of current limitations with that data set.
BB/K

Walk to strikeout ratio

BB Rate

The percentage of plate appearances resulting in a walk.

K Rate

The percentage of plate appearances resulting in a strikeout.

BABIP

Batting average on balls in play. Measures how many of a batter's balls in play go for hits.

ISO

Isolated Power. Slugging percentage minus batting average. A computation used to measure a batter's raw power.

AVG

Batting average. Hits divided by at bats.

OBP

On Base Percentage. A measure of how often a batters reaches base. Roughly equal to number of times on base divided by plate appearances.

SLG

Slugging Percentage. A measure of the batting productivity of a hitter. It is calculated as total bases divided by at bats.

OPS

On base plus slugging. THe sum of a batter's on-base percentage and slugging percentage.

wOBA

Weighted on-base average. Measures a player's overall offensive contributions per plate appearance. wOBA combines all the different aspects of hitting into one metric, weighting each of them in proportion to their actual run value.

Exit Velocity

The speed of the baseball as it comes off the bat, immediately after a batter makes contact.

Hard Hit Rate

A measure of contact quality from Sports Info Solutions. This stat explains what percentage of batted balls were hit hard vs. medium or soft.

Barrels/PA

The percentage of plate appearances where a batter had a batted ball classified as a Barrel. A Barrel is a batted ball with similar exit velocity and launch angle to past ones that led to a minimum .500 batting average and 1.500 slugging percentage.

Expected BA

Expected Batting Average.

Expected SLG

Expected Slugging Percentage.

Sprint Speed

The speed of a runner from home to first, in feet per second.

Ground Ball %

The percentage of balls put in play that are on the ground.

Line Drive %

The percentage of balls put in play that are line drives.

Fly Ball %

The percentage of balls put in play that are fly balls.
Advanced Batting Stats
Loading Advanced Batting Stats...
Games By Position
Defensive Stats
Loading Games Played by Position...
Loading MLB Defensive Stats...
Batted Ball Stats
Loading Batted Ball Stats...
Stats Vs Upcoming Pitchers
Our full team depth charts are reserved for RotoWire subscribers.
Subscribe Now
Recent RotoWire Articles Featuring Freddie Freeman
See More
Past Fantasy Outlooks
2022
2021
2020
2019
2018
2017
2016
2015
2014
2013
2012
2011
2010
2009
After playing 159 games last season, Freeman has missed just seven contests since 2018. He was typically productive, posting a 135 wRC+, the ninth straight campaign with a mark of at least 132. As good as he was, Freeman's home run and hit totals were pegged low by their respective expected stats. Most notable was being deprived of around five homers as his average exit velocity on fly balls was the second highest of his career, bested only by the mark set in his MVP-winning 2020 campaign. The knock on Freeman from a fantasy sense is he doesn't run much, and he's more of a line drive hitter with power than a true slugger, so he doesn't provide the same level of homers or steals as other top batters. The counter is no one is more durable, and his batting average can absorb a lower mark from someone adding power or speed to the roster. He signed a six-year deal with the Dodgers and will occupy a prime spot in one of the best lineups in baseball.
Freeman's 2020 was ridiculous when you consider he had COVID in July and looked ragged early on. Freeman came into the season with a terrific track record of offensive production and on the heels of a wonderful 2019 season which he simply took to another level in 2020 once he shook off the COVID rust. He had more walks than strikeouts for the first time in his long career, which allowed him to put up a .462 OBP, besting his previous career high by nearly 60 points. Freeman was at his best with runners in scoring position as he posted a .423/.583/.885 line in those situations, driving in 37 runs in 72 plate appearances. It was the fifth time in the past six seasons Freeman has had an OPS of at least 1.000 with runners in scoring position. That has flown under the radar since he has driven in 100 runs just twice in that time (if we extrapolate 2020 stats). Draft in the top 20 with confidence.
Freeman slugged his way to one of the better seasons of his career in 2019, piecing together a .295/.398/.549 slash line with 38 homers and 121 RBI over 158 games. He sported a 12.6 BB% and his xBA, xSLG and xwOBA all ranked in the 92nd percentile or above. One slight blemish: Freeman noticeably struggled against southpaws, hitting just .255 in 175 plate appearances, which was down from his outstanding .309 average against lefties in 2018. Freeman continues to prove why he's one of the best first basemen in the game, both in real life and rotisserie baseball, with his only real weakness in the latter coming in the stolen-base department. The 30-year-old is a disciplined hitter who puts up stellar numbers in four categories every year. Not much should change for Freeman heading into the 2020 campaign, as he'll once again serve as the No. 3 hitter behind two of the brightest young stars in the game.
In a season where the headlines were dominated by phenoms Ronald Acuna and Ozzie Albies, Freeman was the rock in the three hole for the Braves in their resurgent season. He played in all 162 games for the second time in his nine-year career while hitting over .300 (.309) for a third straight season. Freeman did experience a dip in power with his lowest home-run rate since 2014 (3.3%), but managed to offset that somewhat by leading the majors in hits (191) and doubles -- a career-high 44. He also notched a career-best 10 steals and has attempted 13 steals in back-to-back seasons, so look for him to be a modest contributor on the bases again in 2019. With an impressive young core and the free-agent addition of Josh Donaldson, Atlanta's offense continues to trend up, giving Freeman a chance to improve on his 2018 counting stats. First base is no longer a bastion of elite fantasy hitters, but Freeman is an exception entering his age-29 season.
Freeman was forced to miss six-plus weeks after suffering a broken left wrist in May, and he continued to deal with soreness and weakness in the wrist in the months following his return. You wouldn't be able to tell by simply looking at the numbers, as Freeman posted a healthy .292/.375/.515 line with 14 homers in 80 games after his activation in early July. But Freeman told MLB.com late in the season that it felt like he was "swinging a wet newspaper." The 28-year-old has excellent plate skills -- he's posted double-digit walk rates in six consecutive seasons and trimmed his strikeout rate to a career-low 18.5 percent last season. Meanwhile, his power has ticked up over the past two years thanks in large part to an increase in flyball rate (over 40 percent in 2016 and 2017). SunTrust Park was quite favorable for lefty power in its inaugural year, so with better health, Freeman should be able to return to elite territory.
In a year where many players set career highs in homers, Freeman nearly matched his total from the previous two seasons combined. He was healthy all year and had 83 extra-base hits and hit over .300 despite a 25 percent strikeout rate. The power spike came from two areas: a 41 percent flyball rate and 44 percent hard-contact rate, both career highs. While lefties and righties did not pose any issues for him in terms of average (.303 vs RHP; .301 vs LHP), 27 of his 34 home runs came against righties and his strikeout rate against southpaws was 28 percent versus 23 percent against righties. He has failed to drive in 100 runs for three consecutive seasons due to injury as well as questionable talent around him, but both showed signs of improvement in 2016.
Freeman was limited to 118 games in 2015, the first time he has missed more than 15 games since becoming a full-time starter for the Braves in 2011. When healthy, Freeman was the same player he has always been: a doubles machine with a penchant for strikeouts who has yet to take the power leap necessary to become an elite first baseman. Freeman's 18 home runs matches his total from 2014; his 23 home runs per 150 games pace would have matched his career high set in 2012 and tied again in 2013. At 26 years old, Freeman could still be growing into his power. If he can turn some of those doubles — 70 over the past two seasons — into home runs, he'll be one of the best first basemen in the league. Part of the problem is a tough home park for power in Atlanta, but until the home run totals tick upwards, Freeman is teasing us with potential.
Considered by many to be a top-five fantasy option at first base entering 2014, Freeman finished outside of the top-10 in roto value at the position despite playing a full 162 games. He provided early returns on the eight-year, $135 million extension the Braves gave him in the offseason, batting .333/.409/.594 with six homers in April, but Freeman hit above .277 in just one of the season's final five months after not hitting below .291 in any month of the 2013 campaign. Freeman improved his walk rate by more than two percent (from 10.5% to 12.7%), but his strikeouts were up slightly, and his ISO fell again to .173. His numbers against lefties also declined, going from .287/.367/.397 in 2013 to .260/.358/.398 last season, and his contact rate dipped close to two percent (from 77.5% to 75.8%). The 25-year-old's drop in power, from an already below-average level relative to most first basemen, may scare many off, but his HR/FB rate was down more than three percent from 2013, lending hope to the idea he can easily return to the 20-plus homer threshold in 2015. Further, Freeman has proven very durable, playing in at least 147 games in four straight seasons, and he's locked into the three-hole in the Atlanta order. The profit margin is intriguing, but owners will want to make a conscious effort to make up for the lost power by compensating at other positions.
At first glance, Freeman's 2013 numbers appear to show a marked improvement from 2012, but there are reasons for skepticism. He drew just two more walks than he did in 2012, while striking out only eight fewer times. While Freeman finished second in the National League in RBI with 109, and third in the league with a .319 average, he hit .443 with runners in scoring position, and benefited greatly from a .371 BABIP. Moreover, his ISO dropped from .196 to .181, and he notched just 18 extra-base hits on the road, down from 28 in 2012. Now, all that said, Freeman hit lefties with far more consistency, improving his average against southpaws by 50 points (from .237 to .287), and his overall OPS by 101 points. Freeman didn't hit below .291 in any month of the season, and he appeared in 147 games, a number he's reached in three consecutive seasons. Still just 24 years old, Freeman is locked in at first base and likely into the three-hole in the batting order for Atlanta. While at least a slight regression in average and RBI seems inevitable, he's still an enticing fantasy option.
Freeman's 2012 season ended up being remarkably similar to his rookie campaign of 2011. He had just five more extra-base hits while his OPS went up by just one point. His batting average dropped down to .259 but his strikeout rate dropped slightly and his walk rate improved slightly, indicating that he was showing an improved eye at the plate. Freeman's .282 batting average in 2011 was in part the result of a high batting average on balls in play. In 2012, his BABIP dropped closer to the league average, which could mean that he is closer to being a .260 hitter than a .280 hitter. His RBI and runs both took a big jump in 2012 after he found himself in a more favorable position in the batting order. Just 23, Freeman may not be a top-10 first baseman just yet, but he could take a step forward with improvement against left-handed pitching (.237/.315/.399) or on the road (.245/.314/.421).
Freeman's first season as a regular in the Atlanta lineup was a success as he finished second in the NL Rookie of the Year award voting to teammate Craig Kimbrel. Freeman hit .282 with 21 home runs, but just 76 RBI as he hit lower in the order much of the season. While Freeman draws walks at a decent rate, he struck out 142 times and his below-average contact rate could hurt his batting average. His 22 home runs and .794 OPS were not elite for a first baseman and some have questioned if he'll develop significant power. However, at 6-5 and 220 pounds, he has the body to hit more home runs and will be just 22 years old next season. He'll get every opportunity to become an elite first baseman as Atlanta's everyday starter. Keep an eye on his health this spring, as Freeman suffered a knee injury in late February could miss a week or two of Grapefruit League action.
Freeman is Atlanta's top hitting prospect who is expected to take over everyday duty at first base in 2011. Freeman was outstanding at Triple-A at just 20 years old by hitting .319/.378/.518 with 18 home runs. He later got his first taste of the majors in September. Freeman has a strong eye at the plate and increased his power numbers at Triple-A, which should continue to improve as he fills out his frame. He also plays strong defense, which should help him stay in the lineup if he struggles initially. He's a leading candidate for NL Rookie of the Year as a result.
Freeman is Atlanta's first baseman of the future and could be a factor in the majors as early as 2010. After hitting .302/.394/.447 at High-A, he hit .298/.337/.452 at Double-A in July at just 19 years old before suffering a hand injury that limited him in the second half and ultimately ended his season. He's got a strong eye at the plate and should develop more power as he grows. He'll likely start the season at Double-A, but a strong start to the year could see him promoted aggressively. He's a top keeper to grab as a result.
Freeman, a 2007 second-round pick, had a breakout season with good power and plate discipline. Finishing his first full year as a pro just prior to his 19th birthday, Freeman hit .316/.378/.521 with 18 homers in 491 at-bats at Low-A Rome after struggling in the Gulf Coast League in 2007. Given his age and the significant leap in production this early in his career, Freeman should be on the radar for those in keeper leagues, even though he's unlikely to make his major league debut until at least 2010.
More Fantasy News