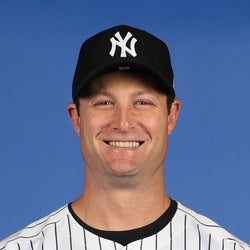 Day-To-Day
Injury Lower Body
Rest-of-Season Projections
2023 Fantasy Outlook
There were some surprising lows for Cole in 2022, including a five-homer blowup outing in Minnesota in June. He finished with his highest ERA (3.50) since his final season in Pittsburgh, continuing a trend of steady increase in recent years. The fact of the matter is he still led MLB in strikeouts with 257. He continues to bring the heat at 97 to 98 mph and leaned on that pitch more than half the time last season while dialing back his curveball and changeup usage. The four-seamer does a lot of great things for him, but Cole has also given up 29 homers on that pitch over the past two seasons, so it can be touched up when he isn't locating. A two-time Cy Young runner-up, Cole wasn't a finalist in 2022, but the Yankees' ace could very well be back in that conversation after this season.
Read Past Outlooks
$Signed a nine-year, $324 million contract with the Yankees in December of 2019.

Leaves vs. Dodgers due to cramping
Cole left Saturday's start against the Dodgers due to cramping,
Bryan Hoch of MLB.com
reports. He allowed one run over six innings on two hits with five strikeouts and two walks before leaving.
ANALYSIS
Cole threw just 80 pitches in the start, but the cramping kept the right-hander from advancing deeper into the game. The right-hander should be considered day-to-day, and he'll have a chance to return to the mound next weekend against the Red Sox.
Read More News
Pitching Stats
Loading Pitching Stats...
2023
2022
2021
2020
2019
2018
2017
2023 MLB Game Log

Calculate Stats Over Time
Just click on any two dates.
Scoring
FanDuel
DraftKings
Yahoo DFS
Loading Pitching Game Log...
2022 MLB Game Log

Calculate Stats Over Time
Just click on any two dates.
Scoring
FanDuel
DraftKings
Yahoo DFS
Loading Pitching Game Log...
2021 MLB Game Log

Calculate Stats Over Time
Just click on any two dates.
Scoring
FanDuel
DraftKings
Yahoo DFS
Loading Pitching Game Log...
2020 MLB Game Log

Calculate Stats Over Time
Just click on any two dates.
Scoring
FanDuel
DraftKings
Yahoo DFS
Loading Pitching Game Log...
2019 MLB Game Log

Calculate Stats Over Time
Just click on any two dates.
Scoring
FanDuel
DraftKings
Yahoo DFS
Loading Pitching Game Log...
2018 MLB Game Log

Calculate Stats Over Time
Just click on any two dates.
Scoring
FanDuel
DraftKings
Yahoo DFS
Loading Pitching Game Log...
2017 MLB Game Log

Calculate Stats Over Time
Just click on any two dates.
Scoring
FanDuel
DraftKings
Yahoo DFS
Loading Pitching Game Log...
Minor League Game Log

Calculate Stats Over Time
Just click on any two dates.
Loading Minor League Pitching Game Log...
Pitching Appearances Breakdown
How many pitches does Gerrit Cole generally throw?
What part of the game does Gerrit Cole generally pitch?
% Games Reaching Innings Threshold
% Games By Number of Innings Pitched
Left/Right Pitching Splits
BAA
K
BB
H
HR
Since 2021

vs Left

.197
294
66
148
34
Since 2021

vs Right

.229
289
52
219
31
2023

vs Left

.193
41
15
26
4
2023

vs Right

.231
42
12
36
4
2022

vs Left

.182
129
30
59
17
2022

vs Right

.229
128
20
95
16
2021

vs Left

.216
124
21
63
13
2021

vs Right

.229
119
20
88
11
More Splits

→

View More Split Stats
Home/Away Pitching Splits
ERA
WHIP
IP
K/9
BB/9
Since 2021

Home

3.07
1.01
231.1
11.7
2.2
Since 2021

Away

3.48
1.09
230.1
11.1
2.5
2023

Home

2.76
1.04
49.0
10.3
3.5
2023

Away

2.93
1.27
30.2
8.2
2.6
2022

Home

3.20
0.94
101.1
12.1
1.5
2022

Away

3.81
1.10
99.1
11.0
3.0
2021

Home

3.11
1.09
81.0
12.0
2.2
2021

Away

3.32
1.04
100.1
12.1
1.9
More Splits

→

View More Split Stats
Stat Review
How does Gerrit Cole compare to other starting pitchers?
This section compares his stats with all starting pitcher seasons from the previous three seasons (minimum 120 innings)*. The bar represents the player's percentile rank. For example, if the bar is halfway across, then the player falls into the 50th percentile for that stat and it would be considered average.
* Exit Velocity, Barrels/BBE %, Balls Hit 95+ MPH %, and Spin Rate are benchmarked against 2019 data (min 120 IP).
See here for more exit velocity/barrels stats
plus an explanation of current limitations with that data set.
K/BB

Strikeout to walk ratio.

K/9

Average strikeouts per nine innings.

BB/9

Average walks per nine innings.

HR/9

Average home runs allowed per nine innings.

Fastball

Average fastball velocity.

ERA

Earned run average. The average earned runs allowed per nine innings.

WHIP

Walks plus hits per inning pitched.

BABIP

Batting average on balls in play. Measures how many balls in play against a pitcher go for hits.

GB/FB

Groundball to flyball ratio. The higher the number, the more likely a pitcher is to induce groundballs.

Left On Base

The percentage of base runners that a pitcher strands on base over the course of a season.

Exit Velocity

The speed of the baseball as it comes off the bat, immediately after a batter makes contact.

Barrels/BBE

The percentage of batted ball events resulting in a Barrel. A Barrel is a batted ball with similar exit velocity and launch angle to past ones that led to a minimum .500 batting average and 1.500 slugging percentage.

Spin Rate

Spin Rate is the rate of spin on a baseball after it is released. It is measured in revolutions per minute (rpm).

Balls Hit 95+ MPH

The percentage of batted balls hit that met or exceeded the 95 MPH threshold.

Swinging Strike

The percentage of pitches that result in a swing and a miss.
Advanced Pitching Stats
Loading Advanced Pitching Stats...
Loading MLB Defensive Stats...
Our full team depth charts are reserved for RotoWire subscribers.
Subscribe Now
Recent RotoWire Articles Featuring Gerrit Cole
See More
Past Fantasy Outlooks
2022
2021
2020
2019
2018
2017
2016
2015
2014
2013
2012
Cole has become the Susan Lucci of pitchers in that he has finished second in the Cy Young Award voting in two of the past three years (fourth in the other), but never winning it. He has continued to amass an impressive body of work since leaving the shackles of the Pittsburgh Pitching Philosophy and has embraced the up/down approach proselytized in Houston and New York. He is nearly the perfect pitcher in that he has no demonstrable home/road splits or left/right splits, and the increased usage of his changeup in 2021 allows him to remain in games longer than most. The midseason struggle adjusting to the new pitch grip rules looked as though they might end his reign of dominance, but a complete-game shutout of Houston got him realigned and he went on to close the rest of the season out with a 27 K-BB%. His 3.23 ERA last season was his highest since leaving Pittsburgh. Simply put, he's an Ace with a capital A.
Expectations for Cole were massive after he signed a nine-year, $324 million contract to lead the Yankees' rotation for the foreseeable future. The big right-hander's first season in pinstripes went well enough, though his final numbers were a minor letdown for those who expected him to match the production he posted in his final season with the Astros. Opposing batters hit Cole harder and more often in 2020 -- though still dominant, his 32.6 K% was a significant dropoff from the 39.9% mark he posted the previous season, while the 44.6 hard-hit% against him represented a nearly 10-point jump. That led to a career-worst 1.73 HR/9, which was largely responsible for a slight ERA increase. This is all nitpicking for a hurler who is unquestionably one of the best in the game. Cole remains a truly elite SP1 in fantasy, but he won't be the consensus first pitcher off the board as he was last season.
The Yankees made Cole the priority of their offseason, inking him to a nine-year, $324 million contract in December, the largest deal ever for a pitcher. He had the prototypical career season in his walk year with an old-school stat line of 20 wins, a 2.50 ERA and 300-plus strikeouts looking a lot like the Ryan Express when he too pitched for Houston. The difference is Cole got the run support Ryan rarely got when pitching in the Astrodome, but Cole did not need too much run support. Most of his Statcast numbers were in the 95th percentile or higher, and he has simply been dominant since leaving the shackles of the Pittsburgh pitching approach for whatever magic sauce the Astros dip their starting pitchers in before games. The term "ace" is thrown around too liberally these days, but the phrase is absolutely how to describe Cole and his production.
The smart money was on Cole thriving in Houston, despite a move to the American League. However, no one expected such a dominating campaign. Not only was there a latent park upgrade, but the Astros identified a flaw in Cole's pitch mix and increased his curveball usage. The result was a cascade effect as Cole's entire arsenal enjoyed an upgrade. He posted a career-best 14.1 SwStr% without sacrificing much control. The result was his third 200-inning season in the last four years (just five others have accomplished the feat in each of the past two seasons). Cole's success was driven by a huge improvement versus left-handed batters against whom the increased use of his curveball was paramount. Cole will be hard-pressed to repeat this level of success without the platoon edge, so expect regression. Still, his durability renders Cole one of the few workhorses in an era of five and fly. It'll cost, but Cole should remain one of the few elite starters in the game.
Few pitchers were impacted as negatively by the Great Home Run Spike as Cole. His HR/9 shot from 0.54 in 2016 to 1.37 last season, which was the main culprit behind his nearly 50-point increase in ERA. Cole improved his strikeout and walk rates in his age-26 season, adding a full strikeout to his K/9, and in turn shaved 21 points off his xFIP. Most importantly, the right-hander managed to avoid the injury bug after missing the end of 2016 with an elbow ligament injury, exceeding 200 innings for the second time in his career -- Cole was one of just 15 major-league arms to reach 200 innings in 2017. The issues with the long ball may very well persist, but that's going to be the case with a lot of talented pitchers in today's landscape. Health remains the biggest concern, but Cole has a case as an SP2 in mixed leagues following the move to Houston as (believe it or not) it is a significant park upgrade.
Cole landed on the disabled list three times in 2016. An elbow ligament injury ultimately ended his season after he tried pitching through the pain. He opted for rest over offseason surgery. When Cole did toe the rubber, the results were disappointing with the right-hander registering career-worst numbers across the board: 3.88 ERA, 1.44 WHIP, 2.8 BB/9 and 7.6 K/9. His average fastball velocity (95.2 mph) was close to his career mark (95.4 mph), but the pinpoint accuracy was lacking. Cole is a rebound candidate -- he's one season removed from 19-8, 2.60 ERA, 1-09 WHIP and 202 strikeouts in 208 IP -- but he also carries more risk than other starters in his tier.
Cole appeared en route to an elite season in 2015 before a second half slowdown put a small damper on things. He went 13-3 with a 2.30 ERA and 1.12 WHIP leading up to the All-Star Game, only to go 6-5 with a 2.98 ERA and 1.06 WHIP the rest of the way (not exactly bad numbers). For whatever reason, the 25-year-old posted much better numbers during day games (10-1, 2.05 ERA) than at night (9-7, 3.00 ERA). He increased his slider usage from 12.1% to 21.2%, which enhanced his effectiveness, but keep in mind that pitchers who rely heavily on sliders tend to get hurt more frequently than those who don't. Aside from the increased slider reliance, there is no reason why Cole can't put together another outstanding campaign in 2016.
The budding ace battled injury and inconsistent velocity in his sophomore season for the Bucs. Cole, who made two separate trips to the disabled list with shoulder fatigue and a lat strain, made seven starts upon his return in late August, going 4-1 with a 3.44 ERA, 1.02 WHIP and 60 strikeouts in 52.1 innings. At times his velocity dipped, even within the same starts, though his overall fastball velocity fell only slightly (96.1 mph to 95.5 mph) from 2013. For the season, he compiled a 3.65 ERA (3.30 FIP), 1.21 WHIP and 138 strikeouts in 138 innings. If Cole can improve upon his .316 BABIP, there's a good chance he'll return better overall numbers. With a little bit better luck in the injury department, the hard-throwing righty could break out the way many expected him to last season.
Cole won his first four starts in Pittsburgh, but struck out only 11 batters in the process. Theories were floated: Cole himself said that he was pitching to contact and hadn't unleashed his entire repertoire. After coming up second best in an Aug. 8 showdown with fellow phenom Jose Fernandez, Cole elevated his game to a new level. In his final eight starts, the 2011 first-overall draft pick went 6-2 with a 2.28 ERA, 1.19 WHIP and 53:13 K:BB ratio. Cole led all major league pitchers with a 96.1 mph average fastball (110 IP minimum). The Pirates then chose Cole over A.J. Burnett to start Game 5 of the NLDS, an indication of his top-of-the-rotation status. The 6-foot-4, 235-pound right-hander matured in the majors in a very short time period. It wouldn't be surprising to see him encounter some bumps along the way, but he'll be called upon as a frontline starter from the get-go in 2014.
Regardless of whether Pittsburgh keeps its front office intact moving forward, Cole has a decent chance of cracking the team's rotation by the end of 2013. Not even the stingy Pirates could keep the top overall draft pick from 2011 at High-A for all of 2012. Cole began the year with Bradenton, where he compiled a 2.69 ERA and 1.10 WHIP in 67 innings. His 69:21 K:BB helped make the decision to promote him to Double-A any easy one. Pitching for the Curve, Cole registered a 2.90 ERA and 1.31 WHIP in 59 frames, to go along with a 60:23 BB:K. He hasn't looked elite in big showcases such as the 2011 AFL Rising Stars Game and 2012 Futures Game, but he's proven otherwise consistent. To think that his 100-mph fastball (which borders on the flat side) might be no better than his third best pitch is a good problem to have.
Time will tell whether the Pirates made the right move selecting Cole first overall in the 2011 draft, but his good size, downward plane and right-handed delivery dovetail perfectly with the profile of general manager Neal Huntington's ideal starting pitcher. The 6-foot-4 power hurler hit 100 mph regularly in the Arizona Fall League and offers a plus slider and changeup. Cole never put up dominating numbers at UCLA and was actually outpitched by fellow first-round pick Trevor Bauer. His pedigree dates to high school, however, when he was selected in the first round by the Yankees in 2008. Pittsburgh does not typically advance prospects quickly, making it unlikely that Cole sees the major leagues until 2013, at the earliest.
More Fantasy News