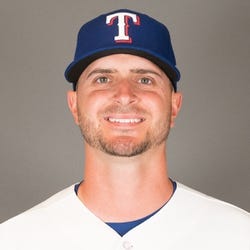 2023 Fantasy Outlook
There was no outlook written for Jake Odorizzi in 2023. Check out the latest news below for more on his current fantasy value.
#

Overall
$Signed a two-year, $17 million contract with the Astros in March of 2021. Traded to the Braves in August of 2022. Exercised $12.5 million player option for 2023 in November of 2022. Traded to the Rangers in November of 2022.

ANALYSIS
Odorizzi was acquired by Atlanta from Houston at the trade deadline and finished 2022 with a 4.40 ERA, 1.33 WHIP and 86:35 K:BB across 106.1 innings. The 32-year-old was a fringe rotation piece for Atlanta but should have a more secure starting spot on Texas' staff to open 2023. Atlanta will send $10 million to Texas to help cover Odorizzi's salary for 2023, which indicates that he's chosen to exercise his $12.5 million player option.
Read More News
Pitching Stats
Loading Pitching Stats...
2022
2021
2020
2019
2018
2017
2022 MLB Game Log

Calculate Stats Over Time
Just click on any two dates.
Scoring
FanDuel
DraftKings
Yahoo DFS
FantasyDraft
Head2Head
Loading Pitching Game Log...
2021 MLB Game Log

Calculate Stats Over Time
Just click on any two dates.
Scoring
FanDuel
DraftKings
Yahoo DFS
FantasyDraft
Head2Head
Loading Pitching Game Log...
2020 MLB Game Log

Calculate Stats Over Time
Just click on any two dates.
Scoring
FanDuel
DraftKings
Yahoo DFS
FantasyDraft
Head2Head
Loading Pitching Game Log...
2019 MLB Game Log

Calculate Stats Over Time
Just click on any two dates.
Scoring
FanDuel
DraftKings
Yahoo DFS
FantasyDraft
Head2Head
Loading Pitching Game Log...
2018 MLB Game Log

Calculate Stats Over Time
Just click on any two dates.
Scoring
FanDuel
DraftKings
Yahoo DFS
FantasyDraft
Head2Head
Loading Pitching Game Log...
2017 MLB Game Log

Calculate Stats Over Time
Just click on any two dates.
Scoring
FanDuel
DraftKings
Yahoo DFS
FantasyDraft
Head2Head
Loading Pitching Game Log...
Minor League Game Log

Calculate Stats Over Time
Just click on any two dates.
Loading Minor League Pitching Game Log...
Pitching Appearances Breakdown
How many pitches does Jake Odorizzi generally throw?
What part of the game does Jake Odorizzi generally pitch?
% Games Reaching Innings Threshold
% Games By Number of Innings Pitched
Left/Right Pitching Splits
BAA
K
BB
H
HR
Since 2020

vs Left

.244
92
46
99
13
Since 2020

vs Right

.261
97
26
120
21
2022

vs Left

.244
45
21
51
8
2022

vs Right

.272
41
14
55
6
2021

vs Left

.250
42
23
44
5
2021

vs Right

.238
49
11
53
11
2020

vs Left

.190
5
2
4
0
2020

vs Right

.353
7
1
12
4
More Splits

→

View More Split Stats
Home/Away Pitching Splits
ERA
WHIP
IP
K/9
BB/9
Since 2020

Home

3.93
1.22
89.1
8.0
2.6
Since 2020

Away

4.79
1.34
135.1
7.3
3.1
2022

Home

3.99
1.23
38.1
7.7
3.1
2022

Away

4.63
1.38
68.0
7.0
2.9
2021

Home

3.83
1.26
47.0
7.7
2.5
2021

Away

4.53
1.25
57.2
8.0
3.3
2020

Home

4.50
0.75
4.0
13.5
0.0
2020

Away

7.45
1.66
9.2
5.6
2.8
More Splits

→

View More Split Stats
Stat Review
How does Jake Odorizzi compare to other starting pitchers?
This section compares his stats with all starting pitcher seasons from the previous three seasons (minimum 120 innings)*. The bar represents the player's percentile rank. For example, if the bar is halfway across, then the player falls into the 50th percentile for that stat and it would be considered average.
* Exit Velocity, Barrels/BBE %, Balls Hit 95+ MPH %, and Spin Rate are benchmarked against 2019 data (min 120 IP).
See here for more exit velocity/barrels stats
plus an explanation of current limitations with that data set.
K/BB

Strikeout to walk ratio.

K/9

Average strikeouts per nine innings.

BB/9

Average walks per nine innings.

HR/9

Average home runs allowed per nine innings.

Fastball

Average fastball velocity.

ERA

Earned run average. The average earned runs allowed per nine innings.

WHIP

Walks plus hits per inning pitched.

BABIP

Batting average on balls in play. Measures how many balls in play against a pitcher go for hits.

GB/FB

Groundball to flyball ratio. The higher the number, the more likely a pitcher is to induce groundballs.

Left On Base

The percentage of base runners that a pitcher strands on base over the course of a season.

Exit Velocity

The speed of the baseball as it comes off the bat, immediately after a batter makes contact.

Barrels/BBE

The percentage of batted ball events resulting in a Barrel. A Barrel is a batted ball with similar exit velocity and launch angle to past ones that led to a minimum .500 batting average and 1.500 slugging percentage.

Spin Rate

Spin Rate is the rate of spin on a baseball after it is released. It is measured in revolutions per minute (rpm).

Balls Hit 95+ MPH

The percentage of batted balls hit that met or exceeded the 95 MPH threshold.

Swinging Strike

The percentage of pitches that result in a swing and a miss.
Advanced Pitching Stats
Loading Advanced Pitching Stats...
Loading MLB Defensive Stats...
Our full team depth charts are reserved for RotoWire subscribers.
Subscribe Now
Recent RotoWire Articles Featuring Jake Odorizzi
Past Fantasy Outlooks
2022
2021
2020
2019
2018
2017
2016
2015
2014
2013
2012
2011
Odorizzi was sporting a tidy 3.61 ERA and 0.99 WHIP at the break, but right forearm tightness limited him to just 47.1 innings. Things did not go so well the rest of the way as Odorizzi finished with a 4.71 ERA and 1.47 WHIP in 57.1 second-half frames. He fanned fewer, walked more and yielded more homers after the break. Odorizzi's velocity dropped as the season progressed, perhaps a result of throwing only 13.2 stanzas the previous year. Odorizzi's expected ERAs have been around 4.50 the past five seasons -- that's who he is. He doesn't provide sufficient strikeouts to balance ratio harm. With Justin Verlander returning and a stable of fledgling starters, Odorizzi's grasp of a spot in the Astros' rotation is precarious at best.
Odorizzi battled multiple injuries last season and made just four starts, allowing 10 earned runs in 13.2 innings. He missed his first scheduled start with a sore back, then went on the injured list after he was hit in the chest by a line drive and then missed time with a blister. It's hard to read too much into four starts, but he did at least maintain his velocity gains of last season (93 mpg average fastball) and showed good control (5% walk rate). He was victimized by four home runs allowed. Odorizzi was coming off the best season of his career in 2019 with 15 wins, a 3.51 ERA and career-best 27.1% strikeout rate. He'd also been durable with six consecutive seasons of 28 or more starts. A high home run rate has been his problem in the past, so as long as he can keep the ball in the park (0.91 HR/9 in 2019), he should return to being a solid starter if he can stay healthy.
Odorizzi had the best season of his career with 15 wins, a 3.51 ERA and career-best 27.1% strikeout rate. He worked on his mechanics in the offseason to add more velocity (92.9 mph average fastball, up 1.3 ticks from his previous career high). He also improved when facing the batting order a third time (.367 wOBA vs. .473 wOBA in 2018) as the Twins picked their spots better in choosing when to keep him in longer. Odorozzi can be prone to the long ball and giving up too many free passes, but he kept the ball in the park at a career-low 0.91 HR/9 rate last season. His 35 GB% and 8.1 BB% weren't great, but they were his best marks since 2016. He's also been durable with 28 or more starts each of the past six seasons. With all his metrics improving, and after accepting the Twins' qualifying offer, he looks set for another solid season near the top of the Minnesota rotation.
Odorizzi arrived in an offseason trade from Tampa Bay and while his ERA, WHIP and win total declined, most of his peripheral numbers improved. His K/9 increased from 8.0 to 8.9 and he gave up fewer home runs (15.5% HR/FB in 2017, 8.9% HR/FB in 2018). However, his inability to pitch deep into games suppressed his fantasy value. Odorizzi's wOBA allowed jumped from .278 and .290 the first two times through the batting order to .473 the third time. Odorizzi had success with his four-seam fastball, sinker and changeup, but hitters teed off on the rest of his offerings. He exhausts his pitch count with a high number of foul balls so he can become tired and overexposed later in games. He's a prime candidate for the Twins to pair him with an opener, which could help his ratios and could potentially lead to more wins, as he would be removed later in the game. He's set to begin the season as the No. 3 or No. 4 starter.
Odorizzi has outperformed his peripherals in each of the past three seasons, but the gap was more pronounced in 2017. The right-hander finished with a low-4.00s ERA, but his FIP was more than a run worse at 5.43. His walk rate jumped from 7.0 percent to 10.1 percent and Odorizzi struggled with the long ball (30 homers allowed) as his groundball rate fell six percentage points to 30.6 percent -- well below the league average. He struggled mightily while working the third time through the order (7.52 ERA), but was bailed out by good fortune on balls in play (.227 BABIP). To his credit, Odorizzi held lefties to a .205/.285/.402 line. He made two trips to the DL, first for a hamstring injury and later for a back injury, but Odorizzi has made at least 28 starts in four consecutive seasons and should be secure in his role. Just don't be surprised if his chances to work deep into games are limited.
Odorizzi tallied the second double-digit win season of his career in 2016 while firing a personal-best 187.2 innings over 33 starts. It was his work in the second half of the season that truly bears mentioning, however, as the 27-year-old was 7-1 with a 2.71 ERA and .290 wOBA allowed. Most of his metrics saw improvement after the All-Star break, providing plenty of reason for optimism heading into the spring. What was of some concern from a season-to-season comparison between 2016 and the prior year was a slight uptick in susceptibility to hard contact and the long ball, two areas in which the right-hander regressed. Odorizzi's HR/9 jumped from a solid 0.96 in 2015 to 1.39 last season, while his hard contact rate allowed bumped up to 33.7 percent from 26.9 percent. His control remained solid, however, as evidenced by a 1.19 WHIP, and he's certainly capable of building on his 10-win tally if he can have the benefit of a better offense around him in 2017.
Odorizzi got off to a tremendous start in 2015. After his June 5 start, he was 12th in ERA (2.47) and WHIP (1.02) and 16th in OPS-against (.611). His strikeouts were down quite a bit from 2014 (7.4 K/9), but so were his walks (1.8 BB/9), a trade-off that worked well for him. He left that June 5 start early, though, and it turned out to be an oblique that cost him a month. He wasn't the same after returning. His lows were lower (starts of six, six and five earned runs) and his ERA was inflated. The strikeouts came back (8.4 K/9), but so did the walks (3.0 BB/9), which made the home-run rate spike (1.3 HR/9) especially painful. There was a groundball/flyball split with the injury, too. He had more success with the medium-strikeout, low-walk and high-GB approach compared to the high-strikeout, medium-walk and high-FB approach of his post-injury work. The latter fits his 2014, which yielded a 4.13 ERA. If that early 2015 approach is real, he will have plenty of upside.
The 4.13 ERA was not much to write home about, and neither was the 1.28 WHIP coming off the 1.21 WHIP he had in 2013. The story of 2014 was Odorizzi's growth in strikeouts, as he learned to pitch with a split-changeup taught to him by Alex Cobb. Odorizzi's strikeout rate jumped from 18 percent to 24 percent, but a few hanging changeups and some misplaced fastballs led to 20 home runs allowed on the season. Early on in 2014, Odorizzi had tremendous issues going through a lineup a second or third time, but an adjustment in his process led to much better pitching for most of the summer before he hit a wall in September. The next step for Odorizzi will be to work deeper into games as he only went at least six innings in 14 of his 31 outings. His flyball tendencies are always going to make him susceptible to the home run, which limits his overall upside.
In his first year in the Rays' organization after being acquired as part of the trade of James Shields to the Royals, Odorizzi spent most of his season with Triple-A Durham. For the second season in a row, he was productive at the Triple-A level, going 9-6 with a 3.33 ERA over 22 starts. He improved his strikeout rate to 9.0 K/9. The young right-hander made four spot starts with the Rays before he was called up for good in September to be a long man out of the bullpen. The only thing keeping him from the major league rotation is a crowd of talented arms above him in Tampa Bay. He has solid location and a well-rounded selection of pitches that project him into the middle of a big-league rotation some day. He will enter spring training in 2014 in competition for a rotation spot with the Rays.
Though not originally considered one of the Royals' top pitching prospects, Odorizzi put together an incredible 2012 that vaulted him up the ladder within the Kansas City organization. The 6-foot-2 right-hander has a solid four-pitch arsenal, good command of the strike zone and a fastball that tops out around 94 mph. He cruised through Double-A to open the season, posting a 4-2 record with a 3.32 ERA over seven starts and had a 47:10 K:BB over 38 innings while holding the opposition to a .191 average. Both his walk and strikeout rates came back down to earth when he moved up a level, but through 19 starts for Triple-A Omaha, he finished with an 11-3 record and a 2.93 ERA. Traded to the Rays in December, Odorizzi could be limited to a partial season in the Rays' rotation given the team's starting pitching depth.
The best pitching prospect in the Royals system, Odorizzi should have no problem attracting attention from fantasy owners in keeper leagues. Odorizzi dominated High-A Wilmington, before being challenged by Double-A Northwest Arkansas. He was able to maintain his control, but the dominance that allowed him to overpower hitters in Low-A and High-A just wasn't there. Before last season Odorizzi didn't have problems with the long ball, but he served up 13 homers over 68.2 innings. Considering these hurdles, it wouldn't be surprising to see him spend all of 2012 between Double-A and Triple-A as he continues to grow as a pitcher.
Odorizzi was Milwaukee's top pitching prospect and solidified that in 2010 before he was traded to Kansas City as part of the Zack Greinke deal. He had a 3.43 ERA with a 10.11 K/9IP in 120.2 innings for Low-A Wisconsin. Control was an issue at times, but scouts love his size and stuff. He'll move up to High-A in 2011 with an eye toward contributing at the major league level in 2012 or 2013.
More Fantasy News