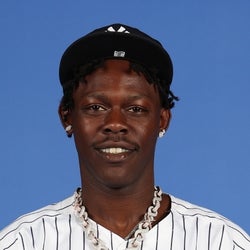 10-Day IL
Injury Toe
Est. Return 6/19/2023
Rest-of-Season Projections
2023 Fantasy Outlook
What could have been. Chisholm Jr was on pace for a monster fantasy season in Miami after a winter where many debated his fantasy merits but the dream lasted just 60 games as a stress fracture in his back and a torn meniscus ended his season in late June. Preseason projections had him in the 20-20 aea with a low batting average, but Chisholm Jr was on pace to toy with a 30-30 season and finished 11 points above the league-wide batting average thanks to his willingness to accept a few more walks and chasing fewer pitches out of the zone. He has had a full-time role for two seasons in Miami, but we have yet to see a full-season of play from him and he has now lost his dual-eligibility as he is exclusively a second baseman. The 30-30 potential is still there for Chisholm Jr if the body is healthy and the next manager allows the team to run as Mattingly did this past season. The health risk should give you pause if you are considering reaching for the upside here.
Read Past Outlooks
$Signed a one-year contract with the Marlins in March of 2022.

Chisholm (toe) received a positive report from his foot specialist Wednesday, and he will begin to ease into baseball activities while traveling with the team on its upcoming road trip,
Jordan McPherson of the Miami Herald
reports.
ANALYSIS
Chisholm was able to play catch on the field prior to Tuesday's game against Kansas City, and he received good news from the specialist that suggests he could be back on the field within the 4-to-6 week timeline he was handed in the middle of May when diagnosed with turf toe in his right foot. Chisholm will likely need a rehab assignment before he can return, but if all goes well he could be back on the field for the Marlins in center field in the next couple of weeks.
Read More News
Batting Stats
2023 MLB Game Log

Calculate Stats Over Time
Just click on any two dates.
Scoring
FanDuel
DraftKings
Yahoo DFS
Loading Batting Game Log...
2022 MLB Game Log

Calculate Stats Over Time
Just click on any two dates.
Scoring
FanDuel
DraftKings
Yahoo DFS
Loading Batting Game Log...
2021 MLB Game Log

Calculate Stats Over Time
Just click on any two dates.
Scoring
FanDuel
DraftKings
Yahoo DFS
Loading Batting Game Log...
2020 MLB Game Log

Calculate Stats Over Time
Just click on any two dates.
Scoring
FanDuel
DraftKings
Yahoo DFS
Loading Batting Game Log...
Minor League Game Log

Calculate Stats Over Time
Just click on any two dates.
Loading Minor League Batting Game Log...
Batting Order Slot Breakdown
#1
#2
#3
#4
#5
#6
#7
#8
#9
#1
#2
#3
#4
#5
#6
#7
#8
#9
Left/Right Batting Splits
OPS
PA
HR
RBI
AVG
Since 2021

vs Left

.581
225
5
19
.199
Since 2021

vs Right

.814
681
34
95
.262
2023

vs Left

.265
36
0
1
.094
2023

vs Right

.816
123
7
15
.268
2022

vs Left

.519
39
1
5
.143
2022

vs Right

.927
201
13
40
.275
2021

vs Left

.670
150
4
13
.237
2021

vs Right

.752
357
14
40
.252
More Splits

→

View More Split Stats
Home/Away Batting Splits
OPS
PA
HR
RBI
AVG
Since 2021

Home

.814
471
20
64
.273
Since 2021

Away

.694
435
19
50
.216
2023

Home

.813
76
4
9
.265
2023

Away

.586
83
3
7
.197
2022

Home

.915
119
5
23
.286
2022

Away

.807
121
9
22
.222
2021

Home

.772
276
11
32
.271
2021

Away

.674
231
7
21
.220
More Splits

→

View More Split Stats
Stat Review
How does Jazz Chisholm compare to other hitters?
This section compares his stats with all batting seasons from the previous three seasons (minimum 400 plate appearances)*. The bar represents the player's percentile rank. For example, if the bar is halfway across, then the player falls into the 50th percentile for that stat and it would be considered average.
* Exit Velocity and Barrels/PA % are benchmarked against 2019 data (min 400 PA) and Hard Hit Rate is benchmarked against last season's data (min 400 PA).
See here for more exit velocity/barrels stats
plus an explanation of current limitations with that data set.
BB/K

Walk to strikeout ratio

BB Rate

The percentage of plate appearances resulting in a walk.

K Rate

The percentage of plate appearances resulting in a strikeout.

BABIP

Batting average on balls in play. Measures how many of a batter's balls in play go for hits.

ISO

Isolated Power. Slugging percentage minus batting average. A computation used to measure a batter's raw power.

AVG

Batting average. Hits divided by at bats.

OBP

On Base Percentage. A measure of how often a batters reaches base. Roughly equal to number of times on base divided by plate appearances.

SLG

Slugging Percentage. A measure of the batting productivity of a hitter. It is calculated as total bases divided by at bats.

OPS

On base plus slugging. THe sum of a batter's on-base percentage and slugging percentage.

wOBA

Weighted on-base average. Measures a player's overall offensive contributions per plate appearance. wOBA combines all the different aspects of hitting into one metric, weighting each of them in proportion to their actual run value.

Exit Velocity

The speed of the baseball as it comes off the bat, immediately after a batter makes contact.

Hard Hit Rate

A measure of contact quality from Sports Info Solutions. This stat explains what percentage of batted balls were hit hard vs. medium or soft.

Barrels/PA

The percentage of plate appearances where a batter had a batted ball classified as a Barrel. A Barrel is a batted ball with similar exit velocity and launch angle to past ones that led to a minimum .500 batting average and 1.500 slugging percentage.

Expected BA

Expected Batting Average.

Expected SLG

Expected Slugging Percentage.

Sprint Speed

The speed of a runner from home to first, in feet per second.

Ground Ball %

The percentage of balls put in play that are on the ground.

Line Drive %

The percentage of balls put in play that are line drives.

Fly Ball %

The percentage of balls put in play that are fly balls.
Prospect Rankings History
Advanced Batting Stats
Loading Advanced Batting Stats...
Games By Position
Defensive Stats
Loading Games Played by Position...
Loading MLB Defensive Stats...
Batted Ball Stats
Loading Batted Ball Stats...
Stats Vs Upcoming Pitchers
Our full team depth charts are reserved for RotoWire subscribers.
Subscribe Now
Recent RotoWire Articles Featuring Jazz Chisholm
See More
Past Fantasy Outlooks
Chisholm has channeled his athleticism to become one of the league's best power-speed combos. The power and speed weren't in doubt as he progressed through the minors. The question was whether he had enough plate discipline and contact skills to get on base. Those doubts were front and center in 2020 when his strikeout rate was over 30% and he posted a .242 OBP. While he barely lowered his strikeouts, his .319 BABIP helped push his OBP over .300. He didn't end the season on a high note with a .278 OBP in the second half (.258 OBP in September). Pitchers started adjusting to him by throwing him fewer fastballs (48% to 45%) and fewer pitches in the strike zone. While he has problems getting on base, his power and speed stayed elite with his avgEV up from 87.1 mph in 2020 to 90.2 mph and his sprint speed ranking in the 94th percentile.
Chisholm making his debut in the shortened season was unexpected, so the fact that he struggled in that tiny sample is close to irrelevant when assessing his long-term outlook. Miami traded Zac Gallen to Arizona for Chisholm because they were flush with good young pitching and extremely light on up-the-middle position players with high ceilings, and Chisholm's upside remains quite high. He has plus raw power, but his approach still needs a lot of work. His sprint speed was in the 81st percentile, so he is not a true burner, but is fast enough to steal 15-plus bases. Chisholm is an aggressive hitter who is overly pull happy. He typically gets to a level, struggles, and then makes the necessary adjustments. It is a testament to his hard work at the alternate site that he debuted at all despite never playing above Double-A. He will compete for time at second base and shortstop in the coming years.
Every non-prospector who has seen Zac Gallen and only seen Chisholm's stat line thinks that 1-for-1 was a bad trade for Miami. It certainly will look that way in the short term, but the Marlins had a lot of pitching being wasted on a non-contender and severely lacked star power on the position player side. Chisholm gives them a shot at that. An above-average runner with elite bat speed who will stick at shortstop, Chisholm has physical gifts that can't be taught. He rediscovered his linedrive stroke (28.6 LD%) and cut his strikeout rate from 33.8% to 25.5% after the trade, but had already started improving before the deal -- he just had an abysmal first seven weeks at Double-A. In a down year, he hit 21 home runs and stole 16 bases as a 21-year-old playing a premium position. There may be another adjustment period at Triple-A, but Chisholm has Trevor Story-esque tools, so patience is recommended.
Bursting with tools, most notably 60-grade power, Chisholm emerged as one of the game's top shortstop prospects. A torn meniscus limited him to 29 games in 2017, but he still reached High-A before most of his peers -- only 21 of his 501 PA in 2018 came against pitchers who were younger than him. Aspects of his profile are worrisome -- he struck out a lot (29.7 K%), struggled against lefties (.218/.258/.412) and the one time he hit over .300 as a pro (at High-A), his BABIP was .443. However, he logged a 33.3 GB% while using the whole field (41.8 Pull%) with Visalia. That batted-ball profile suggests his batting average gains may be legitimate. Good instincts and quick-twitch athleticism led to a 17-for-21 stolen-base success rate. He capped his breakout campaign by hitting .442 with three homers, seven steals and eight strikeouts in 10 AFL games. Chisholm could begin his age-21 season at Double-A and has significant upward mobility.
Heading into 2017, Chisholm (who will turn 19 in February) is considered the top prospect in a depleted Arizona farm system. The lanky shortstop from the Bahamas spent last season playing at the rookie level for the Missoula Osprey. He recorded 249 at-bats in 62 games, posting a solid .281/.333/.446 slash line in the process. Chisholm showed a good mix of power (nine home runs) and speed (13 steals in 17 attempts), which was especially impressive considering he was one of the younger players in the Pioneer League. Scouts say Chisholm could stick at shortstop, but he also could add some bulk to his 165-pound frame and move off the position. As with any teenage prospect, it's hard to really say what the future holds for Chisholm. Across baseball, he's not considered an elite prospect at this point, but given the lack of depth in Arizona's system, Chisholm could be a name to watch if he continues to perform at a high level.
More Fantasy News