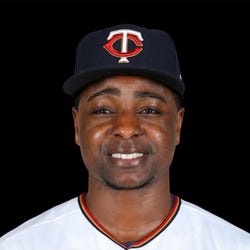 Rest-of-Season Projections
2023 Fantasy Outlook
There was no outlook written for Jharel Cotton in 2023. Check out the latest news below for more on his current fantasy value.
$Signed a one-year, $700,000 contract with the Twins in November of 2021. Waived by the Twins in September of 2022. Claimed off waivers by the Giants in September of 2022. Released by the Giants in October of 2022.

Cotton
signed
a contract with the Orix Buffaloes of Nippon Professional Baseball in late January.
ANALYSIS
Cotton was an effective starter for a brief stretch with the Athletics to close the 2016 season, but arm injuries derailed his chances to remain a regular member of a big-league rotation. He managed to rebound to put up decent numbers as a reliever in recent campaigns, including maintaining a 3.56 ERA and 1.26 WHIP across 43 innings with the Twins and Giants in 2022. It's unclear what his role will be with the Buffaloes, though it's possible he could serve as a starter.
Read More News
Pitching Stats
Loading Pitching Stats...
2022 MLB Game Log

Calculate Stats Over Time
Just click on any two dates.
Scoring
FanDuel
DraftKings
Yahoo DFS
Loading Pitching Game Log...
2021 MLB Game Log

Calculate Stats Over Time
Just click on any two dates.
Scoring
FanDuel
DraftKings
Yahoo DFS
Loading Pitching Game Log...
2019 MLB Game Log

Calculate Stats Over Time
Just click on any two dates.
Scoring
FanDuel
DraftKings
Yahoo DFS
Loading Pitching Game Log...
2018 MLB Game Log

Calculate Stats Over Time
Just click on any two dates.
Scoring
FanDuel
DraftKings
Yahoo DFS
Loading Pitching Game Log...
2017 MLB Game Log

Calculate Stats Over Time
Just click on any two dates.
Scoring
FanDuel
DraftKings
Yahoo DFS
Loading Pitching Game Log...
Minor League Game Log

Calculate Stats Over Time
Just click on any two dates.
Loading Minor League Pitching Game Log...
Left/Right Pitching Splits
BAA
K
BB
H
HR
Since 2021

vs Left

.226
33
14
26
4
Since 2021

vs Right

.225
36
21
36
5
2023

vs Left

0
0
0
0
0
2023

vs Right

0
0
0
0
0
2022

vs Left

.239
20
10
16
3
2022

vs Right

.200
19
10
18
4
2021

vs Left

.208
13
4
10
1
2021

vs Right

.257
17
11
18
1
More Splits

→

View More Split Stats
Home/Away Pitching Splits
ERA
WHIP
IP
K/9
BB/9
Since 2021

Home

3.51
1.37
41.0
7.7
4.4
Since 2021

Away

3.58
1.26
32.2
9.4
4.1
2023

Home

0
0
0
0
0
2023

Away

0
0
0
0
0
2022

Home

3.00
1.25
24.0
6.8
4.5
2022

Away

4.26
1.26
19.0
9.9
3.8
2021

Home

4.24
1.53
17.0
9.0
4.2
2021

Away

2.63
1.24
13.2
8.6
4.6
More Splits

→

View More Split Stats
Advanced Pitching Stats
Loading Advanced Pitching Stats...
Loading MLB Defensive Stats...
Recent RotoWire Articles Featuring Jharel Cotton
See More
Jason Collette tackles the NL Central with his next set of bold predictions. Find out why he's fading Lars Nootbaar and who he thinks will lead the Cubs in saves.
Erik Siegrist sifts through the fallout from a wild trade deadline as Craig Kimbrel is among the big names to join the AL player pool.
Jason Collette revisits his bold predictions for pitchers this season. Does not being a Belieber overshadow his big wins?
Jan Levine profiles NL players who could have increased opportunities as summer camps open around baseball, like Arizona's Jake Lamb.
Erik Halterman analyzes the latest spring training job battles, including the Diamondbacks bullpen where Archie Bradley has yet to be named the closer.
Past Fantasy Outlooks
2022
2020
2019
2018
2017
2016
Once a fairly promising prospect, Cotton recorded an unremarkable 4.95 ERA in 158.1 innings for Oakland in 2016 and 2017 before seeing his career derailed by Tommy John surgery. He returned to the majors last season with Texas, and had a decent season with a 3.52 ERA, 1.40 WHIP and 30:15 K:BB across 30.2 innings. With the long layoff, it's possible he could improve in his second full year back, especially if he can reduce his walks. He'll work in a middle relief role for Minnesota.
Cotton's return from the Tommy John surgery he underwent back in March of 2018 didn't go entirely smoothly, and he wound up not making a single big-league appearance last year. He got into some rehab games in May but was quickly shut down for a hamstring debridement procedure in June. He got back on the mound for rehab work in July but was never trusted enough for a promotion, instead struggling to a 6.75 ERA in 30.1 minor-league innings. There's no shame in having a rocky return from a major surgery, so Cotton's 2019 season shouldn't dampen all enthusiasm for a player who was once a mildly interesting prospect. That's not to say there should be too much enthusiasm in the first place, as he'll be 28 years old this season and has just 158.1 big-league innings with a 4.95 ERA under his belt. The Cubs gave the A's cash for Cotton this offseason, and he will compete for the No. 5 starter spot this spring.
Cotton was battling for an Opening Day rotation spot when he suffered a strained UCL in the middle of spring training, and the right-hander ultimately opted to undergo season-ending Tommy John surgery in mid-March. While he resumed throwing in August, he is expected to remain sidelined at the start of the 2019 season. A clearer timetable for the right-hander's return should emerge as he progresses in his rehab, but Cotton figures to get at least one more opportunity in Oakland's rotation whenever he's deemed ready. He struggled during his first extended look with the A's in 2017, posting a 5.58 ERA, 1.44 WHIP and 105:53 K:BB through 129 innings (24 starts), though he looked much better during spring training in 2018 prior to suffering the injury. There's still some perceived upside with the former Dodgers prospect given the quality of his changeup, but he'll need to prove he's healthy before warranting any serious consideration.
Cotton's changeup is nasty, but pitchers need more than one weapon in their arsenal to sustain success against big-league hitters. After Cotton turned in a 2.15 ERA in a five-start sample in 2016, he was rocked for a 5.58 ERA last season. Home runs were a major problem (1.95 HR/9) as Cotton's flyball rate hovered around 46 percent -- his "sinker" hardly gets any sink and he had a nasty habit of leaving his four-seamer up in the wheelhouse of lefty batters (14 homers allowed to lefties). Walks compounded the issues with the long ball, with Cotton issuing free passes at a 9.4 percent clip, and he managed only a modest 18.6 percent strikeout rate. Fortunately, a late-season elbow scare proved minor, as Cotton was given a clean bill of health heading into the offseason. With a lack of quality alternatives behind him, he seems likely to get a chance to make amends in the rotation in 2018.
The Dodgers sent Cotton to Oakland to acquire Josh Reddick, and the right-hander found his way into the rotation about a month later. Though he sparkled in his first five major league starts and probably has the inside track at a rotation spot, some may overlook him because of the 7.1 K/9 during his time with Oakland and 4.31 ERA at Triple-A. The ugliness of his minor league surface stats masked the beauty of his 10.3 K/9 and 2.6 BB/9. Cotton's swinging-strike rate (a whopping 12.5 percent), an excellent get-ahead approach (66.1 first-strike rate) and diverse cache of pitches suggest he should've had better luck in the K/9 department. Those factors position him for a productive first full year, especially in his new pitcher-friendly environment, which will at least limit the dangers of his flyball-first approach in home starts. He's a low-cost sleeper yet possibly one of fantasy's best prospects for 2017.
Cotton saw his prospect status soar after an excellent 2015 in which he saw time at four different levels, ultimately finishing with five relief appearances in Triple-A. His Triple-A debut was pretty good, with Cotton striking out the only six hitters he faced in two innings. Combined, Cotton posted a 2.45 ERA in 95.2 innings with an excellent 114:31 K:BB. That 10.7 K/9 likely propelled him at least close to the team's top 10 prospects list. Cotton stands just 5-foot-11 and was a 20th-round pick, but a unique delivery and excellent stuff have propelled him up the charts. Cotton features a fastball anywhere from 90-95 mph, an excellent curveball, and a changeup that is already talked about as well above average for his development. Cotton spent time in both the rotation and the bullpen after returning from a wrist injury in late May. His long-term future is yet to be decided, but he should make his major league debut in some capacity this season after opening up in Triple-A.
More Fantasy News