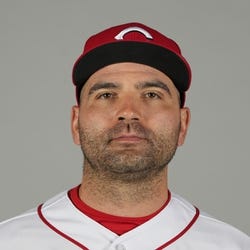 Out
Injury Shoulder
Est. Return 2/15/2023
2023 Fantasy Outlook
Votto enjoyed a resurgent 2021 campaign with 36 home runs and a .938 OPS, but he crashed hard last season with a .205/.319/.370 slash line in 91 games before he underwent surgery for a torn rotator cuff. It's unclear how long and exactly how much the injury affected his season, which saw the veteran first baseman produced the worst strikeout rate (25.8 percent) of his career. Votto's exit velocity dipped over three mph to 89.7, which cratered his expected batting averaged to .218. He still got on base at a good clip with a 12.0 percent walk rate, but he's unlikely to return to his former power profile. Votto should rebound some with a healthy shoulder, but his health in 2023 certainly isn't guaranteed as he enters his age-39 season, and he'll once again be surrounded by a poor Cincinnati lineup that will depress any counting stats.
Read Past Outlooks
$Signed a 10-year, $225 million contract extension with the Reds in April of 2012. Contract includes $20 million team option ($7 million buyout) for 2024.

Likely to be delayed this spring
Votto (shoulder) is likely going to be delayed at the start of spring training, Reds general manager Nick Krall
said
Monday.
ANALYSIS
"Probably not," Krall said when asked of Votto's potential readiness for the beginning of camp. "I think he's going to be a little delayed there. That was expected at the beginning, from when he had surgery, that he wasn't going to be unlimited, full-go at the beginning. We'll just have to see where he comes in and go from there." Additionally, manager David Bell said of Votto's recovery from surgery to repair a torn rotator cuff and torn biceps, that "it's been a tougher rehab than he anticipated." The skipper did note that it still wouldn't surprise him if Votto is ready to go on Opening Day but that more will be known once spring training gets underway. Votto has always been lauded for his work ethic, but he's also a 39-year-old coming off major surgery, so we can't count on him avoiding an injured list stint.
Read More News
Batting Stats
2022
2021
2020
2019
2018
2017
2022 MLB Game Log

Calculate Stats Over Time
Just click on any two dates.
Scoring
FanDuel
DraftKings
Yahoo DFS
FantasyDraft
Head2Head
Loading Batting Game Log...
2021 MLB Game Log

Calculate Stats Over Time
Just click on any two dates.
Scoring
FanDuel
DraftKings
Yahoo DFS
FantasyDraft
Head2Head
Loading Batting Game Log...
2020 MLB Game Log

Calculate Stats Over Time
Just click on any two dates.
Scoring
FanDuel
DraftKings
Yahoo DFS
FantasyDraft
Head2Head
Loading Batting Game Log...
2019 MLB Game Log

Calculate Stats Over Time
Just click on any two dates.
Scoring
FanDuel
DraftKings
Yahoo DFS
FantasyDraft
Head2Head
Loading Batting Game Log...
2018 MLB Game Log

Calculate Stats Over Time
Just click on any two dates.
Scoring
FanDuel
DraftKings
Yahoo DFS
FantasyDraft
Head2Head
Loading Batting Game Log...
2017 MLB Game Log

Calculate Stats Over Time
Just click on any two dates.
Scoring
FanDuel
DraftKings
Yahoo DFS
FantasyDraft
Head2Head
Loading Batting Game Log...
Minor League Game Log

Calculate Stats Over Time
Just click on any two dates.
Loading Minor League Batting Game Log...
Batting Order Slot Breakdown
#1
#2
#3
#4
#5
#6
#7
#8
#9
#1
#2
#3
#4
#5
#6
#7
#8
#9
Left/Right Batting Splits
OPS
PA
HR
RBI
AVG
Since 2020

vs Left

.696
342
9
40
.210
Since 2020

vs Right

.883
785
49
121
.250
2022

vs Left

.700
121
2
11
.214
2022

vs Right

.682
255
9
30
.201
2021

vs Left

.702
166
5
27
.215
2021

vs Right

1.048
367
31
72
.289
2020

vs Left

.664
55
2
2
.182
2020

vs Right

.843
163
9
19
.243
More Splits

→

View More Split Stats
Home/Away Batting Splits
OPS
PA
HR
RBI
AVG
Since 2020

Home

.937
590
38
103
.266
Since 2020

Away

.710
542
20
59
.207
2022

Home

.700
186
8
26
.185
2022

Away

.678
190
3
15
.224
2021

Home

1.004
289
20
59
.293
2021

Away

.860
244
16
40
.233
2020

Home

1.160
115
10
18
.333
2020

Away

.434
108
1
4
.118
More Splits

→

View More Split Stats
Stat Review
How does Joey Votto compare to other hitters?
This section compares his stats with all batting seasons from the previous three seasons (minimum 400 plate appearances)*. The bar represents the player's percentile rank. For example, if the bar is halfway across, then the player falls into the 50th percentile for that stat and it would be considered average.
* Exit Velocity and Barrels/PA % are benchmarked against 2019 data (min 400 PA) and Hard Hit Rate is benchmarked against last season's data (min 400 PA).
See here for more exit velocity/barrels stats
plus an explanation of current limitations with that data set.
BB/K

Walk to strikeout ratio

BB Rate

The percentage of plate appearances resulting in a walk.

K Rate

The percentage of plate appearances resulting in a strikeout.

BABIP

Batting average on balls in play. Measures how many of a batter's balls in play go for hits.

ISO

Isolated Power. Slugging percentage minus batting average. A computation used to measure a batter's raw power.

AVG

Batting average. Hits divided by at bats.

OBP

On Base Percentage. A measure of how often a batters reaches base. Roughly equal to number of times on base divided by plate appearances.

SLG

Slugging Percentage. A measure of the batting productivity of a hitter. It is calculated as total bases divided by at bats.

OPS

On base plus slugging. THe sum of a batter's on-base percentage and slugging percentage.

wOBA

Weighted on-base average. Measures a player's overall offensive contributions per plate appearance. wOBA combines all the different aspects of hitting into one metric, weighting each of them in proportion to their actual run value.

Exit Velocity

The speed of the baseball as it comes off the bat, immediately after a batter makes contact.

Hard Hit Rate

A measure of contact quality from Sports Info Solutions. This stat explains what percentage of batted balls were hit hard vs. medium or soft.

Barrels/PA

The percentage of plate appearances where a batter had a batted ball classified as a Barrel. A Barrel is a batted ball with similar exit velocity and launch angle to past ones that led to a minimum .500 batting average and 1.500 slugging percentage.

Expected BA

Expected Batting Average.

Expected SLG

Expected Slugging Percentage.

Sprint Speed

The speed of a runner from home to first, in feet per second.

Ground Ball %

The percentage of balls put in play that are on the ground.

Line Drive %

The percentage of balls put in play that are line drives.

Fly Ball %

The percentage of balls put in play that are fly balls.
Advanced Batting Stats
Loading Advanced Batting Stats...
Games By Position
Defensive Stats
Loading Games Played by Position...
Loading MLB Defensive Stats...
Batted Ball Stats
Loading Batted Ball Stats...
Stats Vs Upcoming Pitchers
Our full team depth charts are reserved for RotoWire subscribers.
Subscribe Now
Recent RotoWire Articles Featuring Joey Votto
See More
Past Fantasy Outlooks
2022
2021
2020
2019
2018
2017
2016
2015
2014
2013
2012
2011
2010
2009
2008
2007
2006
2005
Votto's resurgence was one of the better stories of 2021. After three seasons of decline, Votto joined the Launch-Angle Revolution with a flourish, hitting 36 homers while posting a .938 OPS. The Statcast numbers suggest it wasn't a fluke - his average exit velocity (92.9 mph), barrel rate (17.2%) and hard hit rate (53.2%) were all in the 90+ percentile. How did Votto reverse that decline? It started towards the end of the 2020 season, when he was benched for three days and made a conscious decision to change his approach. Votto exemplified the old internet forum argument "... he could hit more homers if he wanted to ...." At age 38, can Votto repeat this level of production? Regression is a powerful force, the possibility of an injury remains high and the lineup around Votto projects to be worse. That said, it's also unlikely that you'll have to pay a draft cost commensurate with his 2021 production.
The Reds spent big in the offseason to improve a morbund lineup, but even with the signings of Nick Castellanos and Mike Moustakas, the Reds were left with below-average hitters at catcher, shortstop, and unfortunately, first base. Votto still draws walks (16.6 BB% last year) and hit for more power last year (.220 ISO compared to .150 in 2019), but like so many of his teammates, it came at the expense of his batting average. Like teammate Eugenio Suarez, Votto's BABIP dropped considerably in 2020, down to .235. Unlike Suarez, however, that BABIP drop was also accompanied by a drop in exit velocity, which dropped down to 87.4 mph. Votto also had a massive home/road split, hitting 10 of his 11 homers at home, leading to a paltry .118/.241/.194 line on the road. For two seasons running, he also has a sub-.700 OPS against left-handers. The next step for Votto might be to make him an expensive platoon hitter.
Watching a player in the decline phase isn't fun, especially if you find that player to be especially likable. But Votto appears to be firmly ensconced in that phase after suffering through his worst major-league season. Votto hit just 15 homers in a season where the ball was flying off everyone's bat and in a ballpark that accentuates power. He had a career-worst 20.2 K%, and his walk rate dropped from 17.3% to 12.5%. For the second year in a row, his barrel rate was below 7.0%, after consistently topping 9.0%. This trend mirrors the decline of other elite first basemen. Votto could be different than other players with a similar decline, given his analytical approach to the game, but 2019 provided no such inspiration. This will be Votto's age-36 season, and he might not end up being among the top 20 first basemen drafted.
Votto led the NL with a .417 OBP, but barely out-slugged his OBP, coming in at .419 with only 12 homers. He lost 39 runs and 33 RBI despite an improved lineup around him. That dropoff was particularly acute after he got hit by a Ryan Madson fastball on the knee on Aug. 4 -- he had to go on the DL and hit just three homers over 201 subsequent plate appearances. But even before that incident, Votto was hitting .289/.422/.442 over 422 first-half plate appearances. He turned 35 in September and it's fair to question how much of his power decline is attributable to age and not injury. Two positive signs: his 41.0 Hard% was the best mark of his entire career and his groundball rate was still under 40%. After carrying a second-round price tag last season, he had an NFBC ADP of 77.6 in the month of December. That's a pretty nice discount for someone who is a safe bet to prop up a fantasy team's batting average and is one year removed from hitting 36 home runs.
Votto improbably keeps finding ways to improve, even at age 33. In 2017 he finished second in NL MVP voting, narrowly losing to Giancarlo Stanton following a .320/.454/.578 season. Votto struck out a career-low 11.7 percent of the time after making that a point of emphasis in the offseason. As long as he remains healthy, and he played every inning of 2017, you can take a .300 BA and .400 OBP to the bank, and with the Reds' offense on the rise, perhaps his counting stats will come along for the ride. The bigger question is how early do you take him? First base is such a deep position, and his stolen bases continue to decline -- chances are he'll land in the second round in mixed leagues even with his remarkable consistency. Don't worry about a potential trade away from the Reds -- he has a complete no-trade clause and has consistently expressed a desire to stay in Cincinnati.
Votto was a little slow to heat up in 2016, but once he did, he was the hottest star in the baseball universe. After batting .229 and .200 in April and May, respectively, Votto went on to post these marks in the subsequent four months: .319, .413, .394, .395. He easily led all qualifying hitters in average (.408), on-base percentage (.490) and slugging (.668) during the second half of the season, walking 15 more times than he struck out after the All-Star break while adding 15 homers. Now that he's two full seasons removed from the quad issues that led to the only down year of his career, Votto is firmly back among the safest options in fantasy baseball. His success isn't lineup-dependent either, as evidenced by his stellar counting stats in 2016 despite a lackluster supporting cast. There will be younger, sexier options in the first two rounds of drafts, but few can provide the peace of mind that Votto does.
After seeing Votto limp through the 2014 season, hampered by a distal quadriceps strain that he never shook, he rebounded with a fury in 2015. Once again he was able to generate power from his legs, resulting in 29 homers and a .227 ISO. He drew a career-high 143 walks. Yet to hear some Cincinnati commentators, Votto somehow fell short because he only knocked in 80 runs - that commentary is woefully short-sighted, ignoring all the disaster in front of him in the form of Billy Hamilton and Jason Bourgeois. While the names in front of him might change for the better, those behind him are likely to get worse. The Reds have already traded away Todd Frazier, and more trades could be in the offing as they continue their overhaul. Votto might walk 150 times this year and drive in 70.
Every year RotoWire's top injury analyst Jeff Stotts cautions readers about how a distal quadriceps strain can linger for a player, particularly if he tries to come back too soon. In 2015, all he'll have to do is point to Votto's 2014 season. Votto was limited to 62 games with the injury between two DL stints, with a 23-game stretch in between where he failed to homer even once. Not only did Votto fail to produce as he once regularly did, but because of overly optimistic timetables, his owners held onto him for far too long during his second DL trip before he was finally declared out for the season. In a format with a limited bench and no DL spots like the NFBC, that can be deadly. The big question going forward is what sort of player will Votto be once he finally returns at full strength -- is it reasonable to expect him to hit .300-plus with 20 homers any longer, or will the power fail to return? At least you will be able to find out in 2015 at a discounted rate, unlike the Reds, who are still on the hook for at least nine more years plus a club option for a 10th year.
Votto was a lightning rod for criticism among Reds fans and the local media, but for all the wrong reasons. Way too much bandwidth was spent on discussing his walk rate - as if having a .435 OBP could ever be construed as a negative! But it is true that at times he failed in high profile situations, most notably with the bases loaded. He did struggled defensively in the first half of the season. And most importantly, his power was down - his ISO dropped from .230 to .186. That last factor, combined with the absolutely horrid No. 2 hitters in front of him most of the year contributed to a steep decline in RBI, which has a tangible impact on his fantasy value. He's still an elite player in real life, but in our game those shortcomings knock him out of the first round in traditional formats.
June 24 - that was the last time Joey Votto homered during the 2012 season. He injured his knee five days later while sliding into third base in San Francisco, and that purportedly minor injury ended up being a lot more serious than expected. He eventually needed two procedures and was left with very little time to go on a minor league rehab assignment before returning in September. It was pretty clear in September and in the playoffs that he wasn't back to his full self. While he's still an amazing hitter in real life, some of Votto's fantasy value gets diminished in leagues that don't use on-base percentage, as he's not a pure power hitter. His career fly ball rate is 34.4%, and he hasn't sniffed the 40 percent average since 2009. Thus, his ultimate homer upside is diminished. That flaw however also makes him a better bet to hit for high average. But because of this knee injury, the days of Votto getting double-digits in stolen bases is probably long gone.
For a power hitter, Votto doesn't hit a lot of flyballs (34.8 percent in 2010, 33.4 percent in 2011). The difference between his 37-homer 2010 season and his 29-homer season last year was that his HR/FB percentage dropped from an absurdly-high 25 percent in 2010 to a merely high 18.2 percent in 2011. However, he also lowered his groundball rate in 2011, turning more of those into line drives, so there is some hope that he ultimately will hit more flyballs, taking advantage of his settings at the Great American Ball Park. Otherwise, it's all systems go for Votto - expect many more high-average, high-OBP seasons hitting the middle of the Reds order. He's still good for 7-to-10 stolen bases in a given season, too.
Votto's counting stats were able to catch up with his already great rate stats in 2010, leading up to his NL MVP award. Just think how many RBI he'd be able to tally if the Reds were capable of putting a decent leadoff man in front of him - Reds leadoff hitters were among the bottom five in baseball in both batting average and on-base percentage. At age 27, Votto is in the prime of his career, so a repeat of his 2010 power numbers is probable. The one aspect that might not repeat, however, is his 16 stolen bases.
Votto's high-profile bout with depression in dealing with his father's death shed a lot of light on the topic and how it pertains to sports. The Reds were actually fairly progressive in allowing him to get the proper treatment and recovery, and while it's hard to forever declare him past that issue, he was able to at least deal with it adequately enough to allow him to play. Once he got on the field, Votto took the next step up to put himself among the elite first basemen in the game. In a league that has Albert Pujols, Prince Fielder and Ryan Howard, Votto might not get too many All-Star appearances, but he's going to be a steady producer for the foreseeable future. His excellent batting eye makes him that much more valuable in leagues that account for OBP.
Votto began the year having to split time with Scott Hatteberg at first base but ended the year as the Reds' best hitter. He and fellow rookie Jay Bruce will form the core of the new Reds lineup, along with Brandon Phillips. It'll be up to the Reds to make sure to surround them with enough quality hitters to build a decent offense, but Votto will do his part. There's some talk that he'll eventually be moved off first base to make room for Yonder Alonso, but that conversation won't likely happen in earnest until 2010.
After a strong September trial, Reds fans had just one question about Votto: What took so long to call him up? Sure, Scott Hatteberg had a nice season, but the Reds were quite clearly playing out the string by midseason, and Votto could have used the extra time to adjust to the majors. Chances are that he'll be the Opening Day starter at first base, but be aware that the Reds exercised their 2008 option on Hatteberg, and that new manager Dusty Baker isn't exactly renowned for playing the young prospect over the proven veteran.
Votto needed to have a big year at Double-A Chattanooga to continue his development, and he delivered, winning the Southern League's MVP Award. He's always had the raw power that drew the Reds towards him in the first place, but he refined that power while moving up a level. Scott Hatteberg will begin the year as the starting first baseman for the Reds, but don't be surprised if you see Votto's name in the lineup at that spot by September.
Votto is still a little behind the curve developmentally, having not yet mastered high-A ball despite turning 22 in September. He continues to impress scouts with his raw power, but he hasn't yet completely translated that batting practice power into performance in game situations. Still, besides Jay Bruce, he's the Reds' best power prospect, perhaps underscoring the problems the team will face in the future.
Votto needed a good year at low Single-A Dayton to remain a legitimate prospect and he responded in kind. Votto, a Canadian, was a second-round pick by the Reds in 2002 and took a little extra time getting used to the jump in competition. He's one of the few power prospects in the Reds system.
More Fantasy News