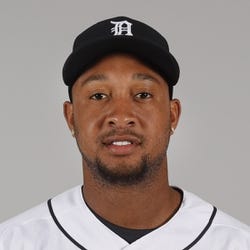 Rest-of-Season Projections
2023 Fantasy Outlook
Schoop took a step back in his third year with the Tigers and had arguably the worst season of his MLB career. After hitting 22 home runs and tallying 84 RBI in 2021, he fell back to 11 home runs and 38 RBI. Schoop also posted a career-worst .561 OPS, down significantly from the .755 mark he recorded a season earlier. Bad luck was partly to blame, as the veteran infielder saw his BABIP drop from .317 in 2021 to just .234 last year. However, Schoop also displayed reduced power, as his ISO dipped to .120, a new career worst. Schoop has always provided decent power from the middle infield with very minimal speed, so if he's not driving the ball as much anymore, he won't offer much from a fantasy perspective. It seems like Schoop has been around forever, and he will be entering his 11th season in the majors, though he's still only 31, so he might have a little left in the tank. Schoop could have some fantasy value if he can get back to hitting the ball out of the park more regularly, but he could just as easily continue to decline as he gets older.
Read Past Outlooks
$Signed a one-year, $7.5 million contract extension with the Tigers in August of 2021. Contract includes $7.5 million player option for 2023.

Schoop went 2-for-4 with one double and two runs scored in Saturday's 7-3 victory over the White Sox.
ANALYSIS
Schoop was in the starting lineup for the first time in three games and delivered his second multi-hit game of the season, launching a double in the eighth inning after a single in his first at-bat. With the emergence of
Zach McKinstry
, Schoop has been relegated to part-time duties for the Tigers. The 31-year-old has driven in just two runs this season.
Read More News
Batting Stats
2023
2022
2021
2020
2019
2018
2017
2023 MLB Game Log

Calculate Stats Over Time
Just click on any two dates.
Scoring
FanDuel
DraftKings
Yahoo DFS
Loading Batting Game Log...
2022 MLB Game Log

Calculate Stats Over Time
Just click on any two dates.
Scoring
FanDuel
DraftKings
Yahoo DFS
Loading Batting Game Log...
2021 MLB Game Log

Calculate Stats Over Time
Just click on any two dates.
Scoring
FanDuel
DraftKings
Yahoo DFS
Loading Batting Game Log...
2020 MLB Game Log

Calculate Stats Over Time
Just click on any two dates.
Scoring
FanDuel
DraftKings
Yahoo DFS
Loading Batting Game Log...
2019 MLB Game Log

Calculate Stats Over Time
Just click on any two dates.
Scoring
FanDuel
DraftKings
Yahoo DFS
Loading Batting Game Log...
2018 MLB Game Log

Calculate Stats Over Time
Just click on any two dates.
Scoring
FanDuel
DraftKings
Yahoo DFS
Loading Batting Game Log...
2017 MLB Game Log

Calculate Stats Over Time
Just click on any two dates.
Scoring
FanDuel
DraftKings
Yahoo DFS
Loading Batting Game Log...
Minor League Game Log

Calculate Stats Over Time
Just click on any two dates.
Loading Minor League Batting Game Log...
Batting Order Slot Breakdown
#1
#2
#3
#4
#5
#6
#7
#8
#9
#1
#2
#3
#4
#5
#6
#7
#8
#9
Left/Right Batting Splits
OPS
PA
HR
RBI
AVG
Since 2021

vs Left

.757
364
11
43
.276
Since 2021

vs Right

.624
918
22
81
.228
2023

vs Left

.720
46
0
0
.275
2023

vs Right

.376
52
0
2
.143
2022

vs Left

.504
122
2
10
.186
2022

vs Right

.579
388
9
28
.207
2021

vs Left

.925
196
9
33
.333
2021

vs Right

.687
478
13
51
.256
More Splits

→

View More Split Stats
Home/Away Batting Splits
OPS
PA
HR
RBI
AVG
Since 2021

Home

.696
629
16
66
.256
Since 2021

Away

.627
653
17
58
.227
2023

Home

.607
42
0
0
.216
2023

Away

.481
56
0
2
.192
2022

Home

.606
256
5
22
.224
2022

Away

.517
254
6
16
.179
2021

Home

.778
331
11
44
.287
2021

Away

.734
343
11
40
.269
More Splits

→

View More Split Stats
Stat Review
How does Jonathan Schoop compare to other hitters?
This section compares his stats with all batting seasons from the previous three seasons (minimum 400 plate appearances)*. The bar represents the player's percentile rank. For example, if the bar is halfway across, then the player falls into the 50th percentile for that stat and it would be considered average.
* Exit Velocity and Barrels/PA % are benchmarked against 2019 data (min 400 PA) and Hard Hit Rate is benchmarked against last season's data (min 400 PA).
See here for more exit velocity/barrels stats
plus an explanation of current limitations with that data set.
BB/K

Walk to strikeout ratio

BB Rate

The percentage of plate appearances resulting in a walk.

K Rate

The percentage of plate appearances resulting in a strikeout.

BABIP

Batting average on balls in play. Measures how many of a batter's balls in play go for hits.

ISO

Isolated Power. Slugging percentage minus batting average. A computation used to measure a batter's raw power.

AVG

Batting average. Hits divided by at bats.

OBP

On Base Percentage. A measure of how often a batters reaches base. Roughly equal to number of times on base divided by plate appearances.

SLG

Slugging Percentage. A measure of the batting productivity of a hitter. It is calculated as total bases divided by at bats.

OPS

On base plus slugging. THe sum of a batter's on-base percentage and slugging percentage.

wOBA

Weighted on-base average. Measures a player's overall offensive contributions per plate appearance. wOBA combines all the different aspects of hitting into one metric, weighting each of them in proportion to their actual run value.

Exit Velocity

The speed of the baseball as it comes off the bat, immediately after a batter makes contact.

Hard Hit Rate

A measure of contact quality from Sports Info Solutions. This stat explains what percentage of batted balls were hit hard vs. medium or soft.

Barrels/PA

The percentage of plate appearances where a batter had a batted ball classified as a Barrel. A Barrel is a batted ball with similar exit velocity and launch angle to past ones that led to a minimum .500 batting average and 1.500 slugging percentage.

Expected BA

Expected Batting Average.

Expected SLG

Expected Slugging Percentage.

Sprint Speed

The speed of a runner from home to first, in feet per second.

Ground Ball %

The percentage of balls put in play that are on the ground.

Line Drive %

The percentage of balls put in play that are line drives.

Fly Ball %

The percentage of balls put in play that are fly balls.
Advanced Batting Stats
Loading Advanced Batting Stats...
Games By Position
Defensive Stats
Loading Games Played by Position...
Loading MLB Defensive Stats...
Batted Ball Stats
Loading Batted Ball Stats...
Stats Vs Upcoming Pitchers
Our full team depth charts are reserved for RotoWire subscribers.
Subscribe Now
Recent RotoWire Articles Featuring Jonathan Schoop
See More
Past Fantasy Outlooks
2022
2021
2020
2019
2018
2017
2016
2015
2014
2013
2012
Seeking a balance of youth and veterans as they rebuild, the Tigers brought Schoop back after he posted a 115 wRC+ in 44 games during the pandemic season. Schoop rewarded the Tigers with another solid season as he set new career bests in K% and BB% fueled by the second lowest chase rate of his career. Schoop's power output was down a tick, though Statcast's 24 xHR pegged his 22 HR as being a bit shortchanged. A second baseman by trade, Schoop collected 38 games at the keystone, playing 114 at first base where he graded below average. Detroit saw enough to extend Schoop for another year where he'll likely continue to be the primary first baseman, though he retains second base eligibility for at least 2022. There isn't much upside, but Schoop provides a bankable floor with corner and middle infield eligibility, likely at a discount.
On the heels of a mostly underwhelming run with the Twins, Schoop joined the Tigers last winter on a one-year, $6.1 million deal. A right wrist sprain cut his 2020 campaign short and limited Schoop to just 44 games, but he quietly did his thing before going down, hitting eight long balls with a low-20% strikeout rate and very few walks. Thanks in large part to a rebound in his defensive metrics -- Schoop ranked in the 82nd percentile in Outs Above Average -- he ended up with a higher fWAR than 2019 (in 77 fewer games). Schoop is an underrated player since he's not an on-base guy, and he's been mostly an afterthought in early drafts since he remains unsigned. Look for Schoop's ADP to jump several rounds -- at least in BA leagues -- the second he signs.
Schoop bounced back from a career-worst season in 2018 when an oblique injury got his swing off track. He hit 23 home runs and reversed a decline against lefties with a .917 OPS vs. LHP. However, Schoop lost playing time in the second half with the emergence of Luis Arraez. He started 74 games in the first half and just 34 games in the second half. It wasn't so much about Schoop struggling as it was Arraez getting hot at the plate and refusing to cede the job. While Schoop has above-average power for a second baseman (.217 ISO), he struggles to put the ball in play with a 73.2% contact rate while also drawing walks at a meager clip (4.3 BB%). It's also concerning that his glove, which was seen as an asset, appeared to take a step back with a -3.4 UZR. Still, Schoop should see regular time for Detroit -- a team desperate for a steady power threat in the middle infield -- after signing a one-year deal.
Brewers GM David Stearns hoped Schoop would be able to provide a shot in the arm at a position the Brewers did not get much from in 2018, but he made little impact for the club and saw only scant playing time by season's end. Because of that, the Brewers elected not to tender Schoop a contract during the offseason, making him a free agent. It was just two years ago that Schoop posted an .841 OPS and finished with 105 RBI, but that year he posted a .954 OPS against southpaws. Last year, he finished with just a .647 OPS against lefties, which is more in line with the .693 OPS he has posted against left-handers in his career. Schoop has pop, hitting at least 20 home runs three years in a row, and he should have an everyday role with the Twins, but unless he figures out how to hit lefties again, it's likely he will be the good player he has been most of his career rather than the great one he was in 2017.
Schoop's power was never in question, so eclipsing the 30-homer mark for the first time in 2017 was not surprising, but a lack of selectivity was expected to hinder batting-average growth. However, a funny thing happened on the way to the batter's box as Schoop was far more discerning last season, dropping his chase rate and swing rate inside the zone. Schoop's strikeout rate didn't change (21.0 percent), but when bat met ball, his hard-contact rate markedly improved (to 36.1 percent). A two-percentage-point increase in walk rate may not seem like much, but when it was three percent, a jump to five percent is another encouraging sign. Just 26 years old, further growth isn't out of the question. Schoop has earned a spot in the meat of the order and plays half his games in one of the best hitting parks in the league. Considering 2017 as Schoop's baseline is defensible, availing a buying opportunity if the room is reticent.
At 25 years old, Schoop has established what he is at the big league level: a free swinger with lots of power potential that will punish mistakes when pitchers make them. He has also established that he is more than willing to limit his effectiveness by chasing pitches that he should spit on, playing right into the pitcher's plan. In fact, Schoop had the majors' fourth-worst rate of swinging out of the zone in 2016 and one of the 10 worst rates over the past three years. Schoop is like teammate Manny Machado in that he does most of his power damage against righties (48 of his 57 homers). Unlike Machado, Schoop does have issues against lefties. His career batting average is 32 points worse and his strikeout rate is six percentage points higher against southpaws. Keep that in mind for daily fantasy matchups or weeks with multiple lefty starters projected.
Schoop is a very intriguing player to watch in 2016. He is terribly impatient at the plate and there is quite a bit of swing and miss in his game. Yet, when he does make contact, it is loud. He hit 15 homers and had a .203 Isolated Power in limited playing time last season returning from injury. Despite the swing and miss in his game, he was still able to hit .279 which is a testament to the type of contact he does make because he's not very fast on the bases. It is easy to envision Schoop leading all second basemen in home runs in 2016 and challenging 25 homers on the season, but the infrequent contact and impatience in his game leave him stuck in the bottom half of the Baltimore lineup, limiting his run-scoring and RBI opportunities. Draft the power upside and let the rest of the chips fall as they may.
2014 was an interesting year for Schoop. He homered on 16 occasions, which was three more times than he walked on the year. While that may sound like some kind of record, it isn't, as Karim Garcia walked just six times in 2002 while hitting 16 home runs. The homers were Schoop's only redeeming fantasy value as he did not run, did not drive in many runs and was a batting average drag. Only three everyday players had a lower batting average than Schoop, and no other player had a worse on-base percentage. To top matters off, Billy Hamilton and Adeiny Hechevarria had higher slugging percentages than Schoop. The young infielder has little sense of plate discipline and is going to be stuck in the bottom of the order until he shows an ability to hit with power and get on base more than a quarter of the time.
The Orioles would have liked for Schoop to be ready to compete for a job in 2014, but that does not seem likely. Schoop slashed just .278/.301/.396 at Triple-A before hitting just .177 in the Arizona Fall League, and his ceiling does not appear to be as high now as it used to be. Schoop could turn into an average MLB hitter, though his power is taking a step forward. Schoop hit 15 home runs in 2013, one more than his 2012 total despite 162 fewer at-bats. The Orioles are set for now on the left side of the infield with Manny Machado and J.J. Hardy, but an organizational hole at second base could open up playing time for Schoop sooner rather than later, if the team fails to acquire a more established option before Opening Day.
Just a 20-year-old in Double-A, Schoop had some difficulty adjusting to advanced pitching. His strikeout rate increased from 14.4 percent in 2011 to 18.6 percent in 2012. With J.J. Hardy and Manny Machado set to occupy the left side of Baltimore's infield, Schoop was moved to second base to add depth at that position. The Orioles are giving Schoop every opportunity to get experienced, including his trip to the Arizona Fall League where he struck out 21.7 percent of the time, but also had an OPS of .874. Schoop could start the season at Double-A or Triple-A and could push for a call from the Orioles late in the 2013 season.
For much of the last decade, the Orioles have an organizational hole at shortstop. But now at the major league level they have J.J. Hardy, gifted to them by the Twins before the 2011 season, and elite prospect Manny Machado, so it's easy to overlook that Schoop is also in the organization. In his first full season stateside, Schoop advanced to the High-A Carolina league as a 19-year old after first making it to the Futures Game. When he played at the same level as Machado, he played third base while Machado played shortstop, and that's probably how it will work if and when both make it to the major league level. Schoop is still filling out his frame and can reasonably be expected to hit for more power once he does so.
More Fantasy News