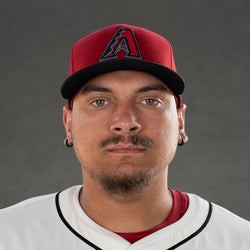 2023 Fantasy Outlook
Naylor was limited to 69 games in 2021 after he underwent surgery to address a broken ankle, which briefly delayed his start to 2022. He appeared in 122 games and served as a platoon option at first base and designated hitter, and he had significant struggles against left-handed pitching with a .512 OPS in 127 plate appearances. Naylor clubbed 20 home runs total and crushed righties with a .283/.334/.522 slash line, which should at least keep him on the strong side of a platoon to open 2023. He also had solid strikeout and walk rates (16.1 percent and 7.8 percent, respectively), which provides a solid floor for his 2023 outlook, especially if he's able to improve when facing southpaws.
Read Past Outlooks
$Signed a one-year, $3.35 million contract with the Guardians in January of 2023.

Seeing regular work in spring
Naylor has gone 6-for-26 (.231) through 10 Cactus League games.
ANALYSIS
Naylor opted out of representing Canada at the World Baseball Classic to avoid aggravating his ankle, but he's seen plenty of playing time in spring training. The 25-year-old established himself with a .256/.319/.452 slash line, 20 home runs, 79 RBI, 47 runs scored and six stolen bases over 122 games last season. He's the Guardians' top first baseman this season, though Naylor and
Josh Bell
will likely share the duties at first base and designated hitter for much of the campaign.
Read More News
Batting Stats
2022 MLB Game Log

Calculate Stats Over Time
Just click on any two dates.
Scoring
FanDuel
DraftKings
Yahoo DFS
FantasyDraft
Head2Head
Loading Batting Game Log...
2021 MLB Game Log

Calculate Stats Over Time
Just click on any two dates.
Scoring
FanDuel
DraftKings
Yahoo DFS
FantasyDraft
Head2Head
Loading Batting Game Log...
2020 MLB Game Log

Calculate Stats Over Time
Just click on any two dates.
Scoring
FanDuel
DraftKings
Yahoo DFS
FantasyDraft
Head2Head
Loading Batting Game Log...
2019 MLB Game Log

Calculate Stats Over Time
Just click on any two dates.
Scoring
FanDuel
DraftKings
Yahoo DFS
FantasyDraft
Head2Head
Loading Batting Game Log...
Minor League Game Log

Calculate Stats Over Time
Just click on any two dates.
Loading Minor League Batting Game Log...
Batting Order Slot Breakdown
#1
#2
#3
#4
#5
#6
#7
#8
#9
#1
#2
#3
#4
#5
#6
#7
#8
#9
Left/Right Batting Splits
OPS
PA
HR
RBI
AVG
Since 2020

vs Left

.542
224
3
19
.190
Since 2020

vs Right

.796
622
25
87
.275
2022

vs Left

.512
127
1
11
.173
2022

vs Right

.856
371
19
68
.283
2021

vs Left

.512
89
1
5
.193
2021

vs Right

.805
160
6
16
.287
2020

vs Left

1.357
8
1
3
.429
2020

vs Right

.543
91
0
3
.221
More Splits

→

View More Split Stats
Home/Away Batting Splits
OPS
PA
HR
RBI
AVG
Since 2020

Home

.649
405
10
40
.226
Since 2020

Away

.808
436
18
66
.278
2022

Home

.688
254
9
34
.224
2022

Away

.854
244
11
45
.288
2021

Home

.634
106
1
5
.240
2021

Away

.746
143
6
16
.263
2020

Home

.472
45
0
1
.205
2020

Away

.756
49
1
5
.273
More Splits

→

View More Split Stats
Stat Review
How does Josh Naylor compare to other hitters?
This section compares his stats with all batting seasons from the previous three seasons (minimum 400 plate appearances)*. The bar represents the player's percentile rank. For example, if the bar is halfway across, then the player falls into the 50th percentile for that stat and it would be considered average.
* Exit Velocity and Barrels/PA % are benchmarked against 2019 data (min 400 PA) and Hard Hit Rate is benchmarked against last season's data (min 400 PA).
See here for more exit velocity/barrels stats
plus an explanation of current limitations with that data set.
BB/K

Walk to strikeout ratio

BB Rate

The percentage of plate appearances resulting in a walk.

K Rate

The percentage of plate appearances resulting in a strikeout.

BABIP

Batting average on balls in play. Measures how many of a batter's balls in play go for hits.

ISO

Isolated Power. Slugging percentage minus batting average. A computation used to measure a batter's raw power.

AVG

Batting average. Hits divided by at bats.

OBP

On Base Percentage. A measure of how often a batters reaches base. Roughly equal to number of times on base divided by plate appearances.

SLG

Slugging Percentage. A measure of the batting productivity of a hitter. It is calculated as total bases divided by at bats.

OPS

On base plus slugging. THe sum of a batter's on-base percentage and slugging percentage.

wOBA

Weighted on-base average. Measures a player's overall offensive contributions per plate appearance. wOBA combines all the different aspects of hitting into one metric, weighting each of them in proportion to their actual run value.

Exit Velocity

The speed of the baseball as it comes off the bat, immediately after a batter makes contact.

Hard Hit Rate

A measure of contact quality from Sports Info Solutions. This stat explains what percentage of batted balls were hit hard vs. medium or soft.

Barrels/PA

The percentage of plate appearances where a batter had a batted ball classified as a Barrel. A Barrel is a batted ball with similar exit velocity and launch angle to past ones that led to a minimum .500 batting average and 1.500 slugging percentage.

Expected BA

Expected Batting Average.

Expected SLG

Expected Slugging Percentage.

Sprint Speed

The speed of a runner from home to first, in feet per second.

Ground Ball %

The percentage of balls put in play that are on the ground.

Line Drive %

The percentage of balls put in play that are line drives.

Fly Ball %

The percentage of balls put in play that are fly balls.
Prospect Rankings History
Advanced Batting Stats
Loading Advanced Batting Stats...
Games By Position
Defensive Stats
Loading Games Played by Position...
Loading MLB Defensive Stats...
Batted Ball Stats
Loading Batted Ball Stats...
Stats Vs Upcoming Pitchers
Our full team depth charts are reserved for RotoWire subscribers.
Subscribe Now
Recent RotoWire Articles Featuring Josh Naylor
See More
Past Fantasy Outlooks
2022
2021
2020
2019
2018
2017
2016
Naylor's 2021 season was cut short after a broken ankle in late June required season-ending surgery. Naylor is reportedly making good progress in his recovery from July 3 surgery to address fractures and ligament damage in his right leg, but he's not expected to be cleared for Opening Day. Once he completes his rehab program and is able to play a few games in the minor leagues, Naylor should eventually settle into a strong-side platoon role for the Guardians at either corner-outfield spot, first base or designated hitter. Before sustaining the season-ending leg injury, Naylor supplied a .700 OPS in 249 plate appearances for Cleveland in 2021.
Naylor broke summer camp with the Padres, but he played sparingly and almost exclusively against right-handers. He was sent to the alternate site for 10 days in August before returning. Naylor was slashing .278/.316/.417 when he was dealt to Cleveland on Aug. 31. He played more with Cleveland, but still only against righties, slashing just .230/.277/.279. While it's encouraging Naylor's season-long contact rate was 86.4%, it was mostly weak and on the ground, not conducive for a 70 raw power grade. Naylor's average exit velocity on flyballs was well below average, again not good for homers. Naylor is another case in which it's better to trust the reports and results prior to 2020 over a two-month sample in trying conditions. Cleveland's outfield is in flux, though Naylor should be given a shot at the busier side of a platoon.
Naylor made his debut May 24 and was up and down a few times before settling in for good after the deadline. Some scouts have put a 70 on Naylor's raw power, but he's still working to get to that in games. His ISO with the major-league team was .154, so about league average. He walked at a useful clip but his strikeout rate nearly doubled with the jump from Triple-A to the majors, and in total, Naylor graded out as 11% worse than league average by wRC+. As expected, the lumbering Naylor was a negative on defense, and he was below replacement level by fWAR in his 279 plate appearances. The body is a problem -- he was listed at 5-foot-11, 250 pounds at age 21 -- and that figures to only get worse with age. San Diego would like to trade Wil Myers, but that seems unlikely. There will only be room for two starters between Trent Grisham, Myers and Naylor, with Tommy Pham in the same outfield.
The biggest development for Naylor in 2018 was that most of his starts came in left field. He had previously only played first base. His stats through 170 career games at Double-A (.286/.368/.423, 19 HR, 14.0 K%, 10.7 BB%) are solid for a player who won't turn 22 until June. However, the fact he won't be a good defender anywhere, particularly in the outfield, means he will have to do a ton of damage at the plate to get playing time in the National League. The 70-grade raw power that led to him getting selected in the first round in 2015 has not consistently shown up in games, but he has been a better pure hitter than originally anticipated. Eric Hosmer signed an eight-year deal last offseason and the Padres already have a couple bat-first, below-average defenders competing for time in the outfield corners (Franmil Reyes and Hunter Renfroe), so Naylor feels like a spare piece who may not make his big-league debut as a member of this organization.
For each of Naylor's intriguing fantasy-relevant qualities, he does something else that subtracts from his potential value. He has huge raw power, but doesn't make much of an effort to get to it consistently in games. One of pro sports' modern marvels is how well Naylor runs, given his pear-shaped physique. But he won't remain this nimble as he gets into his mid-20s. Prior to 2017, he hardly walked -- a red flag for a bad-body first baseman. However, his career-best 9.1 percent walk rate at Double-A helped lessen those concerns. At the same time, he pulled the ball a career-low 31.4 percent, which was the second lowest rate in the Texas League. For a player who is already not capitalizing on his top physical tool, this new passivity is quite troubling. Naylor could be a high-average 15-to-20 homer hitter, or a low-average 30-plus homer threat, but it's hard to see both skills converging. He has been promoted aggressively since being drafted 12th overall in 2015, and could be pushed to Triple-A before he turns 21 in late June.
Naylor was one of the more desired pieces in the infamous Andrew Cashner-Jarred Cosart deal, which nearly fell through due to alleged misinformation provided by the Padres. The Padres were able to keep Naylor, though, and he more than held his own during his first season of full-season ball. In 122 games between Low-A Greensboro and High-A Lake Elsinore, the left-handed hitting Naylor batted .264/.302/.407 with 12 home runs, 75 RBI and 11 steals. Naylor needs to work on his patience at the dish, as he only drew 25 walks in 481 at-bats. However, he also does not strike a ton, as evidenced by his 84 strikeouts over the above-referenced 122-game span in 2016. The Padres are banking on Naylor's home run totals eventually catching up to his massive raw power. He may only be starting to scratch the surface of his enormous power potential.
After being selected with the 12th pick in the 2015 draft, Naylor injected a modicum of hope into perhaps the worst farm system in baseball. The Canadian slugger slashed .327/.352/.418 with one home run in 25 games in his first taste of professional baseball. Perhaps the most impressive aspect of this small sample is the 10.5-percent K rate that he posted after just turning 18 years old in June. He was drafted because of the plus power he offers from the left side, and to show those contact skills at such an early age has to really excite fantasy owners. While a case could easily be made that Naylor is the best fantasy asset in the Marlins' system, it is also worth noting that he is at least four or five years away from the show, so drafting him in dynasty leagues will require extreme patience.
More Fantasy News