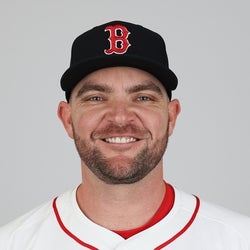 15-Day IL
Injury Illness
Est. Return 5/28/2023
Rest-of-Season Projections
2023 Fantasy Outlook
Based on Hendriks' lofty 2022 draft cost - he was one of the top two closers off the board, often within the first few rounds - one might suggest that he had a down year. While he did not produce at the level of his 2019-2021 seasons, the veteran was still outstanding. Hendriks was third in the league with 37 saves, marking the third consecutive year he finished top 3 or better in the category. The Aussie also carried a 98th percentile strikeout rate (36.2%) and elite 18.4% swinging strike percentage. His command was worse, but still above average overall and his 29.4% K-BB% ranked sixth among qualified relievers. Hendriks missed 3 weeks last summer with a forearm strain, which is mildly concerning as he enters his age-34 season. Some additional red flags include a below average hard-hit rate and recent trend of starting the season slow. Hendriks announced in January he's been diagnosed with Non-Hodgkins Lymphoma and is undergoing treatment, so baseball is obviously a secondary concern for the foreseeable future. Hendriks isn't expected to be available for Opening Day, and it's unclear if/when he'll be able to take the mound in 2023.
Read Past Outlooks
$Signed a three-year, $39 million contract with the White Sox in January of 2021. Contract includes $15 million team option (deferred $15 million buyout from 2024-2033) for 2024.

Throws live batting practice
ANALYSIS
"His numbers were really good," manager Pedro Grifol said of Hendriks' velocity readings during the workout. "He ticked up from [his last session in] Cleveland. Really good step in the right direction." The veteran closer now has three live batting practice sessions under his belt since a mostly underwhelming six-appearance rehab stint with Triple-A Charlotte. Recovered from an offseason diagnosis of non-Hodgkin's lymphoma, Hendriks could make a triumphant return to the White Sox bullpen at some point this weekend.
Read More News
Pitching Stats
Loading Pitching Stats...
2023
2022
2021
2020
2019
2018
2017
2023 MLB Game Log

Calculate Stats Over Time
Just click on any two dates.
Scoring
FanDuel
DraftKings
Yahoo DFS
Loading Pitching Game Log...
2022 MLB Game Log

Calculate Stats Over Time
Just click on any two dates.
Scoring
FanDuel
DraftKings
Yahoo DFS
Loading Pitching Game Log...
2021 MLB Game Log

Calculate Stats Over Time
Just click on any two dates.
Scoring
FanDuel
DraftKings
Yahoo DFS
Loading Pitching Game Log...
2020 MLB Game Log

Calculate Stats Over Time
Just click on any two dates.
Scoring
FanDuel
DraftKings
Yahoo DFS
Loading Pitching Game Log...
2019 MLB Game Log

Calculate Stats Over Time
Just click on any two dates.
Scoring
FanDuel
DraftKings
Yahoo DFS
Loading Pitching Game Log...
2018 MLB Game Log

Calculate Stats Over Time
Just click on any two dates.
Scoring
FanDuel
DraftKings
Yahoo DFS
Loading Pitching Game Log...
2017 MLB Game Log

Calculate Stats Over Time
Just click on any two dates.
Scoring
FanDuel
DraftKings
Yahoo DFS
Loading Pitching Game Log...
Minor League Game Log

Calculate Stats Over Time
Just click on any two dates.
Loading Minor League Pitching Game Log...
Left/Right Pitching Splits
BAA
K
BB
H
HR
Since 2021

vs Left

.170
100
8
38
9
Since 2021

vs Right

.209
98
15
51
9
2023

vs Left

0
0
0
0
0
2023

vs Right

0
0
0
0
0
2022

vs Left

.219
42
5
21
4
2022

vs Right

.202
43
11
23
3
2021

vs Left

.133
58
3
17
5
2021

vs Right

.215
55
4
28
6
More Splits

→

View More Split Stats
Home/Away Pitching Splits
ERA
WHIP
IP
K/9
BB/9
Since 2021

Home

2.73
0.89
69.1
14.1
1.6
Since 2021

Away

2.58
0.84
59.1
13.5
1.7
2023

Home

0
0
0
0
0
2023

Away

0
0
0
0
0
2022

Home

2.76
1.19
29.1
12.0
2.8
2022

Away

2.86
0.88
28.1
14.6
2.2
2021

Home

2.70
0.68
40.0
15.8
0.7
2021

Away

2.32
0.81
31.0
12.5
1.2
More Splits

→

View More Split Stats
Advanced Pitching Stats
Loading Advanced Pitching Stats...
Loading MLB Defensive Stats...
Our full team depth charts are reserved for RotoWire subscribers.
Subscribe Now
Recent RotoWire Articles Featuring Liam Hendriks
See More
Past Fantasy Outlooks
2022
2021
2020
2019
2018
2017
2016
2015
2014
2013
2012
2011
Hendriks set career best marks in multiple categories with eight wins, 38 saves, a 42.3 K% and 2.6 BB% while leading all qualified relievers with a 39.7 K-BB% that was almost five percentage points higher than anyone else. He did so while throwing harder than ever, as his fastball velocity topped out around 98-mph on average. Simply put, Hendriks was one of the most dominant closers in baseball and his job security was never in question, even after Chicago's acquisition of Craig Kimbrel at the trade deadline. In fact, Hendriks was one of only four relievers who had a greater than 87% share of his team's total saves. The only blemish on Hendriks' incredible season was the amount of hard contact he gave up. His 1.4 HR/9 was his worst mark in the category in eight years and he ranked in the 36th percentile in Statcast's Hard Hit%. However, Hendriks' overall profile remains elite and he will be the first closer drafted.
Hendriks gave up one run on Opening Day and two on the penultimate day of the season. In between, he yielded just two runs in 23 IP. He maintained 2019's velocity gains, fueling new career bests with a 40.2 K% and 3.3 BB%. His 37.0 K-BB% was tops among AL relievers and his 14 saves were second to Brad Hand's 16. He parlayed his success into a multi-year deal with the White Sox. The 2020 AL Reliever of the Year relies on a 96-mph four-seamer he throws equally to righties and lefties, mixing in a curve he throws more to lefties and a slider he uses more against righties. The combination works to perfection and since he's maintained stellar peripherals for two years, he can be considered as trustworthy as there is at a volatile position. While expecting a third straight season with a sub-2.00 ERA and sub-1.00 WHIP is overly optimistic, Hendriks will be one of the first closers off the board, if not the first.
In his ninth major-league season, Hendriks took hold of the closer job in Oakland and nearly doubled up his career fWAR total. Improbably, Hendriks gained two full ticks on all of his offerings at 30 years old, and the result was a massive spike in strikeout rate and a big reduction in walk rate. His K-BB rate was 31% after sitting at 11.5% in 2018 and never getting higher than 23% in any of his prior eight seasons. Hendriks' 1.82 FIP ranked second among qualified relievers, behind only Kirby Yates, and he converted 16 of 19 save chances after the calendar turned to August. One need not look any further than Hendriks' former teammate, Blake Treinen -- the man he replaced in the ninth -- for an example of the kind of volatility relievers bring to the table. However, if the velocity holds, there should not be much giveback with the skills. He's a top option after the first tier of closers is off the board.
An up-and-down season from Hendriks saw him face a lengthy absence due to a groin strain, get designated for assignment and also start a playoff game. However, that start, as well as the eight he made in the regular season, was a very brief one, as the Athletics were one of several teams to experiment with the opener role. His numbers, when he was healthy, were mediocre at best, as he put up a 4.13 ERA in 24 innings with an unimpressive 21.2% strikeout rate and 9.6% walk rate. Oakland liked him enough to bring him back, but it would take a serious injury crisis for him to get anywhere near the closer conversation. He doesn't have the elite ratios necessary to have fantasy relevance in most formats if he doesn't get saves, and a continuation of the opener role could actually hurt his value, as it eliminates the chance to steal wins and forces Hendriks to face the opposition's best hitters more often.
Following a failed turn as a contact-based starting pitcher with the Twins, Hendriks has grown into a serviceable reliever over the past three seasons, logging 64-plus innings and striking out at least 9.9 batters per nine in each. His velocity, as hoped, played up out of the bullpen, as he now comfortably touches the mid- to high 90s. Hendriks' ERA has climbed over the last two years, though, winding up at 4.22 in 2017 despite his best K/9 (11.0) and swinging-strike rate (12.5). As reflected in his 3.22 FIP and 65.5 left-on-base percentage, the right-hander was bitten by poor luck in a small sample size. Improved pitch sequencing could help him recover and extract better fantasy returns from his surging skills. Turning 29 in February, Hendriks could claim an important setup role -- and perhaps the occasional save chance -- in a wide-open Athletics bullpen or wherever else he lands.
The right-hander once sat among a group of soft-tossing Twins starting pitching prospects, and like others in his class, he fizzled out, only to resurrect his career as a relief pitcher. He's posted an identical 9.9 K/9 in each of the last two seasons and had sparkling control rates. Basically, he's melded the zone-pounding approach instilled by Minnesota with some actual punch, complete with three extra ticks of velocity since 2014 and swinging-strike rates of 11.3 and 10.8 percent in the last two years, respectively. Hendriks' 2016 ERA hid how well he performed (2.85 FIP). The .334 BABIP he allowed was odd, considering he doesn't allow a lot of hard contact, line drives or groundballs. His skills could make Hendriks a surprisingly effective closer if he can break through a deep corps of late-inning Oakland relievers with at least a hint of closer-like ability. Either way, he'll have a good shot at plenty of holds as an important setup option in 2017.
Acquired from Kansas City in the offseason ahead of the 2015 season, Hendriks was one of the best and most consistent pieces of the Blue Jays' bullpen. While Hendriks' role diminished a bit when the Blue Jays brought in LaTroy Hawkins and Mark Lowe, the 26-year-old Australian was solid whether in the fifth inning or the eighth inning. Coming into the season, Hendriks had a fastball that occasionally touched the mid-90s and by the end of the season he had hit 99 mph on the gun and regularly was in the 96-97 range with his fastball, turning him into a strong option in the late innings. Traded to Oakland during the offseason, Hendriks will likely slot in as a late-inning relief option for the A's in 2016.
Hendriks was traded to the Royals in July of 2014 as part of a package deal for infielder Danny Valencia, and first appeared to be destined for long relief. Opportunity knocked when Danny Duffy experienced shoulder soreness late in the season, and Hendriks was the option manager Ned Yost leaned on to fill his spot in the rotation. It didn't yield favorable results, however, as Hendriks posted a 5.51 ERA and surrendered a .319 batting average to opposing hitters over four games as a starter. The Royals had eventually decided they had seen enough, and designated the right-hander for assignment in late October to make room on the roster for the acquisition of Moises Sierra. He was eventually traded back to the Blue Jays six days later, where he'll likely serve in the minors as an emergency spot-start option in 2015.
Hendriks struggled mightily in the majors again last season, which led Minnesota to remove him from the 40-man roster and he was later claimed by the Cubs. Hendricks had an ugly 6.85 ERA in 10 outings, eight starts, with the Twins. The long ball continued to be the problem as he gave up 10 home runs after giving up 17 home runs in 17 starts in 2012. Unlike in 2012, however, he wasn't as dominant at Triple-A as he had just a 4.67 ERA and 5.7 K/9. Hendriks does have good control and excellent command of three different offspeed pitches, so there's still a chance he finally finds success in the majors. And even though he gave up eight runs in his final two outings as a reliever, he did finish strong with a 15:3 K:BB ratio in those 10.2 relief innings. Claimed off waivers by the Orioles in December, Hendriks will likely compete for a bullpen job during spring training.
Hendriks had two disparate seasons in 2012 as he was dominant at Triple-A, but almost broke records for his poor performance in the majors. Hendriks had a 2.20 ERA and 82:28 K:BB in 106.1 innings in Triple-A and looked set to become a productive major league starter. However, he struggled in the big leagues, beginning the season 0-9 and was winless in his first 17 career starts (the record is 20) before finally recording a win in late September. The big difference in his almost polar opposite performances was his inability to keep the ball on the ground in the majors. He had a 43.9 percent groundball rate at Triple-A, but just 37.8 percent in the majors. He also gave up a staggering 17 home runs in 16 starts in the majors. While his major league strikeout rate was not great, Hendriks' minor league strikeout rates and velocity (90 mph average fastball) are viable enough to go along with good control and excellent command of three different off-speed pitches. It's still reasonable to think that he could develop into a decent middle-of-the-rotation starter.
Hendriks entered last season as one of Minnesota's top pitching prospects and dominated at Double-A with a 2.70 ERA and 81:18 K:BB ratio in 90 innings. He had a 4.56 ERA after being promote to Triple-A, but still had good control with a 30:3 K:BB ratio in 49.1 innings. It was a strong enough performance that he got four September starts in the majors. After a decent first start he was hit hard in his next three outings. He doesn't have outstanding velocity (low-90s fastball) and his declining strikeout rate last year (5.70 K/9IP overall) is a worry. But the Australian right-hander has excellent command of three different off-speed pitches. He'll have an outside chance at a rotation job this spring, but likely begins the season at Triple-A.
Despite missing a month after surgery for an appendectomy, Hendricks had a breakout season in 2010 with a 1.74 ERA and amazing 105:12 K:BB ratio in 108.2 innings between Low-A and High-A. The Australian right-hander has history of injuries but showed excellent command of a four-pitch arsenal including a low-90s fastball. A strong season at High-A or Double-A in 2011 could put him in Minnesota's major league plans in 2012.
More Fantasy News