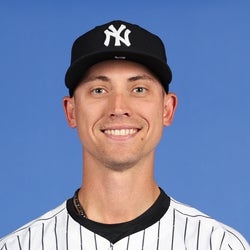 2023 Fantasy Outlook
Weaver transitioned to a relief role for much of 2022, but his performance continued to underwhelm. Over 35.2 innings between Arizona and Kansas City, the right-hander posted a 6.56 ERA and a career-worst 1.82 WHIP. Even the pitching desperate Royals couldn't tolerate that, waiving Weaver in October. The Mariners claimed him but declined to tender him a contract for 2023, so he is a free agent this offseason. He's three years removed from a viable season in any role, and it's very possible he has to settle for a minor-league deal or a contract overseas to continue his career. On the bright side, his 2.56 FIP from last season suggests he was cosmically unlucky, though it also came in a relatively small sample compared to previous years.
Read Past Outlooks
$Signed a one-year, $2 million contract with the Reds in January of 2023.

ANALYSIS
Weaver struggled to get going in 2022, logging a 6.56 ERA and 1.82 WHIP between Arizona and Kansas City. While it's unlikely Weaver will return to his 2019 form (2.94 ERA, 1.07 WHIP) he should still be able to contend for a spot in the back end of the Reds' rotation.
Read More News
Pitching Stats
Loading Pitching Stats...
2022
2021
2020
2019
2018
2017
2022 MLB Game Log

Calculate Stats Over Time
Just click on any two dates.
Scoring
FanDuel
DraftKings
Yahoo DFS
FantasyDraft
Head2Head
Loading Pitching Game Log...
2021 MLB Game Log

Calculate Stats Over Time
Just click on any two dates.
Scoring
FanDuel
DraftKings
Yahoo DFS
FantasyDraft
Head2Head
Loading Pitching Game Log...
2020 MLB Game Log

Calculate Stats Over Time
Just click on any two dates.
Scoring
FanDuel
DraftKings
Yahoo DFS
FantasyDraft
Head2Head
Loading Pitching Game Log...
2019 MLB Game Log

Calculate Stats Over Time
Just click on any two dates.
Scoring
FanDuel
DraftKings
Yahoo DFS
FantasyDraft
Head2Head
Loading Pitching Game Log...
2018 MLB Game Log

Calculate Stats Over Time
Just click on any two dates.
Scoring
FanDuel
DraftKings
Yahoo DFS
FantasyDraft
Head2Head
Loading Pitching Game Log...
2017 MLB Game Log

Calculate Stats Over Time
Just click on any two dates.
Scoring
FanDuel
DraftKings
Yahoo DFS
FantasyDraft
Head2Head
Loading Pitching Game Log...
Minor League Game Log

Calculate Stats Over Time
Just click on any two dates.
Loading Minor League Pitching Game Log...
Pitching Appearances Breakdown
How many pitches does Luke Weaver generally throw?
What part of the game does Luke Weaver generally pitch?
% Games Reaching Innings Threshold
% Games By Number of Innings Pitched
Left/Right Pitching Splits
BAA
K
BB
H
HR
Since 2020

vs Left

.301
57
28
80
13
Since 2020

vs Right

.258
92
23
86
8
2022

vs Left

.357
16
7
25
0
2022

vs Right

.318
22
6
27
1
2021

vs Left

.245
17
10
25
6
2021

vs Right

.224
45
10
33
5
2020

vs Left

.319
24
11
30
7
2020

vs Right

.257
25
7
26
2
More Splits

→

View More Split Stats
Home/Away Pitching Splits
ERA
WHIP
IP
K/9
BB/9
Since 2020

Home

5.28
1.41
75.0
8.8
3.2
Since 2020

Away

5.77
1.51
73.1
9.3
2.9
2022

Home

11.40
2.13
15.0
9.6
3.6
2022

Away

3.05
1.60
20.2
9.6
3.0
2021

Home

2.31
0.90
39.0
8.1
2.1
2021

Away

7.09
1.61
26.2
9.1
3.7
2020

Home

6.43
1.86
21.0
9.4
5.1
2020

Away

6.58
1.35
26.0
9.3
2.1
More Splits

→

View More Split Stats
Stat Review
How does Luke Weaver compare to other relievers?
This section compares his stats with all relief pitcher seasons from the previous three seasons (minimum 30 innings)*. The bar represents the player's percentile rank. For example, if the bar is halfway across, then the player falls into the 50th percentile for that stat and it would be considered average.
* Exit Velocity, Barrels/BBE %, Balls Hit 95+ MPH %, and Spin Rate are benchmarked against 2019 data (min 30 IP).
See here for more exit velocity/barrels stats
plus an explanation of current limitations with that data set.
K/BB

Strikeout to walk ratio.

K/9

Average strikeouts per nine innings.

BB/9

Average walks per nine innings.

HR/9

Average home runs allowed per nine innings.

Fastball

Average fastball velocity.

ERA

Earned run average. The average earned runs allowed per nine innings.

WHIP

Walks plus hits per inning pitched.

BABIP

Batting average on balls in play. Measures how many balls in play against a pitcher go for hits.

GB/FB

Groundball to flyball ratio. The higher the number, the more likely a pitcher is to induce groundballs.

Left On Base

The percentage of base runners that a pitcher strands on base over the course of a season.

Exit Velocity

The speed of the baseball as it comes off the bat, immediately after a batter makes contact.

Barrels/BBE

The percentage of batted ball events resulting in a Barrel. A Barrel is a batted ball with similar exit velocity and launch angle to past ones that led to a minimum .500 batting average and 1.500 slugging percentage.

Spin Rate

Spin Rate is the rate of spin on a baseball after it is released. It is measured in revolutions per minute (rpm).

Balls Hit 95+ MPH

The percentage of batted balls hit that met or exceeded the 95 MPH threshold.

Swinging Strike

The percentage of pitches that result in a swing and a miss.
Advanced Pitching Stats
Loading Advanced Pitching Stats...
Loading MLB Defensive Stats...
Our full team depth charts are reserved for RotoWire subscribers.
Subscribe Now
Recent RotoWire Articles Featuring Luke Weaver
See More
Past Fantasy Outlooks
2022
2021
2020
2019
2018
2017
2016
2015
Weaver was one of the worst starters in baseball during the shortened 2020 campaign with a 1-9 record and 6.58 ERA, but he rebounded last season to post a respectable 4.25 ERA, 1.19 WHIP and 62:20 K:BB over 65.2 innings. The 28-year-old missed over three months with a rotator cuff injury but returned for the final month of the season and pitched well down the stretch. Weaver should work at the back end of Arizona's rotation and could be a streaming option in deeper leagues if he can continue the upward trend from 2021.
Weaver was the only pitcher in MLB tagged with nine losses despite making only 12 starts during the shortened season, and the rest of his numbers (6.58 ERA and 1.56 WHIP) also weren't pretty. It's quite the contrast to 2019, when the right-hander dazzled with a 2.94 ERA and 1.07 WHIP in 12 starts before going down with injury. His flyball rate increased more than 10 percentage points to 48.4%, while his HR/9 more than doubled to 1.74. However, the 4.66 FIP indicates he also didn't receive much help from his defense. Weaver remains a strong bet to retain a rotation spot to begin 2021, and he's a reasonable buy-low candidate following the rough campaign considering his workable strikeout and walk rates (23.3% and 7.6%, respectively).
Weaver was pitching extremely well in 2019 before he went down in late May with forearm tightness, which held him out for all but two innings the rest of the season. Weaver emphasized his cutter in 2019 to give him a more effective third pitch, and saw a resurgence in his strikeout rate and a stat line that looked a lot closer to his 2017 promise than his 2018 disappointment. Those worried about the forearm issue should take solace in watching what Tyler Glasnow did last year. Both pitchers were shut down with similar issues, yet Glasnow came back late in the season and was throwing darts in the postseason as if he hadn't missed a beat. Weaver's lack of work after the injury may hold down his cost on draft day, and where you take him should depend on your appetite for risks. The move to Arizona was a good one for him, and he was taking a positive step forward before the injury.
Drafted just outside the top 100 last spring, Weaver was one of 2018's bigger disappointments, as he ended the season in a mop-up role. It's probably too early to completely write off the 25-year-old right-hander, who was sent to Arizona as the headliner in the Paul Goldschmidt trade. Weaver's first-pitch strike rate along with his swinging-strike rate were virtually the same as the previous season. However, in 2017 Weaver posted a 28.6% strikeout rate, compared to a 19.9% mark last season, perhaps because the book was out on his shallow repertoire. Whiffs aside, Weaver's control and command slid last season, as he walked more while allowing more homers. He still lacks a quality third pitch (opposing batters slugged .589 against his curveball), and his top two pitches (fastball, changeup) were not as dominant as they needed to be for him to have sustainable success. His upside is limited to a low-innings mid-rotation starter until that pitch mix improves.
Say what you will about a "soft" schedule for Weaver; he was excellent in 2017. The right-hander posted a 2.05 ERA over his first 11 starts, and while a couple of poor performances at the end of the year inflated his overall numbers, Weaver finished with a 3.17 FIP and 2.93 xFIP over 60.1 innings at the big-league level. He averaged 10.7 K/9 and just 2.5 BB/9 -- he had the 28th-best K-BB percentage among 274 pitchers with at least 60 innings. Weaver did well to keep the ball on the ground (49.4 percent GB%) and limit hard contact, resulting in a .287 xwOBA. He is still primarily a fastball-changeup pitcher, but the changeup is a dominant pitch, and his curveball is coming along. The only real concern with Weaver is his workload. He totaled just 138 innings between the majors and minors last year, his highest total as a professional, after throwing 119.1 combined frames in 2016.
Weaver got his first taste of the majors at the latter end of the 2016 season. He pieced together a few rough outings and ended the year with a 5.70 ERA and 1.60 WHIP that was built over nine games (36.1 innings). Lefties were particularly tough for Weaver and they went 23-for-69 (.377) against the 23-year-old. Fortunately for the club, he showed signs of promise and produced a 27 percent strikeout rate in that time. Weaver has shown he's a capable starter in the minors, as he dominated his 12 starts at Double-A Springfield in 2016. Heading into 2017, the Cardinals may have Weaver compete for a spot at the back of their rotation, or could opt to use him from the bullpen as they did at the end of 2016. However, the most likely course of action will be to send him to Triple-A Memphis, where he's only appeared in one game to this point, to keep developing his breaking pitches until he's deemed MLB-ready.
Weaver appears to be a third pitch away from being a No. 3 starter, thanks to a low-90s fastball and a filthy changeup that will work as an out pitch at the highest level. That combination was enough for him to breeze through the pitcher-friendly Florida State League with a 1.62 ERA, 1.11 WHIP, and 88 strikeouts in 105.1 innings. Those numbers rightfully put him squarely on the radar of dynasty league owners, but most reports suggest his curveball lags way behind the rest of his arsenal. Without that third pitch, there is not much to see here, so Weaver should still be seen as a work in progress. Fortunately he is in a competent organization, and at least two years away from the big leagues, so it is OK that he is not a finished product. He will head to Double-A Springfield in 2016, where it should become fairly obvious if he has improved his breaking ball.
The 27th overall selection out of Florida State in the 2014 amateur draft, Weaver is expected to work his way through the Cardinals' system rather quickly and could be competing for a roster spot as soon as 2016. Weaver was only able to log 9.1 professional innings with the club's rookie and High-A affiliates, getting six starts and striking out 12. Expect Weaver to start 2015 in either Low-A or High-A for the Cardinals, possibly finishing the season in Double-A if he pitches well. Weaver has drawn praise as one of the lowest risk pitchers drafted. Fantasy owners still shouldn't expect anything on the MLB level until 2016, with 2017 being the most likely scenario.
More Fantasy News