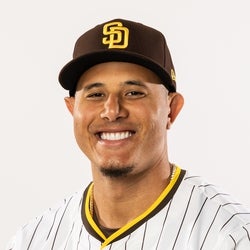 2023 Fantasy Outlook
Machado delivered career-best 152 wRC+ with 37 doubles, 32 home runs, 102 RBI and 100 runs to power the Padres offense in 2022. It's the second straight season the third baseman has cracked 100 RBI, and it's the sixth time in his career he's topped 30 homers. He surprisingly produced his worst strikeout rate at 20.7 percent, but a .337 BABIP helped him to a .298 average despite a .264 xBA. Machado will turn 31 years old in July and should continue to be a major producer near the top of San Diego's lineup in 2023, though his numbers could fall a bit if he's unable to again significantly outperform his expected figures.
Read Past Outlooks
$Signed a 10-year, $300 million contract with the Padres in February of 2019. Contract includes an opt-out clause for 2024.

Machado went 2-for-4 with a solo home run during Saturday's 10-6 loss to the Phillies in Game 4 of the NLCS.
ANALYSIS
Machado hit a 100-mph line drive off Phillies starter
Bailey Falter
that reached the left field bleachers to give the Padres a 1-0 lead in the first inning of Game 4. Machado has now homered in two of the past three games, and he has reached four postseason homers for the first time in his career. The 30-year-old righty also continued his streak of multi-hit performances following hitless games, which he has now accomplished in seven straight instances. Machado is slated to face starter
Zack Wheeler
in a must-win Game 5 -- he is 2-for-11 with two singles against Wheeler in his career.
Read More News
Batting Stats
2022
2021
2020
2019
2018
2017
2022 MLB Game Log

Calculate Stats Over Time
Just click on any two dates.
Scoring
FanDuel
DraftKings
Yahoo DFS
FantasyDraft
Head2Head
Loading Batting Game Log...
2021 MLB Game Log

Calculate Stats Over Time
Just click on any two dates.
Scoring
FanDuel
DraftKings
Yahoo DFS
FantasyDraft
Head2Head
Loading Batting Game Log...
2020 MLB Game Log

Calculate Stats Over Time
Just click on any two dates.
Scoring
FanDuel
DraftKings
Yahoo DFS
FantasyDraft
Head2Head
Loading Batting Game Log...
2019 MLB Game Log

Calculate Stats Over Time
Just click on any two dates.
Scoring
FanDuel
DraftKings
Yahoo DFS
FantasyDraft
Head2Head
Loading Batting Game Log...
2018 MLB Game Log

Calculate Stats Over Time
Just click on any two dates.
Scoring
FanDuel
DraftKings
Yahoo DFS
FantasyDraft
Head2Head
Loading Batting Game Log...
2017 MLB Game Log

Calculate Stats Over Time
Just click on any two dates.
Scoring
FanDuel
DraftKings
Yahoo DFS
FantasyDraft
Head2Head
Loading Batting Game Log...
Minor League Game Log

Calculate Stats Over Time
Just click on any two dates.
Loading Minor League Batting Game Log...
Batting Order Slot Breakdown
#1
#2
#3
#4
#5
#6
#7
#8
#9
#1
#2
#3
#4
#5
#6
#7
#8
#9
Left/Right Batting Splits
OPS
PA
HR
RBI
AVG
Since 2020

vs Left

.855
416
22
46
.265
Since 2020

vs Right

.892
1120
54
209
.300
2022

vs Left

.855
184
12
22
.259
2022

vs Right

.915
460
20
80
.313
2021

vs Left

.800
163
5
14
.246
2021

vs Right

.847
477
23
92
.288
2020

vs Left

.972
69
5
10
.323
2020

vs Right

.954
183
11
37
.300
More Splits

→

View More Split Stats
Home/Away Batting Splits
OPS
PA
HR
RBI
AVG
Since 2020

Home

.918
728
45
120
.291
Since 2020

Away

.849
800
31
134
.291
2022

Home

.882
294
17
40
.280
2022

Away

.911
350
15
62
.312
2021

Home

.861
315
17
55
.278
2021

Away

.813
325
11
51
.278
2020

Home

1.153
119
11
25
.352
2020

Away

.766
125
5
21
.262
More Splits

→

View More Split Stats
Stat Review
How does Manny Machado compare to other hitters?
This section compares his stats with all batting seasons from the previous three seasons (minimum 400 plate appearances)*. The bar represents the player's percentile rank. For example, if the bar is halfway across, then the player falls into the 50th percentile for that stat and it would be considered average.
* Exit Velocity and Barrels/PA % are benchmarked against 2019 data (min 400 PA) and Hard Hit Rate is benchmarked against last season's data (min 400 PA).
See here for more exit velocity/barrels stats
plus an explanation of current limitations with that data set.
BB/K

Walk to strikeout ratio

BB Rate

The percentage of plate appearances resulting in a walk.

K Rate

The percentage of plate appearances resulting in a strikeout.

BABIP

Batting average on balls in play. Measures how many of a batter's balls in play go for hits.

ISO

Isolated Power. Slugging percentage minus batting average. A computation used to measure a batter's raw power.

AVG

Batting average. Hits divided by at bats.

OBP

On Base Percentage. A measure of how often a batters reaches base. Roughly equal to number of times on base divided by plate appearances.

SLG

Slugging Percentage. A measure of the batting productivity of a hitter. It is calculated as total bases divided by at bats.

OPS

On base plus slugging. THe sum of a batter's on-base percentage and slugging percentage.

wOBA

Weighted on-base average. Measures a player's overall offensive contributions per plate appearance. wOBA combines all the different aspects of hitting into one metric, weighting each of them in proportion to their actual run value.

Exit Velocity

The speed of the baseball as it comes off the bat, immediately after a batter makes contact.

Hard Hit Rate

A measure of contact quality from Sports Info Solutions. This stat explains what percentage of batted balls were hit hard vs. medium or soft.

Barrels/PA

The percentage of plate appearances where a batter had a batted ball classified as a Barrel. A Barrel is a batted ball with similar exit velocity and launch angle to past ones that led to a minimum .500 batting average and 1.500 slugging percentage.

Expected BA

Expected Batting Average.

Expected SLG

Expected Slugging Percentage.

Sprint Speed

The speed of a runner from home to first, in feet per second.

Ground Ball %

The percentage of balls put in play that are on the ground.

Line Drive %

The percentage of balls put in play that are line drives.

Fly Ball %

The percentage of balls put in play that are fly balls.
Advanced Batting Stats
Loading Advanced Batting Stats...
Games By Position
Defensive Stats
Loading Games Played by Position...
Loading MLB Defensive Stats...
Batted Ball Stats
Loading Batted Ball Stats...
Stats Vs Upcoming Pitchers
Our full team depth charts are reserved for RotoWire subscribers.
Subscribe Now
Recent RotoWire Articles Featuring Manny Machado
See More
Past Fantasy Outlooks
2022
2021
2020
2019
2018
2017
2016
2015
2014
2013
2012
2011
Machado unsurprisingly fell off his incredible home run pace of the shortened 2020 season, but he managed more than 90 runs for the first time since 2016 while also tallying his second season with more than 100 RBI. His skills profile otherwise remained largely in line with his career norms, so it's tempting to say that we've seen the best of Machado given that he will turn 30 during the 2022 campaign. While he is almost certain to maintain a quality floor of five-category production, there may be some hidden ceiling in Machado's skillset. Despite failing to hit 30 home runs in a full season for the first time since 2013, Machado logged career-high marks in average exit velocity, max exit velocity and barrel rate -- both relative to his past marks and league average. Heading into 2022, Machado will be locked into an everyday role at third base and projects to hit primarily third or fourth in the Padres lineup.
San Diego's huge investment in Machado paid off in his second season with the club as the veteran finished third in NL MVP voting and led the Padres to their first playoff appearance since 2006. While his hard-contact numbers stayed relatively constant, Machado notched 16 homers in 254 PA by pulling the ball more than ever before (45.0 Pull%). In addition, he increased his batting average nearly 50 points, in part by upping one of the league's lowest line-drive rates (17.4%) in 2019 to a career-high 22.0% last season. The adjusted approach led to career-best marks in a number of key categories, including SLG (.580), ISO (.277) and wRC+ (148). To boot, Machado notched the best walk (10.2%) and strikeout (14.6%) rates of his career. The six-time All Star's finest overall campaign should create lofty expectations for 2021, making him a top-three fantasy third baseman off the board.
Machado has 300 million reasons not to regret leaving Baltimore, but he no doubt misses the dimensions there. The fun ball helped Machado get back to the 30-homer mark for a fifth consecutive season, but he hit the fewest doubles in a full season for his career, which ultimately cut into his overall run production. He tied for the lowest runs scored in his full-season career, and drove in 22 fewer runners than he did in 2018. His exit velocity and launch angles held up, but Petco isn't Camden, and that is ultimately what is to blame here. Machado is a compiler and has missed a total of 17 games over the past five seasons. As long as he stays healthy, he will produce, but San Diego sets a ceiling on his run production numbers, and the batting average roller coaster is tough to ignore. There is still a ton of name value here, but the fantasy value has not equaled the name value in two of the last three years.
It's rare a superstar hits free agency entering his age-26 season, but that's what happens when you debut at 19. Machado is coming off arguably his best year as he exhibited above-average-to-elite skills across the board. He set new career best levels in contact and walk rate, contributing to new personal highs in average, homers and RBI. Plus, Machado returned to swiping double-digit bases with his best ever success rate. Much has been made of Machado's "Johnny Hustle" comment and the ensuing backtrack clarification, but missing only 11 games over the past four campaigns, including playing all 162 in 2015 and 2018, speaks volumes. It's no secret the defensive metrics rank him as one of the best at the hot corner but below average at shortstop. For fantasy, it doesn't matter, though he's lost dual eligibility, entering 2019 as shortstop only. Machado has it all: durability, elite skills and youth. Ignore the rest. He's one of the top players in the game.
Machado got off to a dismal start to 2017, batting .205/.286/.405 over the first two months of the campaign. However, all the underlying numbers said a rebound was imminent, and sure enough, he came on strong down the stretch. While his walk rate fell to just 5.8 percent after the All-Star break, Machado made more consistent contact (13.2 percent strikeout rate) and that helped him hit .290 and slug .500 in the second half. He slashed just .229/.268/.398 away from Camden Yards for the year, but Machado hit on the road the previous two seasons (.289/.345/.523 in 2016 and .282/.351/.465 in 2015), so it seems likely that 2017 will end up being the outlier with that particular split. While the 25-year-old has lost shortstop eligibility, he could regain it in-season. His price will likely be depressed more than it should coming off a down season. Buy in bulk.
Machado set career highs in home runs, RBI, runs, and batting average, cementing his first-round status despite not stealing a single base. Such $30 players have to be good across the board or great in a few things, and luckily for Machado owners, he is excellent in the other categories. Sure, it would be nice if he stole bases again, but the rest of his excellence will do just fine. Picking faults in Machado is like saying your Lamborghini is only getting up to 220 mph on the Autobahn. While he is split-neutral in terms of batting average, 86 of the 105 homers he has hit in his career have come against right-handed pitching. Machado has good bats in front of him and behind him, which puts him in an ideal spot of the lineup to continue to be a top-shelf run producer. The team hits like a softball team, but Machado could be even better if the Orioles add a true table-setter to the leadoff spot.
Machado suffered his second serious leg injury in August of 2014, so his 2015 season was a complete shock to even his most ardent supporters. He swiped 20 bases, scored 102 times and hit 35 home runs while driving in 86 runners, setting career highs across the board in his age-23 season. One can look long and hard at his skills without finding a flaw. He is a patient hitter at the plate, makes contact above the league-average rate and his Isolated Power figure has risen three consecutive seasons. He could move down another spot in the lineup if Chris Davis goes elsewhere in free agency, and though a move down the lineup will likely reduce his stolen base total, it should bump up his RBI count. A 40-homer season isn't impossible as he's still filling out physically. In a 15-team mixed league, Machado shouldn't make it out of the first round.
Machado is exhibit 1,527,106 in the Never Believe The Player Theory. As the theory goes, whatever return date a player tells the media or how said player will avoid the disabled list, throw the story in the trash can because it is useless. There were many stories about how Machado felt like he would be ready to start the season, but he did not make his season debut until May 1. His season started late and ended early, as yet another knee injury ended his season in mid-August. Machado has already had three major injuries and two surgeries in just four professional seasons of baseball. Some of those 51 doubles he hit in 2013 became homers in 2014, but a combination of injuries and a line-drive swing make it unlikely that Machado hits 20 homers in 2015. He remains a better real player than a fantasy one.
It was thought that Machado would take time to mature as a hitter, but instead he hit .310 in the first half and was on pace to break the MLB record for doubles. He's still not a finished product as shown with his 4.1% walk rate, a clear sign that Machado needs to develop more patience at the plate. Machado suffered an ugly knee injury in the final week of the season and needed surgery to repair a torn medial patellar ligament. Although he had the procedure in mid-October and there was no reported damage to his ACL or MCL, Machado is facing a six-month rehab window. As a result, he is in danger of missing Opening Day. Once Machado is ready to take the field again, he will be one of the more attractive options at third base, and over the next few years some of those doubles should begin to turn into home runs as he reaches his power peak.
With a lack of production at third base, the Orioles shocked many by calling up Machado, who had just turned 20 years old, having him bypass Triple-A altogether. While he was a bit overaggressive at the plate (9:39 BB:K), Machado held his own considering his age. Machado is still developing both his eye at the plate and his power, but he is expected to blossom into a star. With J.J. Hardy's contract extended through 2014, Machado should remain at third base for the time being. Machado may take some time to develop, so his value is far greater in keeper formats.
Machado effectively played his first professional season after playing just nine games in 2010 as the Orioles' first-round draft pick. The 19-year-old tore up Low-A, hitting .276/.376/.483 with six home runs in just 170 plate appearances, showing good plate discipline as well before a dislocated knee cap sent him to the disabled list. He then hit a bit of a road block in High-A, where he couldn't draw as many walks nor hit for as much power (five homers in 260 plate appearances). Look for the youngster to get another crack at High-A and hopefully move up to Double-A next season.
Machado, the third overall selection in the 2010 draft, went 11-for-36 with one home run and just three strikeouts in a brief professional debut. He projects as a very good hitter at the MLB level and he should develop power as he continues to grow. Keeper and dynasty league owners should be prepared to invest here, however, as he's drawn legitimate comparisons to Alex Rodriguez. Even if Machado fails to become next A-Rod (fail is a strong word), he should hit for average and double-digit (think 20-homer) power down the road. Just don't expect to see him at the big league level before 2013.
More Fantasy News