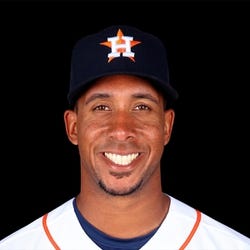 10-Day IL
Injury Shoulder
Est. Return 6/23/2023
Rest-of-Season Projections
2023 Fantasy Outlook
The 35 year old DH has the shoulders of a person twice that age as Brantley has once again needed shoulder surgery to fix an acute problem. He entered the season hitting .300 in four consecutive seasons and finished the injury-ridden 2022 season at .288 as the guy could seemingly roll out of bed and slap a single up the middle without missing a beat. The trouble has been his body is failing him and he is now DH only for fantasy drafts as well as real baseball utilization because it would be the best way to keep him healthy moving forward. The DH-only status further suppresses his draft day value as it is tough to lose that in-draft flexibility with someone who is a one-category producer these days so Brantley now becomes a very late round batting average partner for managers looking for late insurance in that category.
Read Past Outlooks
$Signed a one-year, $12 million contract with the Astros in December of 2022. Contract includes an additional $500,000 for 400 and 425 plate appearances and $750,000 for 450, 475, 500 and 525 plate appearances.

Goes through full workout
ANALYSIS
Brantley is checking all the boxes as he again pushes toward his 2023 debut. He was shut down in early May due to inflammation in his surgically-repaired right shoulder after going 6-for-24 (.250) in nine rehab games with Triple-A Sugar Land. The 36-year-old could soon begin a new minor-league rehab assignment if his side work continues to go smoothly.
Read More News
Batting Stats
2023
2022
2021
2020
2019
2018
2017
2023 MLB Game Log

Calculate Stats Over Time
Just click on any two dates.
Scoring
FanDuel
DraftKings
Yahoo DFS
Loading Batting Game Log...
2022 MLB Game Log

Calculate Stats Over Time
Just click on any two dates.
Scoring
FanDuel
DraftKings
Yahoo DFS
Loading Batting Game Log...
2021 MLB Game Log

Calculate Stats Over Time
Just click on any two dates.
Scoring
FanDuel
DraftKings
Yahoo DFS
Loading Batting Game Log...
2020 MLB Game Log

Calculate Stats Over Time
Just click on any two dates.
Scoring
FanDuel
DraftKings
Yahoo DFS
Loading Batting Game Log...
2019 MLB Game Log

Calculate Stats Over Time
Just click on any two dates.
Scoring
FanDuel
DraftKings
Yahoo DFS
Loading Batting Game Log...
2018 MLB Game Log

Calculate Stats Over Time
Just click on any two dates.
Scoring
FanDuel
DraftKings
Yahoo DFS
Loading Batting Game Log...
2017 MLB Game Log

Calculate Stats Over Time
Just click on any two dates.
Scoring
FanDuel
DraftKings
Yahoo DFS
Loading Batting Game Log...
Minor League Game Log

Calculate Stats Over Time
Just click on any two dates.
Loading Minor League Batting Game Log...
Left/Right Batting Splits
OPS
PA
HR
RBI
AVG
Since 2021

vs Left

.625
267
3
18
.243
Since 2021

vs Right

.883
518
10
55
.335
2023

vs Left

0
0
0
0
0
2023

vs Right

0
0
0
0
0
2022

vs Left

.732
87
1
4
.295
2022

vs Right

.810
190
4
22
.285
2021

vs Left

.575
180
2
14
.219
2021

vs Right

.924
328
6
33
.363
More Splits

→

View More Split Stats
Home/Away Batting Splits
OPS
PA
HR
RBI
AVG
Since 2021

Home

.743
389
5
36
.284
Since 2021

Away

.845
396
8
37
.322
2023

Home

0
0
0
0
0
2023

Away

0
0
0
0
0
2022

Home

.848
127
3
15
.315
2022

Away

.732
150
2
11
.265
2021

Home

.694
262
2
21
.270
2021

Away

.911
246
6
26
.355
More Splits

→

View More Split Stats
Advanced Batting Stats
Loading Advanced Batting Stats...
Games By Position
Defensive Stats
Loading Games Played by Position...
Loading MLB Defensive Stats...
Batted Ball Stats
Loading Batted Ball Stats...
Stats Vs Upcoming Pitchers
Our full team depth charts are reserved for RotoWire subscribers.
Subscribe Now
Recent RotoWire Articles Featuring Michael Brantley
See More
Past Fantasy Outlooks
2022
2021
2020
2019
2018
2017
2016
2015
2014
2013
2012
2011
2010
2009
2006
Brantley continues to fend off Father Time, though his already-suspect power is showing signs of decline. Brantley's home run output is capped by a low flyball rate, but last season's 27.9% mark was a career low. His exit velocity on flyballs also dropped a tick. Even so, Brantley's power indicators portended him reaching double digits, so his eight long balls were a bit low. His plate skills and batted-ball profiles were in sync with the last few seasons (at least a .299 average for the fifth consecutive season). Brantley's defense continues to be above average, though he spent more time at designated hitter to give his legs a break. Brantley visited the IL twice, early on with a sore hamstring and late with knee soreness. It's best to expect a similar health pattern as he embarks on his age-35 campaign. Otherwise, Brantley remains a solid average stabilizer, albeit with low power and almost no speed.
Take away Brantley's injury-plagued 2016 and 2017 seasons and he's been remarkably consistent, registering a wRC+ between 124 and 151 every year since 2014. Last year was no different, as he recorded a 134 mark. However, there are signs Brantley was a bit fortunate as he also recorded a .336 BABIP, the highest mark since he broke in back in 2009. This came in handy since he fanned at a 15.0% rate, his highest level since 2011. The veteran has shed the injury-prone label, but as he embarks on his age-34 season, expecting 140-150 games is prudent. After 10 years with Cleveland and two with Houston, Brantley hit the free-agent market only to return to the Astros. His production and consistency should keep him in the lineup every day. Brantley's .307 BA over the past four seasons is well worth the draft cost, and you get discounted power and run production to boot.
Brantley continued his comeback from a lost 2016 season, and had his best season in the second half of the decade as a piece of the potent Houston lineup. One point is all that has separated Brantley from hitting .300 in three consecutive seasons, and couple that with a decent walk rate and you also get a strong on-base percentage. He does not steal bases any longer, but that is the only area where he is not at least a solid producer in the stat line. Last year was the second consecutive season where Brantley was able to get back over the 600 plate appearance mark, thus further putting the health concerns in the rearview mirror. Look for more of the same in 2020 as Brantley's floor is as high as the risk is low with his overall profile. The ceiling may be low, but boring still wins championships. It would be nice if Brantley could play more DH, but the presence of Yordan Alvarez will not allow it.
It was a long road back for Brantley, who battled injuries the prior few seasons, most notably missing nearly all of 2016 following shoulder surgery. However, last season he nearly matched his 2014/2015 form, back when he helped win fantasy championships for a lot of folks. He lacked a little power and saw a modest drop in steals, but Brantley is now on the other side of 30 years old so that's understandable. Heading his skill set is a tiny 9.5 K%, second lowest in the league among qualified hitters. He cracked 17 homers, his second most ever, fueling a .160 ISO, behind only the levels attained in 2014 and 2015. Brantley ran less, but a 12-for-15 stolen-base success rate shows the cagey vet still know when to pick his spots. Home venue is less important for a contact-driven hitter like Brantley, so while he landed in a pitcher's park in Houston, that shouldn't affect baseline expectations much. The injury risk will be baked in. Don't hesitate to invest.
No one is shocked Brantley only played 90 games last season. However, it is surprising the reason was a pair of right ankle injuries, the last sending him to the DL on Aug. 9. He returned for the last two games of the regular season plus three playoff tilts. Once the Tribe was eliminated, Brantley had surgery to stabilize the ligaments in his right ankle with an estimated return coinciding with the beginning of spring training. When healthy, Brantley was productive, but he fell a little short of 2014-15 levels with a .299/.357/.444 slash line. He may have been playing hurt most of the season. Even so, Brantley popped nine homers and was 11-for-12 stealing bases, providing hope he can run effectively when healthy. Still just 30 years old, Brantley remains a health liability, but the chance for double-digit homers and steals in a solid lineup with a plus average is worth the risk, especially with an injury discount.
Brantley's 2016 season should serve as a cautionary tale for injury optimists. The initial hope for Brantley, who was coming off shoulder surgery, was that he might be ready following a brief, backdated DL stint. Unfortunately, his timetable was pushed back to late April, and Brantley only played in 11 games upon his return before he landed right back on the shelf. From there, reports of incremental progress would trickle in, leading many owners to hold tight. However, he experienced several more setbacks and never ended up returning to action. Brantley underwent another shoulder procedure in August, with his rehab projected at four months. There was some fear that his recovery could actually push well into 2017, but the Indians say he should be good to go for spring training. Brantley began taking dry swings right around the end of the calendar year.
Doctor Smooth wasn't in his best form in 2015, but he was still very good. A balky back limited him early in the season, and the discomfort lingered until near the end of July. Once the back got in order, Brantley was operating with surgical precision at the plate and ended the season with a .332/.383/.549 line over his final 200 plate appearances. He has always been a high-contact hitter, but reached a new level in 2015 when he walked more times than he struck out, which helped him keep his OBP above .375 for a second consecutive season — a feat only five other players have accomplished. Despite being on base so often, he didn't score 70 runs or steal 20 bases due to his back issues in the first half of the season. There has been some uncertainty regarding his timetable for a return from offseason shoulder surgery, and 2014 may forever represent his upside.
Arguably the biggest breakout player of 2014, Brantley doubled his power output and was a 20-20 player for the Indians en route to finishing third in the AL MVP voting. Prior to last season, Brantley had never slugged above .402 as a big league player, which will undoubtedly lead to questions about his ability to sustain his new level of production. Handling fastballs better than he did in the past, Brantley's HR/FB rate climbed from 6.8% in 2013 to 12.7% last season. That he was able to significantly increase his home-run production without selling out in his approach bodes well for his chances of another strong season in 2015 (his strikeout rate was a career-best 8.3%). Even if he's more likely to hit .300 with 15 homers and 15 steals than repeat the .327 average with another 20-20 effort, Brantley has all of the tools necessary to remain a steady five category player in the heart of the Cleveland lineup.
Brantley enjoyed a breakout season in 2013, with career highs in runs (66), homers (10), RBI (73) and steals (17). His ability to at least tread water against southpaws (.276/.325/.339) keeps him out of a platoon situation, which certainly helps his counting stats. Brantley will turn 27 in May, but there are no signs of additional power on the horizon, as his three-year ISO has ranged from .112 to .118, with very little fluctuation, and he hits a steady supply of balls on the ground (47.0 percent groundball rate in 2013). He'll be back as the team's everyday left fielder, barring a major offseason addition.
Brantley enjoyed his finest season since breaking into the big leagues, hitting .288 with 60 RBI and 12 steals in a full-time role for the Indians. He'll be back in a full-time role again for 2013 and figures to post similar numbers though there could be some upside to be found in the stolen-base department. In terms of power, it seems unlikely that he will provide much more than 10-12 long balls at his peak, as his ISO (.114) last season was right in line with 2011 and at the high end of his range during his stops in the minor leagues.
Brantley's season was cut short by a wrist injury in August that eventually required surgery, but he is expected to make a full recovery. He's not a huge fantasy contributor in any single category but chips in some value in most categories in nearly all formats. Of some concern is that his contact rate slipped from 87 to 83 percent last season, while his career struggles against lefties (.230/.294/.278) may ultimately lead him to sit depending on the composition of the Cleveland bench. Entering his age-25 season, he's a good bet to improve on last year's totals in what will be just his second full season in the majors, so look for Brantley to slot in as Cleveland's leadoff hitter and regular left fielder if Grady Sizemore is healthy enough to play center.
Brantley got off to a slow start, was demoted to Triple-A Columbus, hurt his shoulder upon his recall, got demoted to Triple-A again, and was called back up again only to deal with ankle and hamstring injuries in August and September in a whirlwind season for the 23-year-old. He did hit .284 with 10 steals after his second promotion from Triple-A after a dismal showing (.118 average) in the season's first half even though the underlying skill set didn't appear to change much thanks to a near 200-point jump in his batting average on balls in play. He's the Indians' everyday left fielder and likely leadoff hitter heading into spring training and he offers you speed on the basepaths, but limited power.
Brantley parlayed an injury to Grady Sizemore and the Indians' woeful season into a nice audition in September that saw him hit .313 with four steals for the Tribe as the team's everyday leadoff hitter down the stretch. He has nice instincts on the basepaths (46 steals in 51 tries at Triple-A last year) and a solid approach (59 walks and just 48 strikeouts in 457 at-bats at Triple-A) for a leadoff hitter but has to develop some power or pitchers will just pound the strike zone on him without fear. He's been one of the younger players at each of his minor league stops but a .369 career slugging percentage just isn't going to cut it. He'll have a chance to win an everyday role with the Indians this spring, especially with the talk of moving Sizemore down to the middle of the order.
Brantley, who was acquired as part of the package for CC Sabathia, hit .319 and swiped 27 bases as a 21-year old in his first full season at Double-A. He's got an excellent batting eye but will need to develop some more power as he matures or advanced pitchers will simply pound the strike zone against him as he moves up the minor league chain. There's certainly room on his frame (6'2") for some additional pop but we'll see if it ever develops.
Michael Brantley is the son of former major league outfielder Mickey Brantley. Michael has speed and good on-base skills, but not much in the way of power.
More Fantasy News