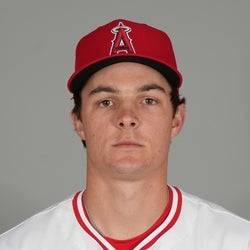 Rest-of-Season Projections
2023 Fantasy Outlook
Enough has been said about Moniak being a colossal bust that it may surprise some to note that he's still only 24. The 2016 first-overall pick has failed to live up to that billing thus far, but he made some noise in the minors last season, slashing .312/.362/.600 with eight homers, 20 RBI and five steals over 138 plate appearances between three levels and four clubs. The Phillies moved on from him after he went just 6-for-46 with 19 strikeouts during an opportunity in the majors, trading him to the Angels in a deal that netted them Brandon Marsh. Moniak got off to nice start with his new team, slugging two homers in five games immediately after the trade. He then broke his left middle finger and missed over a month, and when he returned in September the steam was gone, as he went 8-for-46 with a 1:20 BB:K the rest of the way. The Angels would love to see Moniak turn things around and erase the bust label, but it's hard to look past the career .218 OBP and 39.5% strikeout rate he's posted thus far as a big-leaguer. Los Angeles traded for Hunter Renfroe in the offseason, effectively eliminating Moniak's chance of competing for a starting or platoon role. At this point, it would probably be a win for him to emerge as a decent fourth outfielder.
Read Past Outlooks
$Signed a one-year contract with the Angels in March of 2023.

Moniak went 1-for-3 with a two-run home run in Friday's 5-4 win over the Mariners.
ANALYSIS
Moniak's blast put the Angels ahead for good in the sixth inning. He's seen his playing time rebound a bit lately with
Hunter Renfroe
(paternity) away from the team, but Moniak will likely be back in a bench role Saturday. Through 62 plate appearances, Moniak has five homers, 12 RBI, two stolen bases, 10 runs scored and a .305/.339/.678 slash line. While the numbers are there, he has no clear long-term path to playing time.
Read More News
Batting Stats
2023 MLB Game Log

Calculate Stats Over Time
Just click on any two dates.
Scoring
FanDuel
DraftKings
Yahoo DFS
Loading Batting Game Log...
2022 MLB Game Log

Calculate Stats Over Time
Just click on any two dates.
Scoring
FanDuel
DraftKings
Yahoo DFS
Loading Batting Game Log...
2021 MLB Game Log

Calculate Stats Over Time
Just click on any two dates.
Scoring
FanDuel
DraftKings
Yahoo DFS
Loading Batting Game Log...
2020 MLB Game Log

Calculate Stats Over Time
Just click on any two dates.
Scoring
FanDuel
DraftKings
Yahoo DFS
Loading Batting Game Log...
Minor League Game Log

Calculate Stats Over Time
Just click on any two dates.
Loading Minor League Batting Game Log...
Batting Order Slot Breakdown
#1
#2
#3
#4
#5
#6
#7
#8
#9
#1
#2
#3
#4
#5
#6
#7
#8
#9
Left/Right Batting Splits
OPS
PA
HR
RBI
AVG
Since 2021

vs Left

.132
24
0
0
.045
Since 2021

vs Right

.696
187
9
23
.216
2023

vs Left

.000
1
0
0
.000
2023

vs Right

1.034
61
5
12
.310
2022

vs Left

.220
15
0
0
.077
2022

vs Right

.550
97
3
8
.183
2021

vs Left

.000
8
0
0
.000
2021

vs Right

.454
29
1
3
.120
More Splits

→

View More Split Stats
Home/Away Batting Splits
OPS
PA
HR
RBI
AVG
Since 2021

Home

.531
121
5
16
.157
Since 2021

Away

.773
90
4
7
.253
2023

Home

.982
36
3
10
.265
2023

Away

1.065
26
2
2
.360
2022

Home

.343
56
1
3
.127
2022

Away

.684
56
2
5
.216
2021

Home

.335
29
1
3
.077
2021

Away

.393
8
0
0
.143
More Splits

→

View More Split Stats
Stat Review
How does Mickey Moniak compare to other hitters?
This section compares his stats with all batting seasons from the previous three seasons (minimum 400 plate appearances)*. The bar represents the player's percentile rank. For example, if the bar is halfway across, then the player falls into the 50th percentile for that stat and it would be considered average.
* Exit Velocity and Barrels/PA % are benchmarked against 2019 data (min 400 PA) and Hard Hit Rate is benchmarked against last season's data (min 400 PA).
See here for more exit velocity/barrels stats
plus an explanation of current limitations with that data set.
BB/K

Walk to strikeout ratio

BB Rate

The percentage of plate appearances resulting in a walk.

K Rate

The percentage of plate appearances resulting in a strikeout.

BABIP

Batting average on balls in play. Measures how many of a batter's balls in play go for hits.

ISO

Isolated Power. Slugging percentage minus batting average. A computation used to measure a batter's raw power.

AVG

Batting average. Hits divided by at bats.

OBP

On Base Percentage. A measure of how often a batters reaches base. Roughly equal to number of times on base divided by plate appearances.

SLG

Slugging Percentage. A measure of the batting productivity of a hitter. It is calculated as total bases divided by at bats.

OPS

On base plus slugging. THe sum of a batter's on-base percentage and slugging percentage.

wOBA

Weighted on-base average. Measures a player's overall offensive contributions per plate appearance. wOBA combines all the different aspects of hitting into one metric, weighting each of them in proportion to their actual run value.

Exit Velocity

The speed of the baseball as it comes off the bat, immediately after a batter makes contact.

Hard Hit Rate

A measure of contact quality from Sports Info Solutions. This stat explains what percentage of batted balls were hit hard vs. medium or soft.

Barrels/PA

The percentage of plate appearances where a batter had a batted ball classified as a Barrel. A Barrel is a batted ball with similar exit velocity and launch angle to past ones that led to a minimum .500 batting average and 1.500 slugging percentage.

Expected BA

Expected Batting Average.

Expected SLG

Expected Slugging Percentage.

Sprint Speed

The speed of a runner from home to first, in feet per second.

Ground Ball %

The percentage of balls put in play that are on the ground.

Line Drive %

The percentage of balls put in play that are line drives.

Fly Ball %

The percentage of balls put in play that are fly balls.
Prospect Rankings History
Advanced Batting Stats
Loading Advanced Batting Stats...
Games By Position
Defensive Stats
Loading Games Played by Position...
Loading MLB Defensive Stats...
Batted Ball Stats
Loading Batted Ball Stats...
Stats Vs Upcoming Pitchers
Our full team depth charts are reserved for RotoWire subscribers.
Subscribe Now
Recent RotoWire Articles Featuring Mickey Moniak
See More
Past Fantasy Outlooks
Moniak has had his share of deserved detractors over the past few years, and he's quite unlikely to live up to the lofty expectations that come with being a number one overall pick, but he's now officially a major leaguer after appearing in eight games last season. There's very little to analyze about his debut, as he came to the plate just 18 times, hitting .214/.389/.214, but the fact that he made it at the young age of 22 is certainly a positive. Where exactly he fits into the Phillies' outfield plans this season isn't entirely clear. He could presumably use some more seasoning in the minors, as he skipped Triple-A entirely while the minor leagues were shut down. None of the team's primary center field options (Roman Quinn, Adam Haseley and Scott Kingery) had very convincing 2020 campaigns, though, so there's a chance Moniak could play a significant role this year if he looks good early in the minors.
You might not be able to tell from Moniak's current prospect reports and rankings, but the 2016 first-overall pick has actually been trending in the right direction for over a year now. After hitting poorly for all of 2017 and the first part of 2018, he posted a .774 OPS over his last 59 games of 2018 and followed that up with a .741 OPS at Double-A Reading last season. That was good for a solid 115 wRC+, a number to which he added 11 homers and 15 steals. That's a decent performance for a center fielder, especially considering he began the season at just 20 years old. Being able to hold his own while being young for his level is just about the only thing Moniak has going for him at this point, though, as his hype is far from where it should be for a first-overall pick. He could debut this season but will need to add something to his game if he's to look like anything other than a fourth outfielder.
Moniak's .270/.304/.383 line for High-A Clearwater last season was a small improvement on his .236/.284/.341 showing at Low-A Lakewood in 2017, but it's still a performance that better suits a non-prospect than a first overall pick. Digging deeper into Moniak's season reveals at least some reason for optimism. Over his first 54 games, he recorded an ugly .592 OPS, but he posted to a .774 mark across his final 59 games, a change spurred by a drop in strikeout rate paired with an increase in walks and balls in the air. Still, even the revitalized version of Moniak is a relatively uninteresting fantasy prospect, as he managed just five homers and six steals. A respectable average without much power or speed is a profile that looks a lot like 2018 Jason Heyward but with worse defense, which doesn't make for a very exciting fantasy piece. Moniak will have to take at least one more step forward, if not several, to have much value in dynasty leagues.
"Safe" and "high floor" are dangerous words to throw around regarding high school prospects, but that was the selling point when the Phillies selected Moniak with the No. 1 overall pick in the 2016 draft. He was supposed to be a slick defender in center field with impact speed and a plus-plus hit tool -- think Lorenzo Cain or Ender Inciarte. Unfortunately, evaluators who saw Moniak in the Sally League in 2017 did not see 1-1 caliber player. They didn't even see a first-round talent. He was lost at the plate, particularly against lefties, and was not a plus runner. The early returns suggest the Phillies whiffed on that pick. The problem with his profile, even at the time of the draft, was that if he did not hit as expected, he might just be a fourth outfielder. A hit tool is the hardest thing to scout, and it is particularly hard to scout on the prep circuit. It's a hard pill to swallow, but his lack of upside makes it hard to continue to roster him in most dynasty leagues.
The first overall pick in the 2016 draft was considered one of the top high school bats available, bringing superb contact skills along with exceptional speed. His potential plus-plus hit tool, noteworthy speed and good defense in center field give him a solid floor as a fantasy prospect, but his value will be limited if he does not develop more power as he fills out. After signing, Moniak started at the Gulf Coast League, where he hit .284/.340/.409 with a home run and 10 steals in 176 at-bats. A hip injury, which was believed to be caused by fatigue, sidelined him for some of the instructional league in October, but he returned to the field before play ended. The Phillies will likely start Moniak off at Low-A Lakewood this season and keep him there the entire year.
More Fantasy News