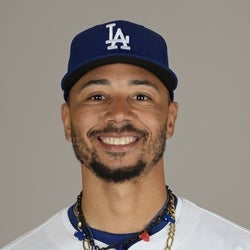 Rest-of-Season Projections
2023 Fantasy Outlook
Despite a two-week IL stint with a cracked rib, Betts parlayed a career high 47.7 percent fly ball rate into 35 homers, a personal best. The downside was a lower BABIP for the fourth straight season, as Betts' uppercut swing decreased his groundball exit velocity, which torpedoed his groundball BABIP. However, a low 16.3 percent strikeout rate limited damage, allowing Betts to register a 144 wRC+, the third best of his career. Betts' sprint speed fell to 49th percentile, but he still collected double-digit pilfers for the eighth straight campaign. In his salad days, Betts was one of the best, if not the top, fantasy batters, worthy of the top overall pick. Less durability, a lower average and fewer steals have conspired to keep him out of that discussion, but he's still in the first-round chat. Since 2016, no one has scored more runs than Betts. Him hitting at or near the top of a potent lineup should keep that intact.
Read Past Outlooks
$Signed a 12-year, $365 million contract extension with the Dodgers in July of 2020.

Betts went 4-for-4 with two home runs, three RBI and one steal in Friday's 8-4 win over the Yankees.
ANALYSIS
After wrapping up May with a two-homer night Wednesday, Betts did it again with two more big flies Friday, bringing his season total to 15. He could push for 40 homers, a feat he has never accomplished, if he stays on this pace. His .551 slugging percentage is the third-highest mark of his career, behind the shortened 2020 season and his monster 2018 campaign. Betts has not capitalized on the new rules designed to boost the running game, as he has just three steals on the season. However, he still seems a decent bet to reach double figures for the ninth straight year.
Read More News
Batting Stats
2023
2022
2021
2020
2019
2018
2017
2023 MLB Game Log

Calculate Stats Over Time
Just click on any two dates.
Scoring
FanDuel
DraftKings
Yahoo DFS
Loading Batting Game Log...
2022 MLB Game Log

Calculate Stats Over Time
Just click on any two dates.
Scoring
FanDuel
DraftKings
Yahoo DFS
Loading Batting Game Log...
2021 MLB Game Log

Calculate Stats Over Time
Just click on any two dates.
Scoring
FanDuel
DraftKings
Yahoo DFS
Loading Batting Game Log...
2020 MLB Game Log

Calculate Stats Over Time
Just click on any two dates.
Scoring
FanDuel
DraftKings
Yahoo DFS
Loading Batting Game Log...
2019 MLB Game Log

Calculate Stats Over Time
Just click on any two dates.
Scoring
FanDuel
DraftKings
Yahoo DFS
Loading Batting Game Log...
2018 MLB Game Log

Calculate Stats Over Time
Just click on any two dates.
Scoring
FanDuel
DraftKings
Yahoo DFS
Loading Batting Game Log...
2017 MLB Game Log

Calculate Stats Over Time
Just click on any two dates.
Scoring
FanDuel
DraftKings
Yahoo DFS
Loading Batting Game Log...
Minor League Game Log

Calculate Stats Over Time
Just click on any two dates.
Loading Minor League Batting Game Log...
Batting Order Slot Breakdown
#1
#2
#3
#4
#5
#6
#7
#8
#9
#1
#2
#3
#4
#5
#6
#7
#8
#9
Left/Right Batting Splits
OPS
PA
HR
RBI
AVG
Since 2021

vs Left

.932
384
22
55
.286
Since 2021

vs Right

.847
1065
51
121
.258
2023

vs Left

.956
63
5
11
.268
2023

vs Right

.872
197
10
25
.253
2022

vs Left

.983
174
11
29
.308
2022

vs Right

.832
465
24
53
.255
2021

vs Left

.858
147
6
15
.266
2021

vs Right

.853
403
17
43
.263
More Splits

→

View More Split Stats
Home/Away Batting Splits
OPS
PA
HR
RBI
AVG
Since 2021

Home

.925
714
40
94
.281
Since 2021

Away

.817
735
33
82
.250
2023

Home

1.078
126
9
19
.324
2023

Away

.718
134
6
17
.193
2022

Home

.871
315
16
39
.278
2022

Away

.874
324
19
43
.260
2021

Home

.917
273
15
36
.263
2021

Away

.794
277
8
22
.265
More Splits

→

View More Split Stats
Stat Review
How does Mookie Betts compare to other hitters?
This section compares his stats with all batting seasons from the previous three seasons (minimum 400 plate appearances)*. The bar represents the player's percentile rank. For example, if the bar is halfway across, then the player falls into the 50th percentile for that stat and it would be considered average.
* Exit Velocity and Barrels/PA % are benchmarked against 2019 data (min 400 PA) and Hard Hit Rate is benchmarked against last season's data (min 400 PA).
See here for more exit velocity/barrels stats
plus an explanation of current limitations with that data set.
BB/K

Walk to strikeout ratio

BB Rate

The percentage of plate appearances resulting in a walk.

K Rate

The percentage of plate appearances resulting in a strikeout.

BABIP

Batting average on balls in play. Measures how many of a batter's balls in play go for hits.

ISO

Isolated Power. Slugging percentage minus batting average. A computation used to measure a batter's raw power.

AVG

Batting average. Hits divided by at bats.

OBP

On Base Percentage. A measure of how often a batters reaches base. Roughly equal to number of times on base divided by plate appearances.

SLG

Slugging Percentage. A measure of the batting productivity of a hitter. It is calculated as total bases divided by at bats.

OPS

On base plus slugging. THe sum of a batter's on-base percentage and slugging percentage.

wOBA

Weighted on-base average. Measures a player's overall offensive contributions per plate appearance. wOBA combines all the different aspects of hitting into one metric, weighting each of them in proportion to their actual run value.

Exit Velocity

The speed of the baseball as it comes off the bat, immediately after a batter makes contact.

Hard Hit Rate

A measure of contact quality from Sports Info Solutions. This stat explains what percentage of batted balls were hit hard vs. medium or soft.

Barrels/PA

The percentage of plate appearances where a batter had a batted ball classified as a Barrel. A Barrel is a batted ball with similar exit velocity and launch angle to past ones that led to a minimum .500 batting average and 1.500 slugging percentage.

Expected BA

Expected Batting Average.

Expected SLG

Expected Slugging Percentage.

Sprint Speed

The speed of a runner from home to first, in feet per second.

Ground Ball %

The percentage of balls put in play that are on the ground.

Line Drive %

The percentage of balls put in play that are line drives.

Fly Ball %

The percentage of balls put in play that are fly balls.
Advanced Batting Stats
Loading Advanced Batting Stats...
Games By Position
Defensive Stats
Loading Games Played by Position...
Loading MLB Defensive Stats...
Batted Ball Stats
Loading Batted Ball Stats...
Stats Vs Upcoming Pitchers
Our full team depth charts are reserved for RotoWire subscribers.
Subscribe Now
Recent RotoWire Articles Featuring Mookie Betts
See More
Past Fantasy Outlooks
2022
2021
2020
2019
2018
2017
2016
2015
2014
2013
Betts was slashing .256/.366/.472 at the break, but his first half was marred with April back and forearm woes, May shoulder soreness and a June bout with stomach flu. After the break, Betts lost a month with two IL stints for a sore hip, later diagnosed as bone spurs, but he hit a more representative .280/.369/.516 over the second half. Through it all, Betts' contact, power and batted-balls metrics mimicked previous seasons, but a steep drop to 53rd percentile sprint speed dampened steals while also costing a few BABIP points. Betts received a cortisone injection during his second IL stint and has reportedly been pain-free since. Barring a recurrence, no surgery is planned. All signs point toward a return to form, which has traditionally been among the best, with two season as the top fantasy player on Betts' ledger. There will be a moderate discount, but there is also risk of his bone spur barking again.
Betts was everything the Dodgers could have hoped for in the first season of his massive 12-year contract, finishing second in NL MVP voting and playing an integral part in ending the organization's 32-year championship drought. There's little the 28-year-old can't do on the field; he ranked well above average last season in nearly every meaningful offensive metric -- including xBA (.285), xSLG (.487) and sprint speed (28.3 ft/s) -- and won his fifth Gold Glove to boot. Add it all up and you have one of the most well-rounded players in the league and a true stud in the fantasy realm. Betts was one of six big-leaguers to notch double-digit homers (16) and steals (10) in 2020, marking his sixth straight season accomplishing that feat. His elite contact skills and place atop a loaded Dodgers lineup provide a very high floor and help make Betts a surefire top-five pick in all drafts.
Betts saw his batting average drop 51 points, saw his steals total nearly cut in half, hit fewer homers than he did in 2019, and yet was still a 95th percentile hitter by Statcast measures. Betts' 2019 season should not be looked at in a disappointing lens as much as we should appreciate the amazing level of production Betts brought to the table in 2018. A deeper look into the batted-ball data on Betts shows a slight dip in hard-hit balls, but everything else is very much in line with his overall performance. The main issue is 2018 blows the curve for the numbers. You would be best served looking at 2018 as the best-case numbers for Betts with his career averages being a damn fine baseline to build a roster around. He is one year from free agency and the Red Sox decided they did not want to pay him in his final year of arbitration. The threat of San Diego loomed, but Betts landed in an ideal spot with a February trade to the Dodgers, for whom he should lead off.
If there were any doubts about Betts' status as one of the best hitters in the game after his "down" 2017 season, he put them to rest with his AL MVP campaign. He may not be Mike Trout, but Betts is arguably now the 1B to Trout's 1A heading into 2019. Betts was second to Trout in wRC+ with a 185 mark, and he ranked fourth among qualified hitters in ISO, which is hard to fathom for a player who is 5-foot-9, 180 pounds. Thanks in part to a swing tweak, Betts added a whopping 82 points to his batting average, besting every other qualifier in average by 16 points, and also led the majors in slugging percentage. And even with all that, his most valuable contributions to fantasy owners came on the basepaths, with Betts going 30-for-36 in stolen-base attempts. In an era where steals are way down, his ability to chip in 25-plus bags annually while doing so much else makes him an incredibly rare commodity. Enjoy the ride.
After narrowly missing a 30-homer, 30-steal season in 2016, Betts made for an easy first-round selection heading into his age-24 campaign. Though he again filled out the counting-stats categories nicely, Betts' 54-point downturn in batting average rendered him a disappointment relative to what many had forecasted. A .268 BABIP partially fueled by a decline in line-drive rate was the main culprit, as Betts' batted-ball profile otherwise displayed no significant differences from his runner-up MVP season. If the right fielder is able to curb his popouts to some degree, he could notice a swift recovery in average, given that his exceptional speed has routinely allowed him to submit BABIPs above .300 throughout his pro career. Betts' smallish frame makes it less certain that he'll reach 30 home runs again, but even in a somewhat down year, he remained a plus power source. Another season of five-category excellence likely awaits Betts, who may only come at a slight discount on draft day with few likely to downgrade him much for the dip in average last year.
The 24-year-old with the slight frame slashed .318/.363/.534/.897 last season -- all career highs -- and cleared the 30-homer mark for the first time in his career. He finished four steals shy of being a 30-30 player, a mark he's likely to threaten in 2017. Betts collected many accolades as a result -- second in the MVP voting, a first-time All-Star, a Gold Glove and a Silver Slugger. The forecasts for Betts had him hitting for power, but 31 homers was not in the tarot cards. Unlike his previous season, there were no down periods; Betts hit .266 in April and warmed up as the weather did, hitting .368 in July and .378 in August. It was during those warm-weather months that manager John Farrell dropped him from leadoff to third and fourth in the order, where his bat drove in 39 runs in 48 games. The Red Sox will miss David Ortiz, but Betts has emerged as an unlikely middle-of-the-order presence.
Former Boston general manager Ben Cherington made some roster additions that cost him his job, but his best personnel move is the one he never made. Amid pressure to trade Betts for Phillies starting pitcher Cole Hamels, Cherington held his ground and it paid off for Boston. Betts has become one of the more dynamic players in MLB. In mid-June, Betts was hitting .234 with a .659 OPS. From that point on, he hit .329 with a .925 OPS. Betts evolved as a dangerous leadoff hitter who added a power element to his game, finishing third on the team with 18 homers and third with 77 RBI. The 22-year-old's added power was the result of a change in approach that had him swinging at more pitches, though that cost him some on-base ability (.341 OBP). Betts has an elite power/speed combo with good defense at a premium position. He will continue to hit leadoff and may move to right field if Jackie Bradley remains with the team.
Betts appeared at three levels in 2014, eventually finishing the season as a regular outfielder in Boston. He had two stints in Boston and it looked like he wasn't ready for the show in each. It appeared the Red Sox may have rushed him, particularly defensively as Betts had little on-the-job training after moving from second base to outfield. There's still some work to do in the field, but the offense he showed at every level of the minor leagues eventually played at the major league level. Betts hit .317/.388/.462 (.849 OPS) in 116 plate appearances in September. Betts is probably the best option on the team to hit leadoff, a spot of trouble for the Red Sox last season until Brock Holt stabilized it. Look for Betts to get a ton of work in the outfield in spring training to the point where Boston feels comfortable taking him north to play on the grass at Fenway Park.
Betts, a fifth-round draft pick in 2011, was the organization's breakout prospect in 2013. He began the year at Low-A Greenville, initially struggled but maintained a good plate approach and kept his on-base percentage up. He eventually found his groove and had a 19-game hitting streak as well as a 33-game on-base streak. Betts hit 15 homers, had 81 walks and stole 38 bases in stops at Greenville and High-A Salem. With a good swing and the ability to work counts it's easy to see why the Red Sox like him. With Dustin Pedroia presumably the second baseman in Boston for years to come, Betts may eventually switch positions -- he played shortstop in high school. But that decision won't be made until later. The Red Sox like to challenge their prospects, so we might see Betts begin the season against older competition at Double-A Portland.
Betts, a fifth-round draft pick out of high school in 2011, went professional after committing to play for the University of Tennessee. He's an athletic infielder with an ability to impact games with his legs. He stole 20 bags in 71 games for Short-Season Lowell in 2012. Betts has a nice swing that should produce line drives as he learns to manage the strike zone and improve his pitch recognition. He projects very little power potential, but could develop as a gap-to-gap hitter. Presently, Betts gets his bat on the ball, but it's not always solid contact. He'll be pressed to improve his good-contact rate in his first year of full-season ball at Low-A Greenville.
More Fantasy News