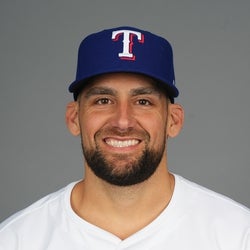 Rest-of-Season Projections
2023 Fantasy Outlook
After making 32 starts the previous season, Eovaldi was limited to 20 outings as he lost time early with back inflammation and then down the stretch with shoulder tightness. His four-seam and cutter velocity dropped, perhaps explaining a 22.4% strikeout rate, the lowest level since 2017. Eovaldi's biggest issue was a return of gopheritis as he yielded 21 homers in only 109.1 innings. His cutter and slider were particularly ineffective as they accounted for 41% of his homers allowed despite being thrown a combined 22% of the time. In contrast, Eovaldi upped his split finger usage to 21% and he surrendered only one homer with the pitch. Other than 2021, Eovaldi has missed at least a quarter of each season, so durability is an issue. His miniscule walk rate keeps his WHIP in a fantasy friendly range but his dalliance with the long ball puts his ERA at risk. Eovaldi joined the Rangers on a two-year, $34 million contract, so he'll see a lot of the AL West and Globe Life Field, which ranks mostly as a neutral park for both hitters and pitchers.
Read Past Outlooks
$Signed a two-year, $34 million contract with the Rangers in December of 2022. Contract includes $20 million vesting player option for 2025 with 300 innings pitched between 2023 and 2024 seasons or with a top-five Cy Young Award finish in 2023 or with a top-seven Cy Young Award finish in 2024 and an All-Star appearance.

Eovaldi (8-2) allowed one hit and struck out seven over six scoreless innings to earn the win Sunday over the Mariners.
ANALYSIS
Eovaldi was given plenty of support early on and left with a 12-0 lead after six dominant frames. This was the right-hander's fifth scoreless outing of the season, all of which have come in his last seven starts. He's won six times in that span. Eovaldi is at a 2.24 ERA, 0.93 WHIP and 77:14 K:BB through 80.1 innings over 12 appearances this season, cementing himself as one of the top pitchers in 2023. His next start is projected to be a tough one on the road versus the Rays.
Read More News
Pitching Stats
Loading Pitching Stats...
2023
2022
2021
2020
2019
2018
2017
2023 MLB Game Log

Calculate Stats Over Time
Just click on any two dates.
Scoring
FanDuel
DraftKings
Yahoo DFS
Loading Pitching Game Log...
2022 MLB Game Log

Calculate Stats Over Time
Just click on any two dates.
Scoring
FanDuel
DraftKings
Yahoo DFS
Loading Pitching Game Log...
2021 MLB Game Log

Calculate Stats Over Time
Just click on any two dates.
Scoring
FanDuel
DraftKings
Yahoo DFS
Loading Pitching Game Log...
2020 MLB Game Log

Calculate Stats Over Time
Just click on any two dates.
Scoring
FanDuel
DraftKings
Yahoo DFS
Loading Pitching Game Log...
2019 MLB Game Log

Calculate Stats Over Time
Just click on any two dates.
Scoring
FanDuel
DraftKings
Yahoo DFS
Loading Pitching Game Log...
2018 MLB Game Log

Calculate Stats Over Time
Just click on any two dates.
Scoring
FanDuel
DraftKings
Yahoo DFS
Loading Pitching Game Log...
2017 MLB Game Log

Calculate Stats Over Time
Just click on any two dates.
Scoring
FanDuel
DraftKings
Yahoo DFS
Loading Pitching Game Log...
Minor League Game Log

Calculate Stats Over Time
Just click on any two dates.
Loading Minor League Pitching Game Log...
Pitching Appearances Breakdown
How many pitches does Nathan Eovaldi generally throw?
What part of the game does Nathan Eovaldi generally pitch?
% Games Reaching Innings Threshold
% Games By Number of Innings Pitched
Left/Right Pitching Splits
BAA
K
BB
H
HR
Since 2021

vs Left

.226
170
28
142
15
Since 2021

vs Right

.266
205
41
216
24
2023

vs Left

.184
34
4
26
2
2023

vs Right

.240
43
10
35
1
2022

vs Left

.232
46
9
38
9
2022

vs Right

.284
57
11
77
12
2021

vs Left

.241
90
15
78
4
2021

vs Right

.263
105
20
104
11
More Splits

→

View More Split Stats
Home/Away Pitching Splits
ERA
WHIP
IP
K/9
BB/9
Since 2021

Home

3.92
1.18
197.1
8.7
1.7
Since 2021

Away

2.94
1.11
174.2
9.5
1.6
2023

Home

3.38
0.91
32.0
9.3
1.1
2023

Away

1.49
0.95
48.1
8.2
1.9
2022

Home

5.26
1.48
51.1
7.2
2.1
2022

Away

2.64
1.02
58.0
9.6
1.2
2021

Home

3.47
1.12
114.0
9.2
1.7
2021

Away

4.21
1.30
68.1
10.3
1.7
More Splits

→

View More Split Stats
Stat Review
How does Nathan Eovaldi compare to other starting pitchers?
This section compares his stats with all starting pitcher seasons from the previous three seasons (minimum 120 innings)*. The bar represents the player's percentile rank. For example, if the bar is halfway across, then the player falls into the 50th percentile for that stat and it would be considered average.
* Exit Velocity, Barrels/BBE %, Balls Hit 95+ MPH %, and Spin Rate are benchmarked against 2019 data (min 120 IP).
See here for more exit velocity/barrels stats
plus an explanation of current limitations with that data set.
K/BB

Strikeout to walk ratio.

K/9

Average strikeouts per nine innings.

BB/9

Average walks per nine innings.

HR/9

Average home runs allowed per nine innings.

Fastball

Average fastball velocity.

ERA

Earned run average. The average earned runs allowed per nine innings.

WHIP

Walks plus hits per inning pitched.

BABIP

Batting average on balls in play. Measures how many balls in play against a pitcher go for hits.

GB/FB

Groundball to flyball ratio. The higher the number, the more likely a pitcher is to induce groundballs.

Left On Base

The percentage of base runners that a pitcher strands on base over the course of a season.

Exit Velocity

The speed of the baseball as it comes off the bat, immediately after a batter makes contact.

Barrels/BBE

The percentage of batted ball events resulting in a Barrel. A Barrel is a batted ball with similar exit velocity and launch angle to past ones that led to a minimum .500 batting average and 1.500 slugging percentage.

Spin Rate

Spin Rate is the rate of spin on a baseball after it is released. It is measured in revolutions per minute (rpm).

Balls Hit 95+ MPH

The percentage of batted balls hit that met or exceeded the 95 MPH threshold.

Swinging Strike

The percentage of pitches that result in a swing and a miss.
Advanced Pitching Stats
Loading Advanced Pitching Stats...
Loading MLB Defensive Stats...
Our full team depth charts are reserved for RotoWire subscribers.
Subscribe Now
Recent RotoWire Articles Featuring Nathan Eovaldi
See More
Past Fantasy Outlooks
2022
2021
2020
2019
2018
2017
2016
2015
2014
2013
2012
2011
Eovaldi continues to be one of the best success stories among pitchers with multiple Tommy John surgeries under their belt. Eovaldi had the ugly hiccup in 2019, but has otherwise been effective since recovering from his second TJ surgery in 2017. Last season, he shouldered a workload he had not seen since 2014, leading the Boston staff in stability and most performance categories. He now has a polished five-pitch repertoire that keeps hitters guessing, and he needs the wide arsenal as his fastball is still quite hittable as a high-velo, low-spin offering. The biggest concern for the veteran hurler in 2022 is how his body will bounce back from working 203 innings from April through October, given that is nearly equal to his workload from the prior three seasons combined. Last season marked the first time since 2014 Eovaldi avoided the injured list, so that career track record looms large. He's not the workhorse you're looking for.
Eovaldi was been an interesting pitcher the past few seasons since recovering from his second Tommy John surgery in 2017. He has come back throwing harder, and added a cutter to his fastball/splitter combo to give him enough of a repertoire to effectively handle a lineup two times through. Durability is always an issue as he and the injured list go together like biscuits and gravy. This past season was no different as he in the IL with a calf strain, but otherwise was a bright spot in a terrible season in Boston. He nearly doubled his K-BB% from 2019 by greatly reducing his walks and pounding the strike zone. Ultimately, he may end up in a closer role given his lack of durability, but until then he is someone to roster with the expectation he is going to miss a quarter to a third of the season with some injury. One has to hope the bullpen in Boston is better in 2021 to protect his leads.
For the second straight season, Eovaldi was shelved for more than two months after needing surgery to remove loose bodies from his elbow. Though he became one of Boston's top arms in its run to the 2018 World Series following the first procedure, Eovaldi was unable to replicate the magic in 2019. Whether he was used in the rotation (12 starts) or bullpen (11 appearances), Eovaldi found little success, finishing with a 5.99 ERA, 1.58 WHIP and an ugly 11.6 BB%. The fact that Eovaldi maintained his elite velocity and missed bats (10.6 SwSt%) were silver linings, but even if he enters 2020 in better health and with improved control, he'll be difficult to rely on for innings. With two Tommy John surgeries on his record along with the arthroscopic procedures in back-to-back years, Eovaldi may have more durability concerns than any pitcher in the game.
Returning from his second Tommy John surgery, Eovaldi posted his lowest ERA since 2013 while churning out several career bests, including an 8.2 K/9, 4.4 BB% and 10.7% swinging-strike rate. Earlier in his career, the right-hander failed to pair Ks with high-end velocity, but he tapped into a greater strikeout punch in 2018 as the Rays helped him embrace his cutter and he started throwing four-seamers higher in the zone. Plus, he synced up his release points for better tunneling. Even after his pristine 1.61 postseason ERA, the 29-year-old's fantasy draft price won't likely climb too much due to concerns with season-long durability. He returned to the Red Sox on a four-year, $67.5 million deal and projects to open the season as the team's No. 3 starter.
Tommy John surgery in August of 2016 knocked Eovaldi out for the entirety of 2017. He did make a couple rehab appearances late in the year in the International League championship series, putting him on track to compete for a spot in the Rays' rotation in spring training. Any pitcher coming back from reconstructive elbow surgery is an unknown, but that's especially true with Eovaldi, whose calling card has always been premium velocity. He hadn't been able to generate many whiffs before going down with the injury despite the impressive velo -- Eovaldi has never posted a K/9 over 7.0 at the big-league level. Eovaldi will need to not only return to form, but find a new level to his game, in order to become a trustworthy option in standard fantasy leagues. That seems unlikely coming off TJS considering many pitchers struggle with control and command in their first year back.
After a rough first half of the season, Eovaldi moved to the bullpen for a brief period in July. He found a good deal of success in the new role, tossing 7.2 scoreless innings, but that success was short lived. He was diagnosed a partially torn UCL and fully torn flexor tendon in his right arm in August, which required season-ending Tommy John surgery. As a result, Eovaldi will miss the entirety of the 2017 season. He was non-tendered by the Yankees in the offseason, and given his lackluster results as a starter so far in his career, it seems like he'll move to the bullpen full-time once he's healthy if the Rays decide to hang onto him for another season.
Eovaldi improved in 2015, but it didn't really show up in his results. Actually, it kind of did as he somehow posted a 14-3 record, but no one is looking at his ERA or WHIP and thinking that he took steps forward. The big change was the development of his splitter, which helped him neutralize lefties over the second half. Through his first 13 starts he had a 5.12 ERA, due in large part to the fact that lefties mangled him for a 1.008 OPS. In his final 14 starts, he had a 3.43 ERA and cut that lefty OPS down to .587 as the splitter turned into a weapon and was key to a 56 percent groundball rate. Unfortunately, his season ended in early September with elbow concerns, but with health this is still a budding profile primed for a surge: insane velocity, a quality breaking ball, and now a way to stifle lefties. He doesn't allow homers, he's gotten his walks in check the last two years, and he has strikeout upside. Buy.
An up-and-down ride in 2014 saw Eovaldi on the verge of a breakout campaign before an increased workload appeared to wear on him down the stretch. Eovaldi tossed a career-high 199.2 innings pitched, but his September struggles (0-4, 5.53 ERA, 1.63 WHIP) dragged his overall line to a mediocre 4.37 ERA and 1.33 WHIP to go along with a 4-16 record. The 25-year-old right-handed hurler improved his control in 2014, slicing his walk rate down to just 5.0% after posting a 8.9 BB% in the previous year. Still, Eovaldi was unable to translate his powerful, upper-90s fastball into a significant strikeout total. A career-best 142:43 K:BB ratio that translated a solid 3.37 FIP presents plenty of reason for optimism as Eovaldi looks to break through 200-inning threshold in 2015. He'll have less margin for error this time around after being traded to the Yankees in December.
After missing the first two-and-a-half months of the season with a shoulder injury, Eovaldi cobbled together a solid campaign for Miami, tossing 106.1 innings with a 3.39 ERA and 1.32 WHIP. Eovaldi works primarily off of his 96-mph fastball, mixing in a two-seamer, slider, curveball and the occasional changeup. His strikeout totals are regularly underwhelming despite the plus velocity, but he did an excellent job keeping the ball in the yard last season, allowing just seven home runs in 18 starts. Entering his age-24 season, there is plenty of reason to think that Eovaldi still has room to grow, but unless he can pick up that strikeout rate, he figures to be little more than a middle-of-the-road option.
After a short stint in the big leagues in 2011, Eovaldi got his first real chance to be a major league starter in 2012 with the Dodgers, replacing an injured Ted Lilly in the starting rotation in late May. He posted medicore results including a 4.15 ERA and 1.47 WHIP over his first 56.1 innings pitched before being shipped to Miami in the Hanley Ramirez trade. Eovaldi showed flashes over the second half with the Marlins, but struggled with his command to the tune of a 44:27 K:BB that accompanied a 4.43 ERA and 1.54 WHIP for his new club. Working with a nice 94 mph fastball, Eovaldi will need to improve on the 3.5 BB/9 that he posted last season if he is to find success in the middle of the Marlins' rotation in 2013.
It was a breakout season of sorts for Eovaldi in 2011, as after 103 Double-A innings (2.62 ERA, 8.65 K/9IP), injuries led to his big league debut in August. He fared well in five of his six starts, ultimately posting a 3.63 ERA to go with a below-average 23:20 K:BB in 34.2 innings. With the Dodgers having filled out their rotation in free agency this winter, Eovaldi will open the season in the minors, but he's on the short list once an injury strikes.
Contract purchased by the Dodgers in August 2011.
More Fantasy News