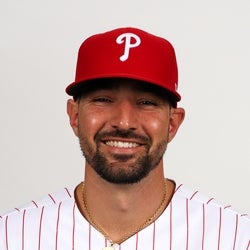 2023 Fantasy Outlook
We have seen the best of times and the worst of times with Castellanos the past two seasons. He was as amazing to have on a fantasy team in 2021 as he was utterly frustrating to roster in 2022. The move to Philly was supposed to be one which would soften the blow of leaving the comforts of Cincy, yet Castellanos was dreadful in nearly every aspect of the game. He lost nearly 50 points of batting average, nearly 200 points of slugging, and lost the ability to get on base as his low walk rate found a new low with his new club. The 7 steals were a career best, but that is the only silver lining in an otherwise forgettable season. Let's not forget, his terrible defense had to stay in the field because Bryce Harper needed to DH to stay in the lineup with his elbow troubles. Squinting into his expected numbers and secondary numbers offer little insights into a turnaround this coming season as his profile went from bright red to dark blue in many areas on StatCast in a hurry. He is too young to accelerate in the aging curve like this, but there truly is not any one excuse to explain this rapid decline. The signing itself was a poor fit for the club, but they made the World Series so all is well that ends well?
Read Past Outlooks
$Signed a five-year, $100 million contract with the Phillies in March of 2022.

Out following Monday's clincher
ANALYSIS
Like many of the Phillies' regulars, Castellanos gets the day off after securing a postseason berth Monday.
Dalton Guthrie
is starting in right field and hitting eighth.
Read More News
Batting Stats
2022
2021
2020
2019
2018
2017
2022 MLB Game Log

Calculate Stats Over Time
Just click on any two dates.
Scoring
FanDuel
DraftKings
Yahoo DFS
FantasyDraft
Head2Head
Loading Batting Game Log...
2021 MLB Game Log

Calculate Stats Over Time
Just click on any two dates.
Scoring
FanDuel
DraftKings
Yahoo DFS
FantasyDraft
Head2Head
Loading Batting Game Log...
2020 MLB Game Log

Calculate Stats Over Time
Just click on any two dates.
Scoring
FanDuel
DraftKings
Yahoo DFS
FantasyDraft
Head2Head
Loading Batting Game Log...
2019 MLB Game Log

Calculate Stats Over Time
Just click on any two dates.
Scoring
FanDuel
DraftKings
Yahoo DFS
FantasyDraft
Head2Head
Loading Batting Game Log...
2018 MLB Game Log

Calculate Stats Over Time
Just click on any two dates.
Scoring
FanDuel
DraftKings
Yahoo DFS
FantasyDraft
Head2Head
Loading Batting Game Log...
2017 MLB Game Log

Calculate Stats Over Time
Just click on any two dates.
Scoring
FanDuel
DraftKings
Yahoo DFS
FantasyDraft
Head2Head
Loading Batting Game Log...
Minor League Game Log

Calculate Stats Over Time
Just click on any two dates.
Loading Minor League Batting Game Log...
Batting Order Slot Breakdown
#1
#2
#3
#4
#5
#6
#7
#8
#9
#1
#2
#3
#4
#5
#6
#7
#8
#9
Left/Right Batting Splits
OPS
PA
HR
RBI
AVG
Since 2020

vs Left

.833
336
15
46
.293
Since 2020

vs Right

.807
1046
46
150
.271
2022

vs Left

.708
130
2
8
.295
2022

vs Right

.690
428
11
54
.254
2021

vs Left

.945
155
10
28
.306
2021

vs Right

.936
430
24
72
.310
2020

vs Left

.815
51
3
10
.250
2020

vs Right

.788
188
11
24
.222
More Splits

→

View More Split Stats
Home/Away Batting Splits
OPS
PA
HR
RBI
AVG
Since 2020

Home

.881
681
37
120
.292
Since 2020

Away

.748
699
24
76
.262
2022

Home

.675
274
7
31
.250
2022

Away

.712
284
6
31
.276
2021

Home

1.109
290
23
72
.359
2021

Away

.772
295
11
28
.260
2020

Home

.812
117
7
17
.229
2020

Away

.778
120
7
17
.229
More Splits

→

View More Split Stats
Stat Review
How does Nick Castellanos compare to other hitters?
This section compares his stats with all batting seasons from the previous three seasons (minimum 400 plate appearances)*. The bar represents the player's percentile rank. For example, if the bar is halfway across, then the player falls into the 50th percentile for that stat and it would be considered average.
* Exit Velocity and Barrels/PA % are benchmarked against 2019 data (min 400 PA) and Hard Hit Rate is benchmarked against last season's data (min 400 PA).
See here for more exit velocity/barrels stats
plus an explanation of current limitations with that data set.
BB/K

Walk to strikeout ratio

BB Rate

The percentage of plate appearances resulting in a walk.

K Rate

The percentage of plate appearances resulting in a strikeout.

BABIP

Batting average on balls in play. Measures how many of a batter's balls in play go for hits.

ISO

Isolated Power. Slugging percentage minus batting average. A computation used to measure a batter's raw power.

AVG

Batting average. Hits divided by at bats.

OBP

On Base Percentage. A measure of how often a batters reaches base. Roughly equal to number of times on base divided by plate appearances.

SLG

Slugging Percentage. A measure of the batting productivity of a hitter. It is calculated as total bases divided by at bats.

OPS

On base plus slugging. THe sum of a batter's on-base percentage and slugging percentage.

wOBA

Weighted on-base average. Measures a player's overall offensive contributions per plate appearance. wOBA combines all the different aspects of hitting into one metric, weighting each of them in proportion to their actual run value.

Exit Velocity

The speed of the baseball as it comes off the bat, immediately after a batter makes contact.

Hard Hit Rate

A measure of contact quality from Sports Info Solutions. This stat explains what percentage of batted balls were hit hard vs. medium or soft.

Barrels/PA

The percentage of plate appearances where a batter had a batted ball classified as a Barrel. A Barrel is a batted ball with similar exit velocity and launch angle to past ones that led to a minimum .500 batting average and 1.500 slugging percentage.

Expected BA

Expected Batting Average.

Expected SLG

Expected Slugging Percentage.

Sprint Speed

The speed of a runner from home to first, in feet per second.

Ground Ball %

The percentage of balls put in play that are on the ground.

Line Drive %

The percentage of balls put in play that are line drives.

Fly Ball %

The percentage of balls put in play that are fly balls.
Advanced Batting Stats
Loading Advanced Batting Stats...
Games By Position
Defensive Stats
Loading Games Played by Position...
Loading MLB Defensive Stats...
Batted Ball Stats
Loading Batted Ball Stats...
Stats Vs Upcoming Pitchers
Our full team depth charts are reserved for RotoWire subscribers.
Subscribe Now
Recent RotoWire Articles Featuring Nick Castellanos
Past Fantasy Outlooks
2022
2021
2020
2019
2018
2017
2016
2015
2014
2013
2012
While the strategy of rostering players during their walk year has been debunked, those with Castellanos on their team last season were rewarded with the best campaign of his career. Castellanos eclipsed the .300 mark for the first time in his career, fueling a career best 140 wRC+. Castellanos' combination of average exit velocity and average launch angle support an above average BABIP, but last season he added a career-low strikeout rate, as his contact on pitches out of the zone soared while he became more aggressive within the zone. He's likely to regress a bit in this department, but Castellanos batted ball skills help buoy a solid floor. He's also durable, with last season's IL stint after being hit by a pitch on his wrist was his first visit since 2016. Castellanos won't run much, but he's a solid compiler in the other four roto categories, plus he'll benefit from the universal designated hitter.
On the heels of a .321/.356/.646 run with the Cubs in 2019, Castellanos signed with the Reds, and it was easy to dream on his bat in Great American Ball Park. Castellanos led all of MLB with 58 doubles in 2019. In theory, a few more of those would clear the fences and he would possibly challenge for 40 HR over a full season. Circumstances out of his control kept Castellanos from showing what he could do over a 162-game season in 2020, and his performance fluctuated in the shortened season, but Castellanos still finished with 27 extra-base hits in 60 regular-season games for the Reds. He is a free swinger and at times in 2020 expanded his strike zone way too much, with the low-and-away pitch proving particularly tough to lay off. Castellanos' defense in the outfield continues to grade out poorly, but that should not affect his playing time much with the Reds and the rate stats seem bound to improve.
Castellanos has quietly strung together three quality seasons, averaging .287 with 25 homers, 87 runs and 88 RBI in that span. His calling card is an average exit velocity consistently above average since Statcast began tracking in 2015. Castellanos also rates high in barrels, helping support a career .333 BABIP. He needs the elevated hit rate as Castellanos walks only 6% of the time. The former third baseman turned outfielder began the season with the Tigers, slashing .278/.328/.462 before the Cubs acquired him at the deadline. Castellanos raked for his new club, posting a .321/.356/.646 line. Entering his age-28 season, Castellanos is a free agent with a good chance to sign a long-term deal. From a fantasy perspective, he provides a solid floor given his excellent durability and reliability. His upside is capped since he doesn't run, but he could flash more power in a homer-friendly venue.
Castellanos' 2017 expected weighted on-base average was nearly 40 points higher than his actual 2017 weighted on-base average. That meant the quality of his approach and contact were not being fully realized by his statistical production. That realization came to be in 2018 as he had his best overall season for run production. The step up was not a huge one, but it was continual growth at a time we want to see it from a young player. A contributing factor to the surge in batting average was the fact he hit .381 against lefties over 162 plate appearances. He has had quite a bit of batting-average variance in recent seasons against lefties, with a low point of .207 just two seasons ago, but has overall feasted on them while coming in slightly above average overall against righties. His defense is significantly behind his offense, and another defensive move to first base may come sooner rather than later.
Lost in a sea of disappointing performances for the Tigers in 2017, Castellanos was quietly a bright spot for the organization as he set new career-high totals in home runs (26), runs (73) and RBI (101), while lowering his strikeout rate to 21.4 percent. As the season progressed, he showed increasing power, slugging .553 in the second half while putting the ball in the air more frequently (43.6 percent flyball rate). Interestingly, Castellanos showed good power to all fields, pulling 10 homers, hitting seven to center field and nine the opposite way. As the Tigers reshape their roster for a possible long-term rebuild, the supporting cast may continue to erode, but the opportunity for a more favorable spot in the batting order could help offset that, as he hit third or fourth throughout September after Justin Upton was traded to Anaheim. He'll likely move to the outfield again with Jeimer Candelario positioned to play third regularly, but Castellanos should have every opportunity to settle in as a heart-of-the-order run producer in 2018.
Castellanos has three full seasons in the majors before the age of 25, but it wasn't until last season that he returned plus value at the plate. His strikeout rate and walk rates are both remarkably stable for someone of his age, but the batting average and power both jumped in 2016. His isolated power metric has improved each of the past three seasons as he continues to hit flyballs at a higher rate each season and mostly of the pull variety. He was an odd hitter in 2016 in that he was much better against righties, as a righty, than was against lefties. He hit .315 against right-handers (.207 against lefties) and had 13 of his 18 homers against righties. For his career, he has been rather split neutral but last year could be a side-effect of him working on pulling more baseballs. He's entrenched as Detroit's third baseman and could continue to improve at age 25.
Castellanos failed to take the expected step forward last season. He continued to boot balls at third base and delivered decidedly mediocre offensive numbers (.255 with 15 home runs, 73 RBI and a .721 OPS). He struck out about once a game, just like he did in his rookie year. Still, criticism of his offensive future seems a bit premature — the guy will be barely 24 on Opening Day and still has a number of years to fulfill his potential as a middle-of-the-order hitter. Castellanos' game picked up after the All-Star break and he had his best month in August (.286 with a .900 OPS), but don't expect dramatic growth in his game in 2016. He'll bat down the order and focus on incremental improvement on both offense and defense.
As the Tigers' top positional prospect heading into the 2014 season, many pundits had high hopes for Castellanos. On the surface, Castellanos had a mediocre first full season in the majors, hitting .259/.306/.394 with 11 home runs, 66 RBI and 54 runs in 533 at-bats while serving as the Tigers' full-time third baseman. Similar to his results in the minors, Castellanos had trouble with his plate discipline, finishing with 24.2% strikeout rate and 6.2% walk rate. He also struggled defensively, ranking last in the majors at UZR for third basemen. The defensive struggles can partially be chalked up to the Tigers juggling Castellanos between the outfield and third base in 2013. With a full-year of playing third base at the major league level under his belt, Castellanos should show improvement on defense. And some of the advanced metrics behind Castellanos' performance at the plate during his rookie campaign hint at further growth to come. Castellanos did a great job limiting infield flyballs (2.1% IFFB) and he ranked second among qualified hitters with a 28.5% line-drive rate. The Tigers appear to be committed to Castellanos as the team's third baseman of the present and future, so he will have a long leash to work through the issues that arose throughout his rookie campaign. The 23-year-old showed consistent improvements in both plate discipline and power as he made his way through the minors, and it wouldn't be a surprise to see similar improvements as he becomes acclimated to the majors.
Castellanos is the Tigers' top prospect and widely considered a top-25 prospect league-wide. He validated the high praise from scouts in 2013 by putting together a solid campaign during his first taste of Triple-A ball. In 533 at-bats with the Mud Hens, Castellanos hit .276/.343/.450 with 18 homers and 76 RBI. While his batting average dipped below .300 for the first time in his minor league career, Castellanos made great strides in the power department, as his 18 homers topped the 17 total home runs he had racked up through 1,068 at-bats the previous three seasons. He also flashed improved plate discipline, raising his BB/K ratio to 0.54 and his contact rate to 81 percent. The 22-year-old had his first exposure with the Tigers during a September callup. Castellanos was primarily deployed against left-handed pitchers, finishing with a .278 batting average in 18 at-bats. Despite the lack of playing time during his initial promotion, Castellanos is expected to battle for a full-time role in spring training. Following the trade of Prince Fielder to Texas in November, Castellanos is expected to be converted back to third base after spending the past season and half in the minors learning the outfield. While he initially projects to be more of a gap hitter in the majors, Castellanos' frame (6-foot-4, 210 pounds) and swing hint at 20-25 home-run power as he develops. Perspective owners will want to watch Castellanos closely during spring training to see if he can earn a full-time role with the Tigers. If he nabs the gig, Castellanos will be considered a preseason candidate for AL Rookie of the Year honors.
Castellanos, the Tigers' 2010 sandwich pick rocketed up the prospect rankings last season. He started off the season with High-A Lakeland, where he slashed his way to a .405/.461/.553 line in 215 at-bats before getting bumped up a level. At Double-A Erie, Castellanos saw his line drop to .264/.296/.382 in 322 at-bats. His production in Erie was obviously a step back, but it's still solid production for a 20-year-old seeing his first action in the higher levels of the minor leagues. One big boost in value that came from his promotion was a position change from third base to the outfield. At the hot corner, Castellanos was blocked by Miguel Cabrera for years to come, but a move to the outfield has sped up his clock. Now, Castellanos could factor into the roster mix for the Tigers as soon as this season. With just 17 homers in 1,068 at-bats in the minors, Castellanos has not fully flashed his power stroke yet, but his large frame (6-foot-4, 210 pounds) and extra-base power (32 and 36 doubles the past two seasons) hint at power that will develop down the line. He might not make much of a fantasy impact this season, but Castellanos' potential should have dynasty owners salivating at his potential a few years from now.
The Tigers selected Castellanos in the supplemental first round of the 2010 draft. Ranked as one of the best high school hitters in his draft class, Castellanos has quickly lived up to the hype. During his first full season of pro ball, Castellanos hit .312/.367/.436 with 46 extra-base hits in 507 at-bats for Low-A West Michigan. Castellanos struggled a bit with his plate discipline (45:130 BB:K), but his batting eye should improve with more time in the minors. He's also considered a solid defender at the hot corner, so his defense won't hold him back from moving through Detroit's system. In fact, Detroit already believes in Castellanos enough to have traded fellow third base prospect Francisco Martinez prior to the 2011 deadline, so his path to the majors is wide open. At 20, Castellanos could still use some extra time to develop, but he appears on track to make a splash in Detroit as soon as 2013.
More Fantasy News