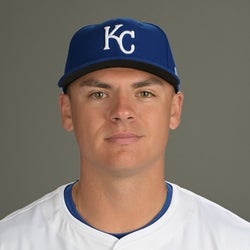 Rest-of-Season Projections
2023 Fantasy Outlook
As expected, Pratto had trouble hitting consistently against major-league arms, batting .184 with a .657 OPS across 182 plate appearances with the Royals. He was in a unique situation, sharing first base and designated hitter with fellow prospect Vinnie Pasquantino. While that's an acceptable short-term arrangement that could exist for part or all of 2023, the Royals' position-player prospects could eventually create a logjam in the majors that necessitates a deal. Pratto added seven homers in his first taste of the majors last year, but a 36.3 percent strikeout rate and a 10.7 percent walk rate were not the right mix for a three-true-outcomes hitter. He also didn't attempt a steal in the majors last year -- he didn't get on base enough to make an impact there. There's room for the 24-year-old to grow if he can break camp with the Royals, but there are enough red flags in his profile to make him risky even in AL-only formats, though his plus power could quickly nullify those concerns.
Read Past Outlooks
$Signed a one-year contract with the Royals in March of 2023.

Pratto isn't in the Royals'
lineup
Friday against the Nationals.
ANALYSIS
The Nationals will begin Friday with lefty
Patrick Corbin
on the mound, so the left-handed Pratto will retreat to the bench. In his place,
Edward Olivares
will start in left field and bat sixth.
Read More News
Batting Stats
2023 MLB Game Log

Calculate Stats Over Time
Just click on any two dates.
Scoring
FanDuel
DraftKings
Yahoo DFS
Loading Batting Game Log...
2022 MLB Game Log

Calculate Stats Over Time
Just click on any two dates.
Scoring
FanDuel
DraftKings
Yahoo DFS
Loading Batting Game Log...
Minor League Game Log

Calculate Stats Over Time
Just click on any two dates.
Loading Minor League Batting Game Log...
Batting Order Slot Breakdown
#1
#2
#3
#4
#5
#6
#7
#8
#9
#1
#2
#3
#4
#5
#6
#7
#8
#9
Left/Right Batting Splits
OPS
PA
HR
RBI
AVG
Since 2021

vs Left

.734
65
1
10
.250
Since 2021

vs Right

.694
226
8
23
.209
2023

vs Left

.864
22
1
2
.300
2023

vs Right

.758
87
1
11
.270
2022

vs Left

.663
43
0
8
.222
2022

vs Right

.654
139
7
12
.172
2021

vs Left

0
0
0
0
0
2021

vs Right

0
0
0
0
0
More Splits

→

View More Split Stats
Home/Away Batting Splits
OPS
PA
HR
RBI
AVG
Since 2021

Home

.719
160
5
23
.211
Since 2021

Away

.684
131
4
10
.227
2023

Home

.720
65
2
10
.218
2023

Away

.868
44
0
3
.359
2022

Home

.719
95
3
13
.205
2022

Away

.592
87
4
7
.163
2021

Home

0
0
0
0
0
2021

Away

0
0
0
0
0
More Splits

→

View More Split Stats
Stat Review
How does Nick Pratto compare to other hitters?
This section compares his stats with all batting seasons from the previous three seasons (minimum 400 plate appearances)*. The bar represents the player's percentile rank. For example, if the bar is halfway across, then the player falls into the 50th percentile for that stat and it would be considered average.
* Exit Velocity and Barrels/PA % are benchmarked against 2019 data (min 400 PA) and Hard Hit Rate is benchmarked against last season's data (min 400 PA).
See here for more exit velocity/barrels stats
plus an explanation of current limitations with that data set.
BB/K

Walk to strikeout ratio

BB Rate

The percentage of plate appearances resulting in a walk.

K Rate

The percentage of plate appearances resulting in a strikeout.

BABIP

Batting average on balls in play. Measures how many of a batter's balls in play go for hits.

ISO

Isolated Power. Slugging percentage minus batting average. A computation used to measure a batter's raw power.

AVG

Batting average. Hits divided by at bats.

OBP

On Base Percentage. A measure of how often a batters reaches base. Roughly equal to number of times on base divided by plate appearances.

SLG

Slugging Percentage. A measure of the batting productivity of a hitter. It is calculated as total bases divided by at bats.

OPS

On base plus slugging. THe sum of a batter's on-base percentage and slugging percentage.

wOBA

Weighted on-base average. Measures a player's overall offensive contributions per plate appearance. wOBA combines all the different aspects of hitting into one metric, weighting each of them in proportion to their actual run value.

Exit Velocity

The speed of the baseball as it comes off the bat, immediately after a batter makes contact.

Hard Hit Rate

A measure of contact quality from Sports Info Solutions. This stat explains what percentage of batted balls were hit hard vs. medium or soft.

Barrels/PA

The percentage of plate appearances where a batter had a batted ball classified as a Barrel. A Barrel is a batted ball with similar exit velocity and launch angle to past ones that led to a minimum .500 batting average and 1.500 slugging percentage.

Expected BA

Expected Batting Average.

Expected SLG

Expected Slugging Percentage.

Sprint Speed

The speed of a runner from home to first, in feet per second.

Ground Ball %

The percentage of balls put in play that are on the ground.

Line Drive %

The percentage of balls put in play that are line drives.

Fly Ball %

The percentage of balls put in play that are fly balls.
Prospect Rankings History
Advanced Batting Stats
Loading Advanced Batting Stats...
Games By Position
Defensive Stats
Loading Games Played by Position...
Loading MLB Defensive Stats...
Batted Ball Stats
Loading Batted Ball Stats...
Stats Vs Upcoming Pitchers
Our full team depth charts are reserved for RotoWire subscribers.
Subscribe Now
Recent RotoWire Articles Featuring Nick Pratto
See More
Past Fantasy Outlooks
Pratto and teammate MJ Melendez having massive bounce-back campaigns after dreadful 2019 seasons was one of the better stories in the minors last year. Pratto hit .265/.385/.602 with 36 home runs, an excellent 39.5 Hard%, a 15.2 BB% and a 28.8 K% in 545 plate appearances at Double-A and Triple-A. Once seen as a potential hit-over-power prospect, Pratto has evolved into a three-true-outcomes masher. He was second in the minors in home runs and ISO (.337), so the power is very real, but his strikeout rate is pretty concerning for a player at age-appropriate levels, as the gap between Triple-A and MLB pitching is massive. Better in OBP leagues than batting average leagues, Pratto could be a sneaky source of 6-12 steals, thanks to strong instincts on the bases. He is a good defensive first baseman and will likely get a chance to play there regularly in the majors this summer. However, it seems likely that he will be a batting average sinkhole as a rookie.
It is tough to know how to react when a player is productive, but in a very different way than the pre-draft scouting report foretold. Take Pratto, the 14th overall pick in 2017. "Command of the strike zone" and "developing power" were the selling points for this hit-over-power prep first baseman. Instead, he had the 15th highest K% (27.9) in the Sally League while his power was ahead of schedule (.163 ISO). However, his 13.4% swinging-strike rate was only the 27th highest mark in the league, so he does not have debilitating contact issues, and really improved in the second half. From July 14 on, Pratto hit .343/.422/.596 with seven home runs, a 24.5 K% and an 11.5 BB% in 192 PA. Pratto uses the whole field (32.1 Oppo%) and his 22.9% line-drive rate ranked eighth in the league, so the ingredients are there for him to become the player we thought he would be, his development just won't be linear -- it rarely is.
The 2017 draft saw four first basemen go in the first round and Pratto was the only high schooler to break up the college bats. Typically prep hitters are slower to tap into their raw power. However, those three college first basemen combined for seven total home runs after signing, while Pratto hit four out himself. He also tied for fourth in the AZL with 15 doubles -- an indicator that even more over-the-fence power is coming. Pratto was the only corner infielder in the AZL to steal double-digit bases, which says more about his instincts than raw speed, as he is actually a below-average runner. He didn't get the bat on the ball enough, striking out 25.2 percent of the time, but projects to make massive strides in that department in the coming years. He showed patience (10.4 percent walk rate) and more power than most were expecting in his first pro season. One thing to watch going forward is his performance against lefties, whom he hit .234/.321/.319 against in a small sample.
More Fantasy News