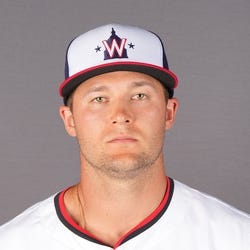 Out
Injury Toe
Est. Return 2/1/2023
2023 Fantasy Outlook
Stop me if you've heard this one before: Senzel missed time with injuries last season and disappointed when healthy. His 110 games played represent a career high, but he still hit the injured list three times and suffered other minor injuries. In between, he hit 231/.296/.306 with five homers and eight steals. A .249 xBA suggests he got a bit unlucky, but his batted-ball numbers were generally unimpressive. An 18.1 K% did mean he made an above-average amount of contact, but that came with a 3.2% barrel rate (not too far from his 4.9% career mark), so it's no surprise he failed to do much damage. In theory, there's still enough here to separate him from other late lottery tickets, but that's becoming increasingly untrue. Yes, he's still the same person who was drafted second overall in 2016, and he still has a path to playing time in a very hitter-friendly park. But he's also heading into his age-28 and owns a .663 career OPS in 1,036 plate appearances, to say nothing of his health concerns.
Read Past Outlooks
$Signed a one-year, $1.95 million contract with the Reds in January of 2023.

Still expected to play center field
Senzel (toe) is still expected to start in center field to begin the season, though it's possible that he could get work in other positions,
Bobby Nightengale of The Cincinnati Enquirer
reports. "He can play all over the field and be an everyday player, but with where we are as a team, he still factors into center field a lot," manager David Bell said.
ANALYSIS
It's still not certain whether Senzel will be ready for the start of spring training following his surgery in November to repair a broken toe.
Read More News
Batting Stats
2022 MLB Game Log

Calculate Stats Over Time
Just click on any two dates.
Scoring
FanDuel
DraftKings
Yahoo DFS
FantasyDraft
Head2Head
Loading Batting Game Log...
2021 MLB Game Log

Calculate Stats Over Time
Just click on any two dates.
Scoring
FanDuel
DraftKings
Yahoo DFS
FantasyDraft
Head2Head
Loading Batting Game Log...
2020 MLB Game Log

Calculate Stats Over Time
Just click on any two dates.
Scoring
FanDuel
DraftKings
Yahoo DFS
FantasyDraft
Head2Head
Loading Batting Game Log...
2019 MLB Game Log

Calculate Stats Over Time
Just click on any two dates.
Scoring
FanDuel
DraftKings
Yahoo DFS
FantasyDraft
Head2Head
Loading Batting Game Log...
Minor League Game Log

Calculate Stats Over Time
Just click on any two dates.
Loading Minor League Batting Game Log...
Batting Order Slot Breakdown
#1
#2
#3
#4
#5
#6
#7
#8
#9
#1
#2
#3
#4
#5
#6
#7
#8
#9
Left/Right Batting Splits
OPS
PA
HR
RBI
AVG
Since 2020

vs Left

.577
169
2
13
.226
Since 2020

vs Right

.624
441
6
28
.232
2022

vs Left

.595
121
1
10
.241
2022

vs Right

.604
290
4
15
.226
2021

vs Left

.739
20
0
1
.333
2021

vs Right

.618
104
1
7
.237
2020

vs Left

.383
28
1
2
.080
2020

vs Right

.761
47
1
6
.256
More Splits

→

View More Split Stats
Home/Away Batting Splits
OPS
PA
HR
RBI
AVG
Since 2020

Home

.627
325
6
22
.225
Since 2020

Away

.593
285
2
19
.236
2022

Home

.626
216
3
13
.242
2022

Away

.574
195
2
12
.217
2021

Home

.645
59
1
3
.204
2021

Away

.630
65
0
5
.290
2020

Home

.610
50
2
6
.174
2020

Away

.644
25
0
2
.227
More Splits

→

View More Split Stats
Stat Review
How does Nick Senzel compare to other hitters?
This section compares his stats with all batting seasons from the previous three seasons (minimum 400 plate appearances)*. The bar represents the player's percentile rank. For example, if the bar is halfway across, then the player falls into the 50th percentile for that stat and it would be considered average.
* Exit Velocity and Barrels/PA % are benchmarked against 2019 data (min 400 PA) and Hard Hit Rate is benchmarked against last season's data (min 400 PA).
See here for more exit velocity/barrels stats
plus an explanation of current limitations with that data set.
BB/K

Walk to strikeout ratio

BB Rate

The percentage of plate appearances resulting in a walk.

K Rate

The percentage of plate appearances resulting in a strikeout.

BABIP

Batting average on balls in play. Measures how many of a batter's balls in play go for hits.

ISO

Isolated Power. Slugging percentage minus batting average. A computation used to measure a batter's raw power.

AVG

Batting average. Hits divided by at bats.

OBP

On Base Percentage. A measure of how often a batters reaches base. Roughly equal to number of times on base divided by plate appearances.

SLG

Slugging Percentage. A measure of the batting productivity of a hitter. It is calculated as total bases divided by at bats.

OPS

On base plus slugging. THe sum of a batter's on-base percentage and slugging percentage.

wOBA

Weighted on-base average. Measures a player's overall offensive contributions per plate appearance. wOBA combines all the different aspects of hitting into one metric, weighting each of them in proportion to their actual run value.

Exit Velocity

The speed of the baseball as it comes off the bat, immediately after a batter makes contact.

Hard Hit Rate

A measure of contact quality from Sports Info Solutions. This stat explains what percentage of batted balls were hit hard vs. medium or soft.

Barrels/PA

The percentage of plate appearances where a batter had a batted ball classified as a Barrel. A Barrel is a batted ball with similar exit velocity and launch angle to past ones that led to a minimum .500 batting average and 1.500 slugging percentage.

Expected BA

Expected Batting Average.

Expected SLG

Expected Slugging Percentage.

Sprint Speed

The speed of a runner from home to first, in feet per second.

Ground Ball %

The percentage of balls put in play that are on the ground.

Line Drive %

The percentage of balls put in play that are line drives.

Fly Ball %

The percentage of balls put in play that are fly balls.
Prospect Rankings History
Advanced Batting Stats
Loading Advanced Batting Stats...
Games By Position
Defensive Stats
Loading Games Played by Position...
Loading MLB Defensive Stats...
Batted Ball Stats
Loading Batted Ball Stats...
Stats Vs Upcoming Pitchers
Our full team depth charts are reserved for RotoWire subscribers.
Subscribe Now
Recent RotoWire Articles Featuring Nick Senzel
See More
Past Fantasy Outlooks
2022
2021
2020
2019
2018
2017
Senzel's 2021 season started in ominous fashion as he left the Reds' Opening Day game in the fourth inning after a diving attempt in center field. The shoulder injury suffered that day turned out to be relatively minor, but Senzel battled heel and knee issues shortly thereafter and was under the knife for left knee surgery by the end of May. The Reds optioned Senzel to Triple-A Louisville upon his activation from the 60-day injured list in mid-August since he was still noticeably favoring his left knee while on the field. A late-season return to the majors was quietly taken off the table in early September. With his progress up in the air during the lockout, Senzel is left as an even bigger question mark than he's always been between the injuries and lack of a defensive home. Cincinnati deserves criticism for how its handled Senzel, but at the same time, the former top prospect has done little when healthy.
Injuries and illness ruined another season for Senzel in 2020, as he played in only 23 games. The second overall pick in 2016, Senzel hasn't yet managed to make it through a full season as a professional since 2017, playing in less than half of the allotted season in two of the last three years. Illness, mostly in the form of a trip to the COVID-19 reserve list, was the primary culprit, but he also missed time with a sprained left ring finger and a groin injury. It's pretty easy to dismiss Senzel's 2020 hitting stats, given how much time he missed and how he was in-and-out of the lineup even after returning. Suffice to say, he did not take the next step, hitting .186/.247/.357 in 77 plate appearances. Manager David Bell aggressively platooned, both with his starting lineup and with in-game changes, often costing Senzel plate appearances too, which in turn places a drag on his value in mixed league formats.
Your assessment of Senzel's 2019 season depends on your expectations. The 2016 second overall pick was sent down before Opening Day and subsequently injured his ankle in spring training, delaying his major-league debut until May. Upon his arrival, Senzel didn't exactly dominate, turning in a .256/.315/.427 season with a 24.7 K% and 14 stolen bases. That's not a bad season for an average rookie, but insufficient considering his 198 ADP in the NFBC Main Event. A red flag was his 87.7 mph average exit velocity, which ranked well below league average. One thing to watch for is to see if he starts pulling the ball more -- in the minors he consistently pulled the ball over 40% of the time, but last year that dropped to 34%. Senzel also still hasn't had a full healthy season. Between the ankle injury and a season-ending torn shoulder labrum that required surgery, he played only 104 games in 2019.
Senzel has hit at least .305, notched an ISO of at least .171 and a wRC+ of at least 147 in every full-season league he's played in while never striking out more than 20.2% of the time. He exhibits five-category potential, stealing eight bases on 10 attempts in 44 games last year and grading out as an above-average runner. Unfortunately, vertigo was an issue for the second straight season -- he missed the final week of 2017 with the condition and it cost him most of May last year. He also missed the final two months of 2018 with a broken right index finger. There is little precedent for the vertigo issue, and it adds a small layer of risk to what would otherwise seem like a risk-free profile. Defensively, Senzel can play second base and third base, but worked in left field during instructs and may eventually debut in center field, given the Reds' offseason moves. He could retain multi-position eligibility in a handful of his early big-league seasons.
A five-tool third baseman, Senzel has separated himself from the rest of the hitting prospects who went in the first round of the 2016 draft. His above-average speed makes him unique among corner-infield prospects, and in the second half of last year he started to tap into his plus raw power. Senzel hit 11 professional home runs in 130 pro games before being promoted to the Southern League, where he hit 10 long balls in just 57 games and led the league with a 184 wRC+, despite playing his home games in the pitcher-friendly ballpark in Pensacola. His season came to an odd conclusion when he was shut down in late August with symptoms of vertigo -- a condition worth tracking as spring training begins. Assuming everything checks out OK on the health front, he should begin the year at Triple-A Louisville and enter the big-league lineup as soon as the Reds find a way to make room for him at third base, which may prove difficult, given how well their infielders performed in 2017.
Cincinnati continued the trend of teams taking advanced college hitters early in the draft over top arms, selecting Senzel with the second overall pick in June. He quickly established himself as the class of the farm system, posting a .982 OPS with Low-A Dayton. His excellent approach and plate skills were on full display, with Senzel managing a 12.9 percent walk rate and a sub-20 percent strikeout rate while hitting for notable power in a spacious home park. In fact, Senzel finished third on the team in home runs despite playing only 58 games. He also runs well for his size, and could offer 10-20 steals annually in his first couple years in the big leagues. With a well-rounded skill set, Senzel could rise quickly through the Reds' system, perhaps reaching the upper levels before the end of 2017. He's already a top-30 prospect for fantasy purposes and may be in the top-10 discussion by season's end.
More Fantasy News