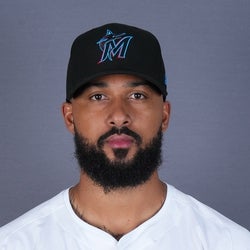 Rest-of-Season Projections
2023 Fantasy Outlook
Alcantara reached the pinnacle in 2022, winning the National League Cy Young Award while literally lapping the field with six complete games. He continued to pump the four-seam and sinker in at 97-98 mph, though it was the changeup that he threw more than any other pitch last season (34.4 Whiff%). Technically his strikeout rate was only a little above average, but when you subtract walks (K-BB%), he ranked top 20 among qualifiers. Alcantara led baseball by a sizable margin with his 228.2 innings during the regular season and he's the only pitcher in the game to clear the 200-inning threshold each of the past two seasons. A certain portion of the fantasy community will fade Alcantara on principle alone coming off a career year, and it's not crazy to be reluctant about paying the new sticker price in drafts, but Alcantara has to be considered among the safest pitchers on the board from a workload standpoint.
Read Past Outlooks
$Signed a five-year, $56 million contract extension with the Marlins in November of 2021. Contract includes $21 million team option ($2 million buyout) for 2027.

Walks five in no-decision
Alcantara did not factor into the decision Tuesday, allowing four runs on five hits and five walks over 6.1 innings against the Padres. He struck out three.
ANALYSIS
Alcantara's command eluded him again Tuesday, as he's now issued 13 walks over his last four starts (25.2 innings). It's been a tough year overall for Alcantara following his Cy Young-winning campaign. He's 2-5 with a 4.93 ERA, 1.25 WHIP and 60:25 K:BB through 11 starts (69.1 innings) this season. Alcantara currently lines up for a friendlier matchup with the A's on Sunday, where he'll look to get his season on track.
Read More News
Pitching Stats
Loading Pitching Stats...
2023
2022
2021
2020
2019
2018
2017
2023 MLB Game Log

Calculate Stats Over Time
Just click on any two dates.
Scoring
FanDuel
DraftKings
Yahoo DFS
Loading Pitching Game Log...
2022 MLB Game Log

Calculate Stats Over Time
Just click on any two dates.
Scoring
FanDuel
DraftKings
Yahoo DFS
Loading Pitching Game Log...
2021 MLB Game Log

Calculate Stats Over Time
Just click on any two dates.
Scoring
FanDuel
DraftKings
Yahoo DFS
Loading Pitching Game Log...
2020 MLB Game Log

Calculate Stats Over Time
Just click on any two dates.
Scoring
FanDuel
DraftKings
Yahoo DFS
Loading Pitching Game Log...
2019 MLB Game Log

Calculate Stats Over Time
Just click on any two dates.
Scoring
FanDuel
DraftKings
Yahoo DFS
Loading Pitching Game Log...
2018 MLB Game Log

Calculate Stats Over Time
Just click on any two dates.
Scoring
FanDuel
DraftKings
Yahoo DFS
Loading Pitching Game Log...
2017 MLB Game Log

Calculate Stats Over Time
Just click on any two dates.
Scoring
FanDuel
DraftKings
Yahoo DFS
Loading Pitching Game Log...
Minor League Game Log

Calculate Stats Over Time
Just click on any two dates.
Loading Minor League Pitching Game Log...
Pitching Appearances Breakdown
How many pitches does Sandy Alcantara generally throw?
What part of the game does Sandy Alcantara generally pitch?
% Games Reaching Innings Threshold
% Games By Number of Innings Pitched
Left/Right Pitching Splits
BAA
K
BB
H
HR
Since 2021

vs Left

.216
226
79
210
26
Since 2021

vs Right

.226
242
46
197
17
2023

vs Left

.238
34
17
31
4
2023

vs Right

.240
26
8
31
2
2022

vs Left

.196
98
29
87
8
2022

vs Right

.231
109
21
87
8
2021

vs Left

.229
94
33
92
14
2021

vs Right

.215
107
17
79
7
More Splits

→

View More Split Stats
Home/Away Pitching Splits
ERA
WHIP
IP
K/9
BB/9
Since 2021

Home

2.34
0.93
265.1
8.5
2.0
Since 2021

Away

3.78
1.20
238.1
8.2
2.5
2023

Home

4.31
1.13
39.2
7.5
3.4
2023

Away

5.76
1.42
29.2
8.2
3.0
2022

Home

1.64
0.87
121.0
8.1
1.7
2022

Away

3.01
1.11
107.2
8.2
2.3
2021

Home

2.41
0.93
104.2
9.5
1.8
2021

Away

4.01
1.23
101.0
8.1
2.6
More Splits

→

View More Split Stats
Stat Review
How does Sandy Alcantara compare to other starting pitchers?
This section compares his stats with all starting pitcher seasons from the previous three seasons (minimum 120 innings)*. The bar represents the player's percentile rank. For example, if the bar is halfway across, then the player falls into the 50th percentile for that stat and it would be considered average.
* Exit Velocity, Barrels/BBE %, Balls Hit 95+ MPH %, and Spin Rate are benchmarked against 2019 data (min 120 IP).
See here for more exit velocity/barrels stats
plus an explanation of current limitations with that data set.
K/BB

Strikeout to walk ratio.

K/9

Average strikeouts per nine innings.

BB/9

Average walks per nine innings.

HR/9

Average home runs allowed per nine innings.

Fastball

Average fastball velocity.

ERA

Earned run average. The average earned runs allowed per nine innings.

WHIP

Walks plus hits per inning pitched.

BABIP

Batting average on balls in play. Measures how many balls in play against a pitcher go for hits.

GB/FB

Groundball to flyball ratio. The higher the number, the more likely a pitcher is to induce groundballs.

Left On Base

The percentage of base runners that a pitcher strands on base over the course of a season.

Exit Velocity

The speed of the baseball as it comes off the bat, immediately after a batter makes contact.

Barrels/BBE

The percentage of batted ball events resulting in a Barrel. A Barrel is a batted ball with similar exit velocity and launch angle to past ones that led to a minimum .500 batting average and 1.500 slugging percentage.

Spin Rate

Spin Rate is the rate of spin on a baseball after it is released. It is measured in revolutions per minute (rpm).

Balls Hit 95+ MPH

The percentage of batted balls hit that met or exceeded the 95 MPH threshold.

Swinging Strike

The percentage of pitches that result in a swing and a miss.
Prospect Rankings History
Advanced Pitching Stats
Loading Advanced Pitching Stats...
Loading MLB Defensive Stats...
Our full team depth charts are reserved for RotoWire subscribers.
Subscribe Now
Recent RotoWire Articles Featuring Sandy Alcantara
See More
Past Fantasy Outlooks
2022
2021
2020
2019
2018
2017
2016
While we didn't see that sizable jump in strikeout rate that some were holding out hope for (24.0 K%), Alcantara still paid dividends for fantasy managers in 2021. Alcantara's 205.1 innings ranked fourth in MLB, and he rode his heavy sinker-slider approach to a 53.3 GB%. He was stingier with the free passes than ever (6.0 BB%), leading to a 1.07 WHIP, and while some giveback should be expected in that regard, everything else sets up well for another stellar season in Miami. He added even more velocity to his heaters in 2021 -- the right-hander averaged 97-98 mph with his fastball variations -- and his aforementioned slider was a much more successful offering overall. Alcantara's changeup had a whiff rate north of 30%, per Statcast, and further improvement with that pitch could help Alcantara unlock another level. The best may be yet come for the 26-year-old.
Perhaps no individual stat stands out in Alcantara's profile at first glance, but he's posted a 3.62 ERA and 1.27 WHIP across his last 32 regular-season starts. In 2020, he continued to tack on velocity, adding at least one mile per hour to each of his fastball, sinker and slider. That, at least in part, allowed him to post a 14.0 K-BB% rate across 42 innings, nearly doubling his previous best mark. Even so, Alcantara's reliance on his sinker means his primary approach to getting outs remains via the groundball. This was highlighted in 2020, as he threw his sinker at a 35% clip, induced a 49.1% groundball rate and surrendered 0.9 HR/9. The downside to that approach is modest swing-and-miss, despite possessing elite velocity. To take another step forward, Alcantara will need to get more punchouts, which could occur as he continues to develop his secondary offerings, particularly his slider and changeup.
It didn't show in his surface stats, but Alcantara had an improved second half, often a harbinger for taking the next step for a young pitcher. Specifically, Alcantara's K-BB% more than doubled after the break, though an 11.6% mark still has room for improvement as even the second half strikeout and walk rates were below average. Armed with a 96-mph four-seamer, Alcantara needs to develop better secondary offerings, especially something offspeed as the delta between all his pitches isn't ample to keep hitters off balance. With time and a great pitcher's park on his side, Alcantara is a strong speculation play to make the leap. Count durability as a plus as well, with Alcantara's 197.1 innings ranking 17th last season. Until he displays a higher strikeout rate, Alcantara is best suited as a streaming option, especially at home. However, there are latent signs of a breakout, so he's worth the shot.
Alcantara has one pitch right now, but it is a very lively pitch. His fastball touches 100 and it is overpowering when batter aren't sitting on it. The problem is his other pitches are nowhere near the quality of the fastball, and their inconsistency coupled with his spotty control led to the results we saw in 2018. We know his secondary pitches are lagging behind his fastball when we see a strikeout rate that belies the velocity he brings from the mound. He is also barely over 23 years old and has 42 more innings of work at the major-league level than 98% of 23-year-olds in organized baseball. This is the kind of pitcher you want to keep at arm's length in reset leagues in 2019 but need to get on board with in keeper and dynasty leagues and ride out the bumps as his stuff comes together.
Dealt to the Marlins as one of the two headliners (along with Magneuris Sierra) for Marcell Ozuna, Alcantara has an arm that's easy to dream on. He has an athletic 6-foot-4 frame, can reach back for 101 mph on his fastball when needed, and won't turn 23 until September. His warts are fairly obvious -- his two breaking balls are very inconsistent and his command/control has a long way to go before he comfortably projects as a long-term starter. However, the trade to Miami will give him a legitimate chance to fix those issues over the next couple years, as he would have likely been fast-tracked to the big-league bullpen had he remained with the Cardinals. Alcantara's changeup projects as a plus pitch, so there is more to work with here than just elite fastball velocity. At worst, he will be a high-strikeout setup man in the Dellin Betances mold. If one of his breaking balls emerges as a legitimate weapon and he improves his command, he could still end up as a No. 1 or No. 2 starter.
Every couple years the Cardinals seem to have an uber-projectable righty turning heads in the lower levels of their system. Sometimes that pitcher turns into Tyrell Jenkins, and sometimes that pitcher develops into Alex Reyes. Alcantara seems to have more in common with Reyes, as he boasts a similar 80-grade fastball that touches triple digits and can sit comfortably around 96 mph. He has a long way to go before he projects to pitch atop a rotation, however, as the command and secondary offerings leave a lot to be desired. His 6-foot-4, 170-pound frame has room to comfortably add mass without sacrificing the electricity that makes him special, and the hope is that this would lead to improved command. Alcantara's changeup is his best secondary offering, already serving as an average pitch. If his curveball can develop into an out pitch in the coming years, then the rest of the ingredients are here for a monster pitcher. This frontline upside is what separates him from some of the more polished arms in the Cardinals' organization.
Alcantara remained at the rookie level for his second professional season, this time pitching stateside after spending 2014 in the Dominican Summer League, and the results were generally strong in 12 starts for the Gulf Coast League Cardinals. While the strikeouts were down from the previous season, with his K/9 falling from 8.7 to 7.1, he also cut down on the walks and was once again able to limit the longball. In fact, in 121 innings so far as a professional (514 batters faced), Alcantara has surrendered just four home runs thanks to a 1.90 GB/FB. He has a long, slender frame at 6-foot-4, 170 pounds, which is the kind of build many scouts like for a future MLB starter, but it would be nice to see the 20-year-old fill out a bit in the coming years to ease durability concerns. Alcantara figures to receive his first full-season assignment in 2016.
More Fantasy News