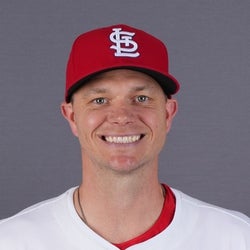 Rest-of-Season Projections
2023 Fantasy Outlook
Gray's trade to Minnesota delivered a needed steady option at the top of the rotation as he bounced back from a subpar season to post a 3.08 ERA and 1.13 WHIP. Gray benefited from the move to Target Field with a 2.66 ERA and 10.5 K/9 at home (he had a 3.38 ERA in three seasons at Great American Ball Park). Gray has below average velocity, but his four-seam fastball has among the highest spin rates in the league (98th percentile per Baseball Savant). He also gets high spin rates on his off-speed pitches, making his slider and curve ball plus pitches. A slight decline in velocity and strikeout rate (8.8 K/9) were offset by improved control (2.7 BB/9). His durability is becoming a concern as he threw just 119.2 IP, having IL stints twice for a hamstring strain and another for a pectoral strain. He also averaged just 4.96 IP per start with the Twins rarely allowing him to go deep into games. Assuming he can stay healthy, however, he'll be counted on to lead Minnesota's rotation again.
Read Past Outlooks
$Signed a three-year, $30.5 million contract extension with the Reds in January of 2019. Traded to the Twins in March of 2022. Twins exercised $12.7 million team option for 2023 in November of 2022.

Gray (4-1) took the loss against Cleveland on Saturday, allowing three runs on 10 hits while striking out two batters over 6.2 innings.
ANALYSIS
Gray recorded his fifth quality start of the campaign, but he surrendered a season-high 10 hits. The right-hander is still pitching well, though after notching four wins over his first six starts, he hasn't taken a victory in any of his subsequent six outings. Gray has also seen his strikeout numbers dip of late, recording just five punchouts over his past two starts covering 12.2 frames. There's no reason to panic -- Gray still hasn't given up more than three runs in any outing this season and holds a sterling 2.15 ERA -- but he's looking more mortal after beginning the campaign with a dominant stretch during which he allowed only three runs over his first 35 frames.
Read More News
Pitching Stats
Loading Pitching Stats...
2023
2022
2021
2020
2019
2018
2017
2023 MLB Game Log

Calculate Stats Over Time
Just click on any two dates.
Scoring
FanDuel
DraftKings
Yahoo DFS
Loading Pitching Game Log...
2022 MLB Game Log

Calculate Stats Over Time
Just click on any two dates.
Scoring
FanDuel
DraftKings
Yahoo DFS
Loading Pitching Game Log...
2021 MLB Game Log

Calculate Stats Over Time
Just click on any two dates.
Scoring
FanDuel
DraftKings
Yahoo DFS
Loading Pitching Game Log...
2020 MLB Game Log

Calculate Stats Over Time
Just click on any two dates.
Scoring
FanDuel
DraftKings
Yahoo DFS
Loading Pitching Game Log...
2019 MLB Game Log

Calculate Stats Over Time
Just click on any two dates.
Scoring
FanDuel
DraftKings
Yahoo DFS
Loading Pitching Game Log...
2018 MLB Game Log

Calculate Stats Over Time
Just click on any two dates.
Scoring
FanDuel
DraftKings
Yahoo DFS
Loading Pitching Game Log...
2017 MLB Game Log

Calculate Stats Over Time
Just click on any two dates.
Scoring
FanDuel
DraftKings
Yahoo DFS
Loading Pitching Game Log...
Minor League Game Log

Calculate Stats Over Time
Just click on any two dates.
Loading Minor League Pitching Game Log...
Pitching Appearances Breakdown
How many pitches does Sonny Gray generally throw?
What part of the game does Sonny Gray generally pitch?
% Games Reaching Innings Threshold
% Games By Number of Innings Pitched
Left/Right Pitching Splits
BAA
K
BB
H
HR
Since 2021

vs Left

.217
156
48
119
13
Since 2021

vs Right

.233
187
62
153
18
2023

vs Left

.266
18
9
29
1
2023

vs Right

.203
53
15
29
0
2022

vs Left

.202
58
11
41
4
2022

vs Right

.244
59
25
58
7
2021

vs Left

.208
80
28
49
8
2021

vs Right

.239
75
22
66
11
More Splits

→

View More Split Stats
Home/Away Pitching Splits
ERA
WHIP
IP
K/9
BB/9
Since 2021

Home

3.31
1.17
179.2
10.3
3.1
Since 2021

Away

3.41
1.20
142.1
8.7
3.1
2023

Home

1.71
1.05
42.0
10.7
1.9
2023

Away

2.88
1.52
25.0
7.6
5.4
2022

Home

2.66
1.14
67.2
10.4
3.3
2022

Away

3.63
1.12
52.0
6.8
1.9
2021

Home

4.89
1.29
70.0
10.0
3.5
2021

Away

3.44
1.15
65.1
10.6
3.2
More Splits

→

View More Split Stats
Stat Review
How does Sonny Gray compare to other starting pitchers?
This section compares his stats with all starting pitcher seasons from the previous three seasons (minimum 120 innings)*. The bar represents the player's percentile rank. For example, if the bar is halfway across, then the player falls into the 50th percentile for that stat and it would be considered average.
* Exit Velocity, Barrels/BBE %, Balls Hit 95+ MPH %, and Spin Rate are benchmarked against 2019 data (min 120 IP).
See here for more exit velocity/barrels stats
plus an explanation of current limitations with that data set.
K/BB

Strikeout to walk ratio.

K/9

Average strikeouts per nine innings.

BB/9

Average walks per nine innings.

HR/9

Average home runs allowed per nine innings.

Fastball

Average fastball velocity.

ERA

Earned run average. The average earned runs allowed per nine innings.

WHIP

Walks plus hits per inning pitched.

BABIP

Batting average on balls in play. Measures how many balls in play against a pitcher go for hits.

GB/FB

Groundball to flyball ratio. The higher the number, the more likely a pitcher is to induce groundballs.

Left On Base

The percentage of base runners that a pitcher strands on base over the course of a season.

Exit Velocity

The speed of the baseball as it comes off the bat, immediately after a batter makes contact.

Barrels/BBE

The percentage of batted ball events resulting in a Barrel. A Barrel is a batted ball with similar exit velocity and launch angle to past ones that led to a minimum .500 batting average and 1.500 slugging percentage.

Spin Rate

Spin Rate is the rate of spin on a baseball after it is released. It is measured in revolutions per minute (rpm).

Balls Hit 95+ MPH

The percentage of batted balls hit that met or exceeded the 95 MPH threshold.

Swinging Strike

The percentage of pitches that result in a swing and a miss.
Advanced Pitching Stats
Loading Advanced Pitching Stats...
Loading MLB Defensive Stats...
Our full team depth charts are reserved for RotoWire subscribers.
Subscribe Now
Recent RotoWire Articles Featuring Sonny Gray
See More
Past Fantasy Outlooks
2022
2021
2020
2019
2018
2017
2016
2015
2014
2013
2012
Gray missed the beginning of the season with a back injury and then most of June with a groin injury, and thus was limited to 26 starts and 135.1 innings. When he was on the mound, his 4.19 ERA and 1.22 WHIP were a little worse than expectation, but well within the range of reasonable expectations. Gray was hurt by his ballpark (4.89 ERA, 1.7 HR/9), and by an inability to work deep into games, averaging 5.2 innings per start. Gray's 72.4% LOB% was among the bottom third of starting pitchers with his workload, which reflected the Reds below-average infield defense. Cincinnati opted for a full teardown, and Gray was shipped to Minnesota shortly after the end of the lockout, where he'll headline the Twins' starting rotation.
Gray arguably was every bit the Reds' ace as much as Trevor Bauer or Luis Castillo until two bad starts in September, which were then followed by a trip to the DL with a back injury. Even after those two starts, he still posted a 3.70 ERA, 1.21 WHIP and 72 strikeouts in 56 innings. It's no wonder, then, that plenty of teams expressed interest in trading for Gray during the offseason. The big question, though, is why would the Reds look to deal him? He signed a very affordable four-year, $38 million deal with the Reds in January 2019 after his trade from the Yankees. Even with a team needing some financial flexibility, that's a tremendous price for his skills, unless the Reds are concerned that the back injury is a harbinger for future ailments. A change in venue wouldn't necessarily improve his outlook -- Gray actually pitched better in Cincy than elsewhere over the last two seasons.
Much of the credit to Gray's improvement in 2019 goes to Reds pitching coach Derek Johnson, who previously coached him at Vanderbilt. Gray is quick to credit him, and without him Gray probably doesn't agree to the contract extension that cemented the trade bringing him to Cincinnati from the Yankees. While Gray threw more curveballs and sliders than in 2018, he said it was more a matter of fine-tuning each of his pitches rather than overhauling his pitch mix, generating more spin in the process. The result was a strikeout rate that spiked to 29.0% from 21.1% the year before, as Gray worked on getting opposing hitters to chase each, which they did to the tune of a .172 wOBA against his slider and .181 against his curveball. Gray might start spring training behind after having loose bodies in his elbow removed at the end of the season, but he'll form a strong top-three with Luis Castillo and Trevor Bauer.
Gray was much maligned in 2018. He drew the ire of Yankees fans and infamously smirked as he was booed off the home field Aug. 1 following a seven-run implosion. He was moved to the bullpen shortly thereafter and finished the season with a 4.90 ERA, almost a run and a half higher than his 2017 mark, though the ERA estimators all say he deserved better (4.17 FIP, 4.10 xFIP, 4.28 SIERA). His walk rate went in the wrong direction (9.8%), but he maintained an above-average 21.1% strikeout rate and 50% groundball rate. He had a 6.98 ERA at home but was much better when he got out of the band box in New York, posting a 3.17 ERA, 1.15 WHIP, .223 BAA and 0.38 HR/9 on the road. Yankee Stadium was a terrible fit for him, and while he landed in another extreme hitters' park in Cincinnati following a January trade, we still feel good about Gray's chances of bouncing back.
Gray rebounded from a nightmarish, injury-plagued 2016 campaign with the Athletics to rehabilitate his trade value and become arguably the top arm on the trade market before he was dealt to the Yankees on July 31. The right-hander didn't really move the needle for the team's playoff hopes by posting a 3.72 ERA and surrendering 11 homers (including eight at Yankee Stadium) over 11 starts, but he at least provided the team with another dependable innings eater behind ace Luis Severino. Along with enjoying better health, the key to Gray's turnaround was making more use of his off-speed offerings, which aided him to an 8.4 K/9 rate, his best mark since his rookie year. With a full season in the Bronx awaiting him, Gray could struggle to curb the home-run problem that has plagued him the last two years, but it seems he has discovered a pitch mix that should allow him to avoid another disaster on the level of 2016.
The A's really screwed the pooch by not trading Gray last offseason, as the team has few assets and Gray's value had nowhere to go but down. Now coming off a disaster campaign and becoming increasingly expensive as the right-hander accrues service time, Gray's trade value is at an all-time low, and the A's find themselves in the unenviable position of having to either accept 50 cents on their trade dollar or to sit back and pay to see whether Gray can reestablish his market value. That's not to say that Gray's disastrous 2016 season was bound to happen, but as a pitcher with a very modest strikeout rate, his ultimate value was largely determined by results on balls in play, factors that are largely outside his control. He will look to resurrect his value in 2017 and the A's will give him every opportunity to do so, but he is a two-category pitcher as long as he's in Oakland and those two categories fell apart last season.
Gray followed up his successful first full MLB season in 2014 with a 2.73 ERA and 14 wins over 31 starts in 2015. Gray was one of the Cy Young favorites into September, but a few late season blow-ups pushed his ERA up more than a half point in the last month of the season. Gray did not rediscover his strikeouts from his initial big league debut (9.4 K/9 in 2013), but he did manage to cut his walks down from 3.0 BB/9 in 2014 to 2.6 in 2015. Gray supplements his average strikeout rate by limiting line drives with his 16.6-percent line drive rate — good for fourth best among all qualified starters in 2015. Gray now has two and a half fantastic seasons under his belt and while he will not get you the elite strikeouts of some of the top aces, he gets to pitch half his games in a spacious pitcher's park. It is possible that his struggles in September could push his ADP back a little bit as people may forget just how great he was for the first five months.
After a great half-season in 2013 followed by a gem against the Tigers in the ALDS, the hype was high for Gray heading into 2014 and all he did was live up to it. In his first full season, Gray won 14 games and put up a 3.08 ERA over 219 innings. His K/9 rate fell from 9.5 in 2013 to 7.5 in 2014, but that was somewhat expected with the large uptick in innings as the strikeouts really dropped off in the second half. Gray appeared to be tiring late in the year after entering August with an ERA of 2.65, but he seemed to find a second wind with a 2.25 ERA and nearly a strikeout per inning over his last five starts. Gray also added to his reputation as a fantastic big-game pitcher, throwing a complete game shutout gem on the final day of the regular season to get the A's into the playoffs. The sky appears to be the limit for Gray and he should be drafted even higher in 2015, especially since he gets to pitch half his games in a spacious home park.
Gray was the A's top pitching prospect coming into 2013, and he exceeded any and all expectations upon his call-up to the A's as a starter in August. He made 10 starts with the A's and won five games, while putting up a 2.85 ERA with a 9.2 K/9. He later capped off his season with an eight-inning shutout of the Tigers in Game 2 of the ALDS. Gray features a fastball that sits in the low 90s, but he also has an exceptional curveball that he uses to strike batters out. He has a rotation spot locked up in 2014, and his future appears to be quite sunny.
Gray was selected 18th overall in the 2011 draft out of Vanderbilt. In his first full season in the minors, Gray had some growing pains compiling a 4.26 ERA in 27 starts, all but one of which were in Double-A. He has a live fastball and also possesses a curveball that was ranked as the best in the 2011 draft. Gray's strikeout rate fell way off from his six-start debut in 2011 as he only struck out 5.9 K/9 in 2012. Going into last season, it was assumed that Gray would be in the A's rotation at some point in 2013, but it looks like more seasoning is in order. For his development, 2013 will be a big year for Gray to put some results together to show he was worthy of his first-round selection.
Gray was the A's first-round selection in the June draft and was immediately tasked with facing Double-A hitters following a collegiate career at Vanderbilt. His professional debut went well during a five-start stretch with Double-A Midland. He's not an imposing figure on the mound, but does a nice job of keeping the ball on the ground and figures to spend a good chunk of the season at Triple-A Sacramento after proving that he's solved Midland to begin the year.
More Fantasy News