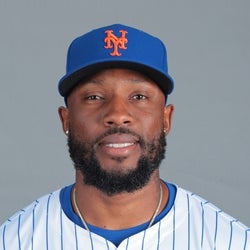 Rest-of-Season Projections
2023 Fantasy Outlook
Marte did well enough in his debut with the Mets even though many will likely label it a disappointment for what he did not do. Marte's regular season was prematurely ended with a broken finger after being hit by a pitch and he missed 34 games in all in the regular season. His run production numbers were close to what he did between Miami and Oakland in 2021, but there was a dramatic drop in both his stolen base attempts as well as his success rate as his success fell from 90% to 67%. Buck Showalter has never been a huge fan of aggressively stealing games, so that kind of success rate could put a cap on what Marte does in 2023 even with the new rules in play. He did bounce back from a poor success rate in 2018 by converting 86% of his attempts from 2019-2021 so he absolutely deserves another crack at it. The next plateau will be him exceeding 550 plate appearances, something he has done but once in the previous six full seasons.
Read Past Outlooks
$Signed a four-year, $78 million contract with the Mets in November of 2021.

Marte went 2-for-4 with a double and a solo home run in Sunday's loss to Toronto.
ANALYSIS
Marte tied the game 4-4 with a solo shot off
Nate Pearson
in the sixth inning, his third homer of the year and first since May 21. Marte's been swinging the bat well of late, going 11-for-35 (.314) with three extra-base hits in his last 10 games, boosting his slash line to .250/.314/.333 with 23 runs scored, 17 RBI and 17 steals in 212 plate appearances this season.
Read More News
Batting Stats
2023
2022
2021
2020
2019
2018
2017
2023 MLB Game Log

Calculate Stats Over Time
Just click on any two dates.
Scoring
FanDuel
DraftKings
Yahoo DFS
Loading Batting Game Log...
2022 MLB Game Log

Calculate Stats Over Time
Just click on any two dates.
Scoring
FanDuel
DraftKings
Yahoo DFS
Loading Batting Game Log...
2021 MLB Game Log

Calculate Stats Over Time
Just click on any two dates.
Scoring
FanDuel
DraftKings
Yahoo DFS
Loading Batting Game Log...
2020 MLB Game Log

Calculate Stats Over Time
Just click on any two dates.
Scoring
FanDuel
DraftKings
Yahoo DFS
Loading Batting Game Log...
2019 MLB Game Log

Calculate Stats Over Time
Just click on any two dates.
Scoring
FanDuel
DraftKings
Yahoo DFS
Loading Batting Game Log...
2018 MLB Game Log

Calculate Stats Over Time
Just click on any two dates.
Scoring
FanDuel
DraftKings
Yahoo DFS
Loading Batting Game Log...
2017 MLB Game Log

Calculate Stats Over Time
Just click on any two dates.
Scoring
FanDuel
DraftKings
Yahoo DFS
Loading Batting Game Log...
Minor League Game Log

Calculate Stats Over Time
Just click on any two dates.
Loading Minor League Batting Game Log...
Batting Order Slot Breakdown
#1
#2
#3
#4
#5
#6
#7
#8
#9
#1
#2
#3
#4
#5
#6
#7
#8
#9
Left/Right Batting Splits
OPS
PA
HR
RBI
AVG
Since 2021

vs Left

.796
388
12
37
.291
Since 2021

vs Right

.793
868
19
99
.292
2023

vs Left

.702
71
0
5
.308
2023

vs Right

.620
154
3
13
.229
2022

vs Left

.877
153
7
18
.302
2022

vs Right

.788
352
9
45
.287
2021

vs Left

.762
164
5
14
.273
2021

vs Right

.872
362
7
41
.325
More Splits

→

View More Split Stats
Home/Away Batting Splits
OPS
PA
HR
RBI
AVG
Since 2021

Home

.846
595
20
72
.304
Since 2021

Away

.746
661
11
64
.281
2023

Home

.666
89
3
6
.228
2023

Away

.633
136
0
12
.270
2022

Home

.874
251
10
32
.305
2022

Away

.755
254
6
31
.279
2021

Home

.879
255
7
34
.329
2021

Away

.796
271
5
21
.288
More Splits

→

View More Split Stats
Stat Review
How does Starling Marte compare to other hitters?
This section compares his stats with all batting seasons from the previous three seasons (minimum 400 plate appearances)*. The bar represents the player's percentile rank. For example, if the bar is halfway across, then the player falls into the 50th percentile for that stat and it would be considered average.
* Exit Velocity and Barrels/PA % are benchmarked against 2019 data (min 400 PA) and Hard Hit Rate is benchmarked against last season's data (min 400 PA).
See here for more exit velocity/barrels stats
plus an explanation of current limitations with that data set.
BB/K

Walk to strikeout ratio

BB Rate

The percentage of plate appearances resulting in a walk.

K Rate

The percentage of plate appearances resulting in a strikeout.

BABIP

Batting average on balls in play. Measures how many of a batter's balls in play go for hits.

ISO

Isolated Power. Slugging percentage minus batting average. A computation used to measure a batter's raw power.

AVG

Batting average. Hits divided by at bats.

OBP

On Base Percentage. A measure of how often a batters reaches base. Roughly equal to number of times on base divided by plate appearances.

SLG

Slugging Percentage. A measure of the batting productivity of a hitter. It is calculated as total bases divided by at bats.

OPS

On base plus slugging. THe sum of a batter's on-base percentage and slugging percentage.

wOBA

Weighted on-base average. Measures a player's overall offensive contributions per plate appearance. wOBA combines all the different aspects of hitting into one metric, weighting each of them in proportion to their actual run value.

Exit Velocity

The speed of the baseball as it comes off the bat, immediately after a batter makes contact.

Hard Hit Rate

A measure of contact quality from Sports Info Solutions. This stat explains what percentage of batted balls were hit hard vs. medium or soft.

Barrels/PA

The percentage of plate appearances where a batter had a batted ball classified as a Barrel. A Barrel is a batted ball with similar exit velocity and launch angle to past ones that led to a minimum .500 batting average and 1.500 slugging percentage.

Expected BA

Expected Batting Average.

Expected SLG

Expected Slugging Percentage.

Sprint Speed

The speed of a runner from home to first, in feet per second.

Ground Ball %

The percentage of balls put in play that are on the ground.

Line Drive %

The percentage of balls put in play that are line drives.

Fly Ball %

The percentage of balls put in play that are fly balls.
Advanced Batting Stats
Loading Advanced Batting Stats...
Games By Position
Defensive Stats
Loading Games Played by Position...
Loading MLB Defensive Stats...
Batted Ball Stats
Loading Batted Ball Stats...
Stats Vs Upcoming Pitchers
Our full team depth charts are reserved for RotoWire subscribers.
Subscribe Now
Recent RotoWire Articles Featuring Starling Marte
See More
Past Fantasy Outlooks
2022
2021
2020
2019
2018
2017
2016
2015
2014
2013
2012
Marte Mania ran wild after his trade to Oakland around the deadline, as he stole 17 bases in his first 22 games following the move from Miami. He was hit in the head by a pitch in early September, and while Marte avoided a concussion and returned after a one-game absence, he endured a subsequent mini-slump and his running slowed. In fact, Marte attempted just two steals over his final 14 games after being caught on the bases on back-to-back days Sept. 15-16. Perhaps he was trying to preserve himself for the postseason -- which the A's didn't reach -- but regardless Marte comfortably led the majors in steals with 47. It marked the third time in his career he's reached the 40-steal plateau and the sixth time he's reached 30. After back-to-back years with 20-plus homers in 2018-19, Marte managed only 12 long balls in 2021, and he now goes to the spacious Citi Field after signing a four-year, $78 million contract with the Mets. Know you'll need to compensate in the power department if you go after Marte's speed early in 2022.
While Marte's postseason hopes were snuffed out by a broken hand suffered during the Wild Card Series, the outfielder put up decent numbers at the dish during the regular season. He hit .281 with six home runs, 27 RBI and 10 stolen bases in 61 contests, starting the year with Arizona before being dealt to Miami at the end of August. Marte continues to show that he can put the ball in play, posting a 16.4 K% and a .319 BABIP, nearly identical numbers from 2019. The 32-year-old will be brought back to Miami after the team exercised his 2021 option, so fantasy managers should expect him to see plenty of at-bats near the top of the lineup as the team's everyday center fielder. While it's unlikely that he'll replicate his stats from his stellar 2019 season, Marte consistently produces in all five categories and should be considered a reliable anchor for any fantasy squad.
Marte finished the year as the 13th-most valuable outfielder and the second-best Marte on our Earned Auction Value Calculator. The 2019 season was a huge disappointment for Pittsburgh, but Marte did his best to keep it afloat with a very productive season across the board. His home run, RBI and run totals were all career bests, and 2019 was the seventh consecutive season in which Marte swiped at least 20 bases. He lacks the higher exit velocity and launch angle necessary to forecast a continued future in the 20-plus homer range, even though he has done it in each of the past two seasons. Marte will have to squeeze every bit out of the contact he makes to keep things there, especially if the baseball reverts back to its previous form. Regardless, this is a five-category producer that should be one of the cornerstones of any fantasy team because he helps establish a strong statistical foundation early on.
Marte was in select company last season, joining Mookie Betts and Jose Ramirez as the only players with at least 20 homers and 30 steals. He's more likely to repeat the stolen bases, especially if he can improve his success rate as he was caught 14 times last season, resulting in a career-low 70.2% clip after three seasons with a combined 76.4% success rate. Marte's power is capped by his batted-ball tendencies as he pounded 51% of his contact into the ground. Despite a below-average strikeout rate, Marte's average is also restricted due to a low average exit velocity and not enough barrels. This, along with the Pirates generally finishing below average in scoring, curb Marte's run-plus-RBI output, placing him among the lowest hitters ranked in the top 40 or costing at least $20 in that regard. Still, Marte is a worthwhile early-round investment as this kind of balanced production is not easy to find.
Marte lost half of his 2017 season serving an 80-game suspension following a positive test for a performance-enhancing drug. The vet improved his batting average each month, and stole 19 of his 21 bases after returning from suspension in July. He's taken at least 30 bags in his four full campaigns and should do so again. But what else will he offer? While Marte posted his career-best BB/K in 2017, it rose to just 0.32. He rarely walks, which means his stolen-base attempts are largely tied to him hitting for a high average. He's never posted a contact rate above 78.7 percent. Most importantly, he has only one season of more than 13 homers and relies on a groundball-heavy spray chart. He'll hit leadoff or second, which helps his best fantasy assets, but if the Pirates go into sell mode, Marte could find his way to a better park and/or lineup. To comfortably buy him, prospective owners must invest in extra power from their other top-end selections.
Back spasms short-circuited an electric season by Marte, denying the 28-year-old of finishing off one of his most productive campaigns. The outfielder offset career lows in games played (129) and home runs (9) with a career-high .311 batting average and 47 stolen bases in 2016. He started just one game after Sept. 5 due to the back injury, but when he was healthy, he registered a .380 BABIP (second highest in the majors behind DJ LeMahieu's .388). While that number is likely to regress in 2017, he features a career .359 BABIP. Marte's aggressive style lends itself to injuries -- he dealt with a host of ailments in 2016 before the back issue -- and he's been hit by 79 pitches in five seasons. The two-time Gold Glove winner should be healthy for spring training, but it might be wise to keep a close eye on his Grapefruit League progress.
When Marte hit 12 homers in his first 57 games it appeared yet another breakout was on the horizon for the 5-tool star. Alas, a hand injury and an assortment of other nagging ailments slowed Marte's pace and he finished with 19 home runs. Given his daring style of play, the 27-year-old will always be at risk for getting hurt — he was hit by 19 pitches (third-most in NL), but his unique talents set him apart, as Marte slashed .287/.337/.444 and stole 30 bases for the third straight season. He hit .298 against righties and only .246 vs. southpaws despite a .311 career mark against lefties. Plate discipline will never be his forte (27 BB:123 K ratio) but a career .353 BABIP assuages concerns about a lack of contact. Marte will aim for his second straight Gold Glove in 2016.
Marte slightly improved upon his numbers from his first full season in 2014, slashing .291/.356/.453 with 13 homers and 30 stolen bases in 545 plate appearances. When Pittsburgh moved him out of the leadoff spot to seventh in order, he strung together four multi-hit performances in the next seven games and never looked back. His RBI total improved from 35 to 56 (year over year) and he ended up batting mostly fifth against left-handed pitching. A .373 BABIP appears ripe for regression, but he's never dipped below a .333 BABIP in six pro seasons. Marte, who signed a six-year, $31 million extension in March of 2013, played a more-than-capable center field when Andrew McCutchen went on the DL. After bottoming out June 8 with a .230 batting average, the 26-year-old hit .338/.397/.529 in 305 plate appearances. Provided he stays healthy -- he's been hit by 41 pitches the last two seasons -- expect another strong campaign from Marte.
A finger injury suffered Aug. 19 prematurely ended Marte's breakout season -- he saw just 27 of his 510 at-bats after the injury. The 25-year-old batted .280/.343/.441 with 12 homers, 35 RBI and 41 stolen bases (in 56 attempts). He ranked second in the NL with 24 Hit-By-Pitches. His 10.2 UZR and 20.1 UZR/150 ratings were the best among qualified NL left fielders. Despite a horrendous 25:138 BB:K ratio, Marte offset that number with a .363 BABIP -- which was actually his second lowest mark in five pro seasons. Expect more of the same from Marte in 2014. At some point, the team might move Marte out of the leadoff spot, but only if an adequate replacement can be found.
Marte's offensive ceiling may be as high as another other Pirates positional player not named Andrew McCutchen. His first foray with the Bucs proved to be a bumpy ride, but he gave glimpses of why the organization values him highly. The outfielder, who homered on the first big-league pitch he ever saw in Houston, never played above Double-A prior to 2012. WIth Triple-A Indy, Marte hit .286/.347/.500 with 13 triples, 12 homers and 21 steals in 99 contests. A season after winning a Double-A batting title, not even a 28:91 BB:K ratio could hold him down. Marte then hit six triples, five homers and stole 12 bases in 47 games for Pittsburgh, despite an oblique injury. Plate discipline will likely always be an issue for the free swinger. He heads into 2013 as the odds-on starter left fielder, but he will be pushed by the several others and Pittsburgh management showed in 2012 that it can be quick to pull the trigger on a struggling left fielder -- see Alex Presley. The scenario for a breakout season is real, but the chance that he gets sent back to Triple-A for additional seasoning is also a distinct possibility. Marte represents a high-risk, high-reward offering, especially in one-year leagues.
Marte made his Double-A debut in 2011 to the tune of a .332/.270/.500 slash line in 536 at-bats. Coming off a broken hamate bone in 2010, Marte showed a bit of the power (12 homers) that makes him the closest prospect Pittsburgh has to a five-tool talent. The 22-year-old righty hit 38 doubles, eight triples, stole 24-of-36 bags and hit .332. Marte lacks plate discipline (22:100 BB:K ratio) and it will be interesting to see how he fares against Triple-A pitching. Oddly, he hit .346 against righties (in 405 at-bats) and .288 (in 125 at-bats) versus lefties. It wouldn't be surprising to see him in a big league uniform by September, if not sooner.
More Fantasy News