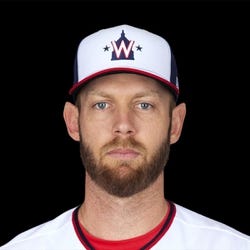 Out
Injury Ribs
Est. Return 2/25/2023
2023 Fantasy Outlook
In part due to the inability to work with the Nationals training staff during the lockout, Strasburg wasn't fully recovered from undergoing thoracic outlet surgery in July of 2021. He spent the first half rehabbing with bullpen sessions and three minor league starts before debuting on June 9. That turned out to be Strasburg's only appearance as he felt more discomfort after the outing. Strasburg is attempting to strengthen his neck and shoulder, but the recovery rate from thoracic outlet syndrome is a mixed bag. Strasburg is a wild card coming into this season. Even on the off chance he's healthy, he hasn't accumulated even 50 innings since compiling 209 innings in 2019. A late pick in a league with an IL is defensible, but nothing more.
Read Past Outlooks
$Signed a seven-year, $245 million contract with the Nationals in December of 2019.

ANALYSIS
Strasburg has been focusing on strengthening his shoulder since being diagnosed with a stress reaction of his ribs, a side effect of the issue that led to thoracic outlet syndrome surgery in July 2021. Even the team is feigning optimism here, but admitting the obvious: that it's unclear what to expect from Strasburg going forward. He has logged 31.1 innings since the start of the 2020 season.
Read More News
Pitching Stats
Loading Pitching Stats...
2022
2021
2020
2019
2018
2017
2022 MLB Game Log

Calculate Stats Over Time
Just click on any two dates.
Scoring
FanDuel
DraftKings
Yahoo DFS
FantasyDraft
Head2Head
Loading Pitching Game Log...
2021 MLB Game Log

Calculate Stats Over Time
Just click on any two dates.
Scoring
FanDuel
DraftKings
Yahoo DFS
FantasyDraft
Head2Head
Loading Pitching Game Log...
2020 MLB Game Log

Calculate Stats Over Time
Just click on any two dates.
Scoring
FanDuel
DraftKings
Yahoo DFS
FantasyDraft
Head2Head
Loading Pitching Game Log...
2019 MLB Game Log

Calculate Stats Over Time
Just click on any two dates.
Scoring
FanDuel
DraftKings
Yahoo DFS
FantasyDraft
Head2Head
Loading Pitching Game Log...
2018 MLB Game Log

Calculate Stats Over Time
Just click on any two dates.
Scoring
FanDuel
DraftKings
Yahoo DFS
FantasyDraft
Head2Head
Loading Pitching Game Log...
2017 MLB Game Log

Calculate Stats Over Time
Just click on any two dates.
Scoring
FanDuel
DraftKings
Yahoo DFS
FantasyDraft
Head2Head
Loading Pitching Game Log...
Minor League Game Log

Calculate Stats Over Time
Just click on any two dates.
Loading Minor League Pitching Game Log...
Pitching Appearances Breakdown
How many pitches does Stephen Strasburg generally throw?
What part of the game does Stephen Strasburg generally pitch?
% Games Reaching Innings Threshold
% Games By Number of Innings Pitched
Left/Right Pitching Splits
BAA
K
BB
H
HR
Since 2020

vs Left

.360
11
6
18
3
Since 2020

vs Right

.194
17
11
14
3
2022

vs Left

.667
1
0
4
1
2022

vs Right

.286
4
2
4
0
2021

vs Left

.294
8
6
10
1
2021

vs Right

.130
13
8
6
3
2020

vs Left

.400
2
0
4
1
2020

vs Right

.333
0
1
4
0
More Splits

→

View More Split Stats
Home/Away Pitching Splits
ERA
WHIP
IP
K/9
BB/9
Since 2020

Home

3.48
1.06
20.2
8.3
3.5
Since 2020

Away

13.50
2.53
10.2
7.6
7.6
2022

Home

0
0
0
0
0
2022

Away

13.50
2.14
4.2
9.6
3.9
2021

Home

1.65
0.86
16.1
9.4
3.9
2021

Away

13.50
3.00
5.1
6.8
11.8
2020

Home

10.38
1.85
4.1
4.2
2.1
2020

Away

13.50
1.50
.666666
0.0
0.0
More Splits

→

View More Split Stats
Stat Review
How does Stephen Strasburg compare to other starting pitchers?
This section compares his stats with all starting pitcher seasons from the previous three seasons (minimum 120 innings)*. The bar represents the player's percentile rank. For example, if the bar is halfway across, then the player falls into the 50th percentile for that stat and it would be considered average.
* Exit Velocity, Barrels/BBE %, Balls Hit 95+ MPH %, and Spin Rate are benchmarked against 2019 data (min 120 IP).
See here for more exit velocity/barrels stats
plus an explanation of current limitations with that data set.
K/BB

Strikeout to walk ratio.

K/9

Average strikeouts per nine innings.

BB/9

Average walks per nine innings.

HR/9

Average home runs allowed per nine innings.

Fastball

Average fastball velocity.

ERA

Earned run average. The average earned runs allowed per nine innings.

WHIP

Walks plus hits per inning pitched.

BABIP

Batting average on balls in play. Measures how many balls in play against a pitcher go for hits.

GB/FB

Groundball to flyball ratio. The higher the number, the more likely a pitcher is to induce groundballs.

Left On Base

The percentage of base runners that a pitcher strands on base over the course of a season.

Exit Velocity

The speed of the baseball as it comes off the bat, immediately after a batter makes contact.

Barrels/BBE

The percentage of batted ball events resulting in a Barrel. A Barrel is a batted ball with similar exit velocity and launch angle to past ones that led to a minimum .500 batting average and 1.500 slugging percentage.

Spin Rate

Spin Rate is the rate of spin on a baseball after it is released. It is measured in revolutions per minute (rpm).

Balls Hit 95+ MPH

The percentage of batted balls hit that met or exceeded the 95 MPH threshold.

Swinging Strike

The percentage of pitches that result in a swing and a miss.
Advanced Pitching Stats
Loading Advanced Pitching Stats...
Loading MLB Defensive Stats...
Our full team depth charts are reserved for RotoWire subscribers.
Subscribe Now
Recent RotoWire Articles Featuring Stephen Strasburg
See More
Past Fantasy Outlooks
2022
2021
2020
2019
2018
2017
2016
2015
2014
2013
2012
2011
2010
If Bruce Springsteen ever wanted to remake the video for the opening stanza of Glory Days, Strasburg would be the perfect guy to play the pitcher. His 2019 season where he eclipsed the 175-inning mark for just the second time in the past six full seasons feels like so long ago because it has been nothing but bad news for Strasburg since. This past season saw him make all of five starts before he was shut down. He required thoracic outlet surgery in July, which leaves his 2022 status very much up in the air. We have become accustomed, if not spoiled, to the recovery of pitchers going well after Tommy John surgery but TOS is a grave surgery to recover from. Alex Cobb is a recent success story while the sad list of what was is rather long and distinguished. Drafting Strasburg for 2022 is a complete dart throw as he could once again put up a single-digit start total, but given the Nationals are paying him $35 million a year, he won't be making a transition to the bullpen. He was throwing live batting practice early in spring training but is a likely bet to have a delayed start the season.
Strasburg turned back into "Stressburg" for those rostering him in fantasy baseball as he was scratched the day of his first scheduled start of 2020, and only ended up making two brief appearances during the short season. The Nationals were initially hopeful that the nerve issue in Strasburg's hand -- which was not a new problem -- would not sideline the 2019 World Series MVP for too long. Strasburg was indeed able to return a few weeks later, but the discomfort persisted and he was later diagnosed with carpal tunnel neuritis in his right hand. Surgery to address the issue was performed in late August. Strasburg could theoretically return to form immediately as one of the game's top starters, though his season-long workload is in question. He has cleared 160 frames just four times in his career and the Nationals figure to take some measures to manage his innings after what was essentially a lost season.
For just the second time in his career and for the first time since 2014, Strasburg topped 200 innings, tossing 209 frames, fifth most in MLB. His season ended with World Series MVP honors after he set new personal highs with 18 wins and 251 punchouts during the regular season. Strasburg's fastball velocity was down a tick, but he adjusted his repertoire, throwing fewer four-seamers while increasing use of his sinker and curve. He all but eliminated his slider, relying on offspeed stuff half the time. The result was a career-high 13.4% swinging-strike rate, buoyed by a 24% mark with his changeup. After opting out of his contract and declining the qualifying offer, Strasburg entered free agency only to return to Washington on a seven-year deal. Health remains a risk, but his new arsenal could be easier on his arm. If you're willing to bet on that narrative, Strasburg can be a fantasy ace at a discount.
It has now been four consecutive seasons that Strasburg has failed to make 30 starts. He is fortunate that he gets to pitch behind the best pitcher in baseball and does not have the pressure of being a staff ace, but that does not stop some fantasy players from drafting him like one hoping this will be the year that Strasburg finally gets healthy again (narrator's voice: he won't). Last season, the non-fastball offerings were solid, led by a terrific curveball, but the fastball was barely average by pitch run values. That was concerning given the fastball was one of the best in the league by that same measure the previous two seasons. His fastball velocity was down a few ticks as he returned from a neck impingement last season, but he still posted a 3.43 ERA and had a 29% strikeout rate. With great talent comes great risk.
Last season turned out to be the best of Strasburg's career by most measurements, as he posted full-season career-bests in ERA (2.52), WHIP (1.02) and WAR (5.6), while topping 175 innings for the first time since 2014. He lost nearly a month to a nerve impingement in his right elbow during the second half, but he closed out the regular season with a 63:10 K:BB, 0.84 ERA and 0.78 WHIP in 53.2 innings over his final eight starts after returning from the DL, and was dominant in two playoff starts against the Cubs. As expected, Strasburg reduced the use of his slider in 2017, opting to throw more curveballs with the hope of reducing the wear and tear on his elbow. Since the start of the 2013 campaign, Strasburg has averaged just under 170 innings annually, but his cumulative workload during that five-year span ranks him 30th in MLB (848.1 IP). Once again, the talent will make him a top-10 starting pitcher in most drafts despite the ongoing concerns about his health.
For two tantalizing, fleeting months to begin the year, it looked like Strasburg was finally going to put it all together. He won his first 10 decisions, posted a filthy 11.1 K/9 and 4.3 K/BB in 106.2 first-half innings, and surprisingly took himself out of the 2017 free agent market by signing a seven-year, $175 million extension at the beginning of May. Then he missed a month with an upper back strain, and when he got back on the mound in June, the magic was gone. A brutal outing in Coors Field in August led to a seemingly inevitable DL stint due to elbow inflammation that effectively ended his season, and his final line was much the same as it had been in 2015, featuring a stellar strikeout rate that didn't seem to be in sync with a merely good ERA and WHIP figures over fewer than 150 innings. Strasburg's arsenal remains exceptional, with a 95 mph fastball contrasting with a devastating high-80s changeup and low-80s curve, but the slider he threw 17.1 percent of the time was blamed for his latest injury issues, and he vowed to throw it far less in 2017.
Dubbed "The Orchid" (awesome, but fragile) by ESPN's Tony Kornheiser, Strasburg has had six DL stints in a six-year career, including two in 2015. Seen as the second coming on his way up, he's logged just one 200-inning season. Yet despite the drawbacks, he's unquestionably elite when he does pitch. Aside from ERA indicators like FIP, which suggest he was great in 2015 (2.81), even the most basic measurements point to something special with an 11.0 K/9 and 1.8 BB/9. A non-cancerous growth was removed from Strasburg's back after the season, and it may very well have contributed to his injury issues in 2015, including a strained neck from late May. It's hard to put him in the class of aces with multiple 200-inning seasons, but his skills say he's right behind them. The cost will be lower in 2016, too.
While it wasn't the breakout season his owners were likely expecting, Strasburg's 2014 was still his most successful to date, in no small part due to the fact that he managed to stay healthy. His 215 innings pitched and NL-leading 242 strikeouts (tied with Johnny Cueto) were career bests, as was his 1.8 BB/9 rate. Although his 3.14 ERA wasn't exactly elite, he certainly didn't hurt owners in that category, and his 1.12 WHIP actually landed him in the NL's top 10. Strasburg's arsenal (94-97 mph fastball, absurd high-80s changeup, and knee-buckling low-80s curve) still makes scouts drool, but he's finally showing signs of adding some savvy to his repertoire as well. Given that he won't turn 27 until mid-2015, there's little reason to think that he's hit his peak already. Health willing, top-tier ratios to match his strikeout rate should be on their way sooner rather than later.
Oh, the agony of being a Stephen Strasburg owner. He tossed a career-high 183 innings in 2013, with a plus strikeout rate, ERA and WHIP, yet somehow managed to win just eight games. He had an injury scare to boot, although the eventual culprit seemed to be nothing more than bone chips in his elbow. All the tools are there for him to be among the game's elite pitchers, but until he actually strikes out 200 batters or wins 20 games in a season, there are going to be question marks. Of course, those same question marks could make Strasburg a relative bargain in 2014 if he does finally put it all together.
Despite his team-mandated innings cap, Strasburg still returned ace-like numbers, winning 15 games and striking out nearly 200 batters with solid ratios. He may only be scratching the surface though. His .311 BABIP seems ripe for a drop given his ridiculous stuff, and without the distraction of a workload restriction the 24-year-old could improve in areas like groundball and walk rates. He still needs to prove he can handle a full season's workload of course, but that lack of a track record is the only thing keeping him from being the first starter off the board come draft day.
Strasburg spent most of 2011 rehabbing from Tommy John surgery, but did manage to throw 24 innings with the Nationals as a part of that process. As expected in the first year, Strasburg's velocity was not all the way back to his 2010 level, but he did average 95.3 mph and touched 99 mph on occasion. Additionally, he cut his breaking ball usage in half, which contributed to fewer swinging strikes. However, his control was impeccable, as he walked only five in 44.1 innings. Look for him to come back strong in 2012, but there will be some bumps along the way as he attempts to regain his elite status.
The Double-S Express did everything he could to make everyone happy in his rookie season. He graced a few minor league parks with his presence and put on a dominating show, sliced through big league lineups after his callup like a 97-mph fastball through butter to prove that all the hype wasn't out of line, and then broke down to make all the naysayers who lobbed Mark Prior comparisons his way feel all full of themselves. Tommy John surgery wasn't the worst possible outcome as injuries go, though, and while he'll likely miss all of 2011 his projected future rotation-mate Jordan Zimmermann made it back in about a calendar year, so there's a chance Strasburg will be back on the mound in September. Don't fret too much if the Nats treat him with kid gloves in his rehab, though. This is a kid who posted an absolutely insane K/BB ratio of 5.41 in his first crack at the majors. In keeper leagues, he's worth waiting for.
Set aside the hype for a minute and look at what the Nationals actually got for their first overall pick and $15 million dollars. Strasburg hits triple digits on radar guns with regularity, has a plus curve and a changeup which is already OK even though he barely needed to use it in college, knows where the ball is going when he throws it, and has the big-game mentality to go out and rack up a 17-K no-hitter in his final home start for San Diego State. His inability to stay healthy in his Arizona Fall League stint is a bit worrisome, but none of the injuries were serious or directly arm-related and he'll have all winter to heal. The Nats have indicated they aren't going to rush him, and considering the state of the team they certainly have no reason to, but given what he could already do on the mound as a 20-year-old "not rushing him" could mean keeping Strasburg out of the major league rotation all the way until May. The specter of Mark Prior hangs over him (there are some similarities in their mechanics) but even Prior had a couple of very good big league seasons before breaking down, so at least in the short term if there were even such a thing as a can't miss pitching prospect, Strasburg would be it.
More Fantasy News