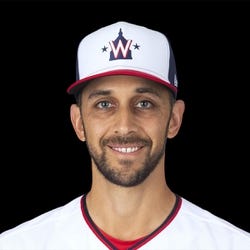 2023 Fantasy Outlook
There was no outlook written for Steve Cishek in 2023. Check out the latest news below for more on his current fantasy value.
$Signed a one-year, $1.75 million contract with the Nationals in March of 2022.

Cishek (1-2) picked up the win Sunday against Atlanta, working 1.2 scoreless innings of relief without allowing a hit or a walk and striking out two.
ANALYSIS
A hit by pitch was the only blemish on his line. In what was a bullpen day for the Nationals, Cishek entered the game with one out in the fourth inning to protect a 4-3 lead and wound up being deemed the team's most effective pitcher by the official scorer to get credit for the win. The 36-year-old has a 4.05 ERA, 1.20 WHIP and solid 25.7 percent strikeout rate -- his best mark since 2018 -- on the season, and if new closer
Kyle Finnegan
falters, Cishek could see some save chances after the All-Star break.
Read More News
Pitching Stats
Loading Pitching Stats...
2022
2021
2020
2019
2018
2017
2022 MLB Game Log

Calculate Stats Over Time
Just click on any two dates.
Scoring
FanDuel
DraftKings
Yahoo DFS
FantasyDraft
Head2Head
Loading Pitching Game Log...
2021 MLB Game Log

Calculate Stats Over Time
Just click on any two dates.
Scoring
FanDuel
DraftKings
Yahoo DFS
FantasyDraft
Head2Head
Loading Pitching Game Log...
2020 MLB Game Log

Calculate Stats Over Time
Just click on any two dates.
Scoring
FanDuel
DraftKings
Yahoo DFS
FantasyDraft
Head2Head
Loading Pitching Game Log...
2019 MLB Game Log

Calculate Stats Over Time
Just click on any two dates.
Scoring
FanDuel
DraftKings
Yahoo DFS
FantasyDraft
Head2Head
Loading Pitching Game Log...
2018 MLB Game Log

Calculate Stats Over Time
Just click on any two dates.
Scoring
FanDuel
DraftKings
Yahoo DFS
FantasyDraft
Head2Head
Loading Pitching Game Log...
2017 MLB Game Log

Calculate Stats Over Time
Just click on any two dates.
Scoring
FanDuel
DraftKings
Yahoo DFS
FantasyDraft
Head2Head
Loading Pitching Game Log...
Minor League Game Log

Calculate Stats Over Time
Just click on any two dates.
Loading Minor League Pitching Game Log...
Pitching Appearances Breakdown
How many pitches does Steve Cishek generally throw?
What part of the game does Steve Cishek generally pitch?
% Games Reaching Innings Threshold
% Games By Number of Innings Pitched
Left/Right Pitching Splits
BAA
K
BB
H
HR
Since 2020

vs Left

.236
68
42
47
6
Since 2020

vs Right

.236
91
35
89
11
2022

vs Left

.280
26
14
23
6
2022

vs Right

.194
48
13
31
5
2021

vs Left

.209
29
22
18
0
2021

vs Right

.253
35
19
43
2
2020

vs Left

.194
13
6
6
0
2020

vs Right

.319
8
3
15
4
More Splits

→

View More Split Stats
Home/Away Pitching Splits
ERA
WHIP
IP
K/9
BB/9
Since 2020

Home

4.11
1.30
76.2
10.3
4.2
Since 2020

Away

3.92
1.45
78.0
8.2
4.7
2022

Home

3.67
1.02
34.1
11.8
3.9
2022

Away

4.78
1.44
32.0
8.2
3.4
2021

Home

3.51
1.56
33.1
9.5
4.9
2021

Away

3.34
1.43
35.0
7.5
5.9
2020

Home

8.00
1.44
9.0
8.0
3.0
2020

Away

3.27
1.55
11.0
10.6
4.9
More Splits

→

View More Split Stats
Stat Review
How does Steve Cishek compare to other relievers?
This section compares his stats with all relief pitcher seasons from the previous three seasons (minimum 30 innings)*. The bar represents the player's percentile rank. For example, if the bar is halfway across, then the player falls into the 50th percentile for that stat and it would be considered average.
* Exit Velocity, Barrels/BBE %, Balls Hit 95+ MPH %, and Spin Rate are benchmarked against 2019 data (min 30 IP).
See here for more exit velocity/barrels stats
plus an explanation of current limitations with that data set.
K/BB

Strikeout to walk ratio.

K/9

Average strikeouts per nine innings.

BB/9

Average walks per nine innings.

HR/9

Average home runs allowed per nine innings.

Fastball

Average fastball velocity.

ERA

Earned run average. The average earned runs allowed per nine innings.

WHIP

Walks plus hits per inning pitched.

BABIP

Batting average on balls in play. Measures how many balls in play against a pitcher go for hits.

GB/FB

Groundball to flyball ratio. The higher the number, the more likely a pitcher is to induce groundballs.

Left On Base

The percentage of base runners that a pitcher strands on base over the course of a season.

Exit Velocity

The speed of the baseball as it comes off the bat, immediately after a batter makes contact.

Barrels/BBE

The percentage of batted ball events resulting in a Barrel. A Barrel is a batted ball with similar exit velocity and launch angle to past ones that led to a minimum .500 batting average and 1.500 slugging percentage.

Spin Rate

Spin Rate is the rate of spin on a baseball after it is released. It is measured in revolutions per minute (rpm).

Balls Hit 95+ MPH

The percentage of batted balls hit that met or exceeded the 95 MPH threshold.

Swinging Strike

The percentage of pitches that result in a swing and a miss.
Advanced Pitching Stats
Loading Advanced Pitching Stats...
Loading MLB Defensive Stats...
Recent RotoWire Articles Featuring Steve Cishek
Past Fantasy Outlooks
2022
2021
2020
2019
2018
2017
2016
2015
2014
2013
2012
Cishek had a rebound 2021 campaign with the Angels after struggling during the 60-game season with a 5.40 ERA. The veteran right-hander recorded 21 holds with a 3.49 ERA for the Halos, though he had his lowest strikeout rate (20.8 percent) since 2015 and the highest walk rate (13.3 percent) of his career. Cishek should take on a high-leverage role for Washington after signing a one-year deal. Ordinarily he wouldn't be a legitimate option for saves, but he could be in the mix for the Nationals since the other options include Sean Doolittle, Kyle Finnegan and Tanner Rainey, who appears to be the favorite to close.
Cishek carried an 11.12 ERA through his first seven appearances, though he rebounded to post a 3.14 ERA while punching out 15 across his final 14.1 frames. A major portion of his early struggles can be attributed to a poor fastball, as opposing hitters slugged .789 off the pitch across the entirety of the campaign. That may have inspired Cishek to alter his pitch mix, as he increased his slider usage to a career-high 51.3% while his fastball usage dipped to 47.6% -- nearly 10% below his career average. Also positive was the fact that Cishek's velocity, swinging-strike rate and strikeout percentage were all aligned with his career norms. Heading into 2021, he'll need to find a second pitch aside from his slider to rely upon to avoid becoming too predictable. Furthermore, his role is unclear given that he is still a free agent, though it's unlikely he will figure significantly into any team's saves picture.
Cishek was one of the handful of relievers who picked up saves in Chicago in 2019. At this stage of his career, the overall skills are mostly stable, but his K-BB% faded badly last season which ultimately made him too much of a risk to close. He has been a fascinating statistical study in that his ERA and FIP have been far apart in each of the past four seasons because he has left runners on base 83% of the time or more in each of the past four seasons. That kind of run is unheard of, which is how he has been able to keep his ERA below 3.00 in each of the past four years. If you squint long and hard, there is enough here to think he has a shot to close at some point in 2020 after signing with the White Sox. That said, there are concerns with lefties given the arm angle and his propensity to pitch around lefties to get to the righties.
Cishek is coming off arguably his best year. His ratios were slightly lower in 2017, but last season, he appeared in a career-high 80 games, throwing a personal-best 70.1 innings while cranking his strikeout rate back over a batter an inning. Cishek's sidewinding delivery gives fits to right-handed batters, while his slider, thrown 13 mph slower than his fastball, keeps lefty swingers off balance. He can handle hitters from both sides of the plate with near equal aplomb. The Cubs used him in high-leverage scenarios, resulting in his logging 25 holds, tied for eighth most in the league, along with chipping in four saves. Cishek is slated to return to a similar role in 2019, making him one of the top options in leagues scoring holds. His ratio protection with decent whiffs and the occasional situational save put him in the mix in all formats.
Cishek's 2017 was delayed after he underwent hip labrum surgery involving a microfracture procedure in October 2016. After returning in mid-May, the side-winding righty spun a 3.15 ERA and 1.00 WHIP until the Mariners dealt Cishek to the Rays at the July trade deadline, marking his fifth organization since the start of 2015. Cishek was effective for the Rays over the final two months, sporting a 1.09 ERA and 0.81 WHIP with 26 strikeouts in 24.2 frames. Though he's known for his ability to handle right-handers, Cishek can hold his own versus lefty swingers, so be can be used for multi-inning stints, as he was five times last season. Throwing nearly equal numbers of fastballs and sliders, Cishek relies on deception in lieu of velocity, inducing a lot of weak contact, mostly of the groundball variety. After signing with Cubs, Cishek is likely ticketed for setup duty, but he could plausibly work himself into the closer role, where he's had success in the past (73 saves with the Marlins from 2013-14).
On July 30, Cishek sat with 25 saves and a 2.74 ERA -- great numbers following a poor 2015 season. He brought his strikeout rate back up to the excellent levels of previous years and restored his control to spin his lowest ERA since 2013. Unfortunately, after Cishek endured a few bad games and a trip to the disabled list, Edwin Diaz took the closer job for the rest of the year. The M's will almost certainly stick with Diaz heading into 2017 especially after Cishek underwent surgery to repair a torn labrum in his left hip, which jeopardizes his availability for spring training and even Opening Day. Still, in deep fantasy drafts, it may not be a bad idea to use a throwaway pick on Cishek for at least helpful reliever stats -- and for the remote possibility that the talented but raw Diaz pitches himself out of closer opportunities.
Cishek was acquired in mid-July from Miami and provided another setup option out of the bullpen for the Cardinals. He only recorded one save with St. Louis as he mostly worked the sixth, seventh, and eighth innings, posting a 2.31 ERA in 23.1 frames for the Cardinals while striking out 20 and walking 13. Despite posting a higher ERA in his three-plus months with Miami (4.50) his FIP indicated that he pitched almost a full run better prior to being traded (3.51 with MIA, 4.33 with STL). At 29, Cishek has recorded 95 career saves and his skills haven't changed all that much, so it makes sense that a team like the Mariners would want to give him a look in the closer role. The team also traded for veteran Joaquin Benoit from San Diego, but general manager Jerry Dipoto confirmed in December that Cishek will open the season as the closer.
How does one of the most consistent relief pitchers in the league top his first full season as closer in which he converted 34-of-36 saves with a 2.33 ERA and 1.08 WHIP? By improving his strikeout rate during a stellar 2014 campaign. Cishek broke out in a big way in 2013, and continued to provide rock solid numbers in the back of the Marlins' bullpen -- 3.17 ERA, 1.21 WHIP with 39 saves in 43 chances -- over 65.1 innings in 2014. Despite posting an ERA over 3.00 for the first time in his career, Cishek also registered the lowest FIP (2.17) and xFIP (2.54) of his four seasons in the majors. The 28-year-old stopper leans heavily on a sinker-slider combination which has proven effective at producing swings and misses (30.6 K% in 2014) and generating plenty of groundballs (51.1 GB% for his career). Cishek will once-again be locked in at the back end of the Marlins' bullpen and he remains one of the game's most reliable closers.
Cishek hit a stride down the stretch last season following a shaky start that left him with a 5.40 ERA on May 18 (16 appearances). From that point on, however, the Marlins' stopper was among the most automatic relief arms in the game, allowing just eight earned runs over his final 53.0 innings pitched (1.36 ERA) and striking out over a batter per inning. All told, Cishek cashed in 34-of-36 save opportunities to go along with a sparkling 2.33 ERA and 1.08 WHIP. Cishek bumped his strikeout rate up for a third straight season to a career best 26.3% in 2013 while also inducing groundballs at a 53.1% clip -- the second best rate among pitchers who recorded 20 or more saves. The 6-foot-6 righty capitalizes on a side-arm delivery to work with a 92-mph sinker that continues to get the job done in the ninth. Cishek will enter the season locked in at the back end of the Miami bullpen.
Though he didn't see back-to-back save chances until late July, Cishek took the Marlins' closer role and ran with it, converting 13-of-14 opportunities over the season's final three months. Overall, the side-arm slinging right-hander dominated to the tune of a 2.69 ERA while registering 9.6 K/9. Cishek's walk rate is a touch higher than you would like out of a ninth-inning reliever (4.1 BB/9) and it's also moving in the wrong direction (3.1 BB/9 in 2011); still, Cishek got the job done in the endgame role and with Heath Bell now out of the picture, he remains the favorite for saves in South Florida heading into 2013.
Cishek had a good spring training in 2011 and never looked back, finishing the year as the Marlins closer by default. He's got a solid, but not exceptional, fastball/slider combo, and that led to a strong 9.05 K/9IP over 45 appearances in the big leagues. Unfortunately for those who grabbed him as a potential cheap keeper and sources of saves, he should settle in as one of the Marlins' primary setup men with Heath Bell in town.
More Fantasy News