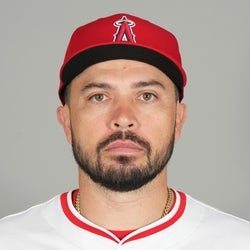 2023 Fantasy Outlook
Some eyebrows were raised when Atlanta gave d'Arnaud a two-year deal after his disappointing 2021 season at the plate, but he rewarded the club with their faith in him with a strong rebound season in 2022 as the club found a way to mix and match his strengths with William Contreras. d'Arnaud used a more aggressive approach at the plate in 2022 looking to hunt early and often for fastballs and he hit .274 while slugging .512 off heaters with 12 of his 18 home runs on the season coming off the 2021 season where he hit .193 and slugged .377 against fastballs. Despite producing like one, d'Arnaud has never been an everyday catcher as he has but twice exceeded 400 plate appearances but yet has five double-digit homer seasons to his name and just scored a career-high 61 runs this past season. Simply put, he makes the most of his opportunities and his 2022 production even exceeded what he did in 2019 when he re-established his market value with a livelier baseball. He should lose more at-bats with the trade that sent out Contreras and brought in Sean Murphy, although d'Arnaud is expected to be the designated hitter sometimes when Murphy starts at catcher.
Read Past Outlooks
$Signed a two-year, $16 million contract extension with the Braves in August of 2021. Contract includes $8 million team option for 2024.

Still finding way at plate
D'Arnaud went 0-for-3 in Saturday's Grapefruit League game against the Phillies.
ANALYSIS
The veteran catcher has gone just 3-for-17 (.176) this spring with only one extra-base hit, a double, but his 1:2 BB:K shows there's little cause for concern. The offseason addition of
Sean Murphy
pushes d'Arnaud into a backup role this year, but he should also see some action at DH after slugging 18 homers and posting a .791 OPS over 107 games in 2022, especially if
Marcell Ozuna
's struggles continue.
Read More News
Batting Stats
2022
2021
2020
2019
2018
2017
2022 MLB Game Log

Calculate Stats Over Time
Just click on any two dates.
Scoring
FanDuel
DraftKings
Yahoo DFS
FantasyDraft
Head2Head
Loading Batting Game Log...
2021 MLB Game Log

Calculate Stats Over Time
Just click on any two dates.
Scoring
FanDuel
DraftKings
Yahoo DFS
FantasyDraft
Head2Head
Loading Batting Game Log...
2020 MLB Game Log

Calculate Stats Over Time
Just click on any two dates.
Scoring
FanDuel
DraftKings
Yahoo DFS
FantasyDraft
Head2Head
Loading Batting Game Log...
2019 MLB Game Log

Calculate Stats Over Time
Just click on any two dates.
Scoring
FanDuel
DraftKings
Yahoo DFS
FantasyDraft
Head2Head
Loading Batting Game Log...
2018 MLB Game Log

Calculate Stats Over Time
Just click on any two dates.
Scoring
FanDuel
DraftKings
Yahoo DFS
FantasyDraft
Head2Head
Loading Batting Game Log...
2017 MLB Game Log

Calculate Stats Over Time
Just click on any two dates.
Scoring
FanDuel
DraftKings
Yahoo DFS
FantasyDraft
Head2Head
Loading Batting Game Log...
Minor League Game Log

Calculate Stats Over Time
Just click on any two dates.
Loading Minor League Batting Game Log...
Batting Order Slot Breakdown
#1
#2
#3
#4
#5
#6
#7
#8
#9
#1
#2
#3
#4
#5
#6
#7
#8
#9
Left/Right Batting Splits
OPS
PA
HR
RBI
AVG
Since 2020

vs Left

.829
181
6
22
.299
Since 2020

vs Right

.775
658
28
98
.257
2022

vs Left

.946
96
5
17
.341
2022

vs Right

.746
330
13
43
.246
2021

vs Left

.832
48
1
2
.256
2021

vs Right

.631
181
6
24
.212
2020

vs Left

.506
37
0
3
.235
2020

vs Right

1.026
147
9
31
.344
More Splits

→

View More Split Stats
Home/Away Batting Splits
OPS
PA
HR
RBI
AVG
Since 2020

Home

.744
405
12
55
.254
Since 2020

Away

.825
434
22
65
.277
2022

Home

.783
216
7
29
.268
2022

Away

.799
210
11
31
.268
2021

Home

.543
101
0
6
.200
2021

Away

.769
128
7
20
.235
2020

Home

.878
88
5
20
.282
2020

Away

.957
96
4
14
.356
More Splits

→

View More Split Stats
Stat Review
How does Travis d'Arnaud compare to other hitters?
This section compares his stats with all batting seasons from the previous three seasons (minimum 400 plate appearances)*. The bar represents the player's percentile rank. For example, if the bar is halfway across, then the player falls into the 50th percentile for that stat and it would be considered average.
* Exit Velocity and Barrels/PA % are benchmarked against 2019 data (min 400 PA) and Hard Hit Rate is benchmarked against last season's data (min 400 PA).
See here for more exit velocity/barrels stats
plus an explanation of current limitations with that data set.
BB/K

Walk to strikeout ratio

BB Rate

The percentage of plate appearances resulting in a walk.

K Rate

The percentage of plate appearances resulting in a strikeout.

BABIP

Batting average on balls in play. Measures how many of a batter's balls in play go for hits.

ISO

Isolated Power. Slugging percentage minus batting average. A computation used to measure a batter's raw power.

AVG

Batting average. Hits divided by at bats.

OBP

On Base Percentage. A measure of how often a batters reaches base. Roughly equal to number of times on base divided by plate appearances.

SLG

Slugging Percentage. A measure of the batting productivity of a hitter. It is calculated as total bases divided by at bats.

OPS

On base plus slugging. THe sum of a batter's on-base percentage and slugging percentage.

wOBA

Weighted on-base average. Measures a player's overall offensive contributions per plate appearance. wOBA combines all the different aspects of hitting into one metric, weighting each of them in proportion to their actual run value.

Exit Velocity

The speed of the baseball as it comes off the bat, immediately after a batter makes contact.

Hard Hit Rate

A measure of contact quality from Sports Info Solutions. This stat explains what percentage of batted balls were hit hard vs. medium or soft.

Barrels/PA

The percentage of plate appearances where a batter had a batted ball classified as a Barrel. A Barrel is a batted ball with similar exit velocity and launch angle to past ones that led to a minimum .500 batting average and 1.500 slugging percentage.

Expected BA

Expected Batting Average.

Expected SLG

Expected Slugging Percentage.

Sprint Speed

The speed of a runner from home to first, in feet per second.

Ground Ball %

The percentage of balls put in play that are on the ground.

Line Drive %

The percentage of balls put in play that are line drives.

Fly Ball %

The percentage of balls put in play that are fly balls.
Advanced Batting Stats
Loading Advanced Batting Stats...
Games By Position
Defensive Stats
Loading Games Played by Position...
Loading MLB Defensive Stats...
Batted Ball Stats
Loading Batted Ball Stats...
Stats Vs Upcoming Pitchers
Our full team depth charts are reserved for RotoWire subscribers.
Subscribe Now
Recent RotoWire Articles Featuring Travis d'Arnaud
See More
Past Fantasy Outlooks
2022
2021
2020
2019
2018
2017
2016
2015
2014
2013
2012
2011
2010
What's most important and what everyone will remember primarily about d'Arnaud's 2021 season is that he helped lead Atlanta to a championship. He had seven hits -- including two home runs -- against Houston in six World Series games. His regular season was another injury-shortened campaign, with d'Arnaud missing more than three months after undergoing surgery to repair a torn ligament in his thumb. His performance around the injury left a lot to be desired, and notably his hard-hit rate sagged to its lowest point since 2015. D'Arnaud left a nice lasting memory with his postseason performance, but he has only once cleared 400 plate appearances in a major-league season, and that was back in 2014 (maxing out at 421). The DH in the NL would help manage the wear and tear in theory, but regardless d'Arnaud must be considered a high risk to miss games.
D'Arnaud went from being designated for assignment by the Mets in April of 2019 to batting cleanup in the 2020 playoffs for the No. 2 seed in the National League. He was the No. 3 rotisserie earner at the catcher position during the regular season, finishing behind only J.T. Realmuto and Salvador Perez, and his Statcast numbers are downright silly. D'Arnaud ranked in the 90th percentile in terms of wOBA, xBA and xSLG and in the 98th percentile in terms of exit velocity and hard-hit rate. His strikeout rate shot up to 27.2% -- his career mark is 18.7% -- but the tradeoff for more quality connections was worth it. He cracked nine homers and added two more during the postseason while slashing .286/.380/.476 in the playoffs. Now entering his age-32 season, d'Arnaud is creating some distance from his past injury woes, though his lengthy injury history should still weigh heavily in any fantasy valuation.
After playing only four games the previous year due to Tommy John surgery, d'Arnaud began the season with the Mets, opening on the IL with the final stages of his rehab. The oft-injured backstop was cut loose by the Mets in late April then signed by the Dodgers, only to be dealt to the Rays a few days later. With injuries to Mike Zunino and Michael Perez, d'Arnaud immediately slid behind the plate. Zunino returned June 2, pushing d'Arnaud to a backup role. At the time d'Arnaud was slashing 186/.265/.233, but after a couple of productive games spelling Zunino, his playing time increased, eventually resulting in regular action at first base. After his early woes, d'Arnaud slashed .275/.332/.493. The Braves signed d'Arnaud to be in a time share with Tyler Flowers. While he won't be able to get action at first base with Freddie Freeman playing every day, d'Arnaud is in play in two-catcher formats.
D'Arnaud's season lasted four games before he tore the UCL in his throwing arm and needed Tommy John surgery to repair it. He is expected to be ready for Opening Day, but let's be real, it's the Mets, so the range of outcomes here is from 100% healthy to amputation of the arm with a Civil War era bonesaw. D'Arnaud is nearly 1,500 plate appearances into his career and owns a disappointing .245/.306/.406 slash line, which is a far step down from those who scouted his minor-league numbers and got excited about what he was doing while overlooking the extremely friendly run environments he played in. He has had one season where he hit over .250, one where he had at least a .340 on-base percentage and one where he drove in 50 runs. The problem is none of those happened in the same season. Catchers take longer to develop than players at other positions, and given the lack of depth at catcher league-wide, a dart throw here is still defensible.
D'Arnaud rebounded back in a better direction in 2017 after injuries derailed his 2016 campaign. His 2017 numbers were not back to 2015 levels, but at least there was some catcher productivity to write home about in terms of homers and RBI. That is where the statistical compliments end because he hurt you in both average and on-base percentage leagues, but his pitch-framing abilities did help Mets pitching when it was not hurt on the disabled list. It is hard to believe that he is already 29 years old, but that is not a bad thing for catchers since they typically take a little longer to hit their stride at the plate. That stride may come in the form of him returning to his 2015 levels, but him hitting .275 with 20 homers -- as was the prediction during his notable rise through the minors -- seems like a pipe dream at this point.
The party line with d'Arnaud has always been plus power potential but can he stay healthy? Entering 2017, it's now fair to question the pop as he's declining in that department. Of course, the multitude of injuries have curtailed growth and catchers often hit the power peak later in their career, so there's still reason for optimism. A right rotator cuff strain cost d'Arnaud most of the first half and he never got it going after returning. The backstop's solid strikeout rate remained intact to go along with a league-average hard contact rate; there's still a reasonable batting average floor, especially for a catcher. However, 2016 featured a big drop in flyballs and HR/FB, resulting in a weak .076 ISO. The second-half struggles resulted in d'Arnaud ceding primary catching duties to Rene Rivera, putting his 2017 role in flux. He's plenty young enough to turn things around, but he needs to demonstrate last season's power outage was a blip, and stay healthy.
D'Arnaud has been one of the best hitting catchers for the better part of the last two seasons, but one longstanding question remains heading into 2016: Will he stay healthy? The 26-year-old has battled a myriad of injuries throughout his career, most recently hand and elbow issues which limited him to 67 games in 2015. He has exceeded 100 games played in just three of his nine professional seasons, with an average of 88.75 games played in his eight years with full-season clubs. When on the field in 2015, d'Arnaud routinely barreled up the ball, slugging .485 in 268 plate appearances, building upon his strong run from the final four months of 2014. However, the durability concerns have led the Mets to consider an even timeshare with d'Arnaud and Kevin Plawecki behind the plate. It's still possible one of the two could be traded, but the upside of both players will be capped if they do end up splitting time.
D'Arnaud's 2013 struggles lingered into 2014, with the former first-round pick batting just .178/.213/.311 with six extra-base hits (three homers) over the first two months of the season, while he lost time to a concussion. The decision was made in early June to send him for a tune up at Triple-A Las Vegas. Simply put, d'Arnaud was a different player upon his return. He smashed a three-run homer in his first game back and from June 24 on, d'Arnaud hit .272 (70-for-257) with 19 doubles, 10 homers and 32 RBI. D'Arnaud also shortened his swing and trimmed his strikeout rate by close to six percent in the second half (from 18.1% to 12.3%), giving hope to a Mets team that plans on competing in 2015 that he might be on the verge of a full-fledged breakout at the dish. Fantasy owners will obviously be hoping for the same, but without a longer track record of success at the major league level, d'Arnaud will likely remain a fringe starter in most mixed fantasy leagues, at least at the start of the season. He underwent surgery to remove bone chips from his elbow but is expected to be fine for Opening Day.
D'Arnaud, the centerpiece of the R.A. Dickey deal, heads into 2014 with major questions. He suffered an injury that sidelined him a good portion of the season for the second year in a row - this time, it was a fractured fifth metatarsal of his right foot that kept him out three months. When he was promoted, his defense was better than advertised, but his offense was near non-existent; he hit just .202 with one home run and five RBI over 112 at-bats in 31 games in the majors. Despite that, he will enter 2014 as the Mets' starting catcher, though Kevin Plawecki is starting to gain some favor as the best catcher in the team's system.
Widely regarded as one of the best catching prospects in baseball, d'Arnaud kept adding to his resume in 2012 before a knee injury ended his season early. In 279 Triple-A at-bats, he collected 16 home runs while batting .333. The Pacific Coast League has been generous to plenty of hitters before him and his BB/K rate (0.33) was not overly encouraging. The Mets acquired d'Arnaud as part of a package for R.A. Dickey in December, where he should take over as the team's primary catcher at some point in 2013 given his advanced defensive skills at a position of need.
d'Arnaud put a back injury and the pitcher-friendly Florida State League of 2010 behind him and re-established himself as a legit catching prospect with a breakout season at Double-A New Hampshire, hitting .311 with 33 doubles and 21 homers as a 22-year-old. He needs to control the strike zone better (33:100 BB:K in 466 plate appearances) if he wants to hold onto his offensive gains against more advanced competition, but he put himself back on the prospect radar after two disappointing seasons. The Jays have an interesting dilemma ahead if d'Arnaud continues to develop at the plate with J.P. Arencibia around, but for now they'll see how d'Arnaud handles the jump to Triple-A.
D'Arnaud battled a back injury and the pitcher-friendly Florida State League to cobble together a respectable season, hitting .259/.315/.411 in 71 games for High-A Dunedin in his first year in the Toronto system. He's got a good defensive reputation, but it remains to be seen if his bat will ever develop into anything fantasy-worthy. We'll have to see how he handles the jump to Double-A before getting too excited.
D'Arnaud was a supplemental pick in the first round of the 2007 draft. He got out of the gate slow with a .207/.269/.363 line in the first half of last season at Low-A Lakewood but really put things together in the second half, hitting .302/.366/.473. D'Arnaud is considered a solid defender and he flashed some power last year with 38 doubles and 13 home runs. If he can continue to hit like he did in the second half of 2009, the Blue Jays will have a very nice catching prospect on their hands after acquiring him in the Roy Halladay trade.
More Fantasy News