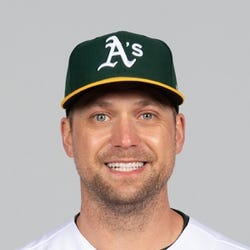 7-Day IL
Injury Elbow
Est. Return 6/5/2023
Rest-of-Season Projections
2023 Fantasy Outlook
Rosenthal appeared to revive his career during the abbreviated 2020 campaign, when he logged a 1.90 ERA and 0.85 WHIP while saving 11 games across 23 appearances with the Royals and Padres. He inked a one-year, $11 million deal with the Athletics following that season, but he never pitched for the club after undergoing thoracic outlet syndrome surgery in April 2021 and then surgery to repair a torn labrum in his hip that July. Rosenthal appeared poised to make a late-season return in 2022 after signing with the Giants -- and later being traded to the Brewers, but a hamstring injury and then a lat injury prevented him from resurfacing in the majors. He may need to prove he's healthy in the minors before getting another shot at the big leagues.
Read Past Outlooks
$Signed a one-year, minor-league contract with the Tigers in March of 2023.

ANALYSIS
Rosenthal made two appearances with Toledo before getting hurt, allowing one run with a 1:3 K:BB over two innings. He's now going through physical therapy, and it's not clear how long it might be before he's allowed to throw again. Rosenthal had Tommy John surgery back in 2017 and hasn't pitched in the majors since 2020 due to shoulder and hip issues.
Read More News
Pitching Stats
Loading Pitching Stats...
2022 MLB Game Log

Calculate Stats Over Time
Just click on any two dates.
Scoring
FanDuel
DraftKings
Yahoo DFS
Loading Pitching Game Log...
2021 MLB Game Log

Calculate Stats Over Time
Just click on any two dates.
Scoring
FanDuel
DraftKings
Yahoo DFS
Loading Pitching Game Log...
2020 MLB Game Log

Calculate Stats Over Time
Just click on any two dates.
Scoring
FanDuel
DraftKings
Yahoo DFS
Loading Pitching Game Log...
2019 MLB Game Log

Calculate Stats Over Time
Just click on any two dates.
Scoring
FanDuel
DraftKings
Yahoo DFS
Loading Pitching Game Log...
2017 MLB Game Log

Calculate Stats Over Time
Just click on any two dates.
Scoring
FanDuel
DraftKings
Yahoo DFS
Loading Pitching Game Log...
Minor League Game Log

Calculate Stats Over Time
Just click on any two dates.
Loading Minor League Pitching Game Log...
Advanced Pitching Stats
Loading Advanced Pitching Stats...
Loading MLB Defensive Stats...
Our full team depth charts are reserved for RotoWire subscribers.
Subscribe Now
Recent RotoWire Articles Featuring Trevor Rosenthal
See More
Past Fantasy Outlooks
2021
2019
2018
2017
2016
2015
2014
2013
Left for dead by most of the fantasy community, Rosenthal re-emerged in 2020 to finish tied for seventh in MLB with 11 saves between Kansas City and San Diego. He had a 13.50 ERA in 2019, his first season back from Tommy John surgery, with his last appearance of that season coming Aug. 7 before he was designated for assignment by the Tigers. An impressive spring and summer 2020 had him closing games for the Royals before July was over, and Rosenthal's success continued after a trade to the Padres, with whom he went 4-for-5 in save chances. Statcast says that success was mostly deserved given Rosenthal's elite fastball velocity and whiff rates. Most importantly, Rosenthal found his control again after he completely lost it in 2019 -- not uncommon for a pitcher returning from TJS. The righty showed that he can still harness his plus-plus stuff well enough to close games for a major-league club.
Rosenthal spent the entire 2018 campaign rehabbing his elbow after undergoing Tommy John surgery in August of 2017. He ultimately inked a one-year deal with the Nationals in October after holding a showcase in California, where scouts said his fastball topped out at 98 mph while his slider and changeup sat in the high-80s. While the 28-year-old is an experienced late-inning reliever, having racked up 121 saves while posting a 2.99 ERA and 12.0 K/9 across six seasons with the Cardinals, he figures to open the season in a setup role with Sean Doolittle locked in as the team's closer. That said, the right-hander will likely be one of the Nationals' top options to take over in the ninth inning should Doolittle once again spend time on the disabled list, something that's happened in each of the last two seasons -- assuming Rosenthal displays something close to his old form.
Rosenthal battled injuries for the second straight season, pitching just 47.2 innings before ending the season on the disabled list with a torn UCL. He was released by the Cardinals and is expected to miss the entire 2018 season recovering from Tommy John surgery. He pitched well while he was active with a 37.6 percent strikeout rate that ranked eighth among pitchers who threw at least 40 innings. His 3.40 ERA was unremarkable for a high-leverage reliever, but it could have easily been lower with better luck, as his FIP was an impressive 2.17. Whichever team signs him will be acquiring a "proven closer" with 121 career saves who will still be just 28 years old. It's easy to see a team bringing him in with the intention of having Rosenthal fill a back-end role in 2019, similar to what the Rockies did with Greg Holland.
Rosenthal battled injuries throughout 2016, including a nagging hamstring issue and an inflamed shoulder that cost him nearly two months on the disabled list. His bouts with the aforementioned ailments resulted in him pitching just 10.1 innings following the All-Star break. At just 26, and with a 2.92 ERA and 1.32 WHIP for his career, it would be premature to lose faith in Rosenthal, who's been a centerpiece of the St. Louis bullpen since entering the league. However, it's likely that he'll be relegated to the role of setup man for Seung Hwan Oh, the favorite to retain the closer spot in 2017. The Cardinals have said that they plan to stretch Rosenthal out this spring, which adds another wrinkle, but they do not have an open rotation spot, so it would seem that by stretching him out, they are paving the way for him to be used in multiple-inning relief appearances in the mold of late-season Andrew Miller.
Rosenthal turned in a top-5 season at the closer position in 2015, delivering on the high expectations that fantasy owners had put on him the season before. Rosenthal finished second in saves (48), eighth in strikeouts (83) and seventh in ERA (2.10) among closers. There's still work to be done as his 1.267 WHIP ranked 23rd among closers, so there's reason to believe Rosenthal can improve even further in 2016. Armed with a triple-digit fastball, Rosenthal opted to deliver from the stretch full-time in 2015 and it paid off nicely. At just 25 years old Rosenthal has already racked up 96 career saves and is already becoming one of the more experienced active closers in baseball. He'll start the season entrenched as the closer for one of the better teams in baseball and should have an awfully long leash to work with. Expect Rosenthal to be one of the first five closers off the board this spring.
While it wasn't without its bumps, Rosenthal's 2014 season was still pretty impressive for a first-time closer. He finished fourth in baseball with 45 saves and seventh among regular closers with 87 strikeouts. What has to be encouraging for his owners and the Cardinals is that despite having some occasional dust-ups, Rosenthal never lost all control as so many new closers do. The few bad runs he had last season were just long enough to get some whispers about a possible change but short enough that a change was never necessary. His 1.41 WHIP reflects some of those bad runs, as he did have some trouble with the free passes in 2014, something he'll have to work on moving forward. Rosenthal still proved capable of handling the role and should only get better in 2015. With the Cardinals expected to again be one of the top teams in the NL, Rosenthal should have no problem eclipsing 40 saves if he stays healthy, and could very easily join the ranks of Craig Kimbrel and Kenley Jansen if he can turn some of those walks into strikeouts.
Rosenthal had a terrific first full season with the Cardinals, posting 29 holds while striking out an impressive 108 batters in just 75.1 innings pitched. His xFIP (2.34) indicates he was even better than his ERA shows. Rosenthal is a heavy fastball pitcher who averages around 97 mph on his heater but in 2013 began using his changeup much more, and with very good results. Rosenthal was inserted into the closer's role for the final weeks of the 2013 season and into the playoffs where he proved plenty capable for the job. He'll head into 2014 as one of the top closers in baseball and in fantasy, likely a top five option in all league formats.
Lost among the Shelby Millers and Carlos Martinezes and Michael Wachas in the St. Louis system is the unheralded Rosenthal, who at 22 already has 19 MLB appearances under his belt. Although Rosenthal only appeared as a reliever for the Cardinals, he was used exclusively as a starter in the minors and will likely get a chance at a rotation spot in the bigs this spring. His numbers at three stops last year: (131 IP, 92 H, 129:49 K:BB, 2.95 ERA) indicate that he deserves that shot. Consider him to be a nice sleeper if he's able to secure a starting job with a good showing in spring training.
More Fantasy News