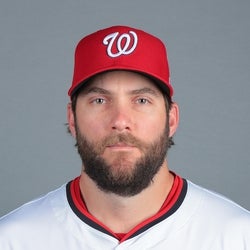 Rest-of-Season Projections
2023 Fantasy Outlook
Williams spent the past two years as a swingman for the Cubs and Mets, and he was a reliable option with a 3.21 ERA, 1.23 WHIP and 84:23 K:BB across 89.2 innings during 2022. The right-hander landed a two-year deal with the Nationals and is poised to move back into the rotation, where he spent the first four seasons of his big-league career. Williams' 22.4 percent strikeout rate over the past two years is solid, albeit unexciting, and it's paired with a 6.9 percent walk rate. He'll turn 31 years old in April and is likely to maintain his low-90s fastball, and a return to the rotation shouldn't affect his arsenal too much given he doesn't heavily rely on his velocity. Williams' fantasy utility is limited, but he could have some value as a depth starter if he's able to replicate his 2022 numbers in a larger sample size.
Read Past Outlooks
$Signed a two-year, $13 million contract with the Nationals in December of 2022.

Falls short of quality start
Williams (2-2) picked up the win in Wednesday's 5-3 victory over the Padres, giving up three runs on three hits and three walks over 5.2 innings while striking out five.
ANALYSIS
It was far from a sharp performance -- Williams tossed only 53 of 94 pitches for strikes and served up two homers -- but he did just enough, and got just enough run support, to collect his first win since April 8. The veteran right-hander has provided the Nationals with some stability at the back of their rotation, allowing more than three runs in only two of his 10 starts. He'll take a 4.32 ERA, 1.24 WHIP and 27:13 K:BB through 50 innings into his next outing, likely to come on the road early next week against the Dodgers.
Read More News
Pitching Stats
Loading Pitching Stats...
2023
2022
2021
2020
2019
2018
2017
2023 MLB Game Log

Calculate Stats Over Time
Just click on any two dates.
Scoring
FanDuel
DraftKings
Yahoo DFS
Loading Pitching Game Log...
2022 MLB Game Log

Calculate Stats Over Time
Just click on any two dates.
Scoring
FanDuel
DraftKings
Yahoo DFS
Loading Pitching Game Log...
2021 MLB Game Log

Calculate Stats Over Time
Just click on any two dates.
Scoring
FanDuel
DraftKings
Yahoo DFS
Loading Pitching Game Log...
2020 MLB Game Log

Calculate Stats Over Time
Just click on any two dates.
Scoring
FanDuel
DraftKings
Yahoo DFS
Loading Pitching Game Log...
2019 MLB Game Log

Calculate Stats Over Time
Just click on any two dates.
Scoring
FanDuel
DraftKings
Yahoo DFS
Loading Pitching Game Log...
2018 MLB Game Log

Calculate Stats Over Time
Just click on any two dates.
Scoring
FanDuel
DraftKings
Yahoo DFS
Loading Pitching Game Log...
2017 MLB Game Log

Calculate Stats Over Time
Just click on any two dates.
Scoring
FanDuel
DraftKings
Yahoo DFS
Loading Pitching Game Log...
Minor League Game Log

Calculate Stats Over Time
Just click on any two dates.
Loading Minor League Pitching Game Log...
Pitching Appearances Breakdown
How many pitches does Trevor Williams generally throw?
What part of the game does Trevor Williams generally pitch?
% Games Reaching Innings Threshold
% Games By Number of Innings Pitched
Left/Right Pitching Splits
BAA
K
BB
H
HR
Since 2021

vs Left

.291
69
34
125
15
Since 2021

vs Right

.245
142
33
116
17
2023

vs Left

.287
15
8
31
4
2023

vs Right

.212
22
5
18
5
2022

vs Left

.319
13
9
44
6
2022

vs Right

.209
71
14
43
6
2021

vs Left

.272
41
17
50
5
2021

vs Right

.302
49
14
55
6
More Splits

→

View More Split Stats
Home/Away Pitching Splits
ERA
WHIP
IP
K/9
BB/9
Since 2021

Home

2.66
1.16
128.2
8.5
2.4
Since 2021

Away

5.47
1.56
102.0
7.9
2.8
2023

Home

3.09
1.11
23.1
5.8
2.7
2023

Away

5.40
1.35
26.2
7.4
2.0
2022

Home

2.65
1.14
54.1
9.1
2.3
2022

Away

4.08
1.36
35.1
7.4
2.3
2021

Home

2.47
1.20
51.0
9.0
2.5
2021

Away

6.75
1.88
40.0
8.8
3.8
More Splits

→

View More Split Stats
Stat Review
How does Trevor Williams compare to other starting pitchers?
This section compares his stats with all starting pitcher seasons from the previous three seasons (minimum 120 innings)*. The bar represents the player's percentile rank. For example, if the bar is halfway across, then the player falls into the 50th percentile for that stat and it would be considered average.
* Exit Velocity, Barrels/BBE %, Balls Hit 95+ MPH %, and Spin Rate are benchmarked against 2019 data (min 120 IP).
See here for more exit velocity/barrels stats
plus an explanation of current limitations with that data set.
K/BB

Strikeout to walk ratio.

K/9

Average strikeouts per nine innings.

BB/9

Average walks per nine innings.

HR/9

Average home runs allowed per nine innings.

Fastball

Average fastball velocity.

ERA

Earned run average. The average earned runs allowed per nine innings.

WHIP

Walks plus hits per inning pitched.

BABIP

Batting average on balls in play. Measures how many balls in play against a pitcher go for hits.

GB/FB

Groundball to flyball ratio. The higher the number, the more likely a pitcher is to induce groundballs.

Left On Base

The percentage of base runners that a pitcher strands on base over the course of a season.

Exit Velocity

The speed of the baseball as it comes off the bat, immediately after a batter makes contact.

Barrels/BBE

The percentage of batted ball events resulting in a Barrel. A Barrel is a batted ball with similar exit velocity and launch angle to past ones that led to a minimum .500 batting average and 1.500 slugging percentage.

Spin Rate

Spin Rate is the rate of spin on a baseball after it is released. It is measured in revolutions per minute (rpm).

Balls Hit 95+ MPH

The percentage of batted balls hit that met or exceeded the 95 MPH threshold.

Swinging Strike

The percentage of pitches that result in a swing and a miss.
Advanced Pitching Stats
Loading Advanced Pitching Stats...
Loading MLB Defensive Stats...
Our full team depth charts are reserved for RotoWire subscribers.
Subscribe Now
Recent RotoWire Articles Featuring Trevor Williams
See More
Past Fantasy Outlooks
2021
2020
2019
2018
2017
2016
2015
Williams spent the year in the Pirates' rotation eating innings, albeit in an unappetizing manner. He was especially burned by the long ball, surrendering 15 homers in 55.1 innings. The righty tried adjusting his arsenal, throwing fewer 91-mph fastballs while upping his slider, curveball and changeup usage a bit. The results were uninspiring as in addition to gopheritis, Williams' 11.1 K-BB% was 21st lowest among pitchers with at least 50 innings pitched. Pittsburgh released Williams, and at press time, he's still looking for a new home. PNC Park significantly suppresses homers, so Williams will be hard-pressed to get that issue under control elsewhere. With volatile ratios and a low strikeout rate, Williams has minimal fantasy appeal. In today's landscape, the roster spot is better utilized on a dominant reliever.
Williams showed flashes of brilliance in 2018, but failed to make much of a fantasy impact in 2019, finishing the year with a 5.38 ERA and 1.41 WHIP around injuries. His struggles can be attributed in part to the juiced ball (27 home runs allowed, up from 15 in 2018). The right-hander found success in 2018 by limiting the amount of hard hits allowed, and even with the homer issues last year he was still better than average in terms of average exit velocity and hard-hit rate. His fastball velocity ticked up to 91.3 mph in 2019, which helped bring his swinging-strike rate up to 10.4%. With the MLB run environment impossible to predict, Williams is merely on the margins of fantasy relevance; his windows of efficiency proved unsustainable in a juiced-ball year. Williams will look to right the ship and his home park should help in that regard, but he's barely even in the glob until further notice.
Williams provided the most confounding success story of the 2018 season. During a nine-start run from July to early September (54.2 innings), Williams posted an incredible 0.66 ERA and 1.06 WHIP. He achieved those marks despite just a 34:17 K:BB over that stretch. It was a microcosm of his season as a whole; while Williams obviously wasn't that successful over the course of the full year, he still finished with great ratios despite an utter lack of dominance. Williams barely cracked 90 mph on average with his fastball, which he threw 70% of the time, and induced swinging strikes at a career-low 7.9% clip. So how on Earth did he do it? And is it sustainable? In short: by inducing a lot of manageable, playable contact, and no. His opponents' 85.6 mph average exit velocity was among the lowest in baseball, but without the other numbers in the underlying profile, there's simply not much to get excited about. Don't pay for last year's numbers.
Williams settled in as a back-end starter for the Pirates last season, providing an innings-eating option every fifth day. For those who were careful to use him as a home streamer, Williams returned plenty of value with good ratios at PNC Park (3.45 ERA, 1.17 WHIP) despite a very limited ability to induce whiffs. Away from Pittsburgh, his ERA was more than a run-and-a-half higher (4.96), but it's interesting to note that his ability to keep the ball in the park did not change much in more hitter-friendly parks. Looking forward, Williams should have an inside track to begin the year back in the Bucs' rotation. In order to stay there and to remain effective, he'll need to improve his changeup, as opposing hitters hit .328 with a .547 slugging percentage against that offering last season, and ideally, improve his walk rate as well, as there isn't much in his current arsenal that suggests a spike in strikeouts is on the horizon barring the addition of a new pitch or an increase in velocity.
Williams' postgame embrace with his dad following his first appearance (and win) was one of the more emotional scenes in baseball last year. The 25-year-old started in 19 of his 20 Triple-A games, going 9-6 with a 2.53 ERA and 1.20 WHIP in 110.1 innings. A 74:30 K:BB serves as a reminder he'll probably never be a big strikeout guy. For the Pirates, Williams fell off after his debut. He gave up 11 earned runs, 16 hits and four walks in 9.2 innings, striking out four. Based off his strong Triple-A showing and the fact he served as informal trade compensation when Miami hired away pitching guru Jim Benedict from Pittsburgh, Williams will likely receive ample opportunities to prove his worth as a serviceable innings-eater for the Bucs.
As a sinkerballer with the body to eat innings, there is more pitchability than stuff in Williams' profile, but he still has a good enough repertoire to succeed at the back of a big league rotation. The 23-year-old righty has a solid four-pitch mix but has yet to showcase above average command in the upper levels of the minors. Williams posted a 4.00 ERA, 1.38 WHIP, and a 88:36 K:BB over 117 innings at Double-A Jacksonville before earning a late-season promotion to Triple-A New Orleans where he made three solid starts. He was traded to the Pirates in the offseason -- a move that might lessen his chances of joining a big league rotation this summer, given the disparity of pitching depth between the two organizations. Look for the Pirates to use Williams as rotation depth in the second half of 2016.
A second-round selection in 2013, Williams totaled 144 innings pitched across two minor league levels, reaching Double-A for the final three starts of the season. It was another positive step for Williams, who does not come as highly regarded as many of the other prospect arms in the Marlins' system, as he continues put the results on tape. The right hander went 8-7 with a 3.13 ERA and 1.35 WHIP over 26 starts during the 2014 season, his first full season of professional ball. Though Williams is fairly hittable and has posted mediocre strikeout totals so far, he shows solid command and consistent effort. Williams should slot into the rotation at Double-A Jacksonville out of spring training as he continues to progress up the ladder.
More Fantasy News