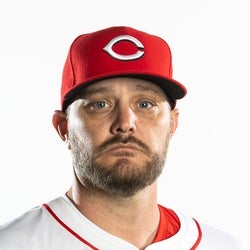 15-Day IL
Injury Lat
Est. Return 6/16/2023
Rest-of-Season Projections
2023 Fantasy Outlook
Miley's debut was delayed a month with elbow inflammation. He managed three starts before returning to the IL with a shoulder issue. Mikey returned for one start in June before heading back to the IL with more shoulder woes. This time, Miley was put on the 60-day IL until early September. He made five starts down the stretch but ended the season with an oblique issue. Between IL stints, Miley mustered only 37 innings in eight starts and one relief appearance. His numbers resembled those of his renaissance 2021 campaign, so there is feint hope he can be a fantasy asset heading into his 36-year-old season. The key is a groundball rate nestled around 50% for the past few seasons, helping Miley keep the ball in the yard. It has to be in a streaming capacity to protect a low 17.6% strikeout rate. The veteran lefty rejoined the Brewers on a minor-league deal, and manager Craig Counsell's propensity to utilize a six-man rotation during busy parts of the schedule could give Miley a better chance of staying healthy.
Read Past Outlooks
$Signed a one-year, $3.5 million contract with the Brewers in January of 2023. Contract includes $10 million mutual option ($1 million buyout) for 2024. Contract includes an additional $150,000 for 75 innings pitched, $350,000 for 100 innings pitched and $500,000 for 125 innings pitched and $500,000 for 150 innings pitched. Contract includes $250,000 bonus if traded.

ANALYSIS
Miley was diagnosed in mid-May with a posterior serratus strain near the left side of his rib cage and given a 6-to-8 week timetable, but the veteran southpaw told reporters Friday that he believes it will wind up being just a four-week overall IL stay. That would put him on track to return to the Brewers' rotation around the middle of June. He had pitched to a 3.67 ERA, 1.13 WHIP and 24:9 K:BB across 41.2 innings (eight starts) prior to the injury.
Read More News
Pitching Stats
Loading Pitching Stats...
2023
2022
2021
2020
2019
2018
2017
2023 MLB Game Log

Calculate Stats Over Time
Just click on any two dates.
Scoring
FanDuel
DraftKings
Yahoo DFS
Loading Pitching Game Log...
2022 MLB Game Log

Calculate Stats Over Time
Just click on any two dates.
Scoring
FanDuel
DraftKings
Yahoo DFS
Loading Pitching Game Log...
2021 MLB Game Log

Calculate Stats Over Time
Just click on any two dates.
Scoring
FanDuel
DraftKings
Yahoo DFS
Loading Pitching Game Log...
2020 MLB Game Log

Calculate Stats Over Time
Just click on any two dates.
Scoring
FanDuel
DraftKings
Yahoo DFS
Loading Pitching Game Log...
2019 MLB Game Log

Calculate Stats Over Time
Just click on any two dates.
Scoring
FanDuel
DraftKings
Yahoo DFS
Loading Pitching Game Log...
2018 MLB Game Log

Calculate Stats Over Time
Just click on any two dates.
Scoring
FanDuel
DraftKings
Yahoo DFS
Loading Pitching Game Log...
2017 MLB Game Log

Calculate Stats Over Time
Just click on any two dates.
Scoring
FanDuel
DraftKings
Yahoo DFS
Loading Pitching Game Log...
Minor League Game Log

Calculate Stats Over Time
Just click on any two dates.
Loading Minor League Pitching Game Log...
Pitching Appearances Breakdown
How many pitches does Wade Miley generally throw?
What part of the game does Wade Miley generally pitch?
% Games Reaching Innings Threshold
% Games By Number of Innings Pitched
Left/Right Pitching Splits
BAA
K
BB
H
HR
Since 2021

vs Left

.214
47
9
43
4
Since 2021

vs Right

.264
130
64
192
22
2023

vs Left

.256
10
1
11
1
2023

vs Right

.231
14
8
27
5
2022

vs Left

.147
7
1
5
0
2022

vs Right

.241
21
13
26
3
2021

vs Left

.218
30
7
27
3
2021

vs Right

.276
95
43
139
14
More Splits

→

View More Split Stats
Home/Away Pitching Splits
ERA
WHIP
IP
K/9
BB/9
Since 2021

Home

3.33
1.25
124.1
6.7
2.2
Since 2021

Away

3.45
1.30
117.1
6.4
3.3
2023

Home

4.09
1.14
22.0
4.5
1.2
2023

Away

3.20
1.12
19.2
5.9
2.7
2022

Home

2.25
0.75
24.0
7.5
1.9
2022

Away

4.85
2.08
13.0
5.5
6.2
2021

Home

3.45
1.44
78.1
7.1
2.5
2021

Away

3.30
1.22
84.2
6.7
3.0
More Splits

→

View More Split Stats
Stat Review
How does Wade Miley compare to other starting pitchers?
This section compares his stats with all starting pitcher seasons from the previous three seasons (minimum 120 innings)*. The bar represents the player's percentile rank. For example, if the bar is halfway across, then the player falls into the 50th percentile for that stat and it would be considered average.
* Exit Velocity, Barrels/BBE %, Balls Hit 95+ MPH %, and Spin Rate are benchmarked against 2019 data (min 120 IP).
See here for more exit velocity/barrels stats
plus an explanation of current limitations with that data set.
K/BB

Strikeout to walk ratio.

K/9

Average strikeouts per nine innings.

BB/9

Average walks per nine innings.

HR/9

Average home runs allowed per nine innings.

Fastball

Average fastball velocity.

ERA

Earned run average. The average earned runs allowed per nine innings.

WHIP

Walks plus hits per inning pitched.

BABIP

Batting average on balls in play. Measures how many balls in play against a pitcher go for hits.

GB/FB

Groundball to flyball ratio. The higher the number, the more likely a pitcher is to induce groundballs.

Left On Base

The percentage of base runners that a pitcher strands on base over the course of a season.

Exit Velocity

The speed of the baseball as it comes off the bat, immediately after a batter makes contact.

Barrels/BBE

The percentage of batted ball events resulting in a Barrel. A Barrel is a batted ball with similar exit velocity and launch angle to past ones that led to a minimum .500 batting average and 1.500 slugging percentage.

Spin Rate

Spin Rate is the rate of spin on a baseball after it is released. It is measured in revolutions per minute (rpm).

Balls Hit 95+ MPH

The percentage of batted balls hit that met or exceeded the 95 MPH threshold.

Swinging Strike

The percentage of pitches that result in a swing and a miss.
Advanced Pitching Stats
Loading Advanced Pitching Stats...
Loading MLB Defensive Stats...
Our full team depth charts are reserved for RotoWire subscribers.
Subscribe Now
Recent RotoWire Articles Featuring Wade Miley
See More
Past Fantasy Outlooks
2022
2021
2020
2019
2018
2017
2016
2015
2014
2013
2012
2011
Miley started out the 2021 season on fire with a 2.79 ERA and 1.17 WHIP through the first half. He then struggled in the second half for the Reds, but there wasn't one single event to cause the decline. He missed time due to foot and neck injuries. Additionally, his decline began around the same time the foreign substance ban went into effect. While his second-half 4.19 ERA wasn't a killer, his lack of strikeouts (6.6 K/9) and high WHIP (1.56) dragged down his value. He's now with the Cubs and likely to start the season in their rotation. As the lefty enters his mid-30's, there is little chance for any upside. Instead, consider Miley a streaming option.
Miley's tenure as a Reds starter never really got out of the starting blocks. He got hammered in spring training, and then after the shutdown he landed on the IL after one start due to a groin injury. He then made three short appearances, the last of which landed him on the IL again, this time with a shoulder injury. That forced Miley to miss another month, allowing time for only two relief appearances to close out the season. He'll hit the reset button and hope to win a spot in the Reds rotation, though between Tyler Mahle, Michael Lorenzen and Tejay Antone, a spot might not be there for him.
Miley was a relative bargain for the Astros in 2019, signing on for one year and $4.5 million. In 33 starts, he worked his way to a 3.98 ERA and 1.34 WHIP with a 140:61 K:BB across 167.1 innings. Opposing teams left the yard against Miley more often in 2019 (1.24 HR/9), but it wasn't detrimental to his overall success. Miley won't blow away hitters with a cut fastball that sits around 87-88 mph, but he has done a good job of inducing soft and medium contact in recent years, a lot of it on the ground and playable. He fell apart late last seaon with a 16.68 ERA in September, which led to him being left off the ALCS and World Series rosters. Despite this, the Reds shelled out $15 million for two years of the southpaw's services. It's not a great park fit, but the 33-year-old Miley is now reunited with pitching coach Derek Johnson. Under Johnson's tutelage, Miley enjoyed the best season of his career in 2018.
Few would have expected Miley to be one of the most effective starters on a team with the most wins in the NL last year, but that's exactly what happened, as Miley was stellar over 16 starts in his first season with the Brewers. It seemed he was close to pitching his way out of the league after back-to-back seasons with ERAs well north of 5.00. The Brewers' front office, manager Craig Counsell and former pitching coach Derek Johnson deserve a ton of credit for squeezing more out of Miley than anyone thought possible, though a bet on Miley keeping it up is ill advised -- the estimators all say he overachieved a great deal (3.59 FIP, 4.30 xFIP, 4.66 SIERA). Forced to settle for a minor-league contract last offseason, Miley recently landed a one-year, $4.5 million deal with Houston, where he figures to slot in as the fourth or fifth starter, likely turning lineups over twice before giving way to the bullpen.
Miley heads to free agency at age 31 coming off his worst professional season, which is a tough hand to be dealt at this stage of his career. The veteran southpaw turned in a career-worst 5.61 ERA to go with a WHIP of 1.73 that was the worst among pitchers with at least 150 innings pitched. Erratic command (5.3 BB/9) led to pitch counts piling up early on Miley and resulted in constant short outings. From the start of May through the end of the season, Miley had just six outings of six-plus innings in 27 starts. To Miley's credit, he lived up to his billing as an effective arm against lefties, as he limited left-handed batters to a .230 average and surrendered just five extra-base hits (one homer). There's some notion that pitching in Baltimore led to Miley's subpar numbers, but he was actually better at Camden Yards (5.07 ERA, 10 HR allowed) than he was on the road (6.05 ERA, 14 HR allowed). In all, Miley is a durable lefty capable of offering rotation depth, but he may need to settle for a minor-league deal.
Miley was traded to the Mariners before the 2016 season where he spent the majority of the year before being traded again, this time to the Orioles at the end of July. After logging over 190 innings in each of his previous four seasons, Miley was less durable during his age-29 campaign, and spent a few weeks on the disabled list with the Mariners. At the time he was traded to the Orioles, the veteran left-hander had posted a 4.98 ERA and 1.35 WHIP over 112 innings. The move to the AL East wasn't kind to Miley, as he performed no better with the Orioles. In 11 starts with Baltimore, he posted a 6.17 ERA (3.79 FIP), 1.57 WHIP and a 55:15 K:BB over 54 innings. He also fell victim to a career-worst .328 BABIP and 69 percent left-on-base rate, which factor into his lower FIP. As the only lefty in the starting rotation, Miley will again be relied upon to eat innings for the Orioles in 2017, though his fantasy floor and ceiling are incredibly low.
The Red Sox got the Wade Miley as advertised after trading for him and signing him to a three-year contract: a ground-ball inducing innings-eater that keeps his team in a game for six-plus innings. Miley was second on the staff with a 2.6 WAR (FanGraphs) and finished with a 4.46 ERA in 193.2 innings over 32 starts. His strikeout rate dropped, but so did his walk and home run rates. It wasn't always pretty, but Miley's 11 wins led a staff that was dogged by a shoddy bullpen. He could get them into the seventh inning with a chance, but was supported by a bullpen that was a league-worst -1.4 WAR (FanGraphs) and allowed 1.4 HR/9. Miley was traded to the Mariners over the offseason, where he will earn the benefit of a more pitching-friendly ballpark than the one that he is leaving behind in Boston.
Miley deserved a better fate in 2014. A stable skillset from his 3.55 ERA season in 2013 along with a career-best 21 percent strikeout rate should've secured at least a repeat, but instead Miley suffered a couple implosion starts as well as some bad luck en route to a 4.34 ERA. The problem is that when he's bad, he is really bad because of his propensity for the long ball. The increased strikeout rate, the back-to-back years with a better than 50 percent groundball rate, and his durability are enough to be enticing. He has put together three straight years of sub-4.00 FIPs and when you neutralize his home run rate, the outlook is even brighter, but there is real concern that this is more of a flaw in the skillset than bad luck. He did manage to keep the ball in the yard in 2012, so it's not completely out of the question for him to do so again. Let's treat him as a speculative pick in deeper mixed and AL-only leagues with the potential for a lot more if it all comes together with Boston.
Miley had another solid year in the desert to follow up his appearance on the National League All-Star team in 2012. Despite his 2.9 BB/9, most of his numbers either stayed virtually the same or regressed ever so slightly. A career-high 52 percent groundball rate is a good sign for someone who makes half his starts in Chase Field, and it was a significant improvement from his 2012 rate. Further, that ability to keep the ball in the yard helped offset an increase his walk rate, which jumped from 1.7 to 2.9 BB/9 last season. As it lines up, Miley is a lock for the middle of the Diamondbacks' 2014 rotation.
Miley surprised many by locking down a place in the D-Backs' rotation before going on to make the National League All-Star Team and finish second in the Rookie of the Year voting to Bryce Harper. From start to finish, Miley was the best starter in the Arizona rotation last season, parlaying a career-low 1.7 BB/9 into a 3.33 ERA and 1.182 WHIP. Left-handed hitters put up a meager .200/.238/.292 line against Miley, and a big part of his success can be attributed to his ability to limit hard contact, and more specifically, home runs despite pitching half of his games at Chase Field. Throughout his time in the minors, Miley has consistently kept the ball in the park despite spending seasons in the California League and Pacific Coast League. All things considered, the reliance on contact and lack of dominant stuff make Miley a risky bet to repeat his rookie numbers, but he could remain undervalued in deeper formats thanks to the low strikeout rate (6.7 K/9) and seemingly modest upside.
Miley was in the process of repeating his solid, albeit unspectacular 2010 season through 14 starts before things seemed to click for him after a promotion to Triple-A Reno. He carried a career-high 9.3 K/9IP over 54.1 innings with the Aces down the stretch while cutting his walk rate down to his 2009 level. The difference appeared to be aggressive hitters, as the opposition at Reno chased his pitches outside the strike zone at a 20 percent clip (more than double his rate at Mobile). Now 25, Miley figures to be a part of the D-Backs' plans in 2012, but it's likely that the organization's plethora of young pitching talent will lead him to a swing role in the near future. As a starter, he projects as a No. 4 or No. 5 type, but it may take a trade to keep him from bullpen duty in the long run.
Miley has been old for his level throughout his minor league stops, but he didn't dissolve when the D-Backs subjected him to the Double-A acid test last season at age 23. In fact, his strikeout rate jumped (7.9 K/9IP) and his walk rate fell (3.5 BB/9IP) after his promotion to that level. Miley has always done a good job of keeping the ball in the park, a skill that will prove useful at Chase Field regardless of whether he remains a starter or eventually transitions to relief work. A big league debut in 2011 isn't out of the question, but a full-time rotation spot seems to be at least a full season away as he'll need to continue improving the consistency of his secondary offerings before he gets a look in Arizona.
More Fantasy News