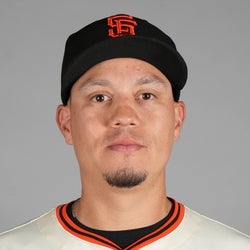 Rest-of-Season Projections
2023 Fantasy Outlook
Flores set a career high with 151 games and 602 plate appearances, but it was ill-timed as he registered his worst season since 2018. Flores' 17.1% strikeout rate was below league average, but it was his worst ever. His BABIP is generally low, but last season's .246 was a career nadir. He managed to club a career-high 19 homers, but that was compiling, not skills. Like most righthanded hitters, Flores hits southpaws better than righties, but last season he struggled with the platoon advantage, though he also fared worse than usual facing same-side pitching. Aside from less contact, Flores lofted a career-high 46% fly balls with declining exit velocity, which was the impetus for the drop in BABIP. There is a good chance Flores will play less this season, so if his skills revert to previous levels, his mediocre power and absence of speed has limited mixed league allure but can be useful in NL-only formats.
Read Past Outlooks
$Signed a two-year, $13 million contract extension with the Giants in September of 2022. Contract includes mutual option for 2025.

Three hits in Saturday's win
Flores went 3-for-4 with a double and two RBI in Saturday's 4-0 win over the Orioles.
ANALYSIS
Flores has seen his playing time steadily decline with
LaMonte Wade
at first base and
Casey Schmitt
holding down a regular role in the middle infield. Over his last 10 games, Flores went a meager 2-for-21 before breaking the slump Saturday. He's now at a .248/.299/.436 slash line with six home runs, 18 RBI, 15 runs scored and seven doubles through 44 contests. Flores appears to be the Giants' preferred first baseman versus southpaws, but he's stuck competing with
Blake Sabol
for time at designated hitter against righties.
Read More News
Batting Stats
2023
2022
2021
2020
2019
2018
2017
2023 MLB Game Log

Calculate Stats Over Time
Just click on any two dates.
Scoring
FanDuel
DraftKings
Yahoo DFS
Loading Batting Game Log...
2022 MLB Game Log

Calculate Stats Over Time
Just click on any two dates.
Scoring
FanDuel
DraftKings
Yahoo DFS
Loading Batting Game Log...
2021 MLB Game Log

Calculate Stats Over Time
Just click on any two dates.
Scoring
FanDuel
DraftKings
Yahoo DFS
Loading Batting Game Log...
2020 MLB Game Log

Calculate Stats Over Time
Just click on any two dates.
Scoring
FanDuel
DraftKings
Yahoo DFS
Loading Batting Game Log...
2019 MLB Game Log

Calculate Stats Over Time
Just click on any two dates.
Scoring
FanDuel
DraftKings
Yahoo DFS
Loading Batting Game Log...
2018 MLB Game Log

Calculate Stats Over Time
Just click on any two dates.
Scoring
FanDuel
DraftKings
Yahoo DFS
Loading Batting Game Log...
2017 MLB Game Log

Calculate Stats Over Time
Just click on any two dates.
Scoring
FanDuel
DraftKings
Yahoo DFS
Loading Batting Game Log...
Minor League Game Log

Calculate Stats Over Time
Just click on any two dates.
Loading Minor League Batting Game Log...
Batting Order Slot Breakdown
#1
#2
#3
#4
#5
#6
#7
#8
#9
#1
#2
#3
#4
#5
#6
#7
#8
#9
Left/Right Batting Splits
OPS
PA
HR
RBI
AVG
Since 2021

vs Left

.751
427
16
49
.252
Since 2021

vs Right

.731
761
27
94
.237
2023

vs Left

.759
71
4
10
.254
2023

vs Right

.688
79
2
9
.229
2022

vs Left

.707
207
6
20
.223
2022

vs Right

.711
395
13
51
.231
2021

vs Left

.803
149
6
19
.288
2021

vs Right

.770
287
12
34
.248
More Splits

→

View More Split Stats
Home/Away Batting Splits
OPS
PA
HR
RBI
AVG
Since 2021

Home

.785
589
23
82
.253
Since 2021

Away

.694
599
20
61
.232
2023

Home

.743
85
4
15
.244
2023

Away

.698
65
2
4
.237
2022

Home

.797
284
11
41
.248
2022

Away

.635
318
8
30
.212
2021

Home

.787
220
8
26
.264
2021

Away

.778
216
10
27
.260
More Splits

→

View More Split Stats
Stat Review
How does Wilmer Flores compare to other hitters?
This section compares his stats with all batting seasons from the previous three seasons (minimum 400 plate appearances)*. The bar represents the player's percentile rank. For example, if the bar is halfway across, then the player falls into the 50th percentile for that stat and it would be considered average.
* Exit Velocity and Barrels/PA % are benchmarked against 2019 data (min 400 PA) and Hard Hit Rate is benchmarked against last season's data (min 400 PA).
See here for more exit velocity/barrels stats
plus an explanation of current limitations with that data set.
BB/K

Walk to strikeout ratio

BB Rate

The percentage of plate appearances resulting in a walk.

K Rate

The percentage of plate appearances resulting in a strikeout.

BABIP

Batting average on balls in play. Measures how many of a batter's balls in play go for hits.

ISO

Isolated Power. Slugging percentage minus batting average. A computation used to measure a batter's raw power.

AVG

Batting average. Hits divided by at bats.

OBP

On Base Percentage. A measure of how often a batters reaches base. Roughly equal to number of times on base divided by plate appearances.

SLG

Slugging Percentage. A measure of the batting productivity of a hitter. It is calculated as total bases divided by at bats.

OPS

On base plus slugging. THe sum of a batter's on-base percentage and slugging percentage.

wOBA

Weighted on-base average. Measures a player's overall offensive contributions per plate appearance. wOBA combines all the different aspects of hitting into one metric, weighting each of them in proportion to their actual run value.

Exit Velocity

The speed of the baseball as it comes off the bat, immediately after a batter makes contact.

Hard Hit Rate

A measure of contact quality from Sports Info Solutions. This stat explains what percentage of batted balls were hit hard vs. medium or soft.

Barrels/PA

The percentage of plate appearances where a batter had a batted ball classified as a Barrel. A Barrel is a batted ball with similar exit velocity and launch angle to past ones that led to a minimum .500 batting average and 1.500 slugging percentage.

Expected BA

Expected Batting Average.

Expected SLG

Expected Slugging Percentage.

Sprint Speed

The speed of a runner from home to first, in feet per second.

Ground Ball %

The percentage of balls put in play that are on the ground.

Line Drive %

The percentage of balls put in play that are line drives.

Fly Ball %

The percentage of balls put in play that are fly balls.
Advanced Batting Stats
Loading Advanced Batting Stats...
Games By Position
Defensive Stats
Loading Games Played by Position...
Loading MLB Defensive Stats...
Batted Ball Stats
Loading Batted Ball Stats...
Stats Vs Upcoming Pitchers
Our full team depth charts are reserved for RotoWire subscribers.
Subscribe Now
Recent RotoWire Articles Featuring Wilmer Flores
See More
Kevin Payne digs into the Memorial Day MLB slate and finds his best bets and props to target, including a look at a certain Nolan Gorman prop.
Chris Bennett is looking to stack Pirates against struggling rookie Brandon Pfaadt and the Diamondbacks.
Kevin Payne checks out Thursday's short slate and sees value in a contrarian A's stack headlined by surprising slugger Brent Rooker.
Past Fantasy Outlooks
2022
2021
2020
2019
2018
2017
2016
2015
2014
2013
2012
2011
2010
2009
Flores provides some power and is not a drag in batting average while qualifying at three positions (1B, 2B, 3B). The deal is that the Giants normally used him in a platoon facing just lefties. He got a couple extended runs at second and third base when players were on the injured list, but once everyone was healthy, he went back into the short side of a platoon. Aside from fantasy leagues allowing daily moves and leagues with deep benches -- where he's a decent option -- Flores is tough to roster until he's in a full-time role. As for his talent, there are no signs of him aging, with power and contact skills right in line with his career numbers. If anything, his eye has improved with a career-high 9.4 BB% last season. Roster away when he's a regular.
Flores flashed his power stroke during a shortened 2020, leaving the yard 12 times in 55 games. He also finished with a .268/.315/.515 slash line, 32 RBI and one stolen base, hitting primarily in the top half of the lineup. Flores was an everyday player for the Giants in 2020, making 22 starts at DH, 14 at first base, 14 at the keystone and three at the hot corner. This versatility is an obvious upside, as it allows his bat to enter the lineup with consistency. After hitting just nine home runs over 89 contests in 2019, Flores' launch angle elevated to 19.6 degrees in 2020 (16.4 degrees in 2019), resulting in more fly balls, but also more deep flies. Prior to the 2020 season, it looked as though Flores was headed for a permanent platoon role wherever he went, but after appearing revitalized at the dish, he should be expected to receive plenty of opportunities to do damage in 2021.
Flores has the reputation for crushing southpaws, supported by 2019 in which he posted a .405 wOBA facing left-handers as compared to .329 against righties. The thing is, over the past three seasons, Flores' wOBA against lefties is .334 and .333 versus right-handers, illustrating the volatility of platoon splits. Last season, Flores hit .317, 50 points higher than his career. Five percent more line drives was the reason. However, five percent fewer flyballs cost Flores some power as he managed only nine homers in 285 plate appearances. The 28-year-old infielder was expected to play second base every day but was benched often early with Adam Jones' strong play forcing Ketel Marte back to second. He also was sidelined two months with a fractured foot. A free agent with defensive limitations and early-onset arthritis in both knees, Flores is likely to be a part-time player, relevant in single-league formats.
Flores has displayed a high level of statistical consistency. For the past few seasons, a double-digit homer total and a .260-ish batting average have been money in the bank for him, but there were some disturbing trends in 2018. A look at his ISO (SLG-BA) from 2014 through 2017 shows an annual increase and some thought that 2018 could be another level for Flores with increased playing time. He did get just over 60 more plate appearances than he did in 2017, but his ISO fell 67 points and his season ended with the diagnosis of early-onset arthritis in both knees. Flores' production is limited by the fact that he has been a below-average offensive producer against righties throughout his career as his slugging percentage is 65 points higher against lefties (.471) than against righties (.406). Flores ultimately landed with the Diamondbacks in free agency and is expected to take over at second base, pushing Ketel Marte to center field.
A gruesome HBP to the face in early September resulted in a broken nose and an early end to Flores' 2017 season. While that type of injury is obviously fluky, Flores also missed time with knee and rib problems, giving him a lengthy list of health issues in the span of a calendar year -- he underwent surgery in October of 2016 to repair a broken hamate bone in his wrist. His performance when on the field was decent from a fantasy perspective, but Flores once again posted an OBP below .320, and the lack of on-base skills (4.8 percent career BB%) along with the injuries give Flores a significant amount of playing-time downside. He's a quality bench piece in leagues that allow daily lineup changes, as Flores can then be plugged in against all lefty starters (.314/.349/.620 against lefties over the past three seasons), but he's a tougher sell in traditional settings with weekly lineup periods. Most will want to leave him for the endgame.
Flores always seems to be without a regular job on Opening Day, but he always works his way into the lineup. It helps he plays all four infield positions, qualifying at each by June 10 last season, and mashes lefties. He'll enter 2017 only eligible at the corners and Flores has to contend with Jose Reyes for playing time, but keep in mind that all four of the Mets' projected infield starters have injury concerns. His skills are mixed-league worthy. Flores gets consistent loft on the ball -- his 45.0 percent flyball rate would have ranked 13th among qualifiers -- while maintaining a good contact rate, though all the flyballs have kept his BABIP down (ranging from .264 to .273 in his four seasons). Flores underwent surgery in October to remove part of the hamate bone in his wrist, but he is expected to be ready for spring training.
The image of a teary-eyed Flores prior to the non-waiver trade deadline in July may forever be the way he's remembered in the minds of Mets fans, but that otherwise forgettable July 29 game also served as a turning point in Flores' 2015 season. He hit .296/.329/.479 with six homers and 19 RBI over his final 44 games, after a four-month run in which he hit .249/.281/.378 through 93 contests. Flores has always shown good pop for a middle infielder, but the 16 home runs he hit in the big leagues a year ago were backed by a very modest .408 slugging percentage. With the offseason acquisitions of Neil Walker and Asdrubal Cabrera, Flores will likely see his playing time fall in 2016 barring injuries around the infield, but he's a virtual lock to play regularly against lefties after crushing them at a .310/.355/.600 clip last season.
Maybe you have heard this story before: A New York prospect has not quite matched the hype. Hot take, right? Flores is only 375 plate appearances into his major league career, but he has hit .240/.275/.356 in that time while swinging at just about anything in the five-borough area. In the minors, the 23-year-old routinely hit for average, but he is still trying to do that at the major league level. He qualifies at shortstop in all leagues and also second base and third base, depending on your league eligibility rules. The thing is, we're still talking about a zero-category player who does not hit for power, does not run, and hits in the bottom of the order. His only upside is that the BABIP Gods could bless him with a good run and enable him to pull a .280 average out of the air.
Flores showed he could rake in the minors, but his lack of range and foot speed kept him at Triple-A Las Vegas. He finally received a promotion when David Wright was placed on the DL in early August after he batted 322/.358/.532 with 15 home runs and 86 RBI in 106 games with the 51s. Flores got off to a hot start in the majors, but twisted his ankle a week after his promotion and never seemed to regain his prior form. He saw minimal action after the injury, and received just 31 at-bats in September. The jury is out regarding his ability to play defensively in the majors, since Wright blocks him from becoming a regular at third base. Without a position, Flores may open 2014 back in the minors.
Flores is on the Mets' 40-man roster, but despite a solid 2012 campaign, the team opted not to call him up from Double-A Binghamton. He hit .317/.368/.594 with eight home runs and 33 RBI in 65 games for the B-Mets after posting a .289/.336/.459 line with 10 homers and 42 RBI in 64 games for High-A St. Lucie. The St. Lucie campaign was little surprise, as it was his third year at that level but his success at Double-A helped land him a prominent role back towards the top of the Mets' prospect lists. With David Wright locked in at third, look for Flores to be tried at second and left field. If his power continues to develop and he repeats the plate discipline strides he made last year, Flores should end up at Triple-A Las Vegas this season.
Flores spent 2011 at High-A St. Lucie, posting a disappointing .269/.309/.380 batting line with nine homers, 81 RBI and a 68:27 K:BB ratio in 516 at-bats over 133 games. Because of below-average foot speed and a larger frame, many major league scouts have projected that Flores eventually will change positions from shortstop to either third base or a corner outfield spot. Flores projects to add power as he matures, but he will only go as far as his plate discipline and future power take him, which right now are a major work in progress.
After spending all of 2009 at Low-A Savannah, Flores opened 2010 there again. Despite an up-and-down campaign. Flores showed enough to earn a promotion to High-A St. Lucie, where he hit .300 despite a lack of plate discipline. Flores posted just a 9:40 BB:K ratio at St. Lucie, which is not surprising as he was just 19 and the Florida State League is notorious for being tough on hitters. Flores had 11 HR, 84 RBI an 50 XBH between the two levels, showing why he is the Mets' top hitting prospect. He projects to fill-out as he matures, which along with his lack of a quick first step and range likely will move him away from shortstop, possibly to third or an outfield corner. Flores could challenge for a major-league job in 2012, but 2013 seems a more realistic timeframe.
After a solid 2008 season, Flores regressed somewhat in 2009 at Low-A Savannah to start 2009. The Mets might have moved him up the ladder a bit too quickly, as he was overmatched at times as an 18-year-old in A-ball. Flores has a quick bat and is expected to hit for power, including to the opposite field, as he fills out and matures, and is still regarded as a top prospect. He is a below-average runner, a situation that likely will worsen as he does get bigger, which is one reason why most scouts expect him to move from the middle infield to a corner infield or outfield position. Given the struggles that some of their prospects have had when advanced too quickly, the Mets may now choose to move younger players incrementally up the ladder, so look for Flores to either repeat Low-A or start 2010 at High-A St. Lucie.
Flores, who the Mets signed as a 16-year-old international free agent in August 2007, has advanced up the ladder quicker than anyone anticipated. Flores finished 2008 at Brooklyn of the New York-Penn League and could open 2009 at Low-A. He has power potential and makes good contact, though he could use some tightening of the strike zone, but at this point that's nitpicking given his youth and overall production. There are also questions about where he will end up defensively, due to his likelihood of filling out. Expect the Mets to push him considering their hurried philosophy demonstrated with other young players. Flores' fine year and future potential landed him at No. 29 on the end of season RotoWire Top 100 Prospects list.
More Fantasy News