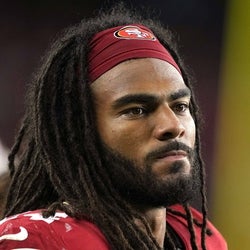 2022 Fantasy Outlook
The 2021 season was perhaps the toughest of Warner's career, as the normally invincible linebacker gave up more plays than usual. His IDP production actually benefited, with Warner posting a career-high 137 tackles on a career-low 932 snaps. Normally, he's the kind of linebacker who doesn't give up the catch, and even if he gives up the catch he makes the tackle before the first-down marker.
Read Past Outlooks
RANKS
#

IDP
$Signed a five-year, $95 million contract with the 49ers in July of 2021.

Racks up 130 tackles in 2022
Warner finished the regular season with 130 tackles (79 solo), two sacks and two turnovers forced across 17 games with the 49ers.
ANALYSIS
Warner turned in another premier IDP season from the Mike linebacking position. The 26-year-old has averaged 126.8 combined tackles over his five first seasons as a pro, and he is showing no signs of slowing anytime soon. Warner will return to San Francisco in 2023 and continue serving as the team's defensive captain up the middle.
Read More News
NFL Stats
2022 NFL Game Log

Calculate Stats Over Time
Just click on any two dates.
2021 NFL Game Log

Calculate Stats Over Time
Just click on any two dates.
2020 NFL Game Log

Calculate Stats Over Time
Just click on any two dates.
2019 NFL Game Log

Calculate Stats Over Time
Just click on any two dates.
2018 NFL Game Log

Calculate Stats Over Time
Just click on any two dates.
Snap Distribution / Depth Chart
2022 Fred Warner Split Stats
Loading NFL Split Stats...
Measurables Review
How do Fred Warner's measurables compare to other linebackers?
This section compares his draft workout metrics with players at the same position. The bar represents the player's percentile rank. For example, if the bar is halfway across, then the player falls into the 50th percentile for that metric and it would be considered average.
Recent RotoWire Articles Featuring Fred Warner
See More
Past Fantasy Outlooks
Warner would be higher on the list for real-life rankings, but he's such an exceptional coverage linebacker that what would-be tackles for other linebackers turn into incomplete passes when thrown his way. He has reliably hovered around the 120 tackles in three distinguished NFL seasons, which tends to slot him into LB2 territory for most IDP formats. Unfortunately, unless fantasy leagues devise a "punts forced" category he probably won't be a top-5 IDP linebacker, though it's easy to make the case that he's just that for the 49ers on the real football field.
Warner is an elite real-life linebacker thanks to his remarkable coverage abilities, though as an IDP his football skills almost work against him - he'd be a better IDP if he gave up more catches and piled up the resulting tackle opportunities. This means he's best thought of as an LB2 in most formats. Over his last two years, he totaled 242 tackles while playing 2,061 snaps - a solid tackle rate but one that threatens to trend toward the 100-tackle mark (rather than 120-plus) if his snap count slips below 1,000. Warner doesn't blitz much to offset this with just 1.5 sacks in the last two years, and while it wouldn't surprise if he goes on an interception spree one day, it's generally risky to chase turnovers with IDPs.
Warner was a revelation for the 49ers last season, filling in admirably for the released Reuben Foster. The 2018 third-round pick racked up 124 tackles (85 solo) with six passes defended over 16 games while taking over as the team's middle linebacker. This offseason, San Francisco signed Kwon Alexander to a large contract to take over at the Mike, but Warner will remain on the field for most situations playing alongside him at the Will position. The former may eat into the sophomore's tackle totals a bit, but Warner should still post IDP-relevant totals in 2019.
More Fantasy News