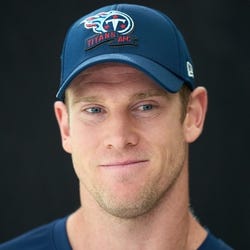 2022 Fantasy Outlook
Tannehill seemingly was in an enviable spot last summer with a third big-time playmaker in Julio Jones joining A.J. Brown and Derrick Henry. But after finishing QB7 in fantasy in 2020, he dropped to QB12 thanks to injuries to the Big Three, an inevitable regression in red-zone TDs and too many turnovers. Jones, Brown and Henry missed a combined 20 games, playing five games together, and Tannehill's red-zone TD rate fell from 38.2 percent in 2020 to closer to league average at 24.1 percent. Turnovers were particularly costly, as he threw 14 interceptions (three more in a playoff loss) and lost four of his career-high-tying 10 fumbles. Perhaps no surprise then, the team drafted QB Malik Willis in the third round this year. Tannehill's job is safe, for now, but the WR corps took a big hit as the team released Jones and traded Brown. Replacing them are Robert Woods, who is coming off an ACL tear, first-round WR Treylon Burks and TE Austin Hooper. Perhaps Tannehill cuts his INTs and fares a bit better in the red zone, but his attempts will always be limited on a run-heavy team, and a lot of Tannehill's fortune is riding on Burks' development.
Read Past Outlooks
$Signed a four-year, $118 million contract with the Titans in March of 2020.

Tannehill will open offseason practices as the starting quarterback while second-round pick
Will Levis
is third on the depth chart, but Titans head coach Mike Vrabel said that "whatever happens after that will be up to the players,"
Ian Rapoport of NFL Network
reports.
ANALYSIS
While Vrabel's comments are essentially just coach-speak, other coaches have been known to make stronger commitments to the veteran option -- at least verbally, if not in practice. Widely expected to be a first-round pick, Levis dropped to the second round and went 33rd overall after the Titans traded up to get him. That's early enough to threaten Tannehill's job security, but it's also worth noting that the Titans passed on Levis at 11th overall (instead drafting offensive lineman
Peter Skoronski
) and didn't trade back into the first round for him. It all makes for a complicated situation, as the team doesn't seem especially confident in Levis becoming a franchise signal-caller but will probably want to see him play at some point before next year's quarterback-rich draft. On top of that, Tannehill has a non-guaranteed $27 million base salary in 2023 -- the final year of his contract -- which means he could still be released before the start of the season if the Titans love what they see from Levis on the practice field this spring/summer. Tannehill said Wednesday that the "whole system is pretty much different" with Tim Kelly replacing Todd Downing as offensive coordinator in Tennessee, per
Paul Kuharsky of PaulKuharsky.com
.
Read More News
NFL Stats
Fantasy/Red Zone Stats
See red zone opportunities inside the 20, 10 and 5-yard lines along with the percentage of time they converted the opportunity into a touchdown.
Loading Fantasy/Red Zone Stats...
Advanced NFL Stats
How do Ryan Tannehill's 2022 advanced stats compare to other quarterbacks?
This section compares his advanced stats with players at the same position. The bar represents the player's percentile rank.
The longer the bar, the better it is for the player.
Bad Pass %

The percentage of passes that were considered to be poorly thrown.

Avg Target Depth

The average number of yards thrown per pass by the quarterback – including incomplete passes.

Sack Rate

The percentage of dropbacks where the quartback was sacked. The longer the bar below, the more often they are sacked relative to other QBs.

Avg Receiver YAC

The average number of yards after the catch that receivers gained on passes thrown by this quarterback.

Receiver Drop %

The percentage of passes dropped by receivers on passes thrown by this quarterback. The longer the bar, the more sure-handed his receivers have been.
Loading Advanced NFL Stats...
2022
2021
2020
2019
2018
2017
2016
2022 NFL Game Log

Calculate Stats Over Time
Just click on any two dates.
Scoring
Standard
PPR
Half PPR
FanDuel
DraftKings
Yahoo DFS
2021 NFL Game Log

Calculate Stats Over Time
Just click on any two dates.
Scoring
Standard
PPR
Half PPR
FanDuel
DraftKings
Yahoo DFS
2020 NFL Game Log

Calculate Stats Over Time
Just click on any two dates.
Scoring
Standard
PPR
Half PPR
FanDuel
DraftKings
Yahoo DFS
2019 NFL Game Log

Calculate Stats Over Time
Just click on any two dates.
Scoring
Standard
PPR
Half PPR
FanDuel
DraftKings
Yahoo DFS
2018 NFL Game Log

Calculate Stats Over Time
Just click on any two dates.
Scoring
Standard
PPR
Half PPR
FanDuel
DraftKings
Yahoo DFS
2017 NFL Game Log

Calculate Stats Over Time
Just click on any two dates.
Scoring
Standard
PPR
Half PPR
FanDuel
DraftKings
Yahoo DFS
2016 NFL Game Log

Calculate Stats Over Time
Just click on any two dates.
Scoring
Standard
PPR
Half PPR
FanDuel
DraftKings
Yahoo DFS
Snap Distribution / Depth Chart
2022 Ryan Tannehill Split Stats
Loading NFL Split Stats...
How do Ryan Tannehill's measurables compare to other quarterbacks?
This section compares his draft workout metrics with players at the same position. The bar represents the player's percentile rank. For example, if the bar is halfway across, then the player falls into the 50th percentile for that metric and it would be considered average.
Recent RotoWire Articles Featuring Ryan Tannehill
See More
Past Fantasy Outlooks
2021
2020
2019
2018
2017
2016
2015
2014
2013
2012
Tannehill's efficiency regressed significantly in first full season as Tennessee's starter, after making 10 starts in 2019 and leading the league with 9.6 YPA. Some decline was to be expected, considering he attempted 195 more passes. Perhaps not expected was Tannehill's lack of downfield passing. In 10 starts in 2019, he attempted 39 passes of 20-plus yards. In 16 starts last season, he attempted … 39. His 8.1 percent downfield rate ranked 31st in the league. Tannehill still finished QB7 in fantasy thanks in part to a career-high 33 TD passes, which was the result of a 38.2 red-zone TD pass percentage. Regression toward the league-average 26.3 percent seems in order (though that was the assumption entering last season after 37.8 percent in the red zone in 2019). What's more, Tannehill had seven rushing TDs, six of which came on just 10 red-zone rushes, easily the highest rate among QBs with double-digit red-zone attempts. Tannehill lives on play-action passing and led the league in play-action rate at 32.7 percent last year, posting the fifth-highest YPA at 9.8. It helps having Derrick Henry in the backfield. But Henry is a double-edged sword for Tannehill, whose attempts are capped on a run-heavy team (50.5 percent last season, 3rd). That should be the case again this year with new OC Todd Downing, who was promoted from TEs coach and plans to continue Arthur Smith's offense of play-action off a zone running scheme. But the Titans upgraded at wide receiver, replacing Corey Davis with Julio Jones. With Jones opposite A.J. Brown, Tannehill has two big-time playmaker wideouts, making him a viable option in single-QB leagues.
Tannehill arrived in Tennessee last year looking to revive his career. Truth be told, it went better than even he probably imagined. Tannehill entered the season as the backup to Marcus Mariota but was named the starter by Week 7, and proceeded to throw 22 TDs in 10 starts, finishing as the league's top-rated passer (117.5). Tannehill, who took over a 2-4 team and went 7-3 as the starter en route to the AFC championship game, led the league in YPA (9.6), ranked second in TD pass percentage (7.7) and ranked third in completion percentage (70.3). He dominated on intermediate routes — 25.2 percent of his attempts were in the 11-20-yard range (2nd), where he led the league with both a 70.8 completion percentage and 14.1 YPA. And he was particularly effective on play action, ranking first in YPA (14.8) and third in completion percentage (78.4). Tannehill also dominated in the red zone with 14 TD passes, though his 37.8 TD pass percentage is a good bet to regress closer to league average (23.2). Tannehill not only garnered NFL Comeback Player of the Year honors but also a four-year, $118 million contract. He returns this year with some solid weapons, including WR A.J. Brown, who's coming off a 1,000-yard rookie season, and 247-pound RB Derrick Henry, who softens defenses for the play action. The downside of a 300-carry RB, though, is fewer passing attempts, and Tannehill's not likely to see much more than 500. That, coupled with a likely regression in efficiency (his previous high YPA was 7.7), makes it hard for Tannehill to be a viable starter in single-QB leagues.
The eighth overall pick in the 2012 draft, Tannehill never fulfilled expectations in Miami and now he's off to Tennessee to back up Marcus Mariota. It's not a bad landing spot, considering Mariota's inability to stay healthy. Mariota has never played a full season in his four years in the league, and when he has been healthy he hasn't exactly cemented himself in the job, meaning Tannehill has a good shot to see the field at some point this season. If he does, he'll have a quality cast of players around him. The Titans signed slot man Adam Humphries to join No. 1 receiver Corey Davis and then drafted 226-pound wide receiver A.J. Brown in the second round. Tight end Delanie Walker is expected to be ready for training camp after last year's season-ending ankle injury, and Derrick Henry and Dion Lewis give Tannehill solid targets out of the backfield.
Last we saw Tannehill, he was limping off the practice field in August with a torn ACL. He originally injured his left knee toward the end of 2016, but decided against surgery. He wasn't so lucky the second time around. The good news is the injury happened early in the football year, allowing him to return healthy for the Dolphins' offseason program. After watching Jay Cutler struggle through last season, Tannehill gets a second shot in coach Adam Gase's offense. His first year, 2016, was up and down, but he showed growth in the last eight games before the injury hit, completing 69.1 percent of his attempts and trimming his interceptions after throwing seven in the first five games of the season. Jarvis Landry left this offseason, but the team added Albert Wilson and Danny Amendola, which gives Tannehill a solid group of receivers, including holdovers DeVante Parker and Kenny Stills. Here's hoping Tannehill can reach beyond the mediocrity of his career to this point, but it's probably not worth taking a chance on in most fantasy leagues.
Tannehill continues to tease. Entering 2015, he was coming off his best season and looked poised to make the jump many expected of such a physically gifted player. Instead, he flopped. Then last year, respected offensive mind Adam Gase was named head coach, filling Tannehill boosters with more hope. After that didn't pan out, the new line is that in Tannehill's second year with Gase, he should be more comfortable in the offense and better equipped to take advantage of the weapons around him. Maybe. Or maybe he's just a mediocre quarterback, destined to languish as waiver-wire fodder in fantasy leagues. To be fair, he showed signs of growth last season, posting career highs in completion percentage (6th) and YPA (8th), but those marks didn't lead to more fantasy production. He missed the last three games of the regular season and the playoff loss to Pittsburgh due to ACL and MCL sprains, but declared himself 100 percent healthy at the first week of OTAs this spring. He then re-injured the knee early in training camp and ultimately opted for the season-ending surgery that some suggest he should have undergone last year. Jay Cutler was signed to fill in as the starter, with Matt Moore still handling backup duties.
Heading into his fourth NFLseason big things were expected from Tannehill, but despite his impressive set of physical tools, his play took a large step back. The Dolphins' coaching turmoil certainly didn't help matters, but he struggled getting the ball downfield or into the end zone and relied too much on short routes along with Jarvis Landry's ability to pick up yards after the catch. A weak offensive line and his own lack of pocket awareness also led to 45 sacks (third most) as former offensive coordinator Bill Lazor restricted Tannehill's opportunities to roll out or scramble, taking away one of his strengths and leading to a career-low in rushing yards for the QB. New head coach Adam Gase is expected to bring an up-tempo scheme that gives the signal-caller more freedom to change plays at the line, but Tannehill will also need to play better between the whistles to secure his future with the franchise. With two impressive young targets in Landry and 2015 first-round pick DeVante Parker, not to mention an improved offensive line that added Laremy Tunsil at 13th overall in the draft, Tannehill has no more excuses in 2016.
Tannehill finally realized some of the potential last season that spurred the Dolphins to draft him with the eighth overall pick in 2012. He improved his accuracy and decision-making, completing 66.4 percent of his passes with a 27:12 TD:INT ratio after a 59.4 completion percentage and 36:30 ratio his first two seasons. His rushing yards, fifth among quarterbacks, vaulted him into the top 10 of QB fantasy scoring. But Tannehill still has yet to reach 7.0 YPA, ranking 28th last season, because he struggles with the deep ball. He had just 10 completions and one touchdown on 41 attempts of 21-plus yards, and 29 quarterbacks had more completions of 40-plus yards than Tannehill's four. Part of his problem stems from a low release point, but he also doesn't get enough time in the pocket for deep routes to develop — he was third in sacks last year with 46, and his three-year total of 136 is 20 more than the next closest QB. Perhaps the biggest factor, a lack of playmakers, was addressed as the Dolphins overhauled the receiving corps. Sure-handed Jarvis Landry returns after catching 75 percent of his targets as a rookie last season, but gone are Brian Hartline, Charles Clay and the disgruntled Mike Wallace. In their place are speedster Kenny Stills (career 11.7 YPT), veteran Greg Jennings, 6-5 tight end Jordan Cameron and first-round pick DeVante Parker (6-3, 209, 4.45 40). That should be enough for Tannehill's upward trend to continue, and with better protection, he could take an even bigger step.
The 2013 season couldn't have been much more embarrassing for the Dolphins, but Tannehill managed to show slight improvement despite the massive distraction brought on by the Richie Incognito/Jonathan Martin debacle. He doubled his touchdown passes from 12 to 24 but didn't show much big-play ability, failing to hit the 250-yard, two-touchdown mark in 14 games. While he's unlikely to turn into a world beater in 2014, Tannehill should show at least slight improvement as he heads into his third year. He should have better chemistry with receiver Mike Wallace after a second offseason of working together, and the free agency addition of running back Knowshon Moreno should stabilize the running game and give Tannehill a reliable receiving option out of the backfield. After being sacked an unacceptable 58 times in 2013, Tannehill will likely benefit from a significantly improved offensive line since Miami added left tackle Branden Albert in free agency and right tackle Ja'Wuan James in the first round of the draft. However, with no standout red-zone targets among his pass catchers, Tannehill's fantasy value appears to have limited upside.
Tannehill isn't discussed much as an up-and-coming quarterback, but perhaps he should be. Most overlook Tannehill's 2012 rookie season because he tossed only 12 touchdowns, but Tannehill (6.8 YPA) was nearly as efficient in Miami as Andrew Luck (7.0) in Indianapolis, with arguably less talent around him. And a quarterback's YPA is actually the most predictive stat of future performance. More importantly, the Dolphins did everything in their power to surround Tannehill with more talent. They signed wide receivers Mike Wallace and Brandon Gibson and tight end Dustin Keller in the offseason. They'll complement Brian Hartline to provide Tannehill with a supporting cast that far exceeds what he had last season. Wallace's speed alone should give Tannehill more opportunities to connect on big plays, while also opening up things underneath for Miami's other options. Moreover, while Tannehill's not going to run read-option or take off on the ground 100 times a year, he is still mobile enough to give you a few fantasy points per game as a runner. His 211 rushing yards and two rushing touchdowns in 2012 added 33 points, the equivalent of more than eight passing touchdowns in most leagues.
Taken in the 1st round of the 2012 NFL draft Tannehill is the Dolphins QB of the future. When that future occurs is up to debate but it will more than likely be at some point during the middle of the season. Tannehill not only will need to get a firm grip of new coach Joe Philbin's offense but will also have to deal with not having any elite receivers on the team. Still he could be an interesting play in keeper or dynasty leagues as things should only improve for him in the upcoming seasons.
More Fantasy News