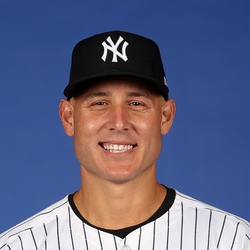 Rest-of-Season Projections
2023 Fantasy Outlook
Likely by design to take advantage of the short right field porch in Yankee Stadium, Rizzo hit flyballs at a career high 49% clip. It worked as he pulled 16 of his 32 long balls into the right field seats in the Bronx, though Rizzo's 18.4% strikeout rate was its highest since 2014. More flyballs helped sink Rizzo's BABIP to .216, the lowest mark of his career, though the resulting power fueled a 132 wRC+, his best since 2019. Rizzo's contact and hard-hit rates remain solid, but he's approaching the age where skills start to decline. He re-upped with the Yankees on a two-year deal with a buyout/club option for a third year, so the short porch will once again be a bullseye. The elephant in the room is Rizzo has been one of the most shifted players and with the new rules, he could benefit. A buying opportunity exists if the room is ignoring this, but it's unwise to anticipate a huge difference.
Read Past Outlooks
$Signed a two-year, $34 million contract with the Yankees in November of 2022. Contract includes $17 million team option ($6 million buyout) for 2025.

Notches three hits Tuesday
Rizzo went 3-for-5 with a double, a run and an RBI in Tuesday's extra-inning victory against Baltimore.
ANALYSIS
Rizzo was the only player on either side with three hits in the contest, and his fifth-inning double knocked in a run. The veteran first baseman has three multi-hit performances over his past four games, batting .444 (8-for-18) with two homers and six RBI over that span. He's on pace for one of his best campaigns at the plate, slashing .310/.388/.533 with 11 long balls, 29 RBI and 30 runs through 209 plate appearances.
Read More News
Batting Stats
2023
2022
2021
2020
2019
2018
2017
2023 MLB Game Log

Calculate Stats Over Time
Just click on any two dates.
Scoring
FanDuel
DraftKings
Yahoo DFS
Loading Batting Game Log...
2022 MLB Game Log

Calculate Stats Over Time
Just click on any two dates.
Scoring
FanDuel
DraftKings
Yahoo DFS
Loading Batting Game Log...
2021 MLB Game Log

Calculate Stats Over Time
Just click on any two dates.
Scoring
FanDuel
DraftKings
Yahoo DFS
Loading Batting Game Log...
2020 MLB Game Log

Calculate Stats Over Time
Just click on any two dates.
Scoring
FanDuel
DraftKings
Yahoo DFS
Loading Batting Game Log...
2019 MLB Game Log

Calculate Stats Over Time
Just click on any two dates.
Scoring
FanDuel
DraftKings
Yahoo DFS
Loading Batting Game Log...
2018 MLB Game Log

Calculate Stats Over Time
Just click on any two dates.
Scoring
FanDuel
DraftKings
Yahoo DFS
Loading Batting Game Log...
2017 MLB Game Log

Calculate Stats Over Time
Just click on any two dates.
Scoring
FanDuel
DraftKings
Yahoo DFS
Loading Batting Game Log...
Minor League Game Log

Calculate Stats Over Time
Just click on any two dates.
Loading Minor League Batting Game Log...
Batting Order Slot Breakdown
#1
#2
#3
#4
#5
#6
#7
#8
#9
#1
#2
#3
#4
#5
#6
#7
#8
#9
Left/Right Batting Splits
OPS
PA
HR
RBI
AVG
Since 2021

vs Left

.919
361
18
49
.303
Since 2021

vs Right

.776
985
47
118
.227
2023

vs Left

1.058
50
1
7
.419
2023

vs Right

.843
172
10
24
.273
2022

vs Left

.893
140
10
21
.233
2022

vs Right

.791
408
22
54
.220
2021

vs Left

.901
171
7
21
.325
2021

vs Right

.733
405
15
40
.214
More Splits

→

View More Split Stats
Home/Away Batting Splits
OPS
PA
HR
RBI
AVG
Since 2021

Home

.878
702
37
97
.266
Since 2021

Away

.748
644
28
70
.228
2023

Home

1.069
124
8
20
.367
2023

Away

.670
98
3
11
.227
2022

Home

.840
302
19
45
.222
2022

Away

.790
246
13
30
.225
2021

Home

.831
276
10
32
.267
2021

Away

.740
300
12
29
.231
More Splits

→

View More Split Stats
Stat Review
How does Anthony Rizzo compare to other hitters?
This section compares his stats with all batting seasons from the previous three seasons (minimum 400 plate appearances)*. The bar represents the player's percentile rank. For example, if the bar is halfway across, then the player falls into the 50th percentile for that stat and it would be considered average.
* Exit Velocity and Barrels/PA % are benchmarked against 2019 data (min 400 PA) and Hard Hit Rate is benchmarked against last season's data (min 400 PA).
See here for more exit velocity/barrels stats
plus an explanation of current limitations with that data set.
BB/K

Walk to strikeout ratio

BB Rate

The percentage of plate appearances resulting in a walk.

K Rate

The percentage of plate appearances resulting in a strikeout.

BABIP

Batting average on balls in play. Measures how many of a batter's balls in play go for hits.

ISO

Isolated Power. Slugging percentage minus batting average. A computation used to measure a batter's raw power.

AVG

Batting average. Hits divided by at bats.

OBP

On Base Percentage. A measure of how often a batters reaches base. Roughly equal to number of times on base divided by plate appearances.

SLG

Slugging Percentage. A measure of the batting productivity of a hitter. It is calculated as total bases divided by at bats.

OPS

On base plus slugging. THe sum of a batter's on-base percentage and slugging percentage.

wOBA

Weighted on-base average. Measures a player's overall offensive contributions per plate appearance. wOBA combines all the different aspects of hitting into one metric, weighting each of them in proportion to their actual run value.

Exit Velocity

The speed of the baseball as it comes off the bat, immediately after a batter makes contact.

Hard Hit Rate

A measure of contact quality from Sports Info Solutions. This stat explains what percentage of batted balls were hit hard vs. medium or soft.

Barrels/PA

The percentage of plate appearances where a batter had a batted ball classified as a Barrel. A Barrel is a batted ball with similar exit velocity and launch angle to past ones that led to a minimum .500 batting average and 1.500 slugging percentage.

Expected BA

Expected Batting Average.

Expected SLG

Expected Slugging Percentage.

Sprint Speed

The speed of a runner from home to first, in feet per second.

Ground Ball %

The percentage of balls put in play that are on the ground.

Line Drive %

The percentage of balls put in play that are line drives.

Fly Ball %

The percentage of balls put in play that are fly balls.
Advanced Batting Stats
Loading Advanced Batting Stats...
Games By Position
Defensive Stats
Loading Games Played by Position...
Loading MLB Defensive Stats...
Batted Ball Stats
Loading Batted Ball Stats...
Stats Vs Upcoming Pitchers
Our full team depth charts are reserved for RotoWire subscribers.
Subscribe Now
Recent RotoWire Articles Featuring Anthony Rizzo
See More
Past Fantasy Outlooks
2022
2021
2020
2019
2018
2017
2016
2015
2014
2013
2012
2011
Rizzo had a second consecutive disappointing season, but this time it was a full six-month campaign. His strikeout rate was typically low, but his batted ball profile yielded a low HR/FB and low BABIP. His flyball rate increased, but it was mitigated by a low HR/FB, resulting in many flyball outs. Further, Rizzo's line drive rate declined, doing more damage to his BABIP. Rizzo's average exit velocity was a career-high, though his mark on flyballs dipped a bit, explaining the low HR/FB. It appears Rizzo's underlying metrics are still mostly intact; he just had a prolonged stretch of bad luck on batted balls. A batting average rebound is likely, though Rizzo may fall short of a full bounce back in power. The good news is, after two down seasons, the market has soured on Rizzo, so the cost of acquisition is significantly discounted.
When models of consistency do not perform to expected levels, it is always frustrating, whether it be when the erstwhile laptop does not boot up on first attempt or when Rizzo stinks out of nowhere. For the past five seasons, we've been able to bank a solid average, 25-plus homers and 90-plus RBI with a handful of steals as we build the rest of our roster around his stability. Prorating his 2020 numbers would have gotten the desired homers, but the run production was way down as most of the roster around him had issues, and his batting average was a career worst. We hadn't seen numbers this bad since his sophomore slump in 2012. Like many hitters, fastballs were a problem in 2020 for Rizzo as his average against them dropped 103 points from 2019 while his slugging fell 220 points. We must lean on the track record here rather than let 60 games outweigh the previous 600 games. Pending free agency is a big motivator; buy back in.
There's nothing particularly exciting or sexy about drafting Rizzo, but he's one of the most consistent run producers in the game. While 27 home runs don't look great in a record-setting home-run season, he maintained a sub-15% K-rate and boosted his BB%, resulting in an OBP over .400 for the first time in his career. In total, his offensive contributions added up to a 141 wRC+, which put him 13th among qualified hitters. He's not a barrel rate darling, but Rizzo had a .391 xwOBA (16th, min. 100 PA), and his xBA was even higher than his actual average. Only three players have driven in more runs than Rizzo over the last five seasons (Nolan Arenado, Edwin Encarnacion, Nelson Cruz), and he has not fallen short of 600 PA since his first year with the Cubs in 2012. Throw in 5-to-10 stolen bases -- nothing to sneeze at in today's game -- and you have a fine building block for any fantasy team.
Heading into last draft season, conventional wisdom suggested Rizzo's strong health and bankable power made him one of the safer early-round building blocks, but that narrative won't be quite as prevalent anymore. Rizzo wasn't a bust, but his 25 homers were disappointing after he hit 31 or 32 between 2014 and 2017. His 74 runs -- aided by a month-long stay in the leadoff spot -- were also 15 fewer than he recorded in any of the prior four years. Rizzo's nadir came in April, during which the Cubs played a schedule littered with rainouts and poor-weather games. As the weather heated up, so did Rizzo's bat, as he slashed .329/.420/.550 and supplied 13 of his homers after the break. Inclement early-season weather remains a potential issue, but Rizzo actually owns a higher career wRC+ in the first half (134) than the second (126). That offers hope that last year's early slump was anomalous.
Rizzo has been remarkably consistent over the past three seasons, but don't let the carbon-copy counting stats fool you into thinking he's completely plateaued as a player; there was some skill growth in 2017. He improved his strikeout and walk rates roughly three percentage points each way, lifting his BB/K to 1.01 -- his previous career high was 0.74 -- which was the fifth-best mark in baseball. Rizzo's .397 xwOBA, up from .368 in 2016, ranked 12th among 301 players with at least 250 at-bats. He added almost 50 points to his OPS against lefties and Rizzo hit for power at Wrigley Field (15 homers). There's no need to overthink this one; Rizzo is a rock solid second-round pick, and a case can be made that he should sneak inside the first.
Coming off consecutive 30-home-run seasons, Rizzo entered the year with lofty expectations and met them. He tied his career high of 32 big flies and set new career highs in RBI and batting average. While he was unable to replicate the 17 steals he put up in 2015, it now seems like a crazy anomaly considering he only has 19 steals over his five major league seasons excluding that season. Rizzo is clearly one of the league's better power hitters, finishing in the top 20 in slugging percentage each of the last three seasons. He's also a consistently disciplined hitter, taking at least 73 walks each of the last four seasons. At 27 years old, Rizzo is entering his prime and figures to be hitting in the middle of a potent lineup for years to come considering the plethora of young hitting talent the Cubs have. While he won't be the first fantasy pick, Rizzo won't last long on draft boards in 2017.
What do you want from your fantasy first baseman? How about 30 home runs, 90 runs, 90 RBI and 10 stolen bases? Or a slash line of .282/.387/.519? That's more or less what Rizzo has averaged the last two seasons, and he's just 26 and in the heart of a strong lineup. He's walked at least 70 times three years in a row, and his career-high 17 stolen bases last year was a pleasant surprise. Sure, Paul Goldschmidt does everything a bit better than Rizzo, but Goldschmidt does everything better than everybody. Rizzo might be the second first baseman off the board in fantasy drafts this year, and he should have his first 100-run/100-RBI season as long as he stays healthy.
Though the Cubs have a lot of young offensive talent, many of them with prodigious power, most struggle to get on base. Not so with Rizzo, who drew 73 walks last year and finished with a team-high .386 on-base percentage. Oh, and he also led the team in home runs, RBI, runs, slugging percentage, and OPS. Despite all the young players coming up at the ranks at seemingly every position, the Cubs don't have a can't-miss prospect at first base (the closest thing to it is Dan Vogelbach), meaning Rizzo's job is safe. Once those other young hitters start getting on base, expect the 25-year-old Rizzo to start racking up 100-RBI seasons.
On a team without many offensive bright spots, Rizzo has to qualify as such. Now just 24, Rizzo already has 39 home runs under his belt as he set career highs in pretty much every counting category in 2013. Unfortunately, with the increase in playing time came a serious decrease in his slash line: .233/.323/.419 is just not going to cut it for the offensive leader of any team, but the numbers are even more glaring at a position like first base. His 76:127 BB:K ratio isn't bad for a slugger, but the .259 BABIP just crushed him last year. Expect his numbers to bounce back as the BABIP normalizes and he continues his growth. Otherwise, it could be another long season at Wrigley.
After annihilating Triple-A for a couple months, Rizzo got the call to the bigs and posted a .900-plus OPS in June and July. An August slump was mitigated by a solid September, and it looks like Rizzo could be the team's first baseman for the next half-decade or more. Rizzo could stand to take a few more walks, but his contact rate was good for a 22-year-old home-run hitter in the majors, and there's little doubt about his power. It's likely a question of when not if with this future star, and he should be locked into the No. 3 spot in the Cubs' lineup after settling in there upon arrival and delivering a .820 OPS last season.
Rizzo was the biggest chip coming back to the Padres in the Adrian Gonzalez deal and was considered to be the team's first baseman of the future. He possess tremendous raw power, great bat speed, and exhibits quality patience at the plate. After hitting .331/.404/.652 with 26 home runs at Triple-A over just 413 plate appearances, the Padres brought him up to the majors. To say that his cup of coffee with the team was anything but cold and bitter would be an understatement. Over 153 plate appearances in the show, Rizzo hit just one home run and posted a woeful .281 OBP despite a solid 13.7 percent walk rate. His 70 percent contact rate was brutal, and it had many experts wondering how much of his minor league totals were inflated by the hitter-friendly parks in the PCL, not to mention how Petco stifling left-handed power would translate to his overall production. However, Rizzo caught a break this winter as he was dealt to the Cubs, a far better hitting environment in which to operate. Rizzo will likely begin the season at Triple-A, as the Cubs give veteran minor league Bryan LaHair a shot. But a strong showing from Rizzo there could see him up in the majors at any point this season, especially if LaHair struggles.
Rizzo emerged over the past two seasons as Boston's top power prospect, a view that was cemented with 25-homer season between High-A Salem and Double-A Portland in 2010. He became the first 20-year-old to hit 20 homers in the Double-A Eastern League since 1998. His development since overcoming Hodgkin's Lymphoma in 2008 is remarkable and made him a valuable prospect, eventually landing him in Boston's deal with San Diego for Adrian Gonzalez. He has a good approach at the plate, though he could work deeper counts, and is ready as a defender at first base. He's viewed as a high-character guy and good teammate, and appears headed to become the Padres' everyday first baseman in 2012.
More Fantasy News