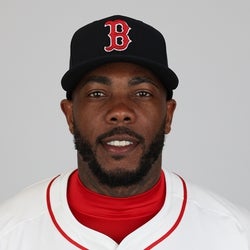 2023 Fantasy Outlook
After still showing signs of dominance during the 2021 season, last year proved that Chapman's days of being an elite closer are probably over. The southpaw was limited to just 36.1 innings after two trips to the IL, first for an Achilles injury, then for a leg infection that developed after getting a tattoo. Chapman struggled when healthy, as his 4.46 ERA, 1.43 WHIP and 26.9% strikeout rate were the worst marks of his career. Combine the latter with a bloated 17.5% walk rate that would have been the worst among relievers if he pitched enough innings to qualify, his K-BB percentage was merely in the single digits at 9.4%. The 35-year-old still throws hard, averaging 97.7 mph on his 4-seamer, but there may not be a huge market for the free-agent. Chapman was left off the Yankees playoff roster after missing a team workout and may be more of a headache at this point of his career than an asset.
Read Past Outlooks
$Signed a one-year, $3.75 million contract with the Royals in January of 2023.

Chapman had his next scheduled Cactus League appearance pushed from Wednesday to Thursday due to wet conditions,
Anne Rogers of MLB.com
reports.
ANALYSIS
Rainstorms blew threw Arizona on Wednesday afternoon and the Royals didn't want to risk an on-field mishap with their new high-leverage reliever. Chapman, signed to a one-year, $3.75 million contract in January, has recorded eight strikeouts through four innings this spring.
Read More News
Pitching Stats
Loading Pitching Stats...
2022
2021
2020
2019
2018
2017
2022 MLB Game Log

Calculate Stats Over Time
Just click on any two dates.
Scoring
FanDuel
DraftKings
Yahoo DFS
FantasyDraft
Head2Head
Loading Pitching Game Log...
2021 MLB Game Log

Calculate Stats Over Time
Just click on any two dates.
Scoring
FanDuel
DraftKings
Yahoo DFS
FantasyDraft
Head2Head
Loading Pitching Game Log...
2020 MLB Game Log

Calculate Stats Over Time
Just click on any two dates.
Scoring
FanDuel
DraftKings
Yahoo DFS
FantasyDraft
Head2Head
Loading Pitching Game Log...
2019 MLB Game Log

Calculate Stats Over Time
Just click on any two dates.
Scoring
FanDuel
DraftKings
Yahoo DFS
FantasyDraft
Head2Head
Loading Pitching Game Log...
2018 MLB Game Log

Calculate Stats Over Time
Just click on any two dates.
Scoring
FanDuel
DraftKings
Yahoo DFS
FantasyDraft
Head2Head
Loading Pitching Game Log...
2017 MLB Game Log

Calculate Stats Over Time
Just click on any two dates.
Scoring
FanDuel
DraftKings
Yahoo DFS
FantasyDraft
Head2Head
Loading Pitching Game Log...
Minor League Game Log

Calculate Stats Over Time
Just click on any two dates.
Loading Minor League Pitching Game Log...
Pitching Appearances Breakdown
How many pitches does Aroldis Chapman generally throw?
What part of the game does Aroldis Chapman generally pitch?
% Games Reaching Innings Threshold
% Games By Number of Innings Pitched
Left/Right Pitching Splits
BAA
K
BB
H
HR
Since 2020

vs Left

.129
40
15
12
1
Since 2020

vs Right

.199
121
55
54
14
2022

vs Left

.162
11
6
6
0
2022

vs Right

.198
32
22
18
4
2021

vs Left

.116
22
7
5
1
2021

vs Right

.200
75
31
31
8
2020

vs Left

.077
7
2
1
0
2020

vs Right

.200
14
2
5
2
More Splits

→

View More Split Stats
Home/Away Pitching Splits
ERA
WHIP
IP
K/9
BB/9
Since 2020

Home

4.73
1.50
51.1
14.4
7.7
Since 2020

Away

2.72
1.11
53.0
13.6
4.4
2022

Home

5.06
1.75
16.0
11.8
9.6
2022

Away

3.98
1.18
20.1
9.7
4.9
2021

Home

4.71
1.53
28.2
15.7
8.2
2021

Away

1.95
1.08
27.2
15.3
3.9
2020

Home

4.05
0.75
6.2
14.9
1.4
2020

Away

1.80
1.00
5.0
19.8
5.4
More Splits

→

View More Split Stats
Stat Review
How does Aroldis Chapman compare to other relievers?
This section compares his stats with all relief pitcher seasons from the previous three seasons (minimum 30 innings)*. The bar represents the player's percentile rank. For example, if the bar is halfway across, then the player falls into the 50th percentile for that stat and it would be considered average.
* Exit Velocity, Barrels/BBE %, Balls Hit 95+ MPH %, and Spin Rate are benchmarked against 2019 data (min 30 IP).
See here for more exit velocity/barrels stats
plus an explanation of current limitations with that data set.
K/BB

Strikeout to walk ratio.

K/9

Average strikeouts per nine innings.

BB/9

Average walks per nine innings.

HR/9

Average home runs allowed per nine innings.

Fastball

Average fastball velocity.

ERA

Earned run average. The average earned runs allowed per nine innings.

WHIP

Walks plus hits per inning pitched.

BABIP

Batting average on balls in play. Measures how many balls in play against a pitcher go for hits.

GB/FB

Groundball to flyball ratio. The higher the number, the more likely a pitcher is to induce groundballs.

Left On Base

The percentage of base runners that a pitcher strands on base over the course of a season.

Exit Velocity

The speed of the baseball as it comes off the bat, immediately after a batter makes contact.

Barrels/BBE

The percentage of batted ball events resulting in a Barrel. A Barrel is a batted ball with similar exit velocity and launch angle to past ones that led to a minimum .500 batting average and 1.500 slugging percentage.

Spin Rate

Spin Rate is the rate of spin on a baseball after it is released. It is measured in revolutions per minute (rpm).

Balls Hit 95+ MPH

The percentage of batted balls hit that met or exceeded the 95 MPH threshold.

Swinging Strike

The percentage of pitches that result in a swing and a miss.
Advanced Pitching Stats
Loading Advanced Pitching Stats...
Loading MLB Defensive Stats...
Our full team depth charts are reserved for RotoWire subscribers.
Subscribe Now
Recent RotoWire Articles Featuring Aroldis Chapman
See More
Past Fantasy Outlooks
2022
2021
2020
2019
2018
2017
2016
2015
2014
2013
2012
2011
2010
Chapman appeared to return to peak form to open 2021 as he didn't even allow an earned run until May 23. Unfortunately, the wheels came off the bus in June as the hurler posted an 11.42 ERA and 2.77 WHIP during the month and didn't correct course until after the All-Star break. Chapman rebounded in the second half to finish the season with 30 saves in 34 chances and a respectable 3.36 ERA. His 39.9% strikeout rate ranked fourth among qualified relievers, but his 15.6% walk rate was third-worst, which led to a career-low 1.31 WHIP. Chapman still brought plenty of heat, throwing 13% of his pitches 100-mph or greater with an average fastball at 98.3-mph. However, it appears he's entering the final year of his contract with the Yankees on the downswing of his career. Chapman should still be serviceable in the saves department, but many other closers will approach 70-plus innings while he will likely top out in the mid-50s.
Fantasy managers who drafted Chapman to anchor their 2020 relief corps were no doubt let down when the veteran closer managed a meager three saves during the abbreviated campaign. An early-season bout with COVID-19 kept him off the field until Aug. 17. The flamethrowing southpaw needed only two outings to shake the rust from the long layoff, finishing the season by allowing a single earned run and striking out 20 batters across 10.2 innings over his final 11 appearances. All told, Chapman had an absurd 48.9 K% and that suggests the six-time All-Star has plenty left in the tank, as does the fact that opposing batters hit a paltry .095 against his four-seamer. Despite his advancing age -- he'll be 33 come spring training -- Chapman remains one of the hardest throwers in the game and should again rank among the upper echelon of closers.
Chapman continued his run as one of baseball's top closers last season, tying for third in the majors with 37 saves and ranking fifth among qualified relievers with a 2.28 FIP. While his fastball velocity was slightly down from 2018, he continued to average over 100 mph on his sinker and his 36.2 K% placed 12th among relief pitchers. Chapman's penchant for throwing heat again led to a below-average walk rate, but it is notable that his 10.6 BB% was a significant improvement over the 14.2% mark he posted the previous season. Importantly, the southpaw remained healthy all year, racking up his highest innings-pitched total (57.0) in three seasons after stints on the injured list in both 2017 and 2018. Age and a lengthy career as one of baseball's hardest-throwing pitchers will catch up to Chapman eventually, but until he begins to show significant signs of regression, he is safe to trust as a top-tier closer.
In his age-30 season, Chapman posted the fifth-lowest FIP among qualified relievers (2.09), but there are some yellow flags in the profile. First off, he lost more than a full tick off his fastball. He avoided any issues with the shoulder that cost him time in 2017, but Chapman dealt with a knee injury throughout most of the summer. While he was able to pitch through it for a stretch, Chapman eventually hit the DL and missed a month due to left knee tendinitis. His K-rate leaped a whopping 11 percentage points to 43.9% (his highest since 2014), but Chapman experienced a big uptick in walks. His 14.2% walk rate was the second-highest mark of his career. For close to a decade now, Chapman has succeeded in challenging hitters, but if his fastball continues to trend downward, he gets hit a little bit and has to nibble a little more, the results could suffer in a big way. Keep in mind that the Yankees have alternatives should Chapman struggle.
Chapman's return to the Yankees did not go as smoothly as expected in the first year of his five-year, $86 million deal. He finished 2017 with the lowest strikeout rate of his career (12.3 K/9, 32.9 percent) and even lost his job as the closer for a brief stretch during the second half of the season. His removal from the ninth-inning role closely followed a hamstring injury that surfaced around the middle of August. Additionally, he lost more than a month in the first half due to inflammation in his rotator cuff. Looking ahead, there are a few reasons to be encouraged. First, Chapman fanned 41.5 percent of the batters he faced in September, proving that he belonged back in the closer role as the Yankees entered the postseason. Second, he was very effective in the playoffs as well, allowing one earned run in eight innings while finishing with a 16:2 K:BB. Finally, even with the injuries, he didn't lose velocity. Chapman should remain in the top tier of closers entering 2018.
Chapman missed 30 games due to suspension at the outset of 2016 following a domestic violence incident at his home during the offseason. He recorded his first save as a Yankee in his second appearance with the club in early May and proceeded to reel off a stretch with 44 strikeouts in 31.1 innings before he was shipped to the Cubs in July. Chapman immediately became the preferred ninth-inning option in Chicago, and his dominance with the Cubs included a 1.01 ERA and 0.82 WHIP to go with a 46:10 K:BB over 26.2 innings. Despite the time lost with his suspension, Chapman piled up 36 saves in 39 chances, while posting ratios in the neighborhood of his previous career-bests with the Reds in 2012. Now 29, Chapman still lights up the radar gun with triple-digit velocity, while keeping hitters off-balance with his high-80s slider. After returning to the Yankees via free agency, Chapman will be among the first closers off the board on draft day.
Chapman has struck out more than 40 percent of the batters he's faced for four consecutive years now, while walking just 11.9% of the hitters he's faced over the last two years. Opposing hitters have hit below .200 for four years in a row as well. But all of his on-field accomplishments were overshadowed this offseason when the Reds attempted to trade him to the Dodgers, only to see the trade get overturned due to an incident where Chapman was accused of domestic violence. A deal to the Yankees was later completed, and then Chapman was hit with a 30-game suspension from the commissioner's office, which he accepted. This will keep Chapman out until the second week of May, and Andrew Miller will presumably handle the ninth inning until that time. Make sure to discount Chapman at least a couple rounds, but he should still be an elite fantasy reliever when he is finished serving his suspension.
Somehow Chapman found a way to be more dominant in 2014 than he had ever been before. He struck out a record 52.4% of the batters he faced, averaging 100.3 mph on his fastball, a full 2.0 mph faster than in 2013. He did all of that despite the scary spring training head injury that forced him to miss the first five weeks of the season. If Chapman has a weakness, it's his command -- he walked 12.0% of the batters he faced. Chapman is still evolving as a pitcher, too. He added a changeup (throwing it 6.7% of the time) and threw his slider more often (24.5%, as opposed 14.6 in 2013). The only question is how early do you want to take the plunge, and if you do get him, how do you support him with other pitchers?
For the second offseason in a row, Chapman's role hasn't yet been determined. Former manager Dusty Baker was the primary impediment to the plan to move Chapman to the starting rotation (though Chapman himself didn't seem to be sold on the idea -- whether he was always uncertain or whether Baker pushed him in that direction is up for debate), and now that Bryan Price has taken over as the manager, that door remains open. One thing seems likely -- even if Chapman closes, his usage won't be as rigid as it was last season, when often it was "save situation or bust" -- the Reds lost six extra-innings games where Chapman never got into the game. When he got on the mound, Chapman had a few hiccups but was typically dominant again, carrying a 15.8 K/9. His walk rate and home-run rate both trickled upward, and on occasion he struggled with his secondary offerings.
Chapman finished 2012 with a fantastic season as the Reds' closer. The Reds plan to convert Chapman to a starter for 2013 with Jonathan Broxton taking over as closer, but plenty of durability questions remain. He went through a dead-arm period in September despite the Reds taking great pains not to overextend him, plus he was shut down in the fall of 2011 at the Arizona Fall League when the Reds tried to stretch him out. Moreover, there's a pretty good argument that the Reds benefit the most by him pitching so well in high-leverage situations. The transition will be interesting to watch and the Reds plan to cap his innings and have him start between 25-30 games. With his excellent strikeout potential, he should be a very tempting player on draft day.
Chapman's primary issue this upcoming season is the same as it was entering 2011 - what is his role? The Reds wanted to transition him back to a starting role, but he experienced shoulder soreness in the Arizona Fall League after two outings and was shut down for winter, not pitching at all in Puerto Rico after being slated for a starting role there. When Chapman was healthy in 2011, he was dominant, but when he was off a little he was off a lot. The end result was a 71:41 K:BB and a 3.60 ERA over only 50 innings. The Reds absolutely need to find a way to better maximize his value, whether it be as a starter or as a high-leverage reliever. Another year of the same will be a waste of a tremendous asset. He won't be used as a closer, with the Reds signing Ryan Madson to fill that role in January.
What is Chapman's ultimate role with the Reds? Right now he's still in the bullpen, as the top set-up man, but he could either start for the Reds this year or could replace closer Francisco Cordero. Because the Reds already have six viable starter candidates, Chapman is more likely to stick in the bullpen for another year. There's some concern about Chapman's stamina should he transition back to starting, and obviously his velocity won't peak as high if he does get stretched out. Either way, his tremendous fastball (MLB record 105 mph) and slider will continue to wow crowds and confound opposing hitters. He should have value even if he doesn't close or start for the Reds in 2011.
Chapman may be the top international pitching prospect in the world. A lefty with a fastball that's reportedly been clocked at 102 mph, he was viewed as one of Cuba's top players before he defected last July. At age 21, he's seen as having tremendous upside and drew attention from many MLB teams, and eventually signed with the Reds. However, he may need to spend a full season in the minors before he's ready to face major league hitters. In his only test against major league hitters, he had a 5.68 ERA in 6.1 innings for Cuba in the 2009 World Baseball Classic - but did regularly hit 100 mph. He'll battle for a final rotation spot this spring.
More Fantasy News