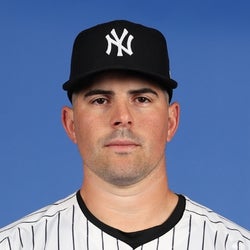 Out
Injury Forearm
Est. Return 4/18/2023
2023 Fantasy Outlook
The White Sox declined to extend Rodon the qualifying offer last winter and that decision backfired in a big way as the lefty was a top-10 starter in baseball by most measures. Rodon's 2.25 FIP with San Francisco last season was in fact the best among qualified starters while his 26.1 K-BB% ranked third. He established a new career high with 178 innings -- a 45.1-inning increase over 2021. Now a two-time All-Star, Rodon's stuff is as good as ever despite the injuries earlier in his career. Corbin Burnes and Zack Wheeler are the only pitchers to have racked up more fWAR than Rodon over the past two seasons, and he'll now work atop the Yankees' rotation alongside Gerrit Cole after inking a six-year, $162 million contract with New York.
Read Past Outlooks
$Signed a six-year, $162 million contract with the Yankees in December of 2022.

Feeling good after throwing
Yankees manager Aaron Boone told reporters Saturday that Rodon (forearm) is feeling good after throwing,
Bryan Hoch of MLB.com
reports.
ANALYSIS
Rodon was able to throw Friday, and he continues to make strong progress from the forearm muscle strain he was diagnosed with March 9. The left-hander is still a lock to begin the 2023 campaign on the injured list, but there's a good chance he'll only miss two-to-three starts, which would be a major win for fantasy players and for a Yankees team that has dealt with significant injury concerns during the Grapefruit League season.
Read More News
Pitching Stats
Loading Pitching Stats...
2022
2021
2020
2019
2018
2017
2022 MLB Game Log

Calculate Stats Over Time
Just click on any two dates.
Scoring
FanDuel
DraftKings
Yahoo DFS
FantasyDraft
Head2Head
Loading Pitching Game Log...
2021 MLB Game Log

Calculate Stats Over Time
Just click on any two dates.
Scoring
FanDuel
DraftKings
Yahoo DFS
FantasyDraft
Head2Head
Loading Pitching Game Log...
2020 MLB Game Log

Calculate Stats Over Time
Just click on any two dates.
Scoring
FanDuel
DraftKings
Yahoo DFS
FantasyDraft
Head2Head
Loading Pitching Game Log...
2019 MLB Game Log

Calculate Stats Over Time
Just click on any two dates.
Scoring
FanDuel
DraftKings
Yahoo DFS
FantasyDraft
Head2Head
Loading Pitching Game Log...
2018 MLB Game Log

Calculate Stats Over Time
Just click on any two dates.
Scoring
FanDuel
DraftKings
Yahoo DFS
FantasyDraft
Head2Head
Loading Pitching Game Log...
2017 MLB Game Log

Calculate Stats Over Time
Just click on any two dates.
Scoring
FanDuel
DraftKings
Yahoo DFS
FantasyDraft
Head2Head
Loading Pitching Game Log...
Minor League Game Log

Calculate Stats Over Time
Just click on any two dates.
Loading Minor League Pitching Game Log...
Pitching Appearances Breakdown
How many pitches does Carlos Rodon generally throw?
What part of the game does Carlos Rodon generally pitch?
% Games Reaching Innings Threshold
% Games By Number of Innings Pitched
Left/Right Pitching Splits
BAA
K
BB
H
HR
Since 2020

vs Left

.210
84
17
48
3
Since 2020

vs Right

.197
343
74
183
23
2022

vs Left

.179
49
12
22
2
2022

vs Right

.207
188
40
109
10
2021

vs Left

.240
35
5
25
1
2021

vs Right

.175
150
31
66
12
2020

vs Left

.500
0
0
1
0
2020

vs Right

.333
5
3
8
1
More Splits

→

View More Split Stats
Home/Away Pitching Splits
ERA
WHIP
IP
K/9
BB/9
Since 2020

Home

2.05
0.94
149.1
12.5
2.5
Since 2020

Away

3.46
1.08
169.0
11.8
2.7
2022

Home

1.93
1.04
84.0
13.0
2.8
2022

Away

3.73
1.02
94.0
11.1
2.5
2021

Home

2.26
0.83
63.2
12.0
2.1
2021

Away

2.48
1.07
69.0
13.0
2.7
2020

Home

0.00
0.00
1.2
5.4
0.0
2020

Away

10.50
2.00
6.0
7.5
4.5
More Splits

→

View More Split Stats
Stat Review
How does Carlos Rodon compare to other starting pitchers?
This section compares his stats with all starting pitcher seasons from the previous three seasons (minimum 120 innings)*. The bar represents the player's percentile rank. For example, if the bar is halfway across, then the player falls into the 50th percentile for that stat and it would be considered average.
* Exit Velocity, Barrels/BBE %, Balls Hit 95+ MPH %, and Spin Rate are benchmarked against 2019 data (min 120 IP).
See here for more exit velocity/barrels stats
plus an explanation of current limitations with that data set.
K/BB

Strikeout to walk ratio.

K/9

Average strikeouts per nine innings.

BB/9

Average walks per nine innings.

HR/9

Average home runs allowed per nine innings.

Fastball

Average fastball velocity.

ERA

Earned run average. The average earned runs allowed per nine innings.

WHIP

Walks plus hits per inning pitched.

BABIP

Batting average on balls in play. Measures how many balls in play against a pitcher go for hits.

GB/FB

Groundball to flyball ratio. The higher the number, the more likely a pitcher is to induce groundballs.

Left On Base

The percentage of base runners that a pitcher strands on base over the course of a season.

Exit Velocity

The speed of the baseball as it comes off the bat, immediately after a batter makes contact.

Barrels/BBE

The percentage of batted ball events resulting in a Barrel. A Barrel is a batted ball with similar exit velocity and launch angle to past ones that led to a minimum .500 batting average and 1.500 slugging percentage.

Spin Rate

Spin Rate is the rate of spin on a baseball after it is released. It is measured in revolutions per minute (rpm).

Balls Hit 95+ MPH

The percentage of batted balls hit that met or exceeded the 95 MPH threshold.

Swinging Strike

The percentage of pitches that result in a swing and a miss.
Advanced Pitching Stats
Loading Advanced Pitching Stats...
Loading MLB Defensive Stats...
Our full team depth charts are reserved for RotoWire subscribers.
Subscribe Now
Recent RotoWire Articles Featuring Carlos Rodon
See More
Past Fantasy Outlooks
2022
2021
2020
2019
2018
2017
2016
2015
Rodon entered last season mustering only 42.1 innings the previous two seasons. He missed most of 2019 following Tommy John surgery and much of 2020 with shoulder soreness. In one of the bigger surprises of the 2021 campaign, Rodon logged 24 starts and 132.2 innings, both his most since 2016. He posted personal best ratios, fueled by a career high 34.6% K-rate and career low 6.7% BB-rate. He benefited from a low .267 BABIP and high 82.2% LOB mark. Rodon's 95.4 mph four seam velocity was another new career best. The lefty didn't escape injury, missing some time in August with left shoulder fatigue, which recurred in late September despite the White Sox trying to keep him fresh down the stretch. The late season shoulder woes combined with the White Sox declining to extend a qualifying offer left a shroud of uncertainty with the southpaw's health, but the Giants signed him to a two-year, $44 million contract after the lockout. It's a big upgrade in home ballpark, and the Giants should win plenty of games, but Rodon's health will be the determining factor of his value this season.
The oft-injured southpaw underwent Tommy John surgery in May of 2019. With the delayed start to the 2020 campaign, he was able to break summer camp in the White Sox's rotation. Cleveland blasted him in his first start then he had to leave his next outing early with a sore shoulder. His velocity was way down in the second start, but examinations revealed no structural damage. Rodon was able to return in a relief role during the last week of the season, and his velocity returned to normal. Even though Rodon appeared healthy to end the season, the White Sox decided to cut bait and non-tender the left-hander. Some team will take a chance on Rodon, perhaps as a reliever. Even if he looks good in the spring, it's probably best to resist the temptation and pass.
Rodon opened up 2019 showing a new affinity for his slider, and at times, looked great with that approach, but poor fastball command still held him back. He went down with an elbow injury after seven starts and underwent Tommy John surgery on May 19. Rodon won't be ready to rejoin the big-league rotation until at least sometime in the second half, and the White Sox may opt to play it even safer than that, potentially limiting him to rehab outings in the minors or pitching him exclusively out of the bullpen down the stretch. He has now had both elbow and shoulder issues the past couple of years, so his long-term future could be in relief. However, Chicago will likely give the No. 3 overall pick from 2014 at least one more chance to make it as a starting pitcher.
Rodon enters 2019 as one of the game's biggest wild cards. His 2018 was delayed as he rehabbed from shoulder surgery performed the previous September, debuting in early June. He struggled a bit out of the gate, sporting a 4.55 ERA after five starts, albeit with a solid 1.18 WHIP. Rodon then got on a roll, posting a 1.84 ERA and 0.93 WHIP in nine starts, covering 63.2 frames. Unfortunately, Rodon fell apart in September, recording a 9.22 ERA and 2.12 WHIP in 27.1 stanzas. Rodon truthers will highlight the middle stretch, writing off the early struggles to rust and the late ones to running out of gas. But here's the thing: a 20 K% and 11.1 BB% in the middle set is rather pedestrian. His xFIP in that span was 4.77. The success was driven by an unsustainable .175 BABIP. The early market is expressing optimism, assuming not only will Rodon avoid injury, but that he'll return to previous strikeout levels while honing his spotty control. That's a risky bet.
Planning on ramping up Rodon's workload last season, the White Sox took it slow in the spring. It turned out their concerns were warranted as Rodon left a March 28 spring game with a tight bicep, later diagnosed as left shoulder bursitis, keeping him out until June 28. Rodon's throwing shoulder started barking again down the stretch, shutting him down for the season on Sept. 2. In between, the lefty was typically inconsistent, largely a result of spotty control, walking 31 in 69.1 innings. Homers also contributed, as he served up a dozen long balls. The saving grace was 76 punchouts. Rodon's trend has been to finish with a flourish, but there's no telling if his 4.15 ERA and 1.37 WHIP would have improved with another month of starts. Rodon had arthroscopic surgery in late September, with a six-to-eight month timetable, putting Opening Day in jeopardy. Expect the White Sox to again treat their prized southpaw with kid gloves.
Rodon's 2016 wasn't too different from 2015: low-4.00 ERA through the first four months before a sprint of quality work to the finish line that featured the upside that made him the No. 3 overall pick in the 2014 draft. One major difference between the two seasons was a big improvement in his walk rate, but it came at the expense of his command as he allowed more hits and nearly twice as many home runs. The season still stands as a worthy building block for a 24-year-old lefty trying to fulfill his frontline upside. His elite slider was even better in 2016, and his changeup took a big step forward, but not enough to offset his fastball getting less effective. Velocity is great, but a good fastball requires much more (namely, command). His walk gains came via the fastball, but it was also responsible for the home run troubles. This is exactly the kind of profile you want to bet on, though: The cost doesn't require major gains to pay off, but the upside is massive.
Rodon's transition to the majors was rocky, and while he struck out 64 through his first 60 innings as a starter, he also walked 37 over that same stretch. However, he learned on the job and was stellar in the season's final two months - he posted a 1.81 ERA and .198 BAA over his final eight outings. Rodon entered the big leagues with a big league-ready slider, and the pitch was as good as advertised. Ninety-seven of his 139 strikeouts came off the slider, and his upper-90s fastball was also impressive. He could take the jump if he polishes a third pitch. Rodon should slot behind Chris Sale and Jose Quintana in the White Sox's rotation.
Rodon entered his junior year at North Carolina State as the prohibitive No. 1 overall pick. However, concerns about his workload budged him from the top spot in the 2014 June draft, and he fell to the White Sox at No. 3. It took much of the summer for the two sides to agree on a contract, which may have worked out better for his overworked arm. His plus fastball and slider blew away college batters, and the White Sox want him to add a changeup to the mix. Even without a refined third pitch, he ranks as one of the top prospects in the system and could be in the mix for a rotation spot out of camp, though vice president of baseball operations Ken Williams said in December that a multi-innings bullpen role is more likely for Rodon in 2015.
More Fantasy News