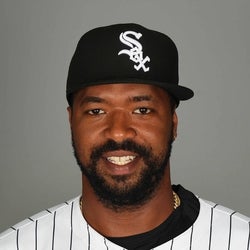 2023 Fantasy Outlook
In a season where we saw offense decline as a whole across the league, Jimenez had a chance to shine at the plate in what was a loaded lineup on paper in Chicago. Like many things on the southside, things worked out poorly and Jimenez played in just 84 games on the season. The .295/.358/.500 slash line with 16 homers and 54 RBIs in essentially half a season shows what the young man is capable of when his body and mind are in sync. We should be thankful he did not injure himself in Spring Training with silly stunts, but the hamstring injury in mid April kept him out until early July. Once he shook off the rust, he hit .323/.391/.558 in the second half with 14 of the 16 homers. We do not know what baseball awaits us in 2023, but we do know that this young man has all the potential in the world even if we have yet to see it over the course of a full major league season.
Read Past Outlooks
$Signed a six-year, $43 million contract extension with the White Sox in March of 2019. Contract includes $16.5 million team option ($3 million buyout) for 2025 and $18.5 million team option ($3 million buyout) for 2026.

Back in action in Cactus League
ANALYSIS
Jimenez exited early in Monday's game against the Diamondbacks due to what the White Sox labeled as right calf camping, and fortunately for the 26-year-old, the issue wasn't anything more severe than that. After getting Tuesday off to rest and rehydrate, Jimenez is good to go one day later. In an effort to keep Jimenez healthy following consecutive injury-riddled campaigns, the White Sox could have him see an even larger share of his work out of the DH spot rather than the corner outfield in 2023. Jimenez made 50 starts as a DH and 30 as a left fielder last season.
Read More News
Batting Stats
2022 MLB Game Log

Calculate Stats Over Time
Just click on any two dates.
Scoring
FanDuel
DraftKings
Yahoo DFS
FantasyDraft
Head2Head
Loading Batting Game Log...
2021 MLB Game Log

Calculate Stats Over Time
Just click on any two dates.
Scoring
FanDuel
DraftKings
Yahoo DFS
FantasyDraft
Head2Head
Loading Batting Game Log...
2020 MLB Game Log

Calculate Stats Over Time
Just click on any two dates.
Scoring
FanDuel
DraftKings
Yahoo DFS
FantasyDraft
Head2Head
Loading Batting Game Log...
2019 MLB Game Log

Calculate Stats Over Time
Just click on any two dates.
Scoring
FanDuel
DraftKings
Yahoo DFS
FantasyDraft
Head2Head
Loading Batting Game Log...
Minor League Game Log

Calculate Stats Over Time
Just click on any two dates.
Loading Minor League Batting Game Log...
Batting Order Slot Breakdown
#1
#2
#3
#4
#5
#6
#7
#8
#9
#1
#2
#3
#4
#5
#6
#7
#8
#9
Left/Right Batting Splits
OPS
PA
HR
RBI
AVG
Since 2020

vs Left

.764
186
9
26
.256
Since 2020

vs Right

.856
587
31
106
.289
2022

vs Left

.842
81
3
11
.300
2022

vs Right

.863
246
13
43
.293
2021

vs Left

.575
59
2
6
.170
2021

vs Right

.795
172
8
31
.275
2020

vs Left

.860
46
4
9
.289
2020

vs Right

.910
169
10
32
.299
More Splits

→

View More Split Stats
Home/Away Batting Splits
OPS
PA
HR
RBI
AVG
Since 2020

Home

.850
378
19
65
.287
Since 2020

Away

.816
406
21
67
.276
2022

Home

.925
164
9
30
.315
2022

Away

.790
163
7
24
.274
2021

Home

.618
109
2
14
.222
2021

Away

.846
122
8
23
.272
2020

Home

.976
105
8
21
.313
2020

Away

.819
121
6
20
.282
More Splits

→

View More Split Stats
Stat Review
How does Eloy Jimenez compare to other hitters?
This section compares his stats with all batting seasons from the previous three seasons (minimum 400 plate appearances)*. The bar represents the player's percentile rank. For example, if the bar is halfway across, then the player falls into the 50th percentile for that stat and it would be considered average.
* Exit Velocity and Barrels/PA % are benchmarked against 2019 data (min 400 PA) and Hard Hit Rate is benchmarked against last season's data (min 400 PA).
See here for more exit velocity/barrels stats
plus an explanation of current limitations with that data set.
BB/K

Walk to strikeout ratio

BB Rate

The percentage of plate appearances resulting in a walk.

K Rate

The percentage of plate appearances resulting in a strikeout.

BABIP

Batting average on balls in play. Measures how many of a batter's balls in play go for hits.

ISO

Isolated Power. Slugging percentage minus batting average. A computation used to measure a batter's raw power.

AVG

Batting average. Hits divided by at bats.

OBP

On Base Percentage. A measure of how often a batters reaches base. Roughly equal to number of times on base divided by plate appearances.

SLG

Slugging Percentage. A measure of the batting productivity of a hitter. It is calculated as total bases divided by at bats.

OPS

On base plus slugging. THe sum of a batter's on-base percentage and slugging percentage.

wOBA

Weighted on-base average. Measures a player's overall offensive contributions per plate appearance. wOBA combines all the different aspects of hitting into one metric, weighting each of them in proportion to their actual run value.

Exit Velocity

The speed of the baseball as it comes off the bat, immediately after a batter makes contact.

Hard Hit Rate

A measure of contact quality from Sports Info Solutions. This stat explains what percentage of batted balls were hit hard vs. medium or soft.

Barrels/PA

The percentage of plate appearances where a batter had a batted ball classified as a Barrel. A Barrel is a batted ball with similar exit velocity and launch angle to past ones that led to a minimum .500 batting average and 1.500 slugging percentage.

Expected BA

Expected Batting Average.

Expected SLG

Expected Slugging Percentage.

Sprint Speed

The speed of a runner from home to first, in feet per second.

Ground Ball %

The percentage of balls put in play that are on the ground.

Line Drive %

The percentage of balls put in play that are line drives.

Fly Ball %

The percentage of balls put in play that are fly balls.
Prospect Rankings History
Advanced Batting Stats
Loading Advanced Batting Stats...
Games By Position
Defensive Stats
Loading Games Played by Position...
Loading MLB Defensive Stats...
Batted Ball Stats
Loading Batted Ball Stats...
Stats Vs Upcoming Pitchers
Our full team depth charts are reserved for RotoWire subscribers.
Subscribe Now
Recent RotoWire Articles Featuring Eloy Jimenez
See More
Past Fantasy Outlooks
2022
2021
2020
2019
2018
2017
2016
Jimenez, who would have once been the No. 1 fantasy prospect in the game were it not for Vladimir Guerrero Jr., was a prime candidate to ascend into stardom after breaking out in the sprint 2020 season. However, he ruptured his left pectoral tendon while trying to rob a home run late in spring training and was initially handed a four-to-five month timeline. Jimenez returned in late July on the short end of that estimate, but he performed under his usual standards, both from a batting average and power standpoint. Even after returning from the pectoral injury, Jimenez dealt with minor groin and knee injuries over the final 10 weeks of the season. Dating back to his prospect days, Jimenez has seemingly always dealt with minor injuries, so durability is a weakness, particularly as long as the White Sox insist on playing him in the field -- he fits best at designated hitter. When healthy, he should still be seen as a four-category force, with 2020 representing his true talents much more than his injury-affected 2021.
Most 23-year-olds in pro ball are toiling in Double-A, but Jimenez now has 730 PA at the big-league level under his belt before his 24th birthday. In that time, he has inflicted quite a bit of punishment on baseballs and avoided the dreaded sophomore slump in 2020. Jimenez has been an impatient hitter at the plate, but it is because he has supreme confidence in his abilities. If you want to find a fault in his game, the lack of walks and lack of steals would be it. The batting average, the power and the run production are all there, and the sky is the limit for where his numbers can end up. Remember, we have not had a complete season at the big-league level for Jimenez as the only things which have held him back are his June promotion in 2019 and the pandemic of 2020. If you want to pick a non-Mike Trout name for 2021 MVP, this is a good sleeper bet to win it. The tools are all there.
Rather than playing service-time games with their top prospect, the White Sox locked Jimenez into the Opening Day roster after inking him to an extension late in spring training. The 23-year-old was nagged by a hamstring injury early on and took some time to adjust to MLB pitching, but by the end of his rookie year, he looked like the premium power threat he had been billed as while moving through Chicago's system. Over the last two months, Jimenez sported a manageable 24.4 K% and hit .308 with a .917 OPS, which was a top-40 mark for all batters in that span. Entering his second season, Jimenez may need to improve on a weak 6.0 BB% to vault into the elite ranks of hitters, but his pedigree and late-2019 flurry will have many pegging him for a breakout. The positive buzz may push up Jimenez's cost as draft season rolls on, so his backers should be ready to invest at least a top-75 selection to secure him.
Jimenez will debut in April and has extreme upside in the four non-speed roto categories, making him worthy of a top-100 pick in redraft leagues. He improved after a promotion to Triple-A (157 wRC+ at Double-A, 179 wRC+ at Triple-A) while cutting his strikeout rate from 17.1% to 13.2%. The righty-hitting slugger slashed .327/.364/.570 against same-handed International League pitchers and almost a third of his hits (32.8%) went to the opposite field. Knee, pectoral, adductor and quadriceps injuries caused him to miss time in 2018 and he missed a third of 2017 with a variety of injuries, so durability is the only concern. He could be the best hitter in White Sox camp and will have a spot in the middle of the big-league lineup waiting for him once the team has secured an extra year of control by keeping him at Triple-A for a few weeks. Jimenez is the No. 2 prospect (behind Vladimir Guerrero Jr.) for redraft and dynasty leagues.
"If not now, when?" That was the Cubs' explanation for dealing their remaining prospect gold for Jose Quintana in mid July. Jimenez, who headlined the White Sox's return, seemingly embraced the same mantra, doing more damage with his bat than any other hitter in the minors after that trade. He hit .348/.405/.635 with 11 home runs, 16 doubles and a 37:17 K:BB in 195 plate appearances across stops at High-A and Double-A with his new organization. Unlike the game's other elite outfield prospects, the chiseled 6-foot-4 Jimenez won't be contributing with his legs, but profiles perfectly as a middle-of-the-order run producer. He has the raw power to string together 40-plus homer campaigns in his peak seasons, but in this era of widespread power, his potential to hit .290 or better might be just as appealing. With just 18 games under his belt at Double-A, Jimenez's ETA is difficult to peg. He could be ready for the majors in July, but if the White Sox are disciplined enough to hold him down in a non-competitive season, they would gain an extra year of control.
The top international prospect in the 2013 international free agent class, Jimenez showed flashes of his potential with short-season Eugene in 2015. However, few could have seen him making this much progress between his age-18 and age-19 seasons. He led the pitcher-friendly Midwest League by a wide margin with a .901 OPS despite being 2.5 years younger than league average. Jimenez was raking when the weather was chilly in April and May and he kept raking all season long, even when most prospects hit a wall in July and August during their first exposure to a full-season league schedule. He continued to turn heads in the Arizona Fall League, where he became a Statcast darling due to some elite exit velocities. If someone wanted to nitpick Jimenez's offensive game, it would sound like this: "I kind of wish he walked a bit more as a 19-year-old." This is a top-10 dynasty league prospect with the potential to challenge for batting titles and hit 30-plus homers annually in the middle of one of baseball's best lineups.
The mere fact that he's even in the minors at his age says enough about Jimenez's potential. He was signed by the Cubs out of the Dominican Republic in 2013 as a 16-year-old pup, and he's already a veteran of two minor league seasons, covering more than 400 plate appearances. While his strikeout rate is a tad high, it's certainly not exorbitant and he did improve in that area (19.5-percent in 2014, 17.2-percent in 2015) for short-season Eugene last year. Understandably, he has a long way to go before he's patrolling the outfield at Wrigley, but seven home runs in 232 at-bats for Eugene as an 18-year-old bodes well for his future. Put simply, you could do worse than to throw a dart at Jimenez in a deep dynasty league.
More Fantasy News