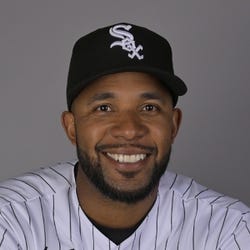 10-Day IL
Injury Oblique
Est. Return 6/8/2023
Rest-of-Season Projections
2023 Fantasy Outlook
Andrus had a .237/.301/.373 slash line in 106 games for the A's before he was cut loose in August, but he found success for the White Sox the rest of the way with a .773 OPS. In total the veteran shortstop had 17 home runs (the second-highest total of his career), 58 RBI and 18 stolen bases, production that's worth noting given the depressed offense around the league. He also continues to provide a strong glove, and his 105 wRC+ was the first time he's delivered an above-average bat since 2017. Andrus' late resurgence should be able to secure him a major-league contract during the offseason, though it remains to be seen if any team is willing to sign him to be their primary shortstop given his overall struggles over the few years.
Read Past Outlooks
$Signed a one-year, $3 million contract with the White Sox in February of 2023.

Assignment coming next week
White Sox manager Pedro Grifol said Tuesday that Andrus (oblique) will require a rehab assignment, but it likely won't come until next week,
James Fegan of The Athletic
reports.
ANALYSIS
Andrus landed on the injured list May 13 with a left oblique strain. There's still no word on how long the White Sox plan to keep him on assignment, but it appears he's still a couple weeks from returning regardless of how long he spends in the minors.
Read More News
Batting Stats
2023
2022
2021
2020
2019
2018
2017
2023 MLB Game Log

Calculate Stats Over Time
Just click on any two dates.
Scoring
FanDuel
DraftKings
Yahoo DFS
Loading Batting Game Log...
2022 MLB Game Log

Calculate Stats Over Time
Just click on any two dates.
Scoring
FanDuel
DraftKings
Yahoo DFS
Loading Batting Game Log...
2021 MLB Game Log

Calculate Stats Over Time
Just click on any two dates.
Scoring
FanDuel
DraftKings
Yahoo DFS
Loading Batting Game Log...
2020 MLB Game Log

Calculate Stats Over Time
Just click on any two dates.
Scoring
FanDuel
DraftKings
Yahoo DFS
Loading Batting Game Log...
2019 MLB Game Log

Calculate Stats Over Time
Just click on any two dates.
Scoring
FanDuel
DraftKings
Yahoo DFS
Loading Batting Game Log...
2018 MLB Game Log

Calculate Stats Over Time
Just click on any two dates.
Scoring
FanDuel
DraftKings
Yahoo DFS
Loading Batting Game Log...
2017 MLB Game Log

Calculate Stats Over Time
Just click on any two dates.
Scoring
FanDuel
DraftKings
Yahoo DFS
Loading Batting Game Log...
Minor League Game Log

Calculate Stats Over Time
Just click on any two dates.
Loading Minor League Batting Game Log...
Batting Order Slot Breakdown
#1
#2
#3
#4
#5
#6
#7
#8
#9
#1
#2
#3
#4
#5
#6
#7
#8
#9
Left/Right Batting Splits
OPS
PA
HR
RBI
AVG
Since 2021

vs Left

.625
377
7
34
.228
Since 2021

vs Right

.656
892
14
74
.246
2023

vs Left

.469
39
0
3
.176
2023

vs Right

.556
112
1
10
.210
2022

vs Left

.827
157
7
21
.283
2022

vs Right

.662
420
10
37
.236
2021

vs Left

.478
181
0
10
.190
2021

vs Right

.680
360
3
27
.269
More Splits

→

View More Split Stats
Home/Away Batting Splits
OPS
PA
HR
RBI
AVG
Since 2021

Home

.627
603
5
50
.240
Since 2021

Away

.665
666
16
58
.242
2023

Home

.687
66
0
6
.263
2023

Away

.418
85
1
7
.156
2022

Home

.675
259
4
23
.249
2022

Away

.734
318
13
35
.248
2021

Home

.568
278
1
21
.225
2021

Away

.662
263
2
16
.262
More Splits

→

View More Split Stats
Stat Review
How does Elvis Andrus compare to other hitters?
This section compares his stats with all batting seasons from the previous three seasons (minimum 400 plate appearances)*. The bar represents the player's percentile rank. For example, if the bar is halfway across, then the player falls into the 50th percentile for that stat and it would be considered average.
* Exit Velocity and Barrels/PA % are benchmarked against 2019 data (min 400 PA) and Hard Hit Rate is benchmarked against last season's data (min 400 PA).
See here for more exit velocity/barrels stats
plus an explanation of current limitations with that data set.
BB/K

Walk to strikeout ratio

BB Rate

The percentage of plate appearances resulting in a walk.

K Rate

The percentage of plate appearances resulting in a strikeout.

BABIP

Batting average on balls in play. Measures how many of a batter's balls in play go for hits.

ISO

Isolated Power. Slugging percentage minus batting average. A computation used to measure a batter's raw power.

AVG

Batting average. Hits divided by at bats.

OBP

On Base Percentage. A measure of how often a batters reaches base. Roughly equal to number of times on base divided by plate appearances.

SLG

Slugging Percentage. A measure of the batting productivity of a hitter. It is calculated as total bases divided by at bats.

OPS

On base plus slugging. THe sum of a batter's on-base percentage and slugging percentage.

wOBA

Weighted on-base average. Measures a player's overall offensive contributions per plate appearance. wOBA combines all the different aspects of hitting into one metric, weighting each of them in proportion to their actual run value.

Exit Velocity

The speed of the baseball as it comes off the bat, immediately after a batter makes contact.

Hard Hit Rate

A measure of contact quality from Sports Info Solutions. This stat explains what percentage of batted balls were hit hard vs. medium or soft.

Barrels/PA

The percentage of plate appearances where a batter had a batted ball classified as a Barrel. A Barrel is a batted ball with similar exit velocity and launch angle to past ones that led to a minimum .500 batting average and 1.500 slugging percentage.

Expected BA

Expected Batting Average.

Expected SLG

Expected Slugging Percentage.

Sprint Speed

The speed of a runner from home to first, in feet per second.

Ground Ball %

The percentage of balls put in play that are on the ground.

Line Drive %

The percentage of balls put in play that are line drives.

Fly Ball %

The percentage of balls put in play that are fly balls.
Advanced Batting Stats
Loading Advanced Batting Stats...
Games By Position
Defensive Stats
Loading Games Played by Position...
Loading MLB Defensive Stats...
Batted Ball Stats
Loading Batted Ball Stats...
Stats Vs Upcoming Pitchers
Our full team depth charts are reserved for RotoWire subscribers.
Subscribe Now
Recent RotoWire Articles Featuring Elvis Andrus
See More
Past Fantasy Outlooks
2022
2021
2020
2019
2018
2017
2016
2015
2014
2013
2012
2011
2010
2009
2008
2007
2006
After 12 seasons with the Rangers, Oakland acquired Andrus last offseason to fill the void at shortstop left by Marcus Semien's departure in free agency. He slumped heavily out of the gate, slashing an abysmal .151/.202/.186 through the season's first month, but he was able right the ship some thereafter. A 24.3 LD% that ranked 13th in the majors helped him get his batting average up to .243 by season's end, though his 5.7% walk rate ultimately prevented him from reaching base at a high clip. The 33-year-old's 12 stolen bases were a nice feather in his cap but far from significant from a fantasy standpoint. Andrus is expected to be ready for spring training after fracturing his fibula in late September, but with slick-fielding prospect Nick Allen knocking on the doors of the big leagues, it wouldn't be shocking if he's is unseated as Oakland's starting shortstop early in 2022.
Andrus' performance had already fallen off in 2018 and 2019, as he managed a wRC+ of just 76 both years after posting an above-average batting line in 2016 and 2017. Not many would have predicted that he'd fall off a cliff like he did in 2020, however, as he finished the year with a wRC+ of 48, the product of a .194/.252/.330 slash line, and stole just three bases. Back issues sent him to the injured list twice and limited him to just 29 games, providing a plausible explanation for his precipitous decline. There's at least some upside here if Andrus reverts to his 2019 form, as his 31 steals that year somewhat covered for his weak bat, but it's not clear that the rebuilding Rangers will be all that interested in giving him regular at-bats. One awful season shouldn't cause us to write him off completely, but age, performance and playing-time risks all add up to leave him firmly in late-round flier territory.
Stolen bases are a funny stat. Andrus swiped at least 20 bases in each of his first nine major-league seasons, only to drop to five in an injury-scarred 2018. Last season he topped the 30-steal mark for the first time since 2013, as a 30-year-old. New manager Chris Woodward believed in Andrus enough to allow him to attempt 39 steals last year, and he was rewarded in that confidence 31 times. The 20-homer season of 2017 was an anomaly for Andrus, as he's reached double digits in that category only one other time and that was last season. His skill set is rather stable at this stage of his career in terms of his bat-to-ball skills. He does not accept many walks, which limits his OBP and stolen-base opportunities. Sometimes we see that change with age, but it has not changed in nearly 7,000 career plate appearances. Expect more of the same.
After smacking eight home runs in 2016, Andrus exploded for 20 homers in 2017. That uptick in power, combined with nine consecutive seasons of 20-plus stolen bases, made Andrus a top-60 pick on average in the NFBC. Unfortunately, Andrus was hit by a pitch in April and suffered an elbow fracture which cost him more than two months, and the power simply never returned. More confoundingly, he stopped running almost entirely, attempting a mere eight steals in 97 games. His batting average also plummeted and in the end, Andrus wasn't even a top-40 player at his own position. At 30 years of age, Andrus still has the speed to get back to 20 steals, but a lot will depend on new manager Chris Woodward's tendencies in the running game. There's also the question as to whether the batting average will return, which doesn't seem like a lock (.239 xBA). What is for sure is that Andrus will continue to play every day.
Through his first eight seasons in the majors, Andrus' speed, contact skills and prominent presence in traditionally potent Rangers lineups made him a bankable three-category asset. The same held true in 2017 with Andrus hitting .297, stealing 25 bases and scoring 100 runs, but it was the shortstop's emergence as a slugger that elevated him to the top tier at his position. Andrus first teased a power breakout in the second half of 2016 with a strong .148 ISO, but kept it up last season by parlaying a 30.5 percent hard-hit rate (six points above his career mark) into 68 extra-base hits, good for second among all shortstops. With Andrus at the peak of the aging curve, there's reason to believe he'll maintain the newfound pop for a couple more years, which would help compensate for any decline in baserunning. Given Andrus' track record of durability, however, he may be more immune to the sudden crash in steals many speed merchants endure around his age.
The chief difference between Andrus' 2015 and 2016 seasons was the 44-point batting average bump and 50-point bump in batting average on balls in play, both winding up as career bests. Considering little changed in his batted-ball profile, the biggest difference maker likely was good luck. Andrus isn't much of a mystery at age 28 and 5,203 plate appearances: He doesn't offer much power, but he'll chew up plate appearances with 20-plus stolen bases, with his batting average up to what happens when he puts wood on the ball on the back of high contact rates. Frankly, he's also fortunate he plays for the Rangers, an offense who'll bolster run and RBI potential for every regular. Considering he often hits low in the order, however, his value depends too much on what he can't control. While those seeking a middle infielder in mixed leagues can settle for him, he likely reached his ceiling this past year, so it's not worth chasing more.
Andrus set a career high with seven homers in 2015, one more than he had in his rookie season back in 2009, but it wasn't enough to save him from a third straight disappointing season. He's had three straight declines in OPS+ and it's looking more and more like we have already seen the best Andrus has to offer. His .283 BABIP from last year gives some modest hope to a mini-rebound, but he appears to have settled in as a 60-run/60-RBI/5-homer/25-steal type. That kind of production is still plenty valuable — in fact, he finished 10th among all shortstops in rotisserie value and fourth among AL shortstops. Just do not overpay, as the ceiling is established at this point.
In a season where the Rangers' regulars were dogged by a wide variety of injuries, Andrus managed to stay healthy and play 157 games – his fourth consecutive year eclipsing 150 contests. The eight-year extension that he signed with Texas in 2013 will just begin to kick in this season, leaving the Rangers on the hook to pay him $120 million through 2022. It's possible that he'll be shipped elsewhere before a limited no-trade clause kicks in on his deal in 2016, but it's a long commitment to a player whose offense and defense regressed in a year where he turned 26 in August. The plate discipline and batted ball profile are stable with Andrus, yet his OBP dipped for the second year in a row to a career-worst .314. To make matters worse, the lack of healthy regulars around him bottomed out his runs scored and RBI counts to their lowest levels since 2009. He should be able to return to his 2013 levels and it's difficult to buy into the idea that his defense is truly in decline. If he can approach his steals total (42) from two seasons ago, Andrus should be a profitable target in many leagues this season.
Andrus had his worst year at the plate since 2010, though a career-high 42 stolen bases took some sting out of his .271/.328/.331 line. He was much better after the All-Star break, however, largely fueled by a BABIP normalization from an unlucky first half. The trade of Ian Kinsler keeps Andrus in Texas for the long haul, or at least another year or two until Rougned Odor might be ready. He'll become a $15 million player starting in 2015, so Texas would like to see some advancement at the plate in what's been a pretty flat career trajectory thus far.
A team-wide reduction in stolen-base attempts the final two months put a large dent in Andrus' value for the season as he swipped just 21 bags after 37 the year prior. His early-season power uptick (26 extra-base hits prior to the All-Star break) faded down the stretch (17 after the break), as did his run production (just 34 runs scored and five steals the second half) while Texas limped to the finish line. He's a good bet for a bounceback season in the counting stats, though expect some trade rumors to surface with Texas holding the Jurickson Profar card in its back pocket.
Andrus improved upon his 2010 season, adding 60 points of slugging and cutting back on his strikeouts while posting a career-high 87 percent contact rate, but there's still little value here beyond his stolen-base totals. It's worth noting that Andrus' plate discipline improved as the season progressed and he actually walked more than he struck out (35:29 BB:K) after the All-Star break. Those in more advanced leagues that count OBP and SLG need to knock Andrus down several notches, though he should still be among the American League's best at the position regardless of your scoring system.
Andrus followed his rookie campaign with another solid season, scoring 88 runs, swiping 32 bases and drawing 64 walks as a 21-year-old. Elvis never left the building, however, failing to hit a home run in 588 at-bats and seeing his modest power all but evaporate (just 18 extra-base hits all season, resulting in a .301 slugging). His numbers after the All-Star break (.247/.318/.274, 23 walks and six extra base hits in 259 at-bats) were a marked drop from his early-season numbers, and there's some thought that pitchers will start pounding the strike zone against him since there's no real threat of anything more damaging than a single. He'll have solid value in traditional 4x4 or 5x5 leagues with his stolen-base potential at a scarce position, but those in more advanced leagues that count OBP and SLG want to be careful here.
Andrus took over as Texas' everyday shortstop following the team's request to have Michael Young shift to third base last January. His .702 OPS left something to be desired, but his 33 steals and 72 runs scored offered plenty of value in an eroding shortstop position in the AL. His road numbers (.238/.294/.325) were poor, but he showed some growth as the season progressed (.737 OPS post-break). He'll hit ninth in the order again in 2010 with Julio Borbon and Ian Kinsler slotted atop the Texas lineup, but he more than held his own making the jump from Double-A as a 20-year-old, and the future appears bright.
Andrus still has some problems to iron out (too many strikeouts, not much power) but it's hard to get too picky when a 19-year-old spends the year at Double-A and doesn't get buried. He swiped 54 bases in 70 attempts, and managed a nice .295/.350/.367 line over the course of the season. The power should start to come as he fills out. He'll see some time at Triple-A Oklahoma City this season, and could see a September callup as a result.
Andrus was acquired in the trade that sent Mark Teixeira to Atlanta, and gives Texas a legit shortstop prospect again now that Joaquin Arias has continued to fade. Like Arias before him, Andrus' numbers on the surface appear to be lacking (.244/.330/.335 at High-A Myrtle Beach), but start to look a bit better when you consider Andrus just turned 19 years old in August. He hit well, albeit with little pop, during the Arizona Fall League (.353/.411/.471) and should see time at Double-A Frisco in 2008.
Andrus' numbers at Low-A Rome (.265/.324/.362) may not seem that impressive, until you realize he was just 17 years old. As a result, he's considered the top shortstop prospect in the Atlanta system. He's already got a strong glove and scouts think he'll continue to improve at the plate due to his athleticism. He's several years away from making an impact, but a long-term keeper to grab.
Andrus hit .295/.377/.398 at just age 17 in rookie ball and is seen as a polished fielder. Given his age and high ceiling, he has climbed quickly on many prospect charts. He's a few years away from making an impact at the major league level, but could rise rapidly in the system.
More Fantasy News