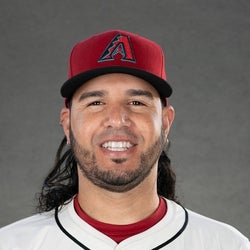 Rest-of-Season Projections
2023 Fantasy Outlook
Suarez's time with the Reds came to an end last March when Cincinnati sent him and Jesse Winker to Seattle for outfielder Jake Fraley and two pitchers. The park downgrade didn't matter for Suarez as he continued to do what he always does; take his walks, strike out and hit homers. His strikeout rate ticked up to a career-high 31.2%, continuing what is now a five-year trend of increase in that number. With that level of swing and miss, Suarez will be prone to slumps. He's the type of player that needs a full season to find his level but in the end he's typically around 30 homers and 80 RBI. If you have the batting-average foundation already in place, Suarez makes a lot of sense in drafts as the third-base position begins to dry up. His 2021 was rocky but keep in mind the Reds were playing him at shortstop and his struggles in the field were clearly affecting him at the plate.
Read Past Outlooks
$Signed a seven-year, $66 million contract extension with the Reds in March of 2018. Traded to the Mariners in March of 2022. Contract includes $15 million team option ($2 million buyout) for 2025.

Suarez went 1-for-4 with a game-winning three-run home run and a walk in an extra-inning victory over the Pirates on Sunday.
ANALYSIS
Suarez has delivered with men on base all season, so his three-run shot to left field in the 10th inning to snap a 3-3 tie was par for the course. The slugger now has 12 RBI in his last nine games alone despite the fact he's hitting just .194 (4-for-31) over that stretch.
Read More News
Batting Stats
2023
2022
2021
2020
2019
2018
2017
2023 MLB Game Log

Calculate Stats Over Time
Just click on any two dates.
Scoring
FanDuel
DraftKings
Yahoo DFS
Loading Batting Game Log...
2022 MLB Game Log

Calculate Stats Over Time
Just click on any two dates.
Scoring
FanDuel
DraftKings
Yahoo DFS
Loading Batting Game Log...
2021 MLB Game Log

Calculate Stats Over Time
Just click on any two dates.
Scoring
FanDuel
DraftKings
Yahoo DFS
Loading Batting Game Log...
2020 MLB Game Log

Calculate Stats Over Time
Just click on any two dates.
Scoring
FanDuel
DraftKings
Yahoo DFS
Loading Batting Game Log...
2019 MLB Game Log

Calculate Stats Over Time
Just click on any two dates.
Scoring
FanDuel
DraftKings
Yahoo DFS
Loading Batting Game Log...
2018 MLB Game Log

Calculate Stats Over Time
Just click on any two dates.
Scoring
FanDuel
DraftKings
Yahoo DFS
Loading Batting Game Log...
2017 MLB Game Log

Calculate Stats Over Time
Just click on any two dates.
Scoring
FanDuel
DraftKings
Yahoo DFS
Loading Batting Game Log...
Minor League Game Log

Calculate Stats Over Time
Just click on any two dates.
Loading Minor League Batting Game Log...
Batting Order Slot Breakdown
#1
#2
#3
#4
#5
#6
#7
#8
#9
#1
#2
#3
#4
#5
#6
#7
#8
#9
Left/Right Batting Splits
OPS
PA
HR
RBI
AVG
Since 2021

vs Left

.748
365
15
41
.217
Since 2021

vs Right

.729
1093
53
160
.216
2023

vs Left

.666
59
1
4
.204
2023

vs Right

.632
196
5
31
.213
2022

vs Left

.911
153
8
23
.269
2022

vs Right

.753
476
23
64
.225
2021

vs Left

.619
153
6
14
.172
2021

vs Right

.748
421
25
65
.208
More Splits

→

View More Split Stats
Home/Away Batting Splits
OPS
PA
HR
RBI
AVG
Since 2021

Home

.741
736
33
96
.216
Since 2021

Away

.726
722
35
105
.217
2023

Home

.633
133
2
19
.212
2023

Away

.646
122
4
16
.210
2022

Home

.783
325
16
43
.233
2022

Away

.799
304
15
44
.239
2021

Home

.744
278
15
34
.198
2021

Away

.685
296
16
45
.198
More Splits

→

View More Split Stats
Stat Review
How does Eugenio Suarez compare to other hitters?
This section compares his stats with all batting seasons from the previous three seasons (minimum 400 plate appearances)*. The bar represents the player's percentile rank. For example, if the bar is halfway across, then the player falls into the 50th percentile for that stat and it would be considered average.
* Exit Velocity and Barrels/PA % are benchmarked against 2019 data (min 400 PA) and Hard Hit Rate is benchmarked against last season's data (min 400 PA).
See here for more exit velocity/barrels stats
plus an explanation of current limitations with that data set.
BB/K

Walk to strikeout ratio

BB Rate

The percentage of plate appearances resulting in a walk.

K Rate

The percentage of plate appearances resulting in a strikeout.

BABIP

Batting average on balls in play. Measures how many of a batter's balls in play go for hits.

ISO

Isolated Power. Slugging percentage minus batting average. A computation used to measure a batter's raw power.

AVG

Batting average. Hits divided by at bats.

OBP

On Base Percentage. A measure of how often a batters reaches base. Roughly equal to number of times on base divided by plate appearances.

SLG

Slugging Percentage. A measure of the batting productivity of a hitter. It is calculated as total bases divided by at bats.

OPS

On base plus slugging. THe sum of a batter's on-base percentage and slugging percentage.

wOBA

Weighted on-base average. Measures a player's overall offensive contributions per plate appearance. wOBA combines all the different aspects of hitting into one metric, weighting each of them in proportion to their actual run value.

Exit Velocity

The speed of the baseball as it comes off the bat, immediately after a batter makes contact.

Hard Hit Rate

A measure of contact quality from Sports Info Solutions. This stat explains what percentage of batted balls were hit hard vs. medium or soft.

Barrels/PA

The percentage of plate appearances where a batter had a batted ball classified as a Barrel. A Barrel is a batted ball with similar exit velocity and launch angle to past ones that led to a minimum .500 batting average and 1.500 slugging percentage.

Expected BA

Expected Batting Average.

Expected SLG

Expected Slugging Percentage.

Sprint Speed

The speed of a runner from home to first, in feet per second.

Ground Ball %

The percentage of balls put in play that are on the ground.

Line Drive %

The percentage of balls put in play that are line drives.

Fly Ball %

The percentage of balls put in play that are fly balls.
Advanced Batting Stats
Loading Advanced Batting Stats...
Games By Position
Defensive Stats
Loading Games Played by Position...
Loading MLB Defensive Stats...
Batted Ball Stats
Loading Batted Ball Stats...
Stats Vs Upcoming Pitchers
Our full team depth charts are reserved for RotoWire subscribers.
Subscribe Now
Recent RotoWire Articles Featuring Eugenio Suarez
See More
Past Fantasy Outlooks
2022
2021
2020
2019
2018
2017
2016
2015
2014
2013
Suarez moved from third base to shortstop midway through spring training in order to make room for Jonathan India to join the lineup. The logic behind the move made sense - the Reds needed to get India's bat into the lineup, Suarez came up through the minors as a shortstop, though he hadn't played there regularly since 2016, and came into camp 15 pounds lighter. And while getting India into the lineup was a success, Suarez was a disaster both at shortstop, where he lasted just 34 games, and at the plate, where he produced -15.0 fWAR, hitting .198/.286/.428. Suarez is striking out more than ever (29.8%, with a 66.1% contact rate), and as a consequence is seeing fewer pitches in the strike zone. He was shipped to the Mariners shortly after the end of the lockout, and, barring another trade, appears locked in as the starting third baseman.
Suarez's 2020 season began inauspiciously in January, with an incident in a swimming pool that ultimately required surgery to repair. The delayed start to the season worked to his benefit, as he made it to Opening Day and only missed three games, though he did begin the season 0-for-13. But even with the three extra months off, Suarez wasn't quite himself in 2020, sinking to a .202 BA over 231 plate appearances. Some correction from the previous two seasons was likely foretold by his 29.0 K%, but this might have been an overcorrection. His power remained intact (.268 ISO), and he was extraordinarily unlucky with balls in play, with a .214 BABIP. No doubt some of that is attributable to his below average sprint speed (25.9 ft/s), which alas is unlikely to improve. Suarez will likely continue to be a source of power, though his days of hitting .270+ are likely behind him.
Suarez turned a good power season into an epic one with a strong finishing kick, hitting 20 homers while batting over .300 with a 12% walk rate over the final two months of 2019. He fell just short of the NL homer title with 49, but it was nonetheless a career year. The only drag on his value is his lack of speed, and the lack of production from his teammates -- those 49 homers translated into 103 RBI, one less than the previous year when he hit 34 home runs. His counting stats should improve in 2020 with the addition of Mike Moustakas, who will play second base to allow Suarez to remain at third. Suarez hit for similar power at home and on the road, though he hit for a far better average at Great American Ball Park. One concern is his strikeout rate spiked to 28.5%, putting a strain on his batting average.
As was the case with teammate Scooter Gennett, we asked whether Suarez could build off a 2017 season where he improved across the board. Like Gennett, Suarez not only answered in the affirmative, but he improved in most aspects at the plate, tallying career highs in HR, AVG, SLG and ISO. His 48.6% hard-hit rate ranked third in MLB and his 8.4% soft-hit rate was the bottom mark among qualified hitters. This should help negate concerns over his HR/FB jumping from 17.9% to 23.4%. The seven-year, $66 million contract extension he got from the Reds before the 2018 season seems like a bargain now. His 11 steals in 2016 were a complete outlier, and a bad back that hampered him in the second half (.245/.322/.463) bears watching. Even so, he has logged over 600 PA in three straight seasons. This is a middle-of-the-order hitter in an improving lineup who is right in the middle of his prime -- he is entering his age-27/28 season.
Suarez is yet another lineup regular for the Reds picked up on the cheap -- Adam Duvall, Scott Schebler and Scooter Gennett all fit that mold. If only the club had been as successful in acquiring starting pitching, though admittedly that's a higher bar to clear. In his third season with the Reds, Suarez took another step forward at the plate, demonstrating real skills growth. His isolated power increased from .163 to .201, his walk rate jumped from 8.1 percent to 13.3 percent and he even took a big leap forward against right-handed pitching, raising his OPS against them from .683 to .806. Is there another jump coming? Most likely not, but at age 26, there's plenty of potential to sustain this level of production for a number of seasons. One potential threat looms on the horizon -- the organization's top hitting prospect, Nick Senzel. But it's possible that Suarez could move to shortstop in a pinch and put Jose Peraza's lineup spot in jeopardy instead.
Suarez made the move from shortstop to third base after Todd Frazier was dealt to the White Sox. He struggled to adjust in the field for much of the year, committing the second-most errors among all players in 2016 -- only Jonathan Villar had more. The 25-year-old Suarez continued to provide decent power numbers for a shortstop-eligible player, but he is slated to be eligible only a third baseman in 2017 and that limits his mixed-league appeal. His inability to make consistent contact is problematic; Suarez struck out in an alarming 24.7 percent of his plate appearances. Right now he's the starter at third for Cincinnati and he probably won't face much competition in 2017, as the Reds are in rebuilding mode, but Suarez could be replaced by top prospect Nick Senzel in 2018.
Suarez was one of the few bright spots in the Reds' miserable 2015 season, heisted from the Tigers in the Alfredo Simon deal. He stepped up after Zack Cozart's ugly knee injury and held his own at shortstop, despite having a bumpy defensive start. Suarez is not as sure-handed as Cozart but might have a little bit more range. The Reds will probably find a way to play both Suarez and Cozart in 2016, possibly moving Suarez to third base or left field following the Todd Frazier trade. In a full season, Suarez has the potential to produce a 20-homer season while potentially earning multi-position eligibility.
With Jose Iglesias out for the season, Suarez took on a much bigger role than expected for the Tigers in 2014. Suarez was called up to Detroit after making just 12 appearances with Triple-A Toledo. After reaching Detroit, Suarez was used in a platoon with Andrew Romine at shortstop. His strikeout rate (24.2 percent) hinted at the missed development time at the upper levels of the minors, but Suarez did flash the ability to work the count and draw his fair share of walks (7.9%). Suarez never flashed significant power or speed during his time in the minors, but he has shown the ability to reach double-digits in both home run and steals. While he was considered a solid defensive prospect in the minors, Suarez's defense was erratic for much of his rookie campaign, which caused him to lose time to the more defensively inclined Romine down the stretch last season. Traded to the Reds in December as part of the Alfredo Simon deal, Suarez will likely open the year in a utility role but could eventually work into the starting job at short if Zack Cozart doesn't produce.
Suarez has been quietly working his way up the Tigers' prospect rankings over the past couple seasons, and his upward trend continued in 2013, as he graduated from the A-ball levels to see his first taste of action at Double-A Erie. In 442 at-bats with the club, Suarez hit .253/.332/.387 with nine homers, 45 RBI and 53 runs. His batting average dipped from the .311 mark he posted with High-A Lakeland earlier in the season, but Suarez displayed a boost in power by clearing the fence nine times at Erie. While not considered a burner, Suarez has shown the ability to steal bases at the minor league level, but he will have to improve on the 44 percent success rate from last year to continue seeing a green light. He picked up his fair share of strikeouts (123) last season, but he also displayed the ability to draw a walk (60). Most scouts are sold on Suarez's ability to be a plus defender in the majors, but a lack of speed and range could eventually lead to a transition from shortstop to second base. The 22-year-old Suarez is Detroit's most complete minor-league option at the position and ranks as a top-10 overall prospect for the team. That said, with Jose Iglesias now projected to be the Tigers' long-term option at Suarez's position, the team is in no rush to bring him up from the minors. A strong showing at Double- and Triple-A in 2014 could put Suarez on the Tigers' radar for 2015, though, likely for a utility role.
Suarez is an international signee who splashed onto the prospect scene in 2012. The 21-year-old shortstop hit .288/.380/.409 with 45 extra-base hits and 21 steals in 511 at-bats for Low-A West Michigan last season. He's already considered a plus defender, with solid instincts and a strong arm. The biggest question mark with Suarez looms with his ability to swing a productive bat at the higher levels of the minors and eventually the majors. At six-feet and 180 pounds, Suarez isn't the biggest player and his other tools are not the kind that make scouts salivate, but his production at the plate in his age-20 season is hard to argue. He's still a couple years away from big league consideration and needs to prove himself at higher levels, but Suarez is starting to look like a name to monitor for keeper leagues that track minor league players.
More Fantasy News