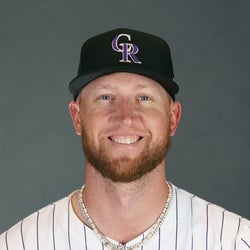 Rest-of-Season Projections
2023 Fantasy Outlook
Writing a player capsule for a Rockies pitcher could easily become a MadLib template. (Insert pitcher) struggles at home but does better away from the toils of pitching at Coors as (same pitcher) has immensely better results on the road. Stream (same pitcher) on the road when the matchup is right while benching him whenever possible at Coors unless he is facing Oakland or Pittsburgh. That about sums up Freeland, but throw in the unusual issue the lefty has against fellow lefties and you get a giant mess who somehow won nine games last season around a 4.53 ERA. He pitched a full run better by ERA after the break going 5-4, but the WHIP and low strikeouts make him just about impossible to roster in most draft formats. 2018 was fun when it happened, but it will not happen again. The mid-4's ERA was fine last decade, but in this new run environment, 4.5 is the new 5.00. Avoid.
Read Past Outlooks
$Signed a five-year, $64.5 million contract with the Rockies in April of 2022. Contract includes $17 million vesting player option for 2027 with 170 innings pitched in 2026.

Lasts seven innings in tough loss
Freeland (4-7) was handed another loss Sunday against the Royals, allowing two runs on four hits while striking out one over seven innings.
ANALYSIS
Freeland had a perfect game going until
MJ Melendez
broke it up with a double in the fifth.
Michael Massey
drove Melendez home two batters later with a base hit to give the Royals a lead they would never relinquish. Freeland continued to move through the order but was eventually pulled after squandering a leadoff home run in the eighth to
Maikel Garcia
. The 30-year-old tied his season high by going seven innings and showed great control, although he didn't generate a whole lot of whiffs. It was certainly a tough-luck loss for Freeland, who picked up his last win May. 14. He now sits at a 4.06 ERA, 1.24 WHIP and 44:17 K:BB over 71 innings and lines up for a home matchup with the Padres next weekend.
Read More News
Pitching Stats
Loading Pitching Stats...
2023
2022
2021
2020
2019
2018
2017
2023 MLB Game Log

Calculate Stats Over Time
Just click on any two dates.
Scoring
FanDuel
DraftKings
Yahoo DFS
Loading Pitching Game Log...
2022 MLB Game Log

Calculate Stats Over Time
Just click on any two dates.
Scoring
FanDuel
DraftKings
Yahoo DFS
Loading Pitching Game Log...
2021 MLB Game Log

Calculate Stats Over Time
Just click on any two dates.
Scoring
FanDuel
DraftKings
Yahoo DFS
Loading Pitching Game Log...
2020 MLB Game Log

Calculate Stats Over Time
Just click on any two dates.
Scoring
FanDuel
DraftKings
Yahoo DFS
Loading Pitching Game Log...
2019 MLB Game Log

Calculate Stats Over Time
Just click on any two dates.
Scoring
FanDuel
DraftKings
Yahoo DFS
Loading Pitching Game Log...
2018 MLB Game Log

Calculate Stats Over Time
Just click on any two dates.
Scoring
FanDuel
DraftKings
Yahoo DFS
Loading Pitching Game Log...
2017 MLB Game Log

Calculate Stats Over Time
Just click on any two dates.
Scoring
FanDuel
DraftKings
Yahoo DFS
Loading Pitching Game Log...
Minor League Game Log

Calculate Stats Over Time
Just click on any two dates.
Loading Minor League Pitching Game Log...
Pitching Appearances Breakdown
How many pitches does Kyle Freeland generally throw?
What part of the game does Kyle Freeland generally pitch?
% Games Reaching Innings Threshold
% Games By Number of Innings Pitched
Left/Right Pitching Splits
BAA
K
BB
H
HR
Since 2021

vs Left

.302
67
25
104
12
Since 2021

vs Right

.271
212
83
293
39
2023

vs Left

.270
12
5
17
1
2023

vs Right

.260
31
12
54
11
2022

vs Left

.315
32
11
47
7
2022

vs Right

.271
99
42
146
12
2021

vs Left

.303
23
9
40
4
2021

vs Right

.276
82
29
93
16
More Splits

→

View More Split Stats
Home/Away Pitching Splits
ERA
WHIP
IP
K/9
BB/9
Since 2021

Home

5.09
1.45
184.0
7.0
2.5
Since 2021

Away

3.65
1.31
182.1
6.8
2.8
2023

Home

3.38
1.23
37.1
7.5
2.2
2023

Away

4.81
1.25
33.2
3.5
2.1
2022

Home

6.00
1.52
87.0
6.1
2.6
2022

Away

3.08
1.30
87.2
7.4
2.9
2021

Home

4.83
1.47
59.2
8.0
2.6
2021

Away

3.84
1.36
61.0
7.7
3.1
More Splits

→

View More Split Stats
Stat Review
How does Kyle Freeland compare to other starting pitchers?
This section compares his stats with all starting pitcher seasons from the previous three seasons (minimum 120 innings)*. The bar represents the player's percentile rank. For example, if the bar is halfway across, then the player falls into the 50th percentile for that stat and it would be considered average.
* Exit Velocity, Barrels/BBE %, Balls Hit 95+ MPH %, and Spin Rate are benchmarked against 2019 data (min 120 IP).
See here for more exit velocity/barrels stats
plus an explanation of current limitations with that data set.
K/BB

Strikeout to walk ratio.

K/9

Average strikeouts per nine innings.

BB/9

Average walks per nine innings.

HR/9

Average home runs allowed per nine innings.

Fastball

Average fastball velocity.

ERA

Earned run average. The average earned runs allowed per nine innings.

WHIP

Walks plus hits per inning pitched.

BABIP

Batting average on balls in play. Measures how many balls in play against a pitcher go for hits.

GB/FB

Groundball to flyball ratio. The higher the number, the more likely a pitcher is to induce groundballs.

Left On Base

The percentage of base runners that a pitcher strands on base over the course of a season.

Exit Velocity

The speed of the baseball as it comes off the bat, immediately after a batter makes contact.

Barrels/BBE

The percentage of batted ball events resulting in a Barrel. A Barrel is a batted ball with similar exit velocity and launch angle to past ones that led to a minimum .500 batting average and 1.500 slugging percentage.

Spin Rate

Spin Rate is the rate of spin on a baseball after it is released. It is measured in revolutions per minute (rpm).

Balls Hit 95+ MPH

The percentage of batted balls hit that met or exceeded the 95 MPH threshold.

Swinging Strike

The percentage of pitches that result in a swing and a miss.
Advanced Pitching Stats
Loading Advanced Pitching Stats...
Loading MLB Defensive Stats...
Our full team depth charts are reserved for RotoWire subscribers.
Subscribe Now
Recent RotoWire Articles Featuring Kyle Freeland
See More
Past Fantasy Outlooks
2022
2021
2020
2019
2018
2017
2016
2015
In Kyle Freeland's peak 2018 season, he posted a 2.85 ERA, 1.25 WHIP, 20.5% K%, and 8.3% BB% in 202.1 innings. Unfortunately, Freeland dealt with shoulder, hamstring, finger, foot, and hip issues in 2021. Freeland fared decently in 2021 with a 4.33 ERA, 1.42 WHIP, 20.4% K%, and 7.4% BB% in 120.2 innings. In Freeland's best seasons (2018 and 2021), the LOB% ended at 82.8% and 78.9%, so the ERA could regress in 2022. Freeland's slider boasted the highest SwStr% of his career at 18.3% versus a career rate of 13.3%. On Baseball Savant, they have Freeland's slider as a curve, and it's his best pitch with a .214 wOBA. Freeland lowered the four-seam usage the past two seasons from 35.5% to 23.5%. That led to a .423 SLG and .328 wOBA the past two seasons with near-identical results of .424 SLG and .327 wOBA (2017-2019). Overall, Freeland is a streamer with limited upside.
Freeland had a career-worst 6.73 ERA in 2019, but his ERA indicators suggested that he may have been relatively unlucky. He got rid of the cutter and introduced a curveball in 2020 while improving to a 4.33 ERA. In addition, his 4.55 xFIP and 4.95 SIERA were similar to his marks from earlier in his career. While 2019's struggles may have been an anomaly, his 15.1 K% during the abbreviated 2020 season ranked second-worst among qualified starters and hindered his fantasy value. The southpaw struggled to limit hard contact in 2019, but he settled down in 2020 with a 5.6% barrel rate and a 51.5 GB% that was sixth-best among qualified starters. Pitchers at Coors Field carry warning labels, but Freeland bounced back over a smaller sample in 2020. He was one of the best at forcing groundballs last season despite his struggles to force strikeouts, and his fantasy outlook is slightly more promising in 2021.
While 2017 and 2018 were seasons testing the theory that you should not draft pitchers in Colorado, 2019 was a harsh reminder that theory has many fans for a reason. Hitters made a lot of loud contact off Freeland, but he had moments where things worked. He had three starts in which he went six or more innings with one or zero earned runs. He also had four starts in which he allowed seven or more earned runs. He is a matchup play right now, as he was crushed at home last year (9.82 ERA), but historically, his home and road ERAs are not even half a run apart. He needs a change in approach against righties as a lineup loaded with righties will give Freeland a lot of trouble. The fastball/cutter life works on the road against lineups with a heavy-lefty presence, but he is otherwise a risky roster asset. This has future long reliever written all over it unless his changeup improves.
Among the bigger surprises in fantasy baseball last year, Freeland went on an extended run in which he seemingly threw six innings and picked up a win every time out. The peripheral numbers and ERA estimators don't paint as rosy a picture (12.2 K-BB%, 3.67 FIP), but keep in mind that he has beaten the publicly-available estimators at literally every single stop since he was drafted with the eighth overall pick in the 2014 first-year player draft. His familiarly with the Denver air -- he grew up there -- seems to help his cause. That may seem like a bunk narrative, but Freeland has posted better numbers at Coors Field than on the road in each of his two seasons. We like German Marquez's chances of sustaining his success more, but Freeland has good command and plenty of job security. Don't write off what he did in 2018 as a total fluke.
Freeland managed to leverage a strong spring training performance into a major-league rotation spot and the results were generally encouraging. In 28 starts and five relief appearances -- the Rockies wanted to limit his workload -- the young southpaw posted a 4.10 ERA and 1.49 ERA. He faded a lot in the second half of the season, as his ERA and WHIP sat at the more respectable levels of 3.77 and 1.40 at the All-Star break. He's just 24 years old, so there's definitely potential for improvement in the coming years. From a fantasy perspective, his K:BB leaves a lot to be desired, but his groundball-heavy approach bodes well as he pitches in Colorado. Freeland appears to have the inside track to the final rotation spot heading into spring training.
Freeland has not quite lived up to expectations as a first-round pick in 2014, but he still may end up being a serviceable big-league hurler. The lefty is a groundball pitcher, which is particularly important since he will play his future home games in the thin air of Colorado. His control is also above-average, and he got stronger in that department as the season progressed; Freeland walked just 19 batters in 73.2 innings at Triple-A to finish the season. The limiting factor is his lack of strikeouts. Freeland managed just 108 strikeouts in 162 combined innings in 2016, and his strikeout rate was no better the season before at High-A. He may be given a chance to compete for a rotation spot in spring training, but Freeland will likely end up back at Triple-A to begin the campaign with the chance to appear in the big leagues as a reliever later in the season.
Freeland may have been out of sight and out of the minds of many for most of 2015, but there are reasons not to forget about the No. 8 pick in the 2014 draft. He has been sidelined for much of his professional career, first with shoulder fatigue, then following a procedure to remove bone chips in his elbow. However, he returned to the mound in late July, first for two starts at rookie ball, and then finishing with seven starts for High-A Modesto. A 4.05 ERA, 1.29 WHIP, and 28:10 K:BB over 46.2 innings across both stops probably won't excite dynasty league owners, and the lack of strikeouts are particularly concerning, but he gets a bit of pass considering it was his first game action in almost a year. Good size and athleticism should aid him in the upper levels, and if his stuff returns to where it was two years ago, Freeland could still reach his potential as a No. 3 starter.
Following a dazzling junior year at the University of Evansville, Freeland was selected eighth overall by the Rockies in the 2014 first-year player draft. The Rockies made quick work in signing the left-hander, who debuted with their rookie club in July before finishing the season with five starts at Low-A Asheville, where he gave up just two runs and struck out 18 batters over 21.2 innings. The Rockies intentionally capped his pitch counts due to the high number of innings he had thrown for Evansville in the spring, but he'll be on tap for a full workload in 2015, perhaps opening the season a level up in the California League. The 21-year-old doesn't have overpowering stuff, but does an excellent job of painting the strike zone with his low-90s fastball, low-80s slider and an improving changeup. His early success has been encouraging and could allow him to rise through the Rockies' system quickly, but he'll first need to prove himself against the competition in the upper minors before receiving a big-league shot.
More Fantasy News