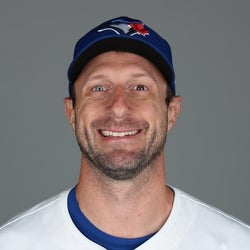 Rest-of-Season Projections
2023 Fantasy Outlook
A pair of oblique issues limited Scherzer to only 23 starts in his inaugural season with the Mets. The veteran right-hander spent almost seven weeks on the IL in the first half, then lost two more weeks in September. His strikeout rate dipped a tad to a still dominant 30.6 percent while his 4.2 percent walk rate was its lowest since 2015. Scherzer took advantage of pitching in cavernous Citi Field to drop his homers to .81 HR/9, the lowest since 2014. Scherzer's four-seam velocity continued a slightly downward trend, but it's not enough to be concerned about. Scherzer enjoyed another outstanding season, where his 2.46 ERA marked the eighth time in the last 10 years his ERA was sub-3.00. Even so, Scherzer will be remembered most for struggling in his last two starts, one to end the regular season and the other in the Wild Card round. This may drop his price to the point the durability risk is worth the reliability reward.
Read Past Outlooks
$Signed a two-year, $86.67 million contract with the Mets in November of 2021. Contract includes $43.33 million player option for 2024.

Fans 10 but yields five runs
Scherzer allowed five runs on 11 hits and no walks while striking out 10 batters over 5.2 innings in a no-decision against Atlanta on Wednesday.
ANALYSIS
It was an up-and-down outing for the veteran hurler. On one hand, he struck out a season-high 10 batters and didn't walk anybody while inducing 19 whiffs. On the other, Scherzer gave up a season-high 11 hits and surrendered five runs. Given the quality of the opponent, this start probably isn't going to slow down Scherzer's recent momentum too much, especially considering the multiple positive takeaways. The right-hander still boasts a standout 2.35 ERA, 1.01 WHIP and 38:4 K:BB over 30.2 frames across his past five starts.
Read More News
Pitching Stats
Loading Pitching Stats...
2023
2022
2021
2020
2019
2018
2017
2023 MLB Game Log

Calculate Stats Over Time
Just click on any two dates.
Scoring
FanDuel
DraftKings
Yahoo DFS
Loading Pitching Game Log...
2022 MLB Game Log

Calculate Stats Over Time
Just click on any two dates.
Scoring
FanDuel
DraftKings
Yahoo DFS
Loading Pitching Game Log...
2021 MLB Game Log

Calculate Stats Over Time
Just click on any two dates.
Scoring
FanDuel
DraftKings
Yahoo DFS
Loading Pitching Game Log...
2020 MLB Game Log

Calculate Stats Over Time
Just click on any two dates.
Scoring
FanDuel
DraftKings
Yahoo DFS
Loading Pitching Game Log...
2019 MLB Game Log

Calculate Stats Over Time
Just click on any two dates.
Scoring
FanDuel
DraftKings
Yahoo DFS
Loading Pitching Game Log...
2018 MLB Game Log

Calculate Stats Over Time
Just click on any two dates.
Scoring
FanDuel
DraftKings
Yahoo DFS
Loading Pitching Game Log...
2017 MLB Game Log

Calculate Stats Over Time
Just click on any two dates.
Scoring
FanDuel
DraftKings
Yahoo DFS
Loading Pitching Game Log...
Minor League Game Log

Calculate Stats Over Time
Just click on any two dates.
Loading Minor League Pitching Game Log...
Pitching Appearances Breakdown
How many pitches does Max Scherzer generally throw?
What part of the game does Max Scherzer generally pitch?
% Games Reaching Innings Threshold
% Games By Number of Innings Pitched
Left/Right Pitching Splits
BAA
K
BB
H
HR
Since 2021

vs Left

.199
208
53
130
23
Since 2021

vs Right

.204
259
21
146
21
2023

vs Left

.229
24
10
24
3
2023

vs Right

.260
34
4
25
5
2022

vs Left

.196
76
17
45
10
2022

vs Right

.215
97
7
63
3
2021

vs Left

.192
108
26
61
10
2021

vs Right

.177
128
10
58
13
More Splits

→

View More Split Stats
Home/Away Pitching Splits
ERA
WHIP
IP
K/9
BB/9
Since 2021

Home

1.87
0.82
168.1
11.1
1.4
Since 2021

Away

3.13
1.01
209.2
11.1
2.0
2023

Home

0.50
0.78
18.0
10.0
2.5
2023

Away

5.35
1.39
35.1
9.7
2.3
2022

Home

1.67
0.88
64.2
10.6
1.5
2022

Away

2.79
0.93
80.2
10.8
1.5
2021

Home

2.31
0.78
85.2
11.8
1.2
2021

Away

2.59
0.94
93.2
11.9
2.4
More Splits

→

View More Split Stats
Stat Review
How does Max Scherzer compare to other starting pitchers?
This section compares his stats with all starting pitcher seasons from the previous three seasons (minimum 120 innings)*. The bar represents the player's percentile rank. For example, if the bar is halfway across, then the player falls into the 50th percentile for that stat and it would be considered average.
* Exit Velocity, Barrels/BBE %, Balls Hit 95+ MPH %, and Spin Rate are benchmarked against 2019 data (min 120 IP).
See here for more exit velocity/barrels stats
plus an explanation of current limitations with that data set.
K/BB

Strikeout to walk ratio.

K/9

Average strikeouts per nine innings.

BB/9

Average walks per nine innings.

HR/9

Average home runs allowed per nine innings.

Fastball

Average fastball velocity.

ERA

Earned run average. The average earned runs allowed per nine innings.

WHIP

Walks plus hits per inning pitched.

BABIP

Batting average on balls in play. Measures how many balls in play against a pitcher go for hits.

GB/FB

Groundball to flyball ratio. The higher the number, the more likely a pitcher is to induce groundballs.

Left On Base

The percentage of base runners that a pitcher strands on base over the course of a season.

Exit Velocity

The speed of the baseball as it comes off the bat, immediately after a batter makes contact.

Barrels/BBE

The percentage of batted ball events resulting in a Barrel. A Barrel is a batted ball with similar exit velocity and launch angle to past ones that led to a minimum .500 batting average and 1.500 slugging percentage.

Spin Rate

Spin Rate is the rate of spin on a baseball after it is released. It is measured in revolutions per minute (rpm).

Balls Hit 95+ MPH

The percentage of batted balls hit that met or exceeded the 95 MPH threshold.

Swinging Strike

The percentage of pitches that result in a swing and a miss.
Advanced Pitching Stats
Loading Advanced Pitching Stats...
Loading MLB Defensive Stats...
Our full team depth charts are reserved for RotoWire subscribers.
Subscribe Now
Recent RotoWire Articles Featuring Max Scherzer
See More
Past Fantasy Outlooks
2022
2021
2020
2019
2018
2017
2016
2015
2014
2013
2012
2011
2010
2009
2008
Father Time? Don't know her. Scherzer returned to elite form in 2021, going 15-4 between Washington and Los Angeles with 236 strikeouts against 36 walks in 179.1 regular-season innings. He ultimately finished third in the NL Cy Young vote, but Scherzer was the most valuable pitcher in all of fantasy baseball in 2021. He notably secured the Dodgers' berth to the NLCS (even if it wasn't a check swing), but surprisingly, Steve Cohen was able to lure Scherzer away from LA to Queens -- surprising even with the $43.3 million AAV, given that it's, you know, the Mets. Cohen seems serious about building a winner in New York, and Scherzer's was a statement signing. Scherzer is now set to pitch in the most pitcher-friendly ballpark in all of MLB and looks far from finished, even if these are supposed to be his twilight years in his late-30s.
One of the greatest pitchers of his generation, Scherzer is still going strong at 36 years old. He was famously scratched from Game 5 of the 2019 World Series with neck and back spasms, and dealt with a side issue in spring training before the season was suspended. The right-hander then battled a hamstring injury early in August, but Scherzer ended up taking the ball 12 times for the Nationals and totaling 67.1 innings (23rd in MLB). While the results may not have been quite what we have come to expect from Scherzer, he remained among the elite starting pitchers in terms of strikeout rate (31.2%). His opponents' hit rate and HR/9 were career worsts, and his 7.8 BB% was his worst mark in a decade, hinting at a bit of lost command as Father Time closes in. The dip in performance and recent injuries have created a slight discount as he's going in the second or third round on average in early drafts.
For the first time since 2012, Scherzer failed to eclipse the 200-inning plateau as he visited the IL twice. His first stint was due to an inflamed bursa sac, requiring a cortisone injection. Soon after coming back, Scherzer returned to the IL, this time with a rhomboid strain. He was activated Aug. 22 and it wasn't long before he was back to being Mad Max, fanning 54 over his final 38 innings. Scherzer had another scare in the playoffs as he was scratched from Game 5 of the World Series before starting Game 7. By the numbers, Scherzer's strikeout and walk rates were typically elite but his average exit velocity was the highest since Statcast began tracking in 2015, leading to his highest WHIP since 2014. Scherzer's 35-year-old arm has a lot of mileage and injury concerns are real. The result is Scherzer will be discounted. He's still elite, but could be risky for the "one year too late" crowd.
Scherzer has struck out 29% of the hitters he has faced throughout his career. If we took that rate and compared it to his annual strikeout rates over the past four seasons, it would rank lowest. Scherzer has increased his strikeout rate in each of the past five seasons as he shoves his way into his mid-30s. Last year marked the third consecutive season in which he held opposing hitters to a sub-.200 average and the fourth consecutive season in which he finished with a sub-3.00 ERA. He has six consecutive seasons of 200 or more innings pitched and 10 consecutive seasons of 30 or more starts. There are not enough superlatives to discuss his production and there is little debate as to whether he should be taken in the first round of drafts. The only debate is how high to take this staff anchor and how many rounds you can then forego drafting a pitcher. This is the new king of the mountain for fantasy pitchers and he is worth every penny.
For the fourth time in the last five seasons, Scherzer posted an ERA below 3.00 and a WHIP below 1.00 while throwing 200 or more innings. Since the start of the Expansion Era in 1961, only four other pitchers have matched that level of dominance (Pedro Martinez, Greg Maddux, Juan Marichal and Sandy Koufax), and no pitcher has delivered five seasons at that level. Scherzer nearly fell short with his workload in 2017, as a series of minor injuries in the second half cost him time. Fortunately, none of the injuries (neck, calf, hamstring) were to his arm. Skills wise, he's showing no signs of slowing down as he rolls through his early 30s, as his 34.4 percent strikeout rate (12.0 K/9) was a career-high while opposing hitters hit a meager .176 against him. Further refinement of the changeup has given Scherzer yet another plus weapon for his arsenal, and as long as he's healthy, his eventual decline should be a very graceful one. He'll be among the first few pitchers off the board again in 2018.
Scherzer posted his second straight season with a sub-3.00 ERA and sub-1.00 WHIP, his third straight with more than 250 strikeouts, his fourth straight with more than 210 innings pitched, and his second 20-win campaign en route to his second Cy Young Award, becoming the sixth pitcher in history to win the award in each league. In fact, his 11.2 K/9 rate was the best of his career, and while his BB/9 and HR/9 rates showed some regression, the former in particular has a long way to go before it will be anything close to a concern. Scherzer has become the prototype of a modern ace, and his presence at the top of the Nats' rotation allows them to weather Stephen Strasburg's annual DL trips better than most other organizations could. As long as the stress fracture in his finger suffered over the winter is healed by spring training, he should remain one of the majors' truly elite starting pitchers.
It's fair to say that the Nationals got their money's worth from Scherzer. After signing a massive seven-year, $210 million contract in the offseason, the former Tiger ace was utterly dominant in the first half, posting a 2.11 ERA and 0.78 WHIP while winning 10 games. His numbers slid a bit after the All-Star break, but Scherzer still finished the season with career-bests in innings, ERA, WHIP, strikeouts and walks. He also threw two no-hitters, missing a perfect game each time by one baserunner, and his 17-K, zero-BB performance in the second one ranks as one of the greatest starts of all time. The 31-year-old right-hander will have a hard time coming up with an encore, but he may not have to. If the Nats get better health from their offense and better play under new manager Dusty Baker, Scherzer could improve significantly on last year's 14 wins even if his other numbers erode.
Scherzer backed up his 2013 Cy Young campaign with another stellar season for the Tigers. He finished 18-5 with a 3.15 ERA and 1.18 WHIP while setting career-highs in strikeouts (252) and innings (220.1). His 2.91 FIP was right on line with the 2.89 FIP posted in 2013, but Scherzer didn't have as much luck with BABIP (.325) this time around. Scherzer continued to rely heavily on his fastball, which setup his changeup, slider and a curveball he used more than in past seasons. The 30-year-old righty hit free agency in the midst of his prime. For a starting pitcher his age, Scherzer has a surprising light workload of 1,239 innings, and he has proven to be very durable the last few years. He'll move to the NL after signing a seven-year deal with Washington. He should be among the strikeout leaders once again with the Nationals and a topnotch option to lead any fantasy staff.
Based on the strong advanced metrics (9.4 K/9, 3.56 xFIP) that he has posted throughout his career, pundits have been clamoring for Scherzer to hit that next level for years. Not only did the long-awaited breakout from Scherzer fully materialize in 2013, but he exceeded even the most optimistic of projections. The 28-year-old starter took home the AL Cy Young Award after leading the league in wins (21) and WHIP (0.97) while finishing second in strikeouts (240) and fifth in ERA (2.90). His fastball continued to hover in the mid-90s with movement and his slider developed from a solid pitch to one of the more elite breaking balls in the majors. Scherzer also improved his walk rate, allowing a career-best 2.4 BB/9. His improvements across the board can be attributed to his continued refinement of a more consistent delivery, which has corralled some of the wildness displayed earlier in his career while allowing his electric stuff to post more consistent results. The Tigers freed up a significant portion of their future budget by trading Prince Fielder to Texas, opening up the possibility of long-term extension to keep him in Detroit. Scherzer appears headed for another strikeout-heavy campaign filled with plenty of fantasy value.
Early-season struggles made it seem like Scherzer might have another roller coaster campaign in 2012, but he righted the ship after a brutal month of April to post his best season as a pro. In 27 starts from May 5 through the end of the season, Scherzer went 15-4 with a 3.14 ERA and 204 strikeouts over 163.1 innings. He saw a huge jump in strikeouts, finishing second in the majors to teammate Justin Verlander with 231 strikeouts while posting a league-best 11.1 K/9. Other than his slider becoming slightly more effective, Scherzer's arsenal remained consistent to what we have seen from him in past seasons - he was just able to corral everything together better in 2012. At 28, Scherzer is in his prime, and while we might see a slight dip in his strikeouts, he has all the tools to replicate the overall success we saw from him in 2012.
The 27-year-old failed to live up to the promise he showed in the second half of the 2010 season, but Scherzer was still able to put together a solid campaign in 2011. He finished the year 15-9 with a 4.43 ERA, 1.349 WHIP and 174 strikeouts in 195 innings. Once considered a problem area, Scherzer was able to refine his control last season, finishing with a career-best mark of 2.58 BB/9IP. His increase in ERA may give some pause, but Scherzer's xFIP (3.70) shows that he was close to the same pitcher as in 2010. While Scherzer hasn't taken that next step yet, he has the necessary arsenal to reach higher levels of production than we've seen since from him so far. Target him as a middle-of-the-rotation option with hopes he starts fulfilling some of his potential.
Scherzer's debut season with the Tigers got off to a rocky start, as the 25-year-old righty saw a dip in fastball velocity and had difficulty commanding his breaking ball during the first two months of the season. As a result, Detroit sent Scherzer on a short stint to Triple-A Toledo to right the ship. After rediscovering both his velocity and slider during his trip to Toledo, Scherzer came back to the big leagues stronger than at any other point in his young career. Over the course of his final 23 starts, Scherzer went 11-7 with a 2.46 ERA and 158 strikeouts in 153.2 innings. With his solid strikeout rate (8.5 K/9IP) and continued improvement in control (3.2 BB/9IP), the former first-round pick remains a strong middle-of-the rotation option, but it's his potential to develop into an ace that should make him an attractive target on draft day.
Scherzer made strides in his second full season in the Arizona rotation, making 30 starts before the D-Backs shut him down in an effort to protect his arm. Starting pitchers who can strike out more than a batter per inning (9.19 K/9IP) with ample command (3.33 BB/9IP) are few and far between, which made it surprising when he was traded to Detroit last winter. Scherzer continues to look the part of the front-line starter that the D-Backs were hoping for when they drafted him 11th overall in 2006. With Rick Porcello and Justin Verlander, Detroit could have one of the strongest rotation trios if Scherzer continues to develop. Don't be surprised if he significantly increases his win total this season as the Tigers will be able to let him take on a full 200-inning workload and to pitch deeper into games after Arizona handled him with kid gloves during his first two seasons.
When healthy, Scherzer was as good as advertised for the D-Backs during his rookie season, dominating hitters to the tune of a 10.61 K/9IP mark in his first 56 major league innings. Splitting the season between Arizona and Triple-A, Scherzer spent time as a starter and in the bullpen at both levels, but the organization clearly views him as a starter in the D-Backs' 2009 rotation, as he was sent to the Arizona Fall League to increase innings count as well as continue the development of his secondary pitches, which include an improving change-up and slider to go along with his excellent fastball. The added work during the fall should enable Scherzer to provide 170-plus innings and cement his place as one of the team's top four starters, while the long-term outlook is very promising as he could emerge as the frontline replacement for Brandon Webb down the road.
Scherzer had an impressive professional debut as a starter after finally inking a deal with Arizona last May. He tore up High-A Visalia, as he should have considering that he was already 22, before fanning more than a batter per inning in 14 starts at Double-A Mobile. The D-Backs had Scherzer pitch in relief during the Arizona Fall League, while there have been debates in the past about whether he'd be more effective as a closer than a starter in the majors. Following the departure of Jose Valverde in a trade to Houston and the acquistion Dan Haren from Oakland, it seems as though closer might be the fast track to having him in the bigs for good, but keep an eye on whether he's pushing to break camp with Arizona during spring training, or if they're grooming him to be a starter at Triple-A.
More Fantasy News